Zusammenfassung
In der Schweiz erkranken rund 1000 Patienten pro Jahr an einem Nierenzellkarzinom, was gut 3 % aller Krebserkrankungen ausmacht. Aufgrund häufiger durchgeführter Bildgebungen sowie besserer Qualität derselben werden Nierentumoren heute oft als Zufallsbefund entdeckt. Die Nierenteilresektion löste in den letzten Jahren die radikale Nephrektomie als Therapie der Wahl bei Nierentumoren bis 7 cm ab. Hierbei steht der Erhalt der Nierenfunktion im Vordergrund, wobei im Vergleich zur radikalen Nephrektomie möglichst viele Nephronen erhalten werden. Die roboterassistierte Nierenteilresektion als minimal-invasive Variante zeigt hierbei gegenüber der offenen Nierenteilresektion ebenbürtige onkologische und funktionelle Resultate mit den Vorteilen der minimal-invasiven Chirurgie. Alternative Behandlungsformen wie Kryoablation oder Radiofrequenzablation sind nichtoperablen Patienten vorbehalten. Die Rezidivrate nach Nierenteilresektion bei Nierenzellkarzinom ist tief, auch bei mikroskopisch nachweisbaren Tumoranteilen im Resektionsrand (R1-Resektion). Die Nachsorge mittels Computertomographie soll individuell gemäss Risikostratifizierung erfolgen.
Résumé
Environ 1000 patients en Suisse développent un carcinome rénal chaque année, ce qui correspond à largement 3 % de tous les cancers. En raison des examens d'imagerie devenus plus fréquents et de meilleure qualité, la détection de tumeurs du rein provient aujourd'hui souvent des constats fortuits. Au cours des dernières années, la résection partielle du rein a remplacé la néphrectomie radicale en tant que traitement de référence lors de tumeurs du rein mesurant jusqu'à 7 cm. L'accent est mis ici sur la préservation de la fonction rénale, en préservant autant de néphrons que possible par rapport à la néphrectomie radicale. La résection rénale partielle robot-assistée, en tant que variante mini-invasive, atteint des résultats oncologiques et fonctionnels similaires à ceux de la résection rénale partielle à ciel ouvert, mais offre les avantages de la chirurgie mini-invasive. Les formes de traitement alternatives telles que la cryo-ablation ou l'ablation par radiofréquence restent réservées aux patients non opérables. Le taux de récidive après le traitement du cancer du rein par résection rénale partielle est faible; cela vaut aussi pour la résection R1. Le suivi par tomodensitométrie doit être adapté de façon individualisée à la stratification du risque.
Access options
Buy single article
Instant access to the full article PDF.
US$ 39.95
Tax calculation will be finalised during checkout.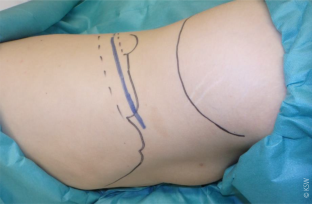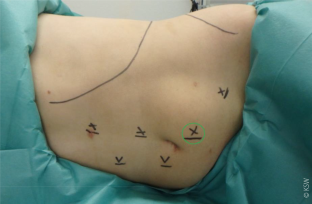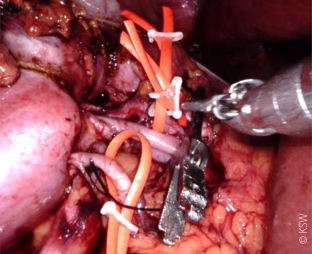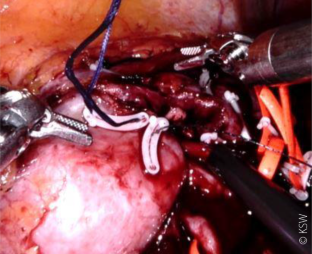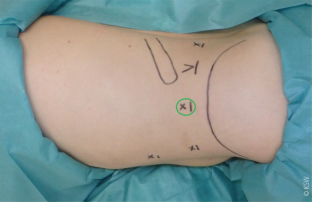 Literatur
1.

Ljungberg B, Bensalah K, Canfield S et al (2015) EAU guidelines on renal cell carcinoma: 2014 update. Eur Urol 67:913–924

2.

Krebsliga Schweiz (2020) Krebs in der Schweiz: wichtige Zahlen

3.

Herr HW (2005) A history of partial nephrectomy for renal tumors. J Urol 173:705–708

4.

Hollenbeck BK, Taub DA, Miller DC et al (2006) National utilization trends of partial nephrectomy for renal cell carcinoma: a case of underutilization? Urology 67:254–259

5.

Gettman MT, Blute ML, Chow GK et al (2004) Robotic-assisted laparoscopic partial nephrectomy: technique and initial clinical experience with DaVinci robotic system. Urology 64:914–918

6.

Patel HD, Mullins JK, Pierorazio PM et al (2013) Trends in renal surgery: robotic technology is associated with increased use of partial nephrectomy. J Urol 189:1229–1235

7.

Lane BR, Campbell SC, Gill IS (2013) 10-year oncologic outcomes after laparoscopic and open partial nephrectomy. J Urol 190:44–49

8.

Chang KD, Abdel Raheem A, Kim KH et al (2018) Functional and oncological outcomes of open, laparoscopic and robot-assisted partial nephrectomy: a multicentre comparative matched-pair analyses with a median of 5 years' follow-up. BJU Int 122:618–626

9.

Casale P, Lughezzani G, Buffi N et al (2019) Evolution of robot-assisted partial nephrectomy: techniques and outcomes from the transatlantic robotic nephron-sparing surgery study group. Eur Urol 76:222–227

10.

Van Poppel H, Da Pozzo L, Albrecht W et al (2011) A prospective, randomised EORTC intergroup phase 3 study comparing the oncologic outcome of elective nephron-sparing surgery and radical nephrectomy for low-stage renal cell carcinoma. Eur Urol 59:543–552

11.

Lane BR, Novick AC (2007) Nephron-sparing surgery. BJU Int 99:1245–1250

12.

John H, Wiklund P (Hrsg) (2018) Robotic urology, 3. Aufl. Springer, Cham

13.

Peyronnet B, Seisen T, Oger E et al (2016) Comparison of 1800 robotic and open partial nephrectomies for renal tumors. Ann Surg Oncol 23:4277–4283

14.

Gratzke C, Seitz M, Bayrle F et al (2009) Quality of life and perioperative outcomes after retroperitoneoscopic radical nephrectomy (RN), open RN and nephron-sparing surgery in patients with renal cell carcinoma. BJU Int 104:470–475

15.

Tanagho YS, Kaouk JH, Allaf ME et al (2013) Perioperative complications of robot-assisted partial nephrectomy: analysis of 886 patients at 5 United States centers. Urology 81:573–579

16.

Choi JE, You JH, Kim DK et al (2015) Comparison of perioperative outcomes between robotic and laparoscopic partial nephrectomy: a systematic review and meta-analysis. Eur Urol 67:891–901

17.

Wood EL, Adibi M, Qiao W et al (2018) Local tumor bed recurrence following partial nephrectomy in patients with small renal masses. J Urol 199:393–400
Ethics declarations
Interessenkonflikt
F. Obrecht, A. Sauck, H. John und C. Padevit geben an, dass kein Interessenkonflikt besteht.
Für diesen Beitrag wurden von den Autoren keine Studien an Menschen oder Tieren durchgeführt. Für die aufgeführten Studien gelten die jeweils dort angegebenen ethischen Richtlinien.
Additional information
Hinweis des Verlags
Der Verlag bleibt in Hinblick auf geografische Zuordnungen und Gebietsbezeichnungen in veröffentlichten Karten und Institutsadressen neutral.
Aus Gründen der besseren Lesbarkeit wird in diesem Beitrag das generische Maskulinum verwendet. Dies impliziert immer beide Geschlechter, schließt also das weibliche mit ein.
About this article
Cite this article
Obrecht, F., Sauck, A., John, H. et al. Nierenteilresektion: von der offenen Nephrektomie zur roboterassistierten Nierenteilresektion. Urol. Prax. 22, 147–152 (2020). https://doi.org/10.1007/s41973-020-00120-z
Schlüsselwörter
Robotik

Nierenteilresektion

Nierenzellkarzinom

Nephrektomie

Roboterassistiert
Mots clés
Robotique

Résection partielle du rein

Carcinome rénal

Néphrectomie

Chirurgie robot-assistée