Abstract
This research uses a rich panel data set of household surveys and external long-term flood data, extracted from satellite images, to complete a puzzling picture of the effects of floods on household welfare. Floods impose a mixed impact on households. On the one hand, the floods reduce household incomes dependent on natural sources; while on the other hand, floods push farmers out of the fields to seek extra incomes from non-agricultural activities. In addition, the floods significantly increase some types of expenditure. The finding of a lower household subjective wellbeing score reaffirms all these results. Further, this research shows the efforts that rural households are making to cope with the effects of flooding. They employ both formal and informal coping mechanisms; however, only financial remittances are shown to be significantly effective in providing relief.
Access options
Buy single article
Instant access to the full article PDF.
USD 39.95
Price excludes VAT (USA)
Tax calculation will be finalised during checkout.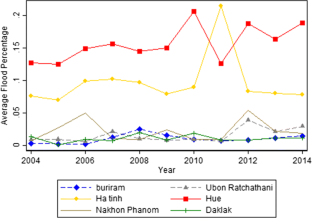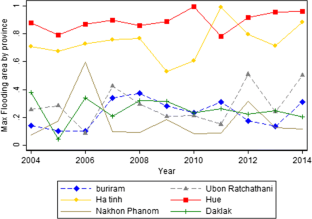 Notes
MODIS Flood Water (MFW), MODIS Surface Water (MSW): Currently these are only distributed as vector products (shapefile and kmz) for standard composites. MSW gives all land-based water (with a buffer into oceans) that was observed in the given product. MFW removes from MSW a reference or expected water layer, such that the remaining water is likely to be floodwater.

The OECD work on Measuring Progress and Well-Being (www. oecd.org/measuring progress) has been addressing these issues in the last few years. These efforts have led to the OECD Better Life Initiative, launched by the OECD Secretary-General on 24 May at the 2011 OECD Forum.

Secondary data for sampling on Thailand was available down to the village level; population density and agro-ecological conditions were assumed to be sufficiently homogeneous; sample design for Thailand is kept simple and aimed at obtaining a self-weighting sample. The provinces in Vietnam were purposively selected for the survey and are geographically more diverse than those in Thailand. While Dak Lak province is part of the landlocked Central Highland, Thua Thien-Hue, and Ha Tinh provinces extend from the coast to the mountainous border to Laos. In order to take into account this heterogeneity, strata for the first stages were defined as agro-ecological zones within the three provinces.

For each village, the interviewers recorded one coordinate during the village interviews. The coordinates were recorded in decimal degrees (latitude, longitude). For example, the geographical coordinates of the village Yang, sub-district Kham Duan, distric Krasang, province Buriam, Thai land is (15.0773638888889, 103.401458333333)

The dependency ratio is a measure showing the ratio of the number of dependents aged 0 to 14 and over the age of 65 to the total population aged 15 to 64.

The survey used a three-stage clustered sampling approach. Provinces were targeted, sub-districts were selected with probability proportional to population size (PPS), followed by a simple random PPS sample of two villages from each sampled sub-district. Lastly, households were randomly sampled with implicit stratification by household size. I account for the survey design using sample weights.

The set of control variables are slightly different in different analysis. For instance, while analysis of crops' impacts is fully controlled by household's characteristics, agriculture assets and land usage, the analysis of self-employment is only controlled by household's characteristics and wealth, also infrastructure index of village when where households are living.

Using the same data sets, in the paper: Le Thi Ngoc Tu, Sebastian Vollmer, Felix Stips (2018). "The effects of floods on agricultural production: a mixed blessing", we find that the effects of floods on agricultural production is mixed. While floods increase expenditures and reduce incomes, they can also increase rice productivity.

In Thailand, the Universal Coverage Scheme (USC) has followed a long string of efforts to improve equity in health. By 2001, the UCS was covering 48 million members and their families, leaving less than 2% of the Thai population without health insurance coverage - see Wagstaff and Manachotphong (2012).

In Vietnam, the Vietnamese Government has offered the programme 'Health Card for the Poor (HCFP)' since 2003. This card was designed to support poor households and ethnic minorities. The programme covers inpatient and outpatient health care costs from public providers – Somanathan, Tandon, Dao, Hurt, & Fuenzalida-Puelma (2014).
References
Ahamed A, Bolten JD (2017) A MODIS-based automated flood monitoring system for southeast asia. In International Journal of Applied Earth Observation and Geoinformation 61. https://doi.org/10.1016/j.jag.2017.05.006

Ahern M, Kovats RS, Wilkinson P, Few R, Matthies F (2005) Global health impacts of floods: epidemiologic evidence. Epidemiol Rev 27(1):36–46. https://doi.org/10.1093/epirev/mxi004

Alderman K, Turner LR, Tong S (2012) Floods and human health: a systematic review. Environ Int 47:37–47. https://doi.org/10.1016/j.envint.2012.06.003

Ardales G, Espaldon MVO, Maria V, Lasco R (2016) Impacts of floods on public schools in the municipalities of Los Baños and bay, Laguna, Philippines. Journal of Nature Studies 15(1):19–40

Arouri M, Nguyen C, Youssef AB (2015) Natural disasters, household welfare, and resilience: evidence from rural Vietnam. World Dev 70:59–77. https://doi.org/10.1016/j.worlddev.2014.12.017

Bangalore M, Smith A, Veldkamp T (2019) Exposure to floods, climate change, and poverty in Vietnam. Economics of Disasters and Climate Change 3(1):79–99. https://doi.org/10.1007/s41885-018-0035-4

Bui AT, Dungey M, Nguyen CV, Pham TP (2014) The impact of natural disasters on household income, expenditure, poverty and inequality: evidence from Vietnam. Appl Econ 46(15):1751–1766. https://doi.org/10.1080/00036846.2014.884706

Challa M, Tilahun U (2014) Determinants and impacts of modern agricultural technology adoption in west Wollega: the case of Gulliso District. Journal of Biology, Agriculture and Healthcare 4(20):63–77

Cutter SL (1996) Vulnerability to hazards. Prog Hum Geogr 20(4):529–539. https://doi.org/10.1177/030913259602000407

Dell M, Jones BF, Olken BA (2014) What do we learn from the weather? The new climate-economy literature. J Econ Lit 52(3):740–798. https://doi.org/10.1257/jel.52.3.740

Douglas I (2009) Climate change, flooding and food security in South Asia. Food Security 1(2):127–136. https://doi.org/10.1007/s12571-009-0015-1

Downing TE, Olsthoorn AJ, Tol RSJ (1999) Climate, change and risk. Routledge, London

Du W, FitzGerald GJ, Clark M, Hou X-Y (2010) Health impacts of floods. Prehosp Disaster Med. 25(3):265–272. https://doi.org/10.1017/S1049023X00008141

Emdad Haque C, Zaman MQ (1993) Human responses to riverine hazards in Bangladesh: a proposal for sustainable floodplain development. World Dev 21(1):93–107. https://doi.org/10.1016/0305-750X(93)90139-Z

Few R (2003) Flooding, vulnerability and coping strategies: local responses to a global threat. Prog Dev Stud 3(1):43–58. https://doi.org/10.1191/1464993403ps049ra

Gröger A, Zylberberg Y (2016) Internal migration as a risk-coping strategy: evidence from a typhoon. Am Econ J Appl Econ 8(2):123–153 https://doi.org/10.1257/app.8.2.123

Grootaert C (1983) The conceptual basis of measures of household welfare and their implied survey data requirements. World Bank 29(1):1–21. https://doi.org/10.1111/j.1475-4991.1983.tb00629.x

Guiteras R, Jina A, Mobarak AM (2015) Satellites, self-reports, and submersion: exposure to floods in Bangladesh. Am Econ Rev 105(5):232–236. https://doi.org/10.1257/aer.p20151095

Hardeweg, B., & Waibel, H. (2009). Collecting data to measure vulnerability to poverty : An overview. German Research Foundation (DFG), (February), 1–26

Hays J (2012). Health care in the developing world (third world) | facts and details. Retrieved May 28, 2018, from http://factsanddetails.com/world/cat57/sub381/item2154.html

Hijioka Y, Lin E, J. J. P. (2014). Managing the risks of extreme events and disasters to advance climate change adaptation - Asia. Cambridge University Press, 1327–1370. Retrieved from https://www.ipcc.ch/pdf/assessment-report/ar5/wg2/WGIIAR5-Chap24_FINAL.pdf

Hudson P, Botzen WJW, Poussin J, Aerts JCJH (2017) Impacts of flooding and flood preparedness on subjective well-being: a monetisation of the tangible and intangible impacts. J Happiness Stud:1–18. https://doi.org/10.1007/s10902-017-9916-4

Hudson, P., Hagedoorn, L., Bubeck, P., Pham, M., Hagedoorn, L., & Lasage, R. (2018). The impacts of flooding on well-being and the role of ecosystem-based adaptation. Retrieved from https://reliefweb.int/sites/reliefweb.int/files/resources/floods_well-being_and_ecosystem-based_adaptation.pdf

Khandker SR (2007) Coping with flood: role of institutions in Bangladesh. Agric Econ 36(2):169–180. https://doi.org/10.1111/j.1574-0862.2007.00196.x

Kim SE, Li, HMD, Nam J (2015) Overview of natural disasters and their impacts in Asia and the Pacific 1970–2014. United Nations ESCAP. Retrieved from http://www.unescap.org/sites/default/files/Technicalpaper-overview-of-natural-hazards-and-their-impacts_final.pdf

Lewis J (1999). Development in disaster-prone places :studies of vulnerability. Retrieved from http://www.nlb.gov.sg/biblio/9489743

López-Marrero T, Yarnal B (2010) Putting adaptive capacity into the context of people's lives: a case study of two flood-prone communities in Puerto Rico. Nat Hazards 52(2):277–297. https://doi.org/10.1007/s11069-009-9370-7

McElwee P, Nghiem T, Le H, Vu H (2017) Flood vulnerability among rural households in the red River Delta of Vietnam: implications for future climate change risk and adaptation. Nat Hazards 86(1):465–492. https://doi.org/10.1007/s11069-016-2701-6

Moratti M, Natali L (2012) Measuring household welfare. UNICEF 4

Morrow BH (1999) Identifying and mapping community vulnerability. Disasters 23(1):1–18. https://doi.org/10.1111/1467-7717.00102

Moser CON (1998) The asset vulnerability framework: reassessing urban poverty reduction strategies. World Dev 26(1):1–19. https://doi.org/10.1016/S0305-750X(97)10015-8

Neil Adger W (1999) Social vulnerability to climate change and extremes in coastal Vietnam. World Dev 27(2):249–269. https://doi.org/10.1016/S0305-750X(98)00136-3

Neil Adger W, Winkels A (2007) Vulnerability, poverty and sustaining well-being. In: Giles Atkinson EN, Dietz S (eds) Handbook of sustainable development. Edward Elgar Publishing Limited, UK, pp 189–205

Nigro J, Slayback D, Policelli F, Brakenridge GR (2014) NASA/DFO MODIS near real-time (NRT) global flood mapping product evaluation of flood and permanent water detection. Evaluation, Greenbelt, MD 27

OECD (2013) Guidelines on measuring subjective well-being. https://doi.org/10.1787/9789264191655-en

Olujenyo FO (2008) The determinants of agricultural production and profitability in Akoko land, Ondo-state, Nigeria. Journal of Social Sciences 4(1):37–41. https://doi.org/10.3844/jssp.2008.37.41

Parvin G, Shimi A, Shaw R, Biswas C (2016) Flood in a changing climate: the impact on livelihood and how the rural poor cope in Bangladesh. Climate 4(4):60. https://doi.org/10.3390/cli4040060

Pender J, Gebremedhin B (2008) Determinants of agricultural and land management practices and impacts on crop production and household income in the highlands of Tigray, Ethiopia. J Afr Econ 17(3):395–450. https://doi.org/10.1093/jae/ejm028

Rufat S, Tate E, Burton CG, Maroof AS (2015) Social vulnerability to floods: review of case studies and implications for measurement. International Journal of Disaster Risk Reduction 14:470–486. https://doi.org/10.1016/J.IJDRR.2015.09.013

Somanathan A, Tandon A, Dao HL, Hurt KL, Fuenzalida-Puelma HL (2014) Moving toward universal coverage of social health insurance in. Assessment and Options, Vietnam. https://doi.org/10.1596/978-1-4648-0261-4

Thomas T, Christiaensen L, Toan Q, Le D, Trung D (2010) Natural disasters and household welfare evidence from Vietnam. Policy research working paper, 5491. Retrieved from http://documents.worldbank.org/curated/en/753121468337900990/pdf/WPS5491.pdf

Tran P, Marincioni F, Shaw R, Sarti M, Van An L (2008) Flood risk management in Central Viet Nam: challenges and potentials. Nat Hazards 46(1):119–138. https://doi.org/10.1007/s11069-007-9186-2

UNEP/DEWA/GRID-Europe (n.d.) Global risk data platform. Retrieved August 30, 2017, from http://preview.grid.unep.ch/index.php?preview=data&events=floods&evcat=1&lang=eng

Vu TB, Im EI, Hayashi K, Torio R (2017) Cyclones, deforestation, and production of food crops in Vietnam. Economics of Disasters and Climate Change 1(3):245–262. https://doi.org/10.1007/s41885-017-0010-5

Wagstaff A, Manachotphong W (2012) The health effects of universal health. Evidence from Thailand. In World Bank, Care. https://doi.org/10.1596/1813-9450-6119

Winser B, Blaikie P, Cannon T, Davis L (2005) At risk: natural hazards, People's vulnerability, and disasters. In UNDP (London, Vol. 2). https://doi.org/10.2202/1547-7355.1131
Acknowledgments
The author is grateful to participants in conferences and seminars of the Universities of Goettingen, Hannover, Frankfurt, York, and Columbia for their helpful comments and suggestions. For household data I gratefully thank Thailand Vietnam Socio-Economic Panel data within project: "DFG-FOR 756: Vulnerability to Poverty in Southeast Asia", financed by the Deutsche Forschungsgemeinschaft (DFG). For assistance with flood data, I thank Dan Slayback at NASA/GSFC. For helpful writing comments, I thank Brian D Cuthbertson MA (Cantab), Dip Arch (Cantab), FRSA. For helpful empirical strategies comments, I thank to Felix Stips MA at University of Goettingen.
Additional information
Publisher's Note
Springer Nature remains neutral with regard to jurisdictional claims in published maps and institutional affiliations.
Electronic supplementary material
About this article
Cite this article
Tu Le, T.N. Floods and Household Welfare: Evidence from Southeast Asia. EconDisCliCha 4, 145–170 (2020). https://doi.org/10.1007/s41885-019-00055-x
Received:

Accepted:

Published:

Issue Date:

DOI: https://doi.org/10.1007/s41885-019-00055-x
Keywords
Flood impacts

Welfare impacts

Income impacts

Consumption impacts

Geographic information systems (GIS)

MODIS images

MSC: 91B76.
JEL classification