Abstract
The rapid and ubiquitous adoption of mobile device use has propagated our dependence on their ability to keep individuals within our society connected. Mobile devices are nowadays used as the major way of communication and connecting to the internet for many people, almost all of them are not computer professionals. As with any technology with wide-adoption, many challenges have come to the fact for this area as well. Due to the nature of mobile communication, data transmission is the fundamental method of connecting users on the network. As with any form of data transmission, data security is a key concern which must be taken into account. Several methods of user authentication and authorization exist for the purpose of privacy preservation and security and are widely used in mobile systems. One such method is the Continuous Proof of Presence (CPoP) authentication, which has the potential to provide an extra layer of security to users in data sensitive industries, such as the security sector, government and corporate administration, and healthcare. In this work we present TouchMetric, a mobile application developed for Android and iOS, used for the purpose of testing a machine learning model for the development of a CPoP feature.
Access options
Buy single article
Instant access to the full article PDF.
US$ 39.95
Tax calculation will be finalised during checkout.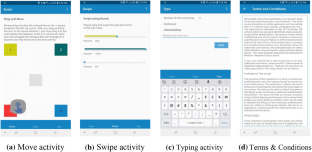 References
3.

Yeh KH, Chunhua S, Wayne C, Zhou L (2018) I Walk, therefore I Am: continuous user authentication with plantar biometrics. IEEE Commun Mag 56(2):150–157

4.

Annamalai P, Raju K, Ranganayakulu D (2018) Soft biometrics traits for continuous authentication in online exam using ICA based facial recognition. Int J Netw Security 20(3):423–432

5.

Muhammad E, Muhammad AA, Usman N, Yasar A, Jonathan L (2018) Continuous authentication of smartphone users based on activity pattern recognition using passive mobile sensing. J Netw Computer Appl 109:24–35

6.

Matheus MBS, Mauricio PS (2018) Continuous biometric authentication using Possibilistic C-Means. FUZZ-IEEE. pp 1–8

7.

Divya S, Mona R, Terence S, Yair Z (2018) Context-Aware fusion for continuous biometric authentication. ICB. pp 233–240

8.

Meng Y, Wong DS, Schlegel R (2012) Touch gestures based biometric authentication scheme for touchscreen mobile phones. In: International conference on information security and cryptology. Springer, Berlin, pp 331–350

9.

Riva O, Qin C, Strauss K, Lymberopoulos D (2012) Progressive authentication: deciding when to authenticate on mobile phones. In: USENIX security symposium. pp 301–316.

10.

Patel VM, Chellappa R, Chandra D, Barbello B (2016) Continuous user authentication on mobile devices: Recent progress and remaining challenges. IEEE Signal Proces Mag 33(4):49–61

11.

Xu H, Zhou Y, Lyu MR (2014) Towards continuous and passive authentication via touch biometrics: an experimental study on smartphones. In: Symposium on usable privacy and security, SOUPS. Vol. 14, pp 187–198.

12.

Shi E, Niu Y, Jakobsson M, Chow R (2010) Implicit authentication through learning user behavior. In: International conference on information security. Springer, Berlin, pp 99–113

13.

Lee WH, Lee RB (2015) Multi-sensor authentication to improve smartphone security. In: IEEE International conference on information systems security and privacy (ICISSP). pp. 1–11.

14.

Antal M, Szabó LZ, László I (2015) Keystroke dynamics on android platform. Proc Technol 19:820–826

15.

Murmuria R, Stavrou A, Barbará D, Fleck D (2015) Continuous authentication on mobile devices using power consumption, touch gestures and physical movement of users. In: International workshop on recent advances in intrusion detection. Springer, Cham, pp. 405–424

16.

Khan H, Atwater A., Hengartner U (2014) Itus: an implicit authentication framework for android. In: Proceedings of the 20th annual international conference on Mobile computing and networking, ACM. pp. 507–518

17.

Kambourakis G, Damopoulos D, Papamartzivanos D, Pavlidakis E (2016) Introducing touchstroke: keystroke-based authentication system for smartphones. Security and Commun Netw 9(6):542–554

18.

Al Solami E, Boyd C, Clark A., Islam AK (2010) Continuous biometric authentication: can it be more practical?. In: 12th IEEE international conference on high performance computing and communications (HPCC). pp 647–652.
Acknowledgements
This work is partially supported by the School of Computer Science, University of Windsor, Natural Sciences and Engineering Research Council of Canada (NSERC), and in-kind contribution from our industry partner and project owner, Plurilock Inc.
About this article
Cite this article
Samet, S., Ishraque, M.T., Ghadamyari, M. et al. TouchMetric: a machine learning based continuous authentication feature testing mobile application. Int. j. inf. tecnol. 11, 625–631 (2019). https://doi.org/10.1007/s41870-019-00306-w
Received:

Accepted:

Published:

Issue Date:
Keywords
Data privacy

Continuous authentication

Biometric authentication

Identity management

Mobile security