Abstract
The transition caused by world heading towards urbanization influenced people in their economic growth and progress leading to innumerable problems like environmental pollution, high resource and energy consumption in urban cities. Increase in the commute time due to heavy traffic is becoming a huge problem in many cities. Virtual Traffic light organized by vehicles through VANET's was recently introduced, served dual purpose in reducing congestion and improving energy consumption. This paper proposes a novel approach in selecting a leader in virtual traffic light based on current traffic load. This manuscript first formulates the VTL protocol and further presents an algorithm to minimize the problem of congestion in order to prioritize emergency vehicles. The implementation of proposed work was based on primary data of Rohini, India to highlight its efficiency.
This is a preview of subscription content, log in to check access.
Access options
Buy single article
Instant access to the full article PDF.
US$ 39.95
Price includes VAT for USA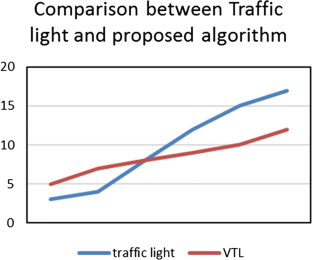 References
1.

Engineering C (2015) Review on intelligent traffic management system based on VANET. Int J Innov Res Comput Commun Eng 3:2001–2004

2.

Engineering C (2017) VANET system for traffic management. Int J Innov Res Comput Commun Eng 2:9689–9693

3.

Raya M, Hubaux J (2007) Securing vehicular ad hoc networks. J Comput Secur 15:39–68

4.

Paul B, Ibrahim, Bikas AN (2011) VANET routing protocols: pros and cons. Int J Comput App. https://doi.org/10.5120/2413-3224

5.

Anand A (2013) Performance evaluation of vehicular ad hoc network (VANET) using clustering approach. Comput Netw Commun 3(2):25–33

6.

Naumov V, Gross TR (2007) Connectivity-aware routing (car) in vehicular ad-hoc networks. IEEE INFOCOM 2007–26th IEEE international conference on computer communications. IEEE, Barcelona, pp 1919–1927

7.

Kumar R, Dave M (2012) A review of various VANET data dissemination protocols. Int J u-e-Serv Sci Technol 5(3):27–44

8.

Kumar V, Mishra S, Chand N (2013) Applications of VANETs : present & future. Commun Netw 2013:12–15

9.

Zeadally S, Hunt R, Irwin A, Hassan A (2010) Vehicular ad hoc networks (VANETS): status, results, and challenges. Telecommun Syst 50:217–241

10.

Chou L, Tseng JC, Yang J (2013) Adaptive virtual traffic light based on vanets for mitigating congestion in smart city. In: DICTAP

11.

Tonguz OK (2013) Vehicle-to-vehicle communications for safer intersections: virtual traffic lights. T-SET final research report

12.

Hagenauer F, Baldemaier P, Dressler F, Sommer C (2014) Advanced leader election for virtual traffic lights. ZTE commun 1:1–5

13.

Kumar B (2016) Traffic management using virtual traffic light. 3(8):57–59

14.

Umang Choudhary P (2018) Analyzing virtual traffic light using state machine in vehicular ad hoc network. In: Mansotra V, Singh U (eds) Lobiyal D. Next-Generation networks. Advances in intelligent systems and computing, vol 638. Springer, Singapore

15.

Lartey JD (2014) Predicting traffic congestion : a queuing perspective. Open J Model Simul 2:57–66

16.

Pisa I, Boquet G, Vicario JL, Morell A, Serrano J (2018) VAIMA : a V2V based intersection traffic management algorithm. pp. 125–128

17.

Ogunrinde RB, Lebile O (2015) On mathematical model of traffic control. Math Theory Model 5(1):58–69

18.

Ferreira M, Fernandes R, Conceição H, Viriyasitavat W, Tonguz OK (2010) Self-organized traffic control. In: Proceedings of the seventh ACM international workshop on Vehicular Internetworking. ACM, New York, pp 85–90, 24 September 2010

19.

Lobiyal DK (2012) Performance evaluation of realistic. 4(1):237–249

20.

Fernandes R (2009) VANET-enabled in-vehicle traffic sign. Master's thesis, University of Porto

21.

Odeh SM (2013) Management of an intelligent traffic light system by using genetic algorithm. J Image Graphics 1(2):90–93
About this article
Cite this article
Choudhary, P., Dwivedi, R.K. & Singh, U. Novel algorithm for leader election process in virtual traffic light protocol. Int. j. inf. tecnol. 12, 113–117 (2020). https://doi.org/10.1007/s41870-019-00305-x
Received:

Accepted:

Published:

Issue Date:
Keywords
Virtual traffic light

Individual lane leader

Virtual traffic lane leader

Vehicular ad hoc network

V2V communication

Intelligent transportation system