Abstract
Sonar, the instrument used for acquiring underwater acoustic images strongly participate in the assistance of detection and recognition of objects under the seafloor. Sonar emits sound waves to navigate deep into the sea and detects the sunken objects. The sonar images are also used for fish habitat mapping. Noise is an important factor that contributes to the degradation of quality of the images obtained by sonar. Generally speckle noise is found in the acoustic images which are caused by the instruments that affects the quality, thereby reducing visual perception. In this paper, various spatial filtering techniques have been applied to the acoustic images to remove the speckle noise. Among the filtering techniques available, bilateral filter followed by guided filter, when applied to the acoustic images tend to remove the speckle noise to a greater degree. The statistical methods for image quality assessment such as mean squared error (MSE), peak signal to noise ratio (PSNR), Structural SIMilarity Index (SSIM) are used to compare the quality of the despeckled images.
This is a preview of subscription content, log in to check access.
Access options
Buy single article
Instant access to the full article PDF.
US$ 39.95
Price includes VAT for USA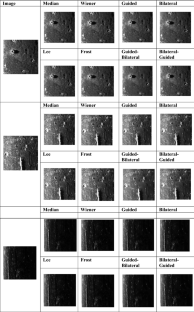 References
1.

Byram B et al (2015) A model and regularization scheme for ultrasonic beam forming clutter reduction. Ieee Trans Ultrason Ferroelectr Freq Control 62(11):1913–1927

2.

Chen D, Chu X, Ma F, Teng X (2017) A variational approach for adaptive underwater sonar image denoising. In: 2017 4th international conference on transportation information and safety (ICTIS). IEEE, pp 1177–1181

3.

Ravisankar P, Sree Sharmila T, Rajendran V (2018) Acoustic image enhancement using Gaussian and laplacian pyramid—a multiresolution based technique. Multimed Tools Appl 77:5547–5561. https://doi.org/10.1007/s11042-017-4466-7

4.

Priyadharsini R, Sree Sharmila T, Rajendran V (2018) A wavelet transform based contrast enhancement method for underwater acoustic images. Multidim Syst Sign Process 29:1845–1859. https://doi.org/10.1007/s11045-017-0533-5

5.

He Kaiming, Sun Jian, Tang Xiaoou (2013) Guided image filtering. IEEE Trans Pattern Anal Mach Intell 35(6):1397–1409

6.

Kumudham R, Aparna S, Rajendran V (2016) Comparison of the performance metrics of median filter and wavelet filter when applied on SONAR images for denoising. In: 2016 International conference on computation of power, energy information and commuincation (ICCPEIC). IEEE, pp 288–290

7.

Widynski N, Géraud T, Garcia D (2014) Speckle spot detection in ultrasound images: application to speckle reduction and speckle tracking. In: 2014 IEEE international ultrasonics symposium (IUS). IEEE, pp 1734–1737

8.

Cho H, Pyo J, Gu J, Jeo H, Yu S-C (2015) Real-time noise reduction for sonar video image using recursive filtering. In: OCEANS'15 MTS/IEEE Washington. IEEE, pp 1–8

9.

Singh K, Ranade SK, Singh C (2017) A hybrid algorithm for speckle noise reduction of ultrasound images. Comput Methods Programs Biomed 148:55–69

10.

Huang Q et al (2009) A new adaptive interpolation algorithm for 3D ultrasound imaging with speckle reduction and edge preservation. Comput Med Imaging Graph 33(2):100–110

11.

Ye X, Li P, Deng Y (2012) A side scan sonar image denoising algorithm based on compound of fuzzy weighted average and Kalman filter. In: 2012 International conference on mechatronics and automation (ICMA). IEEE, pp 720–724

12.

Adamo Francesco, Andria Gregorio, Attivissimo Filippo, Lanzolla Anna Maria Lucia, Spadavecchia Maurizio (2013) A comparative study on mother wavelet selection in ultrasound image denoising. Measurement 46(8):2447–2456

13.

Han P et al (2014) PolSAR image speckle reduction based on sparse representation and structure characteristics. In: 2014 IEEE international conference on acoustics, speech and signal processing (ICASSP). IEEE

14.

Li M, Hayward G (2014) A rapid approach to speckle noise reduction in ultrasonic non-destructive evaluation using matched filters. In: 2014 IEEE internationalultrasonics symposium (IUS). IEEE

15.

James R, Supriya MH (2016) Despeckling of sonar images based on a naive homogeneity index. In: OCEANS 2016 MTS/IEEE Monterey. IEEE, pp 1–6

16.

James R, Supriya MH (2016) Blind estimation of single look side scan sonar image from the observation model. Procedia Comput Sci 93:336–343

17.

Huo G, Yang SX, Li Q, Zhou Y (2017) A robust and fast method for sidescan sonar image segmentation using nonlocal despeckling and active contour model. IEEE Trans Cybern 47(4):855–872

18.

Karami Azam, Tafakori Laleh (2017) Image denoising using generalised Cauchy filter. IET Image Process 11(9):767–776

19.

Yang C, Yu Y, Li Q, Dong X, Ren Z (2017) An image denoising method based on nonsubsampled contourlet transform with SQP optimization. In: 2017 36th Chinese control conference (CCC). IEEE, pp 5455–5459

20.

Zhang L, Sheng Y, Chai L (2017) SSIM-based optimal non-local means image denoising with improved weighted Kernel function. In: 2017 36th Chinese control conference (CCC). IEEE, pp 5429–5433

21.

Wilkin T, Beliakov G (2017) Robust image denoising and smoothing with generalised spatial-tonal averages. In: 2017 IEEE international conference on fuzzy systems (FUZZ-IEEE). IEEE, pp 1–7

22.

Anwar S, Porikli F, Huynh CP (2017) Category-specific object image denoising. IEEE Trans Image Process 26(11):5506–5518
About this article
Cite this article
Dhanushree, M., Priyadharsini, R. & Sree Sharmila, T. Acoustic image denoising using various spatial filtering techniques. Int. j. inf. tecnol. 11, 659–665 (2019). https://doi.org/10.1007/s41870-018-0272-3
Received:

Accepted:

Published:

Issue Date:
Keywords
Acoustic

Filters

Noise

Side scan sonar

Speckle

Underwater