Abstract
The Socratic Method is widely described as an important component in the delivery of cognitive behaviour therapy (CBT). However, there is a lack of clarity regarding the perceived role and importance of the Socratic Method in CBT. A brief questionnaire survey was completed by 15 expert CBT researchers to evaluate the perceived role and function of the Socratic Method in CBT. Survey responses were examined using thematic analysis. Results suggested that respondents believe that the Socratic Method has a number of benefits within CBT and that its effective application necessitates it being applied differentially across individuals and therapeutic tasks. A consensus was not reached amongst respondents regarding the role of the Socratic Method, with some responses describing it as a central feature of CBT whilst others identified it as a valuable adjunct to treatment which is nonessential. The implications of the findings and areas for future research are discussed.
Access options
Buy single article
Instant access to the full article PDF.
USD 39.95
Price excludes VAT (USA)
Tax calculation will be finalised during checkout.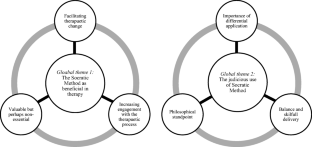 References
Beck, J. S. (2011). Cognitive behavior therapy: Basics and beyond (2nd ed.). New York: Guilford Press.

Baker, S. E., & Edwards, R. (2012). How many qualitative interviews is enough? Expert voices and early career reflections on sampling and cases in qualitative research, National Centre for Research Methods Review Paper. Retrieved from: http://eprints.ncrm.ac.uk/2273/4/how_many_interviews.pdf.

Blackburn, I. M., James, I. A., Milne, D. L., Baker, C., Standart, S., Garland, A., & Reichelt, F. K. (2001). The revised cognitive therapy scale (CTS-R): Psychometric properties. Behavioural and Cognitive Psychotherapy, 29(04), 431–446.

Braun, V., & Clarke, V. (2006). Using thematic analysis in psychology. Qualitative Research in Psychology, 3(2), 77–101.

Braun, J. D., Strunk, D. R., Sasso, K. E., & Cooper, A. A. (2015). Therapist use of Socratic questioning predicts session-to-session symptom change in cognitive therapy for depression. Behaviour research and therapy, 70, 32–37.

Carey, T. A., & Mullan, R. J. (2004). What is Socratic questioning? Psychotherapy: Theory, Research, Practice, Training, 41(3), 217.

Clark, D. M. (2005). A cognitive perspective on social phobia. In W. Ray, W. R. Crozicr, & L. L. Alden (Eds.), The essential handbook of social anxiety for clinicians (pp. 193–218). Chichester: Wiley.

Clark, G. I., & Egan, S. J. (2015). The Socratic method in cognitive Behavioural therapy: A narrative review. Cognitive Therapy and Research, 39, 863–879.

DeRubeis, R. J., Webb, C. A., Tang, T. Z., & Beck, A. T. (2009). Cognitive therapy. In K. S. Dobson (Ed.), Handbook of cognitive– Behavioral therapies (3rd ed., pp. 277–316). New York: Guilford.

Fairburn, C. G. (2008). Cognitive behavior therapy and eating disorders. Guilford Press.

Frith, H., & Gleeson, K. (2004). Clothing and embodiment: Men managing body image and appearance. Psychology of Men & Masculinity, 5(1), 40–48.

Froján-Parga, M. X., Calero-Elvira, A., & Montaño-Fidalgo, M. (2011). Study of the Socratic method during cognitive restructuring. Clinical Psychology & Psychotherapy, 18(2), 110–123.

Guest, G., Bunce, A., & Johnson, L. (2006). How many interviews are enough?: An experiment with data saturation and variability. Field Methods, 18, 59–82. https://doi.org/10.1177/1525822X05279903.

Heiniger, L. E., Clark, G. I., & Egan, S. J. (2018). Perceptions of Socratic and non-Socratic presentation of information in cognitive behaviour therapy. Journal of Behavior Therapy and Experimental Psychiatry, 58, 106–113. https://doi.org/10.1016/j.jbtep.2017.09.004.

Hofmann, S. G., Asnaani, A., Vonk, I. J., Sawyer, A. T., & Fang, A. (2012). The efficacy of cognitive behavioral therapy: A review of meta-analyses. Cognitive therapy and research, 36(5), 427–440.

Isman, E., Ekéus, C., & Berggren, V. (2013). Perceptions and experiences of female genital mutilation after immigration to Sweden: An explorative study. Sexual & Reproductive Healthcare, 4, 93–98. https://doi.org/10.1016/j.srhc.2013.04.004.

Jorm, A. F. (2015). Using the Delphi expert consensus method in mental health research. Australian and New Zealand Journal of Psychiatry. https://doi.org/10.1177/0004867415600891.

Kazantzis, N., Fairburn, C. G., Padesky, C. A., Reinecke, M., & Teesson, M. (2014). Unresolved issues regarding the research and practice of cognitive behavior therapy: The case of guided discovery using Socratic questioning. Behaviour Change, 31(01), 1–17.

Keeney, S., Hasson, F., & McKenna, H. (2011). The Delphi technique in nursing and health research. West Sussex: Wiley-Blackwell.

Keijsers, G. P. J., Schaap, C. P. D. R., & Hoogduin, C. A. L. (2000). The impact of interpersonal patient and therapist behavior on outcome in cognitive-behavior therapy a review of empirical studies. Behavior Modification, 24(2), 264–297.

Kennerley, H. (2007). Socratic method. Oxford: Oxford Cognitive Therapy Centre Essential Guides.

Mansell, W. (2008). The seven C's of CBT: A consideration of the future challenges for cognitive behaviour therapy. Behavioural and Cognitive Psychotherapy, 36(06), 641–649.

Mason, M. (2010). Sample size and saturation in PhD studies using qualitative interviews [63 paragraphs]. Forum Qualitative Sozialforschung/Forum: Qualitative Social Research, 11(3), 8 http://nbn-resolving.de/urn:nbn:de:0114-fqs100387.

Muse, K., McManus, F. (2016). Expert insight into the assessment of competence in cognitive-behavioural therapy: a qualitative exploration of experts' experiences, opinions and recommendations. Clinical Psychology & Psychotherapy 23(3), 246–259.

Overholser, J. C. (1987). Facilitating autonomy in passive-dependent persons: An integrative model. Journal of Contemporary Psychotherapy, 17(4), 250–269.

Overholser, J. C. (1993). Elements of the Socratic method: II. Inductive reasoning. Psychotherapy: Theory, Research, Practice, Training, 30(1), 75.

Overholser, J. C. (1994). Elements of the Socratic method: III. Universal definitions. Psychotherapy: Theory, Research, Practice, Training, 31(2), 286.

Overholser, J. C. (2011). Collaborative empiricism, guided discovery, and the Socratic method: Core processes for effective cognitive therapy. Clinical Psychology: Science and Practice, 18(1), 62–66.

Padesky, C. A. (1993). Socratic questioning: Changing minds or guiding discovery. London: Paper presented at the A keynote address delivered at the European Congress of Behavioural and Cognitive Therapies.

Padesky, C. A., & Beck, A. T. (2003). Science and philosophy: Comparison of cognitive therapy and rational emotive behavior therapy. Journal of Cognitive Psychotherapy, 17(3), 211–224.

Roth, A. D., & Pilling, S. (2007). The competences required to deliver effective cognitive and behavioural therapy for people with depression and with anxiety disorders. London: HMSO, Department of Health.

Toerien, M., & Wilkinson, S. (2004). Exploring the depilation norm: A qualitative questionnaire study of women's body hair removal. Qualitative Research in Psychology, 1(1), 69–92.

Westbrook, D., Kennerley, H., & Kirk, J. (2011). An introduction to cognitive behaviour therapy: Skills & applications. London: SAGE.

Young, J., & Beck, A. (1980). Cognitive therapy scale: Rating manual. Unpublished Manuscript.
Acknowledgements
We would like to thank the researchers who gave their valuable time to participate in the study: Professor David A. Clark, Professor Keith Dobson, Professor Paul Emmelkamp, Professor Mark Freeston, Dr. Nick Grey, Professor Steve Hollon, Dr. Warren Mansell, Professor Patricia van Oppen, Professor Adam Radomsky, Professor Ron Rapee, Professor Zindel Segal, Professor Roz Shafran, Dr. Craig Steel, Dr. Maureen Whittal and those who chose to participate anonymously.
Ethics declarations
Ethical approval for this study was obtained from the University of New England Human Research Ethics Committee. All participants chose to participate by responding to an invitation to participate. All participants provided written informed consent to participate in the study.
About this article
Cite this article
Clark, G.I., Egan, S.J. Clarifying the Role of the Socratic Method in CBT: a Survey of Expert Opinion. J Cogn Ther 11, 184–199 (2018). https://doi.org/10.1007/s41811-018-0016-y
Published:

Issue Date:

DOI: https://doi.org/10.1007/s41811-018-0016-y
Keywords