Abstract
In this study, silver oxide thin films were deposited on silicon and glass substrates using thermal evaporation techniques with subsequent annealing in air. The deposited films were annealed in air at different temperatures. The effect of annealing temperature on the structural and optical properties of prepared thin films was investigated. The results showed that, except for the grain size, the annealing temperature has a significant effect on the oxidation rate and the optical properties of silver oxide thin films.
This is a preview of subscription content, log in to check access.
Access options
Buy single article
Instant access to the full article PDF.
US$ 39.95
Price includes VAT for USA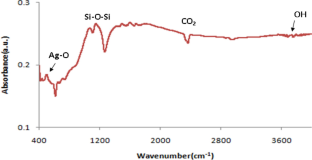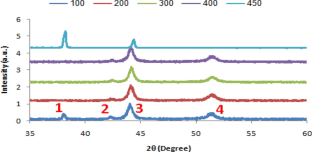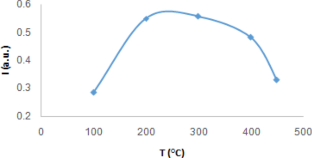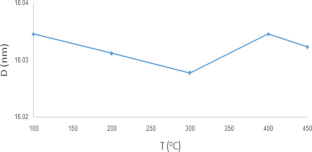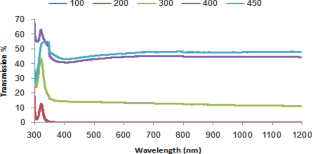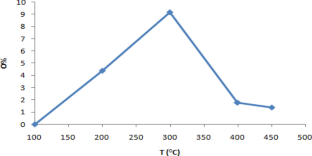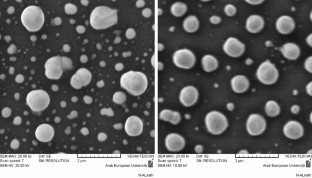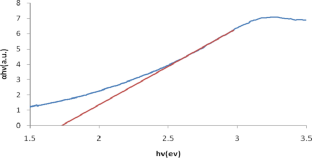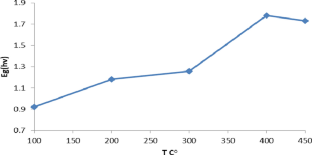 References
Biswanath M, Moumita M (2009) Nonvolatile memory device based on Ag nanoparticle: characteristics improvement. Appl Phys Lett 94:233–236

Chan YF, Zhang CX, Wu ZL, Zhao DM, Wang W, Xu HJ, Sun XM (2013) Ag dendritic nanostructures as ultrastable substrates for surface-enhanced Raman scattering. Appl Phys Lett 102:183118

Chiyah B, Kayed K (2018) Effect of annealing temperature on the structural and optical properties of silver oxide thin films prepared by thermal evaporation with subsequent annealing. Int J Nanoelectron Mater 11:305–310

Detsri E, Popanyasak J (2015) Fabrication of silver nanoparticles/polyaniline composite thin films using layer-by-layer self-assembly technique for ammonia sensing. Colloids Surf A: Physicochem Eng Aspects 467:57–65

Ding SY, Yi J, Li JF, Ren B, Wu DY, Panneerselvam R, Tian ZQ (2016) Nanostructure-based plasmon-enhanced Raman spectroscopy for surface analysis of materials. Nat Rev Mater 16036:1–16

Dubas ST (2007) Preparation of silver nanoparticle thin films for sensing application. PhD thesis. Department of Material Science, Chulalongkorn University, Bangkok, Thailand

Dubas ST, Pimpan V (2008a) Green synthesis of silver nanoparticles for ammonia sensing. Talanta 76:29–33

Dubas ST, Pimpan V (2008b) Humic acid assisted synthesis of silver nanoparticles and its application to herbicide detection. Mater Lett 62:2661–2663

Filippo E, Serra A, Manno D (2009) Poly(vinyl alcohol) capped silver nanoparticles as localized surface plasmon resonance-based hydrogen peroxide sensor. Sens Actuators B: Chem 138:625–630

Fujiwara Y, Kobayashi Y, Kita K, Kakehashi R, Noro M, Katayama JI, Otsuka K (2008) Ag nanoparticle catalyst for electroless Cu deposition and promotion of its adsorption onto epoxy substrate. J Electrochem Soc 155:377–382

Gomathi Devi L, Kavitha R (2016) A review on plasmonic metal–TiO2 composite for generation, trapping, storing and dynamic vectorial transfer of photogenerated electrons across the Schottky junction in a photocatalytic system. Appl Surf Sci 360:601–622

Harinee S, Muthukumar K, Dahms HU, Koperuncholan M, Vignesh S, Banu RJ, Ashok M, James RA (2019) Biocompatible nanoparticles with enhanced photocatalytic and antimicrofouling potential. Int Biodeter Biodegrad 145:104790

Huang LM, Wen TC (2007) One-step synthesis of silver nanoparticles and poly(2,5-dimethoxyaniline) in poly(styrene sulfonic acid). Mater Sci Eng A445–446:7–13

Kayed K (2020) The optical properties of individual silver nanoparticles in Ag/Ag2O Composites synthesized by oxygen plasma treatment of silver thin films. Plasmonics. https://doi.org/10.1007/s11468-020-01169-9

Li J, Fang W, Yu C, Zhou W, Zhu L, Xie Y (2015) Ag-based semiconductor photocatalysts in environmental purification. Appl Surf Sci 358:46–56

Li S, Gao B, Wang Y, Jin B, Yue Q, Wang Z (2019) Antibacterial thin film nanocomposite reverse osmosis membrane by doping silver phosphate loaded graphene oxide quantum dots in polyamide layer. Desalination 464:94–104

Li M, Wang Y, Xing Y, Zhong J (2020) P123-assisted preparation of Ag/Ag2O with significantly enhanced photocatalytic performance. Solid State Sci 99:106062

Ling L, Feng Y, Li H, Chen Y, Wen J, Zhu J, Bian Z (2019) Microwave induced surface enhanced pollutant adsorption and photocatalytic degradation on Ag/TiO2. Appl Surf Sci 483:772–778

Low J, Yu J, Jaroniec M, Wageh S, Al-Ghamdi AA (2017) Heterojunction photocatalysts. Adv Mater 29:1601694

Madhavi V, Kondaiah P, Mohan Rao G (2018) Influence of silver nanoparticles on titanium oxide and nitrogen doped titanium oxide thin films for sun light photocatalysis. Appl Surf Sci 436:708–719

Mahapatra SS, Karak N (2008) Silver nanoparticle in hyperbranched polyamine: synthesis, characterization and antibacterial activity. Mater Chem Phys 112:1114–1119

Maruno S (2019) Surface plasmon spectroscopy of thin composite films of Au nanoparticles and PEDOT:PSS conjugated polymer. Org Electron 64:154–157

Mott NF, Davis EA (1971) Electronic properties in non-crystalline materials. Oxford University Press, London

Scherrer P (1912) Bestimmung der inneren Struktur und der Größe vonKolloidteilchen mittels Röntgenstrahlen. In: Kolloidchemie Ein Lehrbuch. Springer, pp 387–409

Sun W, Hong R, Liu Q, Li Z, Shi J, Tao C, Zhang D (2019) SERS-active Ag–Al alloy nanoparticles with tunable surface plasmon resonance induced by laser ablation. Opt Mater 96:109298

Uğur Ş, Akaoğlu C, Kucukkahveci E (2019) A study on film formation and fluorescence enhancement of PS latex/AgNPs composites depending on AgNPs content and annealing. Colloids Surf A 573:40–56

Wadayama H, Okabe T, Taniguchi J (2018) Fabrication of multilayered structure of silver nanorod arrays for plasmon memory. Microelectron Eng 193:47–53

Wang Y (2006) A convenient route to polyvinyl pyrrolidone/silver nanocomposite by electrospinning. Nanotechnology 17:3304–3307

Yang GW, Li H (2008) Sonochemical synthesis of highly monodispersed and size controllable Ag nanoparticles in ethanol solution. Mater Lett 62:2189–2191

Zhao WB, Zhu JJ, Chen HY (2003) Photochemical synthesis of Au and Ag nanowires on a porous aluminum oxide template. J Cryst Growth 258:176–180
Acknowledgments
The authors would like to thank the University of Damascus and the Syrian Atomic Energy Commission for providing the facility to carry out this research.
About this article
Cite this article
Kayed, K., Chiyah, B. The Structural and Optical Properties of Silver Oxide Thin Films Synthesized by Thermal Evaporation of Silver with Subsequent Annealing. Aerosol Sci Eng (2020). https://doi.org/10.1007/s41810-020-00072-4
Received:

Revised:

Accepted:

Published:
Keywords
Silver oxide

Thin film

Thermal evaporation

Annealing

Plasmon