Abstract
The globalization of English-based technology has caused the present-day Arab generation to rely on the use of the Latin script as the main writing system when communicating through the electronic medium in Spoken Arabic (SA). This has raised fears for the preservation of Modern Standard Arabic (MSA), the traditional orthography of Arabic. This study presents the attitudes of Arab adolescents in northern Israel towards the use of Arabizi (Latinized Arabic) in Computer-Mediated Communication (CMC), and towards MSA. The data were collected via a questionnaire completed by 8th grade students. The questions were divided into three different themes: (1) Demographic data, (2) The degree of control of communication with Arabizi in CMC, and (3) Subjects' attitude towards Arabizi and MSA. The results show that although the students all use Arabizi and report that it is easier and more accessible to them, they consider MSA important and valuable, as it is related to their identity as Arabs.
This is a preview of subscription content,
to check access.
Access this article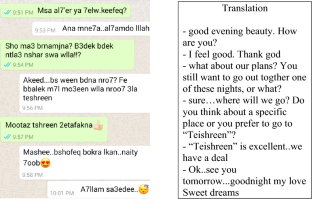 Similar content being viewed by others
Notes
Computer-Mediated Communication (CMC) has been defined as "the practice of using networked computers and alphabetic text to transmit messages between people or groups of people across space and time" (Jacobs 2008:470).

Gorter (2006) distinguished between two main factors that affect multilingual aspects of writing. The first is "top-down" or, as Ivković named it, from above, where language planning is prescribed by administration and experts (Maguire 1995; Bradley 2010; Ivković 2015), and the second is "bottom-up" or from below, where linguistic practices are determined by mostly anonymous, non-expert users.

Al-Tamimi and Gorgis (2007) mention that Latinized Jordanian Arabic might be described as a hybrid lingua franca or even a pidgin.

However, it should be mentioned that very recently users of CMC have begun employing a written form of SA using Arabic letters. This new orthography lacks standardization and it is used in social media as well as discussion forums, SMS and online chat rooms (Maamouri et al. 2014).
References
Abdelhadi, S., Ibrahim, R., & Eviatar, Z. (2011). Perceptual load in the reading of Arabic: Effects of orthographic visual complexity on detection. Writing Systems Research, 3(2), 117–127.

Abrams, D., & Hogg, M. A. (1987). Language attitudes, frames of reference, and social identity: A Scottish dimension. Journal of Language and Social Psychology, 6(3–4), 201–213.

Abu-Rabia, S. (2002). Reading in a root–based–morphology language: The case of Arabic. Journal of Research in Reading, 25(3), 299–309.

Akbar, R. (2007). Students' and teachers' attitudes towards Kuwaiti/English code-switching. (Doctoral dissertation, Cardiff University)

Al-Badrashiny, M., Eskander, R., Habash, N., & Rambow, O. (2014). Automatic transliteration of Romanized dialectal Arabic. In R. Morante, S. Wen-tau Yih (Eds.), Proceedings of the Eighteenth Conference on Computational Natural Language Learning (pp. 30–38). Ann Arbor, Michigan.

Al-Khatib, M., & Sabbah, E. H. (2008). Language choice in mobile text messages among Jordanian university students. SKY Journal of Linguistics, 21(1), 37–65.

Allehaiby, W. H. (2013). Arabizi: An analysis of the Romanization of the Arabic script from a sociolinguistic perspective. Arab World English Journal, 4(3), 52–62.

Al-Tamimi, Y., & Gorgis, D. T. (2007). Romanised Jordanian Arabic E-messages. The International Journal of Language Society and Culture, 21, 1–12.

Ayari, S. (1996). Diglossia and illiteracy in the Arab world. Language, Culture and Curriculum, 9, 243–252.

Bani-Khaled, T. A. A. (2014). Attitudes towards Standard Arabic: A case study of Jordanian undergraduate students of English. International Journal of Linguistics, 6(4), 154.

Barakat, H. (1993). The Arab world: Society, culture, and state. Berkeley: University of California Press.

Baron, N. S. (1998). Letters by phone or speech by other means: The linguistics of email. Language & Communication, 18(2), 133–170.

Baron, N. S. (2002). Whatever: A new language model. In Paper presented in the Annual Meeting of the Modern Language Association, New York.

Baron, N. S. (2013). Do mobile technologies reshape speaking, writing, or reading? Mobile Media & Communication, 1(1), 134–140.

Belnap, R. K., & Bishop, B. (2003). Arabic personal correspondence: a window on change in progress? Arabic sociolinguistics as viewed by western Arabists. International Journal of the Sociology of Language, 163, 9–25.

Bianchi, R. M. (2012a). Glocal Arabic online: The case of 3arabizi. Studies in Second Language Learning and Teaching, 2(4), 483–503.

Bianchi, R. M. (2012b). 3arabizi—When local Arabic meets global English. Acta Linguistica Asiatica, 2(1), 89–100.

Bjørnsson, J. (2010). Egyptian romanized arabic: A study of selected features from communication among Egyptian youth on Facebook. MA Thesis, Univeristy of Oslo.

Bradley, D. (2010). Problems in orthography development for the Yi in China. In J. A. Fishman & O. García (Eds.), Handbook of language and ethnic identity: The success-failure continuum in language and ethnic identity efforts (Vol. 2, pp. 180–191). Oxford: Oxford University Press.

Cargile, A. C., & Giles, H. (1997). Understanding language attitudes: Exploring listener affect and identity. Language & Communication, 17(3), 195–217.

Coulmas, F. (2003). Writing systems: An introduction to their linguistic analysis. Cambridge: Cambridge University Press.

Coupland, N., & Kristiansen, T. (2011). SLICE: Critical perspectives on language (de) standardisation. In T. Kristiansen & N. J. R. Coupland (Eds.), Standard languages and language standards in a changing Europe (pp. 11–35). St. Charles: Novus Press.

Crystal, D. (2001). Language and the internet. Cambridge: Cambridge University Press.

Darwish, K. (2013). Arabizi detection and conversion to Arabic. Computation and Language. https://arxiv.org/abs/1306.6755

Darwish, E. B. (2017). Factors influencing the uses, diglossia and attrition of Arabic language in social media: Arab youth case. Journal of Education and Social Sciences, 7(1), 250–257.

Diringer, D. (1968). The alphabet: A key to the history of mankind. New York: Funk & Wagnalls.

Duwairi, R. M., Marji, R., Sha'Ban, N., & Rushaidat, S. (2014). Sentiment analysis in Arabic tweets. In 5th International Conference on Information and Communication Systems (ICICS), 1-3 April 2014, Irbid, pp. 1–6.

Edwards, J. (1985). Language, society, and identity. New York: B. Blackwell.

Elmahdy, M., Gruhn, R., Abdennadher, S., & Minker, W. (2011). Rapid phonetic transcription using everyday life natural Chat Alphabet orthography for dialectal Arabic speech recognition. In 2011 IEEE International Conference on Acoustics, Speech and Signal Processing (ICASSP) (pp. 4936–4939). Prague, Czech Republic.

Eviatar, Z., & Ibrahim, R. (2000). Bilingual is as bilingual does: Metalinguistic abilities of Arabic-speaking children. Applied Psycholinguistics, 21(4), 451–471.

Eviatar, Z., & Ibrahim, R. (2004). Morphological and orthographic effects on hemispheric. Reading and Writing, 17(7–8), 691–705.

Eviatar, Z., & Ibrahim, R. (2012). Multilingualism among Israeli Arabs, and the neuropsychology of reading in different languages. In M. Leikin, M. Schwartz, & Y. Tobin (Eds.), Current issues in bilingualism: A complex approach to a multidimensional phenomenon (pp. 57–74). Dordrecht: Springer.

Farrag, M. M. A. (2012). Arabizi: a Writing variety worth learning? An exploratory study of the views of foreign learners of Arabic on Arabizi (Master's thesis, The American University in Cairo). http://dar.aucegypt.edu/handle/10526/3167. Accessed 9 Mar 2020.

Ferguson, C. A. (1959). Diglossia. Word, 15, 325–340.

Gao, L. W., & Rong, Y. (2005) Linguistic construction of modernity in computer-mediated communication. In Q. Gao (Ed.), Proceedings of the Seventeenth North American Conference on Chinese Linguistics (NACCL-17), (pp. 66–83).

Garra, E. (2007). From dialect into a language: the cases of English and Arabic. (Unpublished MA Thesis, Haifa English Department).

Ghazal, M. (2014). Arabizi popularity threatening Arabic proficiency among native speakers, experts warn. Jordanian Times. Retrieved from: https://www.jordantimes.com/news/local/arabizi-popularity-threatening-arabic-proficiency-among-native-speakers-experts-warn. Accessed 8 Mar 2020.

Haggan, M. (2007). Text messaging in Kuwait. Is the medium the message? Multilingua, 26(4), 427–449.

Hamdan, H. (2017). Attitudes towards Arabic Romanization and Student's Major: Evidence from the University of Jordan. Arab World English Journal (AWEJ) Volume 7. Available at SSRN: https://ssrn.com/abstract=2898664. https://doi.org/10.2139/ssrn.2898664. Accessed 25 Feb 2020.

Harris, T. L., & Hodges, R. E. (1981). A dictionary of reading and related terms. International Journal of Rehabilitation Research, 4(4), 602.

Höflich, J., & Rössler, P. (2002). More than just a telephone: The mobile phone and use of the short message service (SMS) by German adolescents: Results of a pilot study. Revista de Estudios de Juventud, 57(2), 79–99.

Hudson, A. (2002). Outline of a theory of diglossia. International Journal of the Sociology of Language, 157, 1–48.

Ibrahim, R., Eviatar, Z., & Aharon-Peretz, J. (2007). Metalinguistic awareness and reading performance: A cross-language comparison. Journal of Psycholinguistic Research, 36(4), 297–317.

Ivković, D. (2015). Cyber-Latinica: A comparative analysis of latinization in internet slavic. Language@ Internet, 12(2). Available online: http://www.languageatinternet.org/articles/2015/ivkovic2. Accessed 8 Mar 2020.

Jantz, G. L. (2011). The stranger in your house. Colorado Springs: David C Cook.

Jaran, S. A., & Al-Haq, F. A. A. (2015). The use of hybrid terms and expressions in colloquial among Jordanian college students: A sociolinguistic study. English Language Teaching, 8(12), 86.

Jaspal, R., & Breakwell, G. M. (2014). Identity process theory: Identity, social action and social change. Cambridge: Cambridge University Press.

Kindt, K. T., & Kebede, T. A. (2017). A Language for the People? Quantitative indicators of written dārija and āmmiyya in Cairo and Rabat. In J. Høigilt & G. Mejdell (Eds.), The politics of written language in the Arab world (pp. 18–40). Amsterdam: Brill.

Koutsogiannis, D., & Mitsikopoulou, B. (2003). Greeklish and Greekness: Trends and discourses of "glocalness". Journal of Computer-Mediated Communication, 9(1).

Ling, R. (2002). Adolescent girls and young adult men: Two sub-cultures of the mobile telephone. Revista de Estudios de juventud, 52, 33–46.

Maamouri, M. (1998). Language education and human development: Arabic diglossia and its impact on the quality of education in the Arab region. In: Paper presented at the Mediterranean Development Forum of the World Bank. Marrakech, Morocco, Sept 3–6 1998.

Maamouri, M., Bies, A., Kulick, S., Ciul, M., Habash, N. & Eskander, R. (2014). Developing an Egyptian Arabic Treebank: Impact of dialectal morphology on annotation and tool development. In N. Calzolari, K. Choukri, T. Declerck, H. Loftsson, B. Maegaard, J. Mariani, A. Moreno, J. Odijk, & S. Piperidis (Eds.), Proceedings of the Ninth International Conference on Language Resources and Evaluation (pp. 2348–2354). Reykjavik, Iceland.

Maguire, R. E. (1995). Bottom-up development in Haiti. Lawrence: Institute of Haitian Studies, University of Kansas.

McQuail, D. (2010). McQuail's mass communication theory. Thousand Oaks: Sage Publications.

Muhammed, R., Farrag, M., Elshamly, N., & Abdel-Ghaffar, N. (2011). Summary of Arabizi or Romanization: The dilemma of writing Arabic texts. Jīl Jadīd Conference, Austin, TX. http://www.utexas.edu/cola/depts/mes/events/conferences/jiljadid2011/papers/FinalArabizSummary_JilJadid.pdf. Accessed 3 Mar 2020.

Nevat, M., Khateb, A., & Prior, A. (2014). When first language is not first: an functional magnetic resonance imaging investigation of the neural basis of diglossia in Arabic. European Journal of Neuroscience, 40(9), 3387–3395.

Nishimura, Y. (2003). Linguistic innovations and interactional features of casual online communication in Japanese. Journal of Computer-Mediated Communication, 9(1).

Palfreyman, D., & Khalil, M. A. (2003). "A Funky Language for Teenzz to Use:" Representing Gulf Arabic in Instant Messaging. Journal of computer-mediated communication, 9(1). https://onlinelibrary.wiley.com/doi/full/10.1111/j.1083-6101.2003.tb00355.x. Accessed 9 Mar 2020.

Panović, I. (2017). Literacies in contemporary Egypt: Everyday writing and political change. Abingdon: Routledge.

Saiegh-Haddad, E. (2004). The impact of phonemic and lexical distance on the phonological analysis of words and pseudo words in a diglossic context. Applied Psycholinguistics, 25, 495–512.

Saiegh-Haddad, E., & Henkin-Roitfarb, R. (2014). The structure of Arabic language and orthography. In E. Saiegh-Haddad & R. M. Joshi (Eds.), Handbook of Arabic literacy. Language and literacy series (pp. 3–28). Dordrecht: Springer.

Sakkal, M. (2008). A brief survey of proposals to simplify Arabic script. Sakkal Design, 21(1). http://www.sakkal.com/articles/simplified_arabic/survey.html. Accessed 2 March 2020.

Sebba, M. (2013). Multilingualism in written discourse: An approach to the analysis of multilingual texts. International Journal of Bilingualism, 17(1), 97–118.

Shoufan, A., & Alameri, S. (2015). Natural language processing for dialectical Arabic: A Survey. In N. Habash, S. Vogel, & K. Darwish (Eds.), Proceedings of the Second Workshop on Arabic Natural Language Processing (pp. 36–48).  Beijing, China.

Stevens, P. B. (1994). The pragmatics of street hustlers' English in Egypt. World Englishes, 13(1), 61–73.

Suleiman, Y. (2004). A war of words: Language and conflict in the Middle East. Cambridge: Cambridge University Press.

Tabouret-Keller, A., & Le Page, R. B. (1985). Acts of identity: Creole-based approaches to language and ethnicity. Cambridge: Cambridge University Press.

Walters, K. (2003). Fergie's prescience: The changing nature of diglossia in Tunisia. International Journal of the Sociology of Language, 163, 77–109.

Warschauer, M. (2001). Singapore's dilemma: Control versus autonomy in IT-led development. The Information Society, 17(4), 305–311.

Warschauer, M., Said, G. R. E., & Zohry, A. G. (2002). Language choice online: Globalization and identity in Egypt. Journal of Computer-Mediated Communication, 7(4). https://onlinelibrary.wiley.com/doi/full/10.1111/j.1083-6101.2002.tb00157.x. Accessed 2 Mar 2020.

Werry, C. C. (1996). Linguistic and interactional features of internet relay chat. In S. C. Herring (Ed.), Computer-mediated communication: Linguistic, social and cross-cultural perspectives (pp. 47–63). Amsterdam: John Benjamins Publishing.

Yaghan, M. A. (2008). "Arabizi": A contemporary style of Arabic slang. Design Issues, 24(2), 39–52.

Yates, S. J. (1996). Oral and written linguistic aspects of computer conferencing. In S. C. Herring (Ed.), Computer-mediated communication: Linguistic, social and cross-cultural perspectives (pp. 29–46). Amsterdam: John Benjamins Publishing.
Additional information
Publisher's Note
Springer Nature remains neutral with regard to jurisdictional claims in published maps and institutional affiliations.
Appendix
Appendix
The Questionnaire (in Arabic)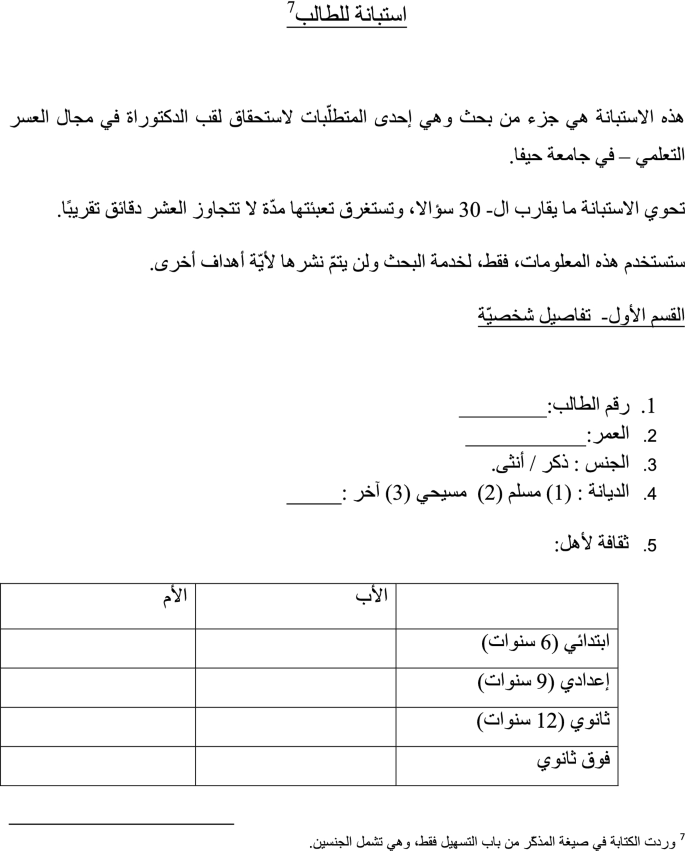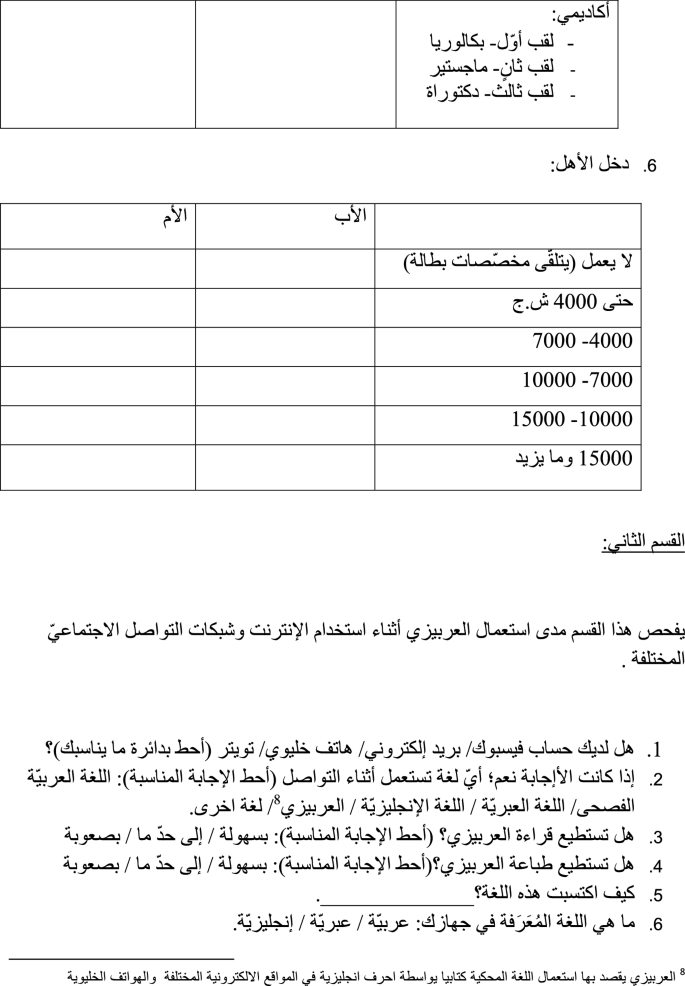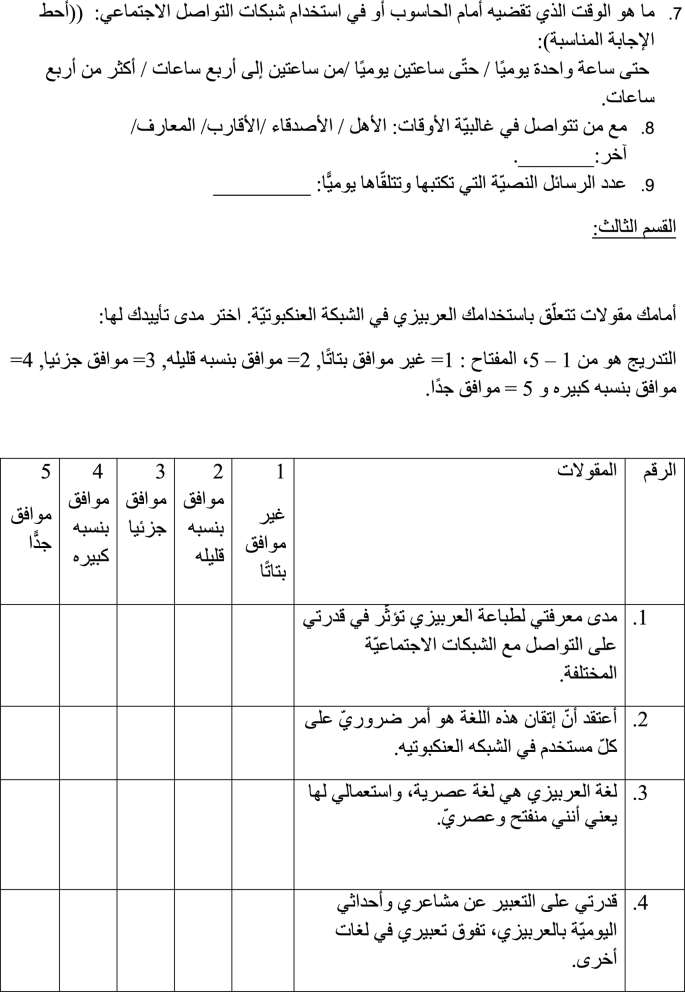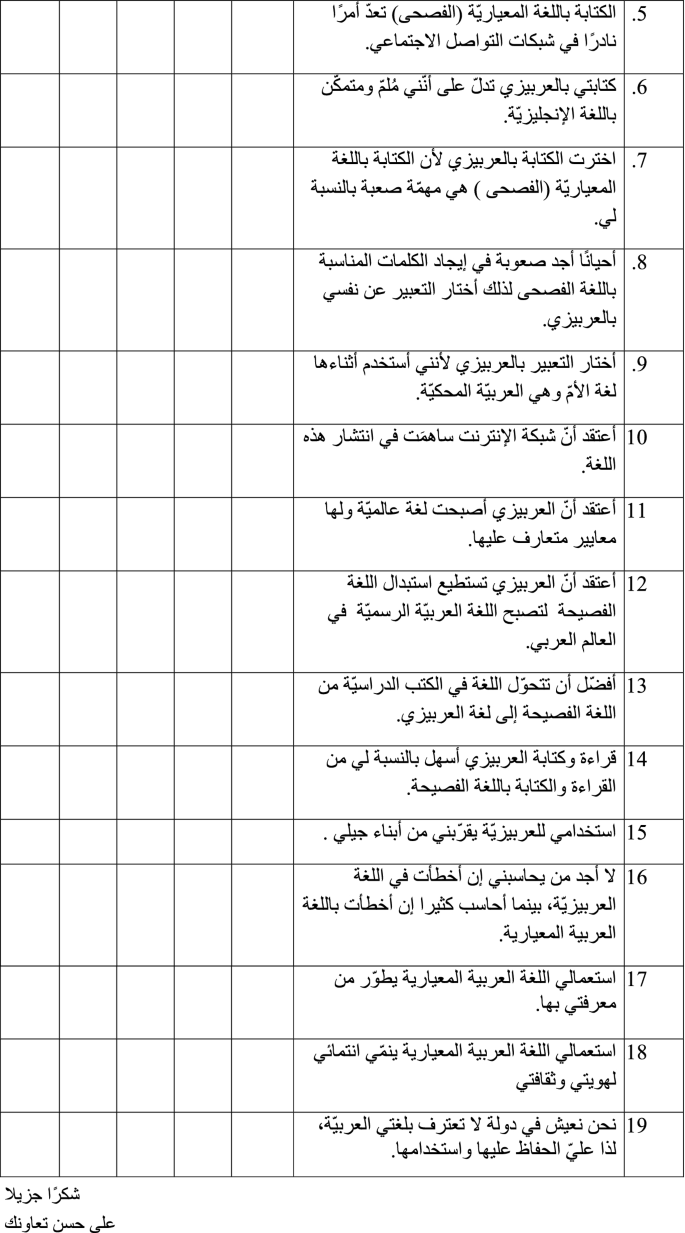 About this article
Cite this article
Khatteb Abu-Liel, A., Eviatar, Z. & Nir, B. Arabic teenagers' attitudes to electronic writing in Arabizi. J Cult Cogn Sci 5, 125–142 (2021). https://doi.org/10.1007/s41809-020-00057-2
Received:

Revised:

Accepted:

Published:

Issue Date:

DOI: https://doi.org/10.1007/s41809-020-00057-2
Keywords