Abstract
Much research on sound symbolism has shown that some aspects of word meaning are linked to phonology. For instance, people tend perceive a name as a female one if it is longer, has stress on a later syllable, or ends with a vowel rather than a consonant. It is yet unclear whether people also use sound-symbolic cues to infer name gender from phonology in a language they do not speak. In three experiments, native speakers of English and German listened to real personal names in Min, a south China language that our participants had not been exposed to, and rated to what extent a name sounded male/female. Compared to real female names, real male names were rated more male-sounding by both English and German speakers in a consistent way. Further exploratory analysis showed that male names in Min, compared to female names, are more likely to have consonant-ending syllables and English- and German-speaking participants happened to make use of this sound-symbolic cue in gender judgement. These results show that people are able to make use of sound-symbolic cues to infer the gender of personal names even in a language they do not speak.
Access options
Buy single article
Instant access to the full article PDF.
USD 39.95
Price excludes VAT (USA)
Tax calculation will be finalised during checkout.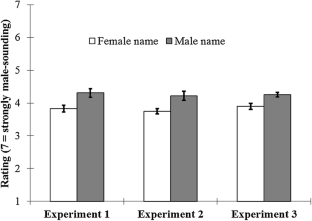 References
Abel, G. A., & Glinert, L. H. (2008). Chemotherapy as language: Sound symbolism in cancer medication names. Social Science and Medicine, 66(8), 1863–1869.

Baayen, R. H., Davidson, D. J., & Bates, D. M. (2008). Mixed-effects modeling with crossed random effects for subjects and items. Journal of Memory and Language, 59(4), 390–412.

Bergen, B. K. (2004). The psychological reality of phonaesthemes. Language, 80(2), 290–311.

Cai, Z. G., Pickering, M. J., Yan, H., & Branigan, H. P. (2011). Lexical and syntactic representations in closely related languages: Evidence from Mandarin and Cantonese. Journal of Memory and Language, 65, 431–445.

Cassidy, K. W., Kelly, M. H., & Sharoni, L. A. J. (1999). Inferring gender from name phonology. Journal of Experimental Psychology: General, 128(3), 362.

Christensen, R. H. B. (2019a). A tutorial on fitting cumulative link mixed models with clmm2 from the ordinal Package. https://cran.r-project.org/web/packages/ordinal/vignettes/clmm2_tutorial.pdf. Accessed 30 Jun 2019.

Christensen, R. H. B. (2019b). Package "ordinal". CRAN. http://cran.rproject.org/web/packages/ordinal/index.html. Accessed 30 Jun 2019.

Cutler, A., McQueen, J., & Robinson, K. (1990). Elizabeth and John: Sound patterns of men's and women's names. Journal of Linguistics, 26(2), 471–482.

De Klerk, V., & Bosch, B. (1997). The sound patterns of English nicknames. Language Sciences, 19(4), 289–301.

Duanmu, S. (2007). The phonology of standard Chinese. Oxford: Oxford University Press.

Hinton, L., Nichols, J., & Ohala, J. J. (Eds.). (2006). Sound symbolism. Cambridge: Cambridge University Press.

Imai, M., & Kita, S. (2014). The sound symbolism bootstrapping hypothesis for language acquisition and language evolution. Philosophical Transactions of the Royal Society B, 369(1651), 20130298.

Imai, M., Kita, S., Nagumo, M., & Okada, H. (2008). Sound symbolism facilitates early verb learning. Cognition, 109(1), 54–65.

Johnson, R. C. (1967). Magnitude symbolism of English words. Journal of Verbal Learning and Verbal Behavior, 6(4), 508–511.

Kantartzis, K., Imai, M., & Kita, S. (2011). Japanese sound-symbolism facilitates word learning in English-speaking children. Cognitive Science, 35(3), 575–586.

Klink, R. R. (2000). Creating brand names with meaning: The use of sound symbolism. Marketing Letters, 11(1), 5–20.

Klink, R. R., & Wu, L. (2013). The role of position, type, and combination of sound symbolism imbeds in brand names. Marketing Letters, 25(1), 13–24.

Köhler, H. (1929). Arbeitsdienst in Deutschland. Berlin: Duncker & Humblot.

Matuschek, H., Kliegl, R., Vasishth, S., Baayen, H., & Bates, D. (2017). Balancing Type I error and power in linear mixed models. Journal of Memory and Language, 94, 305–315.

Meteyard, L., Stoppard, E., Snudden, D., Cappa, S. F., & Vigliocco, G. (2015). When semantics aids phonology: A processing advantage for iconic word forms in aphasia. Neuropsychologia, 76, 264–275.

Monaghan, P., & Fletcher, M. Do sound symbolism effects for written words relate to individual phonemes or to phoneme features? Language and Cognition (in press).

Monaghan, P., Mattock, K., & Walker, P. (2012). The role of sound symbolism in language learning. Journal of Experimental Psychology. Learning, Memory, and Cognition, 38(5), 1152.

Nuckolls, J. B. (1999). The case for sound symbolism. Annual Review of Anthropology, 28(1), 225–252.

Ormel, E., Hermans, D., Knoors, H., & Verhoeven, L. (2009). The role of sign phonology and iconicity during sign processing: The case of deaf children. Journal of Deaf Studies and Deaf Education, 14(4), 436–448.

Otis, K., & Sagi, E. (2008). Phonaesthemes: A corpus-based analysis. In Proceedings of the cognitive science society (Vol. 30, No. 30).

Ozturk, O., Krehm, M., & Vouloumanos, A. (2013). Sound symbolism in infancy: Evidence for sound–shape cross-modal correspondences in 4-month-olds. Journal of Experimental Child Psychology, 114(2), 173–186.

Perniss, P., & Vigliocco, G. (2014). The bridge of iconicity: From a world of experience to the experience of language. Philosophical Transactions of the Royal Society B, 369(1651), 20130300.

Pitcher, B. J., Mesoudi, A., & McElligott, A. G. (2013). Sex-biased sound symbolism in English-language first names. PLoS One, 8(6), e64825.

Ramachandran, V. S., & Hubbard, E. M. (2001). Synaesthesia—A window into perception, thought and language. Journal of Consciousness Studies, 8(12), 3–34.

Saussure, De F. (2011). Course in general linguistics. New York: Columbia University Press.

Slater, A. S., & Feinman, S. (1985). Gender and the phonology of North American first names. Sex Roles, 13(7), 429–440.

Slepian, M. L., & Galinsky, A. D. (2016). The voiced pronunciation of initial phonemes predicts the gender of names. Journal of Personality and Social Psychology, 110(4), 509.

Taub, S. F. (2001). Language from the body: Iconicity and metaphor in American Sign Language. Cambridge: Cambridge University Press.

Wagenmakers, E.-J. (2007). A practical solution to the pervasive problems of p values. Psychonomic Bulletin & Review, 14, 779–804.

Westbury, C., Hollis, G., Sidhu, D. M., & Pexman, P. M. (2018). Weighing up the evidence for sound symbolism: Distributional properties predict cue strength. Journal of Memory and Language, 99, 122–150.

Wright, S. K. (2006). Phonological cues influence sex decisions about novel names. Psychological Reports, 99(2), 315–321.

Wright, S., Hay, J., & Bent, T. (2005). Ladies first? Phonology, frequency, and the naming conspiracy. Linguistics, 44, 531–561.

Yi, T.-L. (1920). Lectures on Chinese Phonetics [國音學講義]. Shanghai: Commercial Press.

Yorkston, E., & Menon, G. (2004). A sound idea: Phonetic effects of brand names on consumer judgments. Journal of Consumer Research, 31(1), 43–51.

Yoshida, H. (2012). A cross-linguistic study of sound symbolism in children's verb learning. Journal of Cognition and Development, 13(2), 232–265.
Acknowledgements
This research was supported by an ESRC grant (ES/L010224/2), a CUHK startup grant, and a CUHK Faculty of Arts grant to ZGC. We thank Lu Zhang for assistance in data collection and Gabriella Vigliocco for discussion.
Ethics declarations
Conflict of interest
On behalf of all authors, the corresponding author states that there is no conflict of interest.
Additional information
Publisher's Note
Springer Nature remains neutral with regard to jurisdictional claims in published maps and institutional affiliations.
Appendix
Appendix
Real male and female names used in the experiments. The Romanised spelling is based on the Chinese Pinyin. As Min has voiced and voiceless consonant and a voiceless consonant can be either aspirated or unaspirated, we use lower a case letter to represent an unaspirated voiceless consonant, a lower case letter with a superscript h to represent an aspirated voiceless consonant and an upper case letter to represent a voiced consonant. For example, a /b/ represents an unaspirated voiceless bilabial (in line with Pinyin), a /B/ represents a voiced bilabial, and a /p/ represents an aspirated voiceless bilabial.
| Chinese | Gender | Syllable1 | Syllable2 |
| --- | --- | --- | --- |
| 碧霞 | Female | pek | hia |
| 赛慧 | Female | sai | hui |
| 丽梅 | Female | li | Bue |
| 佩莉 | Female | pue | li |
| 绮虹 | Female | yi | hong |
| 佳钰 | Female | gia | Gek |
| 晓佳 | Female | hiao | gia |
| 佳余 | Female | gia | yi |
| 晓爱 | Female | hiao | aiŋ |
| 惠婷 | Female | hui | teng |
| 佳琳 | Female | gia | lim |
| 少静 | Female | siao | jeŋ |
| 少云 | Female | siao | hun |
| 舒婷 | Female | su | teng |
| 小丽 | Female | sio | li |
| 晓婷 | Female | hiao | teng |
| 晓英 | Female | hiao | eng |
| 晓鋆 | Female | hiao | hun |
| 雪玲 | Female | sek | leng |
| 映婷 | Female | yaŋ | teng |
| 晓雯 | Female | hiao | mun |
| 可莉 | Female | ko | li |
| 梦真 | Female | mang | jing |
| 淑珍 | Female | siok | ding |
| 玉婷 | Female | Gek | teng |
| 志慧 | Female | ji | hui |
| 辉勤 | Female | hui | king |
| 丽娣 | Female | li | di |
| 美娟 | Female | miŋ | giang |
| 少晴 | Female | siao | jeŋ |
| 淑华 | Female | siok | hua |
| 淑敏 | Female | siok | miang |
| 少明 | Male | siao | meng |
| 钟松 | Male | jeng | siong |
| 槟浩 | Male | eng | hao |
| 国申 | Male | gok | seng |
| 建锋 | Male | giang | hong |
| 剑招 | Male | giam | jiao |
| 友智 | Male | yiu | di |
| 仕钊 | Male | su | jiao |
| 择幸 | Male | jek | heng |
| 伟源 | Male | wi | Guang |
| 柏煌 | Male | bek | huang |
| 维升 | Male | Zui | seng |
| 良兴 | Male | liang | heng |
| 锰秋 | Male | mang | qiu |
| 启明 | Male | kei | meng |
| 伟宏 | Male | wi | keng |
| 裕泽 | Male | Zu | jek |
| 泽贤 | Male | jek | hiang |
| 资森 | Male | zu | som |
| 泽豪 | Male | jek | hao |
| 勇锋 | Male | yong | hong |
| 冠合 | Male | guang | he |
| 重期 | Male | diong | ki |
| 泽隆 | Male | jek | long |
| 坚泉 | Male | giang | juag |
| 钦发 | Male | kim | huak |
| 宗岳 | Male | zong | Gak |
| 景祥 | Male | gim | hiang |
| 灿林 | Male | cang | lim |
| 志伟 | Male | ji | wi |
| 杭滨 | Male | hang | beng |
| 林桥 | Male | lim | giao |
About this article
Cite this article
Cai, Z.G., Zhao, N. The sound of gender: inferring the gender of names in a foreign language. J Cult Cogn Sci 3, 63–73 (2019). https://doi.org/10.1007/s41809-019-00028-2
Received:

Revised:

Accepted:

Published:

Issue Date:

DOI: https://doi.org/10.1007/s41809-019-00028-2
Keywords