A Review on Preparation and Properties of Cellulose Nanocrystal-Incorporated Natural Biopolymer
Abstract
The emergence of green clean technology has escalated the use of eco-friendly biopolymer by substituting petroleum-derived polymers. Over the years, natural biopolymers' properties have been evaluated to check their applicability in food packaging industries. However, most of the biopolymers show poor barrier and mechanical properties compared to petroleum-derived polymers. Recently, cellulose nanocrystal has acquired attention of the researchers as potential prospective filler, which can overcome the drawbacks of biopolymer films. The basic advantages of cellulose nanocrystal are its high strength and stiffness, high surface area, biodegradability, etc. Therefore, lignocellulosic biomass, animal, and bacterial cellulose have been used as feedstock of cellulose nanocrystal, and then incorporated into the biopolymer films. This review provides detailed procedure of cellulose nanocrystal extraction in a stepwise manner and discusses the changes in film properties after reinforcement into different biopolymers.
Keywords
Cellulose nanocrystal 
Acid hydrolysis 
Ionic liquid hydrolysis 
Biopolymer 
Mechanical properties 
Barrier properties 
Introduction
Packaging may be defined as an encasement of a commercial product designed for specific purposes such as protection from external environment and pilferage, providing statutory and commercial information to the consumer, and attracting the consumers. According to [1], packaging can be defined as "a means of safely and cost effectively delivering products to the consumer in accordance with the marketing strategy of the organization". In the ancient time, products were packed into pottery and containers made of various materials such as wood, glass, metal, and paper for storage and transportation. However, flexible packaging stormed into the market for easy handling, light weight, and cost-effectiveness during post-World War II. Among different flexible packaging materials, synthetic plastics have been used widely over the years owing to good barrier properties, transparency, and to provide detailed information of the food products such as date of manufacture, best before use, nutritional values, and methods of use or preparation. This enhances consumer acceptability in all segments of food industries.
Packaging industries play a major role in the advancement of modern civilization and economic growth of any nation. This is because packaging industry is a multibillion dollar industry all over the world which provides employment to lakhs of workers and helps other concerned industries to grow, like the industries which produce raw materials for packaging. Currently, the global plastic production has crossed 300 million tonnes, which depicts the enormous application of petrochemical sources (around 4% of total petrochemical feedstock) in packaging industries [2]. Till date, different crude oil-derived polymers have  captured the world plastic market because of their easy availability, low cost, good mechanical and barrier properties, ease of handling and mouldability. Despite these advantages, non-biodegradable nature of the petroleum-derived plastic films causes severe environmental pollution [3, 4, 5] through various means, such as food, drinks, soil, water and even air (after burning).
Among total plastic film production, half is being utilized for packaging of disposable items and out of that about 20% is used for packaging of food items [6]. This enormous usage of petroleum-based disposable plastics is significantly generating municipal solid waste every year if not disposed of in ocean. Therefore, plastic industries are being urged to have eco-friendly plastic production to meet the desired functional and environmental attributes such as compostability, non-toxicity, and good mechanical and barrier properties. The rate of degradation, however, depends on microorganisms, environmental factors (light, oxygen and temperature), and mode of disposal, viz. landfills, terrestrial and marine environments [7]. Therefore, researchers are trying to develop the biodegradable films with the functional properties for packaging of food articles. Moreover, governmental and non-governmental organizations are also working hard to create awareness among the people about the detrimental effects of non-biodegradable plastics. They are also trying to promote bio-plastic production and its use.
Bioplastics can be biodegradable or non biodegradable produced from bio sources or petrochemical sources (Table 
1
). For instance, polybutyrate (PBAT) is fossil fuel-derived biodegradable polymer, whereas bio-based PE, PP or PET is non-biodegradable [
2
]. It has been reported that bioplastics are a blend of an equal proportion of renewable materials with additives and synthetic polymer to enhance overall desirable properties, viz. mechanical, barrier and optical properties [
8
]. Therefore, a bioplastics can be termed as a completely biodegradable polymer only if raw materials and additives are obtained from renewable and biological sources, which is further known as natural biopolymer.
Table 1
Classification of biodegradable and non-biodegradable plastic based on their sources
|   | Biodegradable | Non-biodegradable |
| --- | --- | --- |
| Bio based | PLA, PHA, PBS, starch blends, etc. | PE, PET, PA, PTT, etc. |
| Fossil based | PBAT, PCL, etc. | PE, PP, PET, etc. |
These biopolymers have their own limitations as packaging material of food products. First, bio-based film produced from starch and protein depicts high water absorption property, which, therefore, significantly decreases the mechanical properties. Second, in some particular cases, biopolymers exhibit poor mechanical properties than petrochemical polymers [9]. Moreover, high cost and low availability of the biopolymer films prevent their consumer acceptability [4].
In view of the above limitations, extensive researches have been conducted to enhance the desirable properties of biodegradable polymer to make it suitable for industries, viz. food and beverages [10], medicine [11] and optics [12]. In the process of improvement, researchers have come out with an idea of "filler" as a potential tool, which can overcome the fiasco of biopolymer applicability in industrial scenario and day-to-day life [13]. In the past years, different fillers (clay, metal and metal oxide, cellulose, etc.) have been incorporated into polymer matrix to improve the overall properties of the film. However, filler which has nanoscale dimension in any one of the sides (nanofiller) substantially improves the characteristics of biopolymer as compared to the macro-filler [14]. Along with filler size, the amount of filler also needs to be considered [15].
Based on dimension, three types of nano-fillers have been dispersed in polymer matrix to obtain the desirable features: (1) iso-dimensional nano-particles with three side in nano-metric dimension (e.g., spherical silica nano-particles and semiconductor cluster); (2) nano-tubes or whiskers with two sides in nano-metric dimension (e.g., carbon nano-tube or cellulose whiskers); and (3) polymer-layered crystalline nanocomposites with one side in nano-metric dimension [
16
]. The types of nano-filler that have been used to cast nanocomposite film are listed in Table 
2
. Among all nano-fillers, cellulose nanocrystal (CNC) has acquired significant attention of the various research groups for wide availability, renewability, superior mechanical properties, high aspect ratio, large specific area and low cost [
17
,
18
,
19
]. Hence, in this article, the preparation of CNC and their incorporation in natural resource-based biopolymers are discussed along with different properties of the biocomposite films incorporated with CNC.
Table 2
Types of nano-filler used for development of composite film
Classification

Type of fillers

Examples

References

Organic

Clay/layered silicate

Montmorillonite

 
 

Halloysite

[22]

 
 

Cloisite Na+

 
 

Kaolinite

 
 

KH-MTa

[28]

 
 

I30Pb

[28]

 
 

I30Ec

 
 

Cloisite 30B

 
 

Cloisite 20A

 
 

Cloisite 10A

[34]

 

Nano-biopolymer

Cellulose

 

Starch

[37]

 

Chitosan

Inorganic

Metal

Silver

 
 

Copper

 
 

Gold

[44]

 
 

Platinum

[45]

 

Metal oxide

Silver oxide

[46]

 
 

Titanium oxide

[47]

 
 

Iron oxide

 
 

Magnesium oxide

[50]

 
 

Silicon oxide

 
 

Zinc oxide
Structure and Morphology of Cellulose
Cellulose is a primary component available in natural fiber along with hemicellulose and lignin. It is synthesized from lignocellulosic biomass, animals (algae, tunicates) and few bacterial sources worldwide [55, 56]. Lignocellulosic biomass, viz. wood, cotton, flax, hemp, sisal and agricultural residues have been considered as primary and affordable natural resources for cellulose fiber [57]. From ancient period, cellulose fiber has been utilized in various construction sectors besides paper, textile and automobile industries owing to its superior strength [58].
In the year 1838, the French chemist Anselme Payen first mentioned about the presence of cellulose in plant tissues as a resistance fibrous solid material. He discovered the method of cellulose breakdown into simple sugar (dextrose) using acid and ammonia treatment [59]. Since this discovery, several researchers have focused on cellulose and its derivates. In the year of 1868, the first polymeric material was prepared from cellulose nitrate and camphor (softener) by the Hyatt Manufacturing Company [60] and encouraged the industrial level production of cellulose from lignocellulosic sources. However, cellulose acquired the attention of the academicians in the realm of polymer chemistry when Staudinger in 1926 elucidated the polymeric structure of cellulose [17].
Cellulose is primarily the group of cellobiose units which are produced from elimination of water molecules from two β-
d
-glucopyranose units. The glycosidic link is formed between C-1 of one
d
-glucose unit and C-4 of another one. Then, the group of cellobiose units are joined together to form a crystalline structure of cellulose called elementary fibrils. The elementary fibrils are bundled together to form micro-fibrils which in turn produced macro-fibrils or cellulose fiber in plant cell wall [
19
]. Therefore, the characteristics of cellulose depend on degree of polymerization (DP) and the number of glucose units grouped together to form cellulose [
61
]. The schematic diagram of cellulose fiber is given in Fig. 
1
.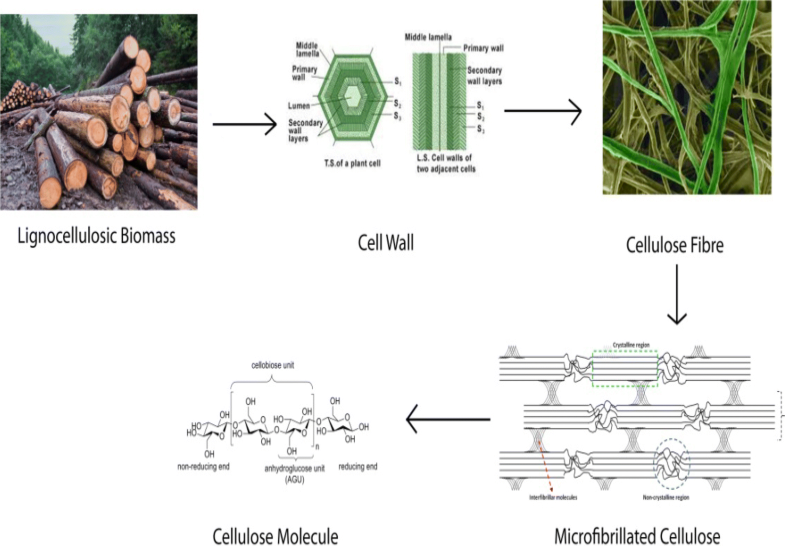 Cellulose Nanocrystal (CNC)
Cellulose nanocrystal is a rod-shaped nano-particle of cellulose extracted from hydrolysis of lignocellulosic biomass. In the past decades, several biomasses have been opted for extraction of CNC using mineral acid hydrolysis process that produced nano-size cellulose crystal of different dimensions and crystallinities (Table 
3
). The dimension of CNC varied from 100 to 1000 nm in length and 4–25 nm in diameter depending on raw materials.
Table 3
Physical properties of cellulose nanocrystal derived from various sources
| Source | Length (nm) | Diameter (nm) | Aspect ratio (L/D) | Crystallinity (%) | References |
| --- | --- | --- | --- | --- | --- |
| Chili fibre | 90–180 | 4–6 | 26 | 78.5 | [63] |
| Oil palm trunk | 361.7–397 | 7.7–8 | – | 69.61 | [64] |
| Potato peel waste | 410 | 10 | 41 | 85 | [65] |
| Pea hull fibre | 240–400 | 7–12 | 32.2–36 | – | [18] |
| Grass of Korea | 180–300 | < 10 | 18–30 | – | [66] |
| Pineapple leaf | 249.7 ± 51.5 | 4.5 ± 1.41 | 60 | 73 | [67] |
| coconut husk | 80–500 | 6 | 20–60 | – | [68] |
| Mulberry fiber | 400–500 | 20–40 | – | 73.4 | [69] |
| Sisal | 250 ± 100 | 4 ± 1 | 60 | – | [70] |
| Tunicate | 1160–2000 | 15 | 77–133 | – | [71] |
| Corn stover | 356 | 6.9 | 54.7 | 45 | [72] |
| Soy hulls | 122.7 ± 39.4 | 2.8 | 44 | 73.5 | [73] |
| Corncob | 210.8 ± 44.2 | 4.15 | 53.4 ± 15.8 | 83.7 | [74] |
| Mengkuang leaves | 50–400 | 5–25 | 10–20 | 69.5 | [75] |
| Alfa | 200 | 20 | 10 | – | [76] |
| Phormium tenax | 100–200 | 15 | – | – | [77] |
| Rice straw | 117–270 | 11.2–30.7 | 8.8–10.5 | 91.2 | [78] |
| Sweet potato residue | – | 20–40 | – | 72.53 | [79] |
| Microcrystalline cellulose | 200–400 | 10 | 20–40 | – | [80] |
| Cotton linter | 25–320 | 6–70 | – | – | [81] |
| Avicel | 35–265 | 3–48 | – | – | [81] |
| Flax fiber | 100–500 | 10–30 | – | – | [82] |
| Sugarcane bagasse | 275 ± 73 | 5 | 55 | 78 | [83] |
| Cassava bagasse | 360–1700 | 2–11 | – | 54.1 | [84] |
| Tomato peel | 135 ± 50 | 3.3 | – | 80.8 | [85] |
Fundamentally, the native cellulose is a bundle of micro-fibrils which comprises crystalline region and amorphous region. The crystalline region consists of more or less parallel ordered arrangement of cellulose chain by hydrogen bonding between three –OH groups of pyranose unit. However, it is impossible for long cellulose chains to maintain a perfect arrangement throughout its length, and hence form amorphous regions. In the amorphous regions, cellulose chains are arranged in random order which makes them less durable and weaker than crystalline region. This amorphous region of cellulose chain is more prone to link with water, radical degrading agent, and dye molecules. Moreover, the bonds present in the amorphous regions and between amorphous and crystalline zone are quite sensitive to acid–alkali treatment. Therefore, the hydrolytic treatment has been preferred for effective isolation of high-purity CNC from cellulose fiber [62]. However, the effluent generated from hydrolysis process is hazardous to our environment. Recently, researchers have observed that different ionic liquids have the potential to dissolve the hemicelluloses and take part in the hydrolysis reaction of the cellulose micro-fibrils. In the following section, the step of the extraction of cellulose nanocrystal has been reviewed.
Extraction Procedure of Cellulose Nanocrystal
In 1950s, for the first time, Rånby prepared the colloidal solution of cellulose from wood using 2.5 N sulfuric acid for accomplishing hydrolysis process. The hydrocellulose obtained from the acid hydrolysis became turbid after several water washes [
86
]. The turbid solution was analyzed using transmission electron microscopy (TEM) and revealed a rod-like structure of cellulose. Further, electron diffraction analysis revealed that molecular structure of the suspended material was similar to the native fibers [
87
]. Since then, several mineral acids (sulfuric acid, hydrochloric acid, phosphoric acid, hydrogen bromide acid) have been considered for the hydrolysis of cellulose fiber and among them sulfuric acid has become the most accepted mineral acid by the research groups. The reason behind that is the presence of sulfate groups on the surface of CNC which generate 84 m-eq kg
−1
surface charge [
88
]. Moreover, time-independent behavior of the CNC solution enhances its acceptance percentage. The acid hydrolysis method has also been experimented over different sources of raw material to produce CNC having high crystallinity and aspect ratio. Besides acid hydrolysis, microwave-assisted enzymatic hydrolysis and ionic liquid hydrolysis have also been performed to produce cellulose nanocrystal. In this review, acid and ionic liquid hydrolysis processes are described in detail. In the following section, the procedure of isolation of cellulose nanocrystal is schematically described (Fig. 
2
) and discussed in detail.

Natural Biopolymer Film
The rapid development of civilization from last 100 years has enhanced the use of non-biodegradable packaging films which causes environmental contamination. To avoid the environmental contamination, the utilization of biodegradable plastic has been reported by several researchers. Plastics are certified as biodegradable if degradation is performed by the microbes present in the environment generating non-toxic or eco-friendly residues. Generally, biodegradable polymers are broadly classified into three types based on their sources: (1) natural biopolymer, (2) synthetic biodegradable polymer, and (3) biopolymer produced from microbial fermentation [6]. Among the three types, natural biopolymers have been considered as the potential substitute of non-biodegradable plastic, and it can be extracted from different plant and animal sources [4, 124, 125]. Moreover, these natural biopolymers have several beneficial characteristics, viz. edibility, biodegradability, capability of improving shelf life of food products, ability to enhance organoleptic properties (appearance, odor and flavor), and capability of incorporating various additives such as antimicrobial and antioxidant agents. In addition, the polymer matrix developed from polysaccharide and protein exhibits good mechanical and gas barrier properties, but shows inferior moisture diffusion property. On the other hand, matrix developed by lipids has comparatively low water vapor permeability, but elucidates poor mechanical properties than polysaccharide and protein-based films. Therefore, multi-layer films have been developed in combination of hydrophilic (carbohydrate, protein, etc.) and hydrophobic polymers (lipids) to obtain good mechanical as well as barrier properties [126]. Despite that, different additives have also been incorporated into the matrix and feasibility was assessed to overcome the inferior properties of the biopolymer films. Additives such as synthetic polymers, cross-linking agents (Ca and Zr salts), fatty acids, protein, and fiber have been reported to provide better resistance to water vapor permeation and gas diffusion across film and simultaneously to enhance mechanical properties. Recently, incorporation of nano-fillers (nano-clay, metal oxide, metal and nano-biopolymer) has emerged as a superior process towards development of nano-biocomposite film. Among different nano-fillers, cellulose nanocrystal has shown great potential owing to its inherent properties such as biocompatibility, biodegradability, high aspect ratio, and superior mechanical properties (high stiffness, tensile strength, Young's modulus and low thermal expansion co-efficient).
Natural Biopolymer–CNC-Based Composite Film
Cellulose nanocrystal-incorporated biopolymer films are emerging composite films in the realm of bio-nanocomposite films. Tunicin cellulose whisker was first incorporated into co-polymer of styrene and acrylate to manufacture nanocomposite film [
127
]. After that, various biopolymers were chosen to reinforce the CNC after extracting from plant or animal sources. For instance, poly(Ɛ-caprolactone) [
128
], poly(β-hydroxyoctanoate) [
129
], poly(vinyl acetate) [
130
], poly(butyl methacrylate) [
131
], poly(oxy-ethylene) [
132
], ethylene oxide–epichlorohydrin co-polymers [
133
], polyurethane [
134
,
135
], polyvinyl alcohol [
136
,
137
], polyvinyl chloride [
138
], xylan [
139
], starch [
82
], agar [
140
], alginate [
141
] and chitosan [
142
,
143
] have been characterized after CNC incorporation. However, growing awareness about environmental pollution compels the researcher to choose natural biopolymer as a primary matrix for reinforcement of CNC (Table 
5
). There are different types of CNC-based biopolymer composite films. Some of these are reviewed below.
Table 5
Natural biopolymer–cellulose nanocrystal-based composite film and their properties
Sources of biopolymer

CNC source

Filler content (%)

Tensile strength (MPa)

Young modulus (MPa)

Water vapor permeability (g m−1 s−1 Pa−1)

Water uptake (%)

References

Pea starch

Flax fiber

5, 10, 15, 20, 25, and 30

3.9–11.9 (increased)

31.9–498.2 (increased)

–

–

[82]

Maize starch

Waxy maize starch nanocrystalline cellulose/microcrystalline cellulose

1, 2.5, and 5

1.0–1.6 (increased)

2.5–7.5 (increased)

–

–

[148]

Wheat starch

Microcrystalline cellulose

0, 1, 2, 3, 4, and 5

3.15–10.98 (increased)

–

(5.7–3.4) × 10−10 (decreased)

–

[35]

Maize starch

Tunicin whisker

5, 10, 15, 20, 25, and 30

~ 5–42 (increased)

208–833 (increased)

 

–

[144]

Pectin

Crystalline nanocellulose

2, 5, and 7

7.1–13.1 (increased)

 

(1.2–0.93) × 10−10 (decreased)

–

[149]

Agar

Paper mulberry bast pulp

1, 3, 5, and 10

33.3–41.3 (increased)

0.8–1.1 (increased)

(0.7–1.6) × 10−9 (increased)

–

[150]

Agar

Microcrystalline cellulose (MCC)

2.5, 5, and 10

18.2–20.8 (increased)

118–87.46 (decreased)

(1.6–2.1) × 10−10 (increased)

–

[140]

Alginate

Commercial bleached softwood

kraft pulp

1, 3, 5,, and 8

57–78 (increased)

(1.8–3.2) × 103 (increased)

(6.4–4.1) × 10−11 (decreased)

–

[141]

Alginate

Mulberry pulp

2, 4, and 6

(45.6–54.9) at 4% (increased)

(1.6–1.8) × 103 at 4% (increased)

(1.3–1.9) × 10−9 (increased)

–

[150]

Chitosan

Eucalyptus

wood pulp

120 mg

45–108 (increased)

(1.2–3.7) × 103 (increased)

–

–

[142]

Chitosan

Commercial bleached softwood

kraft pulp

1, 3, 5, and 10

79–98 (increased)

1590–2971 (increased)

(3.8–2.6) × 10−11 (decreased)

–

[143]

Chitosan

Bleached bagasse kraft pulp

5, 10, 15, and 20

9.03–15 (increased)

123–733 (increased)

–

–

[151]

Chitosan

Cotton linter

pulp

5, 10, 15, 20, 25, and 30

85–120 (dry state)

9.9–17.3 (wet state) (increased)

–

–

71–40 (decreased)

[152]

Polyvinyl chloride/carboxymethyl cellulose

Sugarcane bagasse

0.5, 2.5, 5, and 10

64.9–118.7 (increased)

1138.7–2744.2 (increased)

(3.2–0.6) × 10−11 (decreased)

–

[83]

Soy protein isolate

Commercial CNC

1.23

3.13–4.8 (increased)

21.2–48.4 (increased)

–

96.4–79.6 (decreased)

[153]

Soy protein isolate

Modified CNC

1.23

3.1–5.6 (increased)

21.2–66.3 (increased)

–

96.4–68.4 (decreased)

[153]

Soy protein isolate

Cotton linter pulp

0, 5, 10, 15, 20, 25, and 30

5.8–8.1 (increased)

44.7–133 (increased)

–

40–25 (decreased)

[154]

Oxidized natural rubber

Commercial CNC

5

1.3–8.4 at 3% CNC (increased)

1.7–2.4 at 2% CNC (increased)

–

–

[125]

Natural rubber

Soy hull

0, 1, 2.5, and 5

0.59–3.03 (increased)

0.6–18.1 (increased)

–

–

[155]

Cariflex-IR rubber latex

Chili leftover

1, 3, and 6

0.2–0.4 (increased)

4.8–24.6% (increased)

–

–

[63]
Conclusion
The advent of nano-biocomposite film creates a new era towards producing an eco-friendly packaging system for storage, transportation and serving of food articles. The nano-biocomposite films are primarily biodegradable plastics incorporated with various nano-fillers. The biodegradable plastics produced from natural sources are slowly substituting non-biodegradable plastics in the form of a plastic bag, cup, plate, etc. However, the inherent properties of these biopolymers such as low tensile strength, modulus and high water vapor permeability compared to non-biodegradable petroleum-derived plastic create a question mark of its practical utility. To address these drawbacks, numerous attempts have been made with incorporation of cross-linking agent, coating or blending of hydrophobic materials or blending of other polymers or loading of fillers, and so on. Unfortunately, it has not resulted in any satisfactory biocomposite films so far. However, recently, nanotechnology reveals a promising way to create nano-biocomposite films as an appropriate counterpart of non-biodegradable plastics.
Cellulose nanocrystal, which is a nano-size dimension of cellulose, is considered as a potential natural resource-based biodegradable filler for its superior mechanical properties. However, the interaction between polymer matrix and filler possesses imperative parameter to manufacture nano-biocomposite films. Therefore, several studies have been conducted to produce CNC from different lignocellulosic biomass and to evaluate their compatibility with different natural biopolymers. The chemical pretreatment followed by mineral acid hydrolysis has been preferred over the years for the production of CNC. However, the process, particularly acid hydrolysis, is not suitable for commercial scale because of high processing cost, difficult-to-discard hazardous effluent and maintenance of reactors. Therefore, ionic liquids (IL) have recently been projected as a promising substitute of the strong mineral acid, while low-boiling point of ILs has increased its acceptance among the researchers. Consequently, extensive research is required to choose a suitable IL and optimize the processing conditions.
The incorporation of CNC into different biopolymers such as starch, chitosan, rubber, and protein is reported to enhance the mechanical and barrier properties. However, a contradictory review is reported for barrier properties, particularly for water vapor permeability. The probable reasons would be the similar chemical structure of natural biopolymer and CNC, and inappropriate dispersion of CNC throughout the casted films. The inappropriate dispersion occurs because of agglomeration of CNC into polymer matrix which may reduce the tortuosity. Therefore, the interaction between polymer matrix and filler becomes an important area needed to be studied well in future. Furthermore, an interaction of nano-biocomposite film with food, real-time quality changes of packed foods, and mathematical modeling on how CNC disperses into polymer matrix could be the areas needed to be explored in future to understand the effect of interaction among natural biopolymer and CNC.
Notes
Acknowledgements
The authors are grateful to the Indian Institute of Technology Kharagpur for financially supporting the research and to Dr. Suradeep Basak, former research scholar of Agricultural and Food Engineering Department, IIT Kharagpur, India, for checking the manuscript.
Copyright information
© Indian Institute of Packaging 2018