Abstract
The investigation of environmentally friendly and sustainable food packaging for daily high consumption is necessary to replace existing synthetic packaging. This study reported the effects of antimicrobial agents on the properties of durian skin fibre (DSF)-reinforced plasticised polylactic acid (PLA) biocomposite films produced via solvent casting. Cinnamon essential oil (CEO) was incorporated into the PLA biocomposite at amounts from 0 to 5 wt%. Thermogravimetric analysis showed the lowest weight loss due to biocomposite degradation after 500 °C in 1 wt% CEO film. Differential scanning calorimetry analysis showed that the biocomposites with CEO were less crystalline suggesting that the structure of the biocomposite was less rigid and flexible. CEO improved the barrier properties of the biocomposite by decreasing the water vapour permeability. Biocomposites with CEO also demonstrated antimicrobial activity against both gram-positive and gram-negative bacteria. The plasticised PLA/DSF biocomposite with CEO is transparent, indicating potential as an active food packaging material.
Access options
Buy single article
Instant access to the full article PDF.
USD 39.95
Price excludes VAT (USA)
Tax calculation will be finalised during checkout.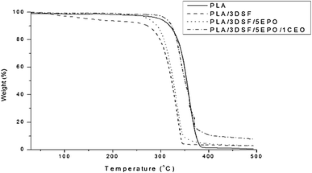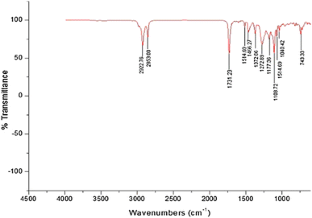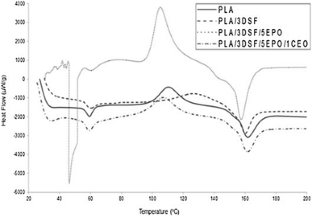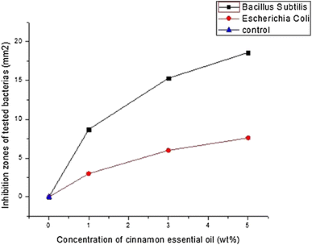 References
Vaisanen T, Das O, Tomppo L (2017) A review on new bio-based constituents for natural fiber-polymer composites. J Clean Prod 149:582–596

Dong Y, Ghataura A, Takagi H, Haroosh HJ, Nakagaito AN, Lau K-T (2014) Polylactic acid (PLA) biocompositesreinforced with coir fibres: evaluation of mechanical performance and multifunctional properties. Compos Part A Appl Sci 63:76–84

Duigo AL, Bourmaud A, Davies P, Baley A (2014) Long term immersion in natural seawater of flax/PLA biocomposite. Ocean Eng 90:140–148

Manshor MR, Anuar H, Nur Aimi MN, Ahmad Fitrie MI, Wan Nazri WB, Sapuan SM (2014) Mechanical thermal and morphological properties of durian skin fibre reinforced PLA biocomposites. Mater Des 59:279–386

Wang X, Sun H, Bai H, Zhang LP (2014) Thermal, mechanical and degradation properties of nanocomposites prepared using lignin-cellulose nanofibers and poly (lactic acid). Bio Res 9(2):3211–3224

Ali F, Awale RJ, Fakhruldin H, Anuar H (2016) Plasticing poly (lactic acid) using epoxidized palm oil for environmental friendly packaging material. Malays J Anal Sci 20(5):1153–1158

Anuar H, Razali MS, Saidin HA, Badrul Hisham AF, Mohd Apandi SNE, Ali F (2016) Tensile properties of durian skin fibre reinforced plasticized polylactic acid biocomposites. Int J Eng Mater Manuf 1(1):16–20

Emad AJA, Adeel HS, Saadon AA (2011) New biopolymer nanoblends based on epoxidised soybean oil plasticized polylactic acid/fatty nitrogen compounds modified clay: preparation and characterization. Ind Crops Prod 33:23–29

Sung SY, Sin LT, Tee TT, Bee ST, Rahmat AR, Vikhraman M (2013) Antimicrobial agents for food packaging applications. Trends Food Sci Technol 33:110–123

Rai M, Paralikar P, Jogee P, Agarkar G, Ingle AP, Derita M, Zacchino S (2017) Synergistic antimicrobial potential of essential oils in combination with nanoparticles: emerging trends and future perspectives. Int J Pharma. https://doi.org/10.1016/j.ijpharm.2017.01.013

Akthar MS, Degaga B, Azam T (2014) Antimicrobial activity of essential oils extracted from medicinal plants against the pathogenic microorganisms: a review. Issues Biol Sci Pharm Res 2(1):001–007

Alwan S, El-Omari K, Soufi H, Zreika S, Sukarieh I, Chihib NE, Jama C, Hamze M (2016) Evaluation of the antibacterial activity of Micromeria barbata in Lebanon. J Essent Oil Bear Plants 19(2):321–327

Friedman M (2006) Antibiotic activities of plant compounds against non-resistant and antibiotic resistant foodborne human pathogens. In: Juneja VK, Cherry JP, Tunick MH (eds) Advances in microbial food safety. ACS symposium series. American Chemical Society, Washington, D.C., pp 167–183

Eze UA (2016) In vitro antimicrobial activity of essential oils from the Lamiaceae and Rutaceae plant families against β-lactamse producing clinical isolates of Moraxella catarrhalis. EC Pharm Sci 2:325–337

Grigale Z, Kalnins M (2010) Biodegradable plasticized poly(lactic acid) films. Sci J Riga Tech Univ Mater Sci Appl Chem 21:97–103

Huang J, Lisowski MS (1998) Crystallization and microstructure of poly(l-lactide-co-meso-lactide) copolymers. Macromolecules 31:2593–2599

Balart JF, Fombuena V, Fenollar O, Boronat T, Sánchez-Nacher L (2016) Processing and characterization of high environmental efficiency composites based on PLA and hazelnut shell flour (HSF) with biobased plasticizers derived from epoxidized linseed oil (ELO). Compos Part B Eng 86:168–177

Prempeh N, Li J, Liu D, Das K, Maiti S, Zhang Y (2014) Plasticizing effects of epoxidized sun flower oil on biodegradable polylactide films: a comparative study. Polym Sci Ser A 56(6):856–863

Shukor F, Hassan A, Saiful I, Mokhtar M, Mahbub H (2014) Effect of ammonium polyphosphate on flame retardancy, thermal stability and mechanical properties of alkali treated kenaf fiber filled PLA biocomposites. Mater Des 54:425–429

Bizuneh A (2014) GC–MS and FT-IR analysis of constituents of essential oil from Cinnamon bark growing in South-west of Ethiopia. Int J Herb Med 1(6):22–31

Hamidpour R, Hamidpour M, Hamidpour S, Shahlari M (2015) Cinnamon from the selection of traditional applications to its novel effects on the inhibition of angiogenesis in cancer cells and prevention of Alzheimer's disease, and a series of functions such as antioxidant, anticholesterol, antidiabetes, antibacteri. J Tradit Complement Med 5(2):66–70

Peggy APC, Buera MP, Elizalde BE (2010) Encapsulation of cinnamon and thyme essential oils components in beta-cyclodextrin: effect of interactions with water on complex stability. J Food Eng 99:70–75

Cheng X, Matuana L (2016) Epoxidized soybean oil-plasticized poly (lactic acid) films performance as impacted by storage. J Appl Polym Sci 133(12):234–286

Anuar H, Zuraida A (2011) Thermal properties of injection moulded polylactic acid—kenaf fiber biocomposie. Malays Polym J 6(1):51–57

Jamshidian M, Tehrany EA, Imran M, Jacquot M, Desobry S (2010) Polylactic acid: production, applications, nanocomposites, and release studies. Compr Rev Food Sci Food Saf 9(4):552–571

Fathilah A, Chang YW, Kang SC, Yoon JY (2009) Thermal, mechanical and rheological properties of polylactic acid/epoxidised soybean oil blends. Polym Bull 62:91–98

Natcharee P, Sudip KR (2011) Physical and antimicrobial properties of banana flour/chitosan biodegradable and self-sealing films used for preserving fresh-cut vegetables. LWT-Food Sci Technol 44:2310–2315

Laxmeshwar SS, Madhu Kumar DJ, Viveka S, Nagaraja GK (2012) Preparation and properties of biodegradable film composites using modified cellulose fibre-reinforced with PVA. Int Sch Res Netw. https://doi.org/10.5402/2012/154314

Shen XL, Wu JM, Chen Y, Zhao G (2010) Antimicrobial and physical properties of sweet potato starch films incorporated with potassium sorbate or chitosan. Food Hydrocoll 24(4):285–290

Silverajah VS, Ibrahim NA, Zainuddin N, Wan Yunus WMD, Abu Hassan H (2012) Mechanical, thermal and morphological properties of polylactic acid/epoxidised palm oil blend. Molecules 17:11729–11747

Du WX, Avena-Bustillos RJ, Hua SST, McHugh TH (2011) Antimicrobial volatile essential oils in edible films for food safety. In: Mendez-Vilas A (ed) Science against microbial pathogens: communicating current research and technological advances. Formatex, Spain, pp 1124–1134

Ghasemlou M, Aliheidari N, Fahmi R, Shojaee-Aliabadi S, Keshavarz B, Cran MJ, Khaksar R (2013) Physical, mechanical and barrier properties of corn starch films incorporated with plant essential oils. Carbohydr Polym 98(1):1117–1126

Buong WC, Azowa I, Yoon YT, Yuet YL (2014) Epoxidized vegetable oils plasticized poly (lactic acid) biocomposites: mechanical, thermal and morphology properties. Molecules 19(10):16024–16038

Siah WM, Aminah A, Ishak A (2015) Edible films from seaweed (Kappaphycus alvarezii). Int Food Res J 22(6):2230–2236

Yusuke S, Patricia YH, Soottawat B, Wonnop V, Munehiko T (2004) Effect of surimi quality on properties of edible films based on Alaska pollack. Food Chem 86:493–499
Acknowledgements
This work was financially supported by the Fundamental Research Grant Scheme (FRGS16-003-0502) from Ministry of Education Malaysia. The authors would like to thank the International Islamic University Malaysia (IIUM) and Malaysian Agriculture Research and Development Institute (MARDI) for research facilities in making this study successful.
About this article
Cite this article
Anuar, H., Nur Fatin Izzati, A.B., Sharifah Nurul Inani, S.M. et al. Impregnation of Cinnamon Essential Oil into Plasticised Polylactic Acid Biocomposite Film for Active Food Packaging. J Package Technol Res 1, 149–156 (2017). https://doi.org/10.1007/s41783-017-0022-1
Received:

Accepted:

Published:

Issue Date:

DOI: https://doi.org/10.1007/s41783-017-0022-1
Keywords