Abstract
Background
The purpose of the paper was to describe cases of abnormal sexual behavior during sleep in Saudi Arabian patients and classify them under the pertinent subtype.
Methods
Patients diagnosed with abnormal sexual behavior during sleep received a clinical interview and underwent video-polysomnography recordings at the University Sleep Disorders Center, King Saud University Medical City, Riyadh.
Results
Three men and one woman between 27 and 46 years of age reported abnormal sexual behaviors during sleep, with duration of symptoms ranging from 4 months to 3 years. Episodes consisted of masturbation without seeking the participation of a sleeping partner (case no. 1), attempts at sexual intercourse with inappropriate and uncharacteristic vocalizations and behaviors (cases no. 2 and 3), and rapid eye movement (REM) behavior disorder (RBD) presenting with abnormal sexual behavior (case no. 4). The frequency of the episodes ranged from 1–3 per week to 2–3 per night. Cases 1, 2, and 3 were amnestic of these events and expressed surprise to their partners' account of their behavior. However, case no. 4 had a full recall of the event.
Conclusions
Sexsomnia (a non-REM parasomnia) is characterized by abnormal sexual behavior during sleep ranging from masturbation to inappropriate attempts at achieving sexual intercourse followed by total amnesia of the event. Nevertheless, REM behavioral disorder can, at times, present as abnormal sexual behavior during sleep, like sexual dream enactments, which may mimic sexsomnia. Therefore, the condition warrants diagnostic consideration as abnormal sleep-related sexual behavior.
Access options
Buy single article
Instant access to the full article PDF.
USD 39.95
Price excludes VAT (USA)
Tax calculation will be finalised during checkout.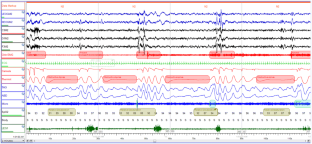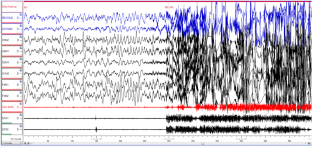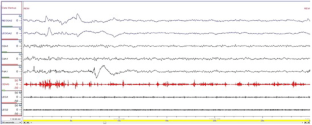 References
Shapiro CM, Trajanovic NN, Fedoroff JP. Sexsomnia—a new parasomnia? Canadian journal of psychiatry Revue canadienne de psychiatrie. 2003;48(5):311–7. https://doi.org/10.1177/070674370304800506.

Schenck CH. Update on sexsomnia, sleep related sexual seizures, and forensic implications. NeuroQuantology. 2015;13(4):518–41. https://doi.org/10.14704/nq.2015.13.4.873.

American Academy of Sleep Medicine. International classification of sleep disorders. 3rd ed. Darien: American Academy of Sleep Medicine; 2014.

Pandi-Perumal SR, BaHammam AS, Shapiro CM. Parasomnias. In: Stolerman I, Price LH, editors. Encyclopedia of psychopharmacology. 2nd ed. Berlin: Springer; 2015. p. 1210.

Avidan AY, Kaplish N. The parasomnias: epidemiology, clinical features, and diagnostic approach. Clin Chest Med. 2010;31(2):353–70. https://doi.org/10.1016/j.ccm.2010.02.015.

Almeneessier AS, BaHammam AS. A snoring man with an abnormal sexual behavior. J Nat Sci Med. 2018;1(2):85–8.

Rouzi AA, Sahly N, Sawan D, Kafy S, Alzaban F. The prevalence of sexual dysfunction in the female health care providers in Jeddah, Saudi Arabia. Sci Rep. 2015;5:7905. https://doi.org/10.1038/srep07905.

Al-Zahrani A. Women's sexual health care in Saudi Arabia: a focused ethnoaphic study. Sheffield: University of Sheffield; 2011.

Mohebbi A, Holoyda BJ, Newman WJ. Sexsomnia as a defense in repeated sex crimes. J Am Acad Psychiatry Law. 2018;46(1):78–85.

Dubessy AL, Leu-Semenescu S, Attali V, Maranci JB, Arnulf I. Sexsomnia: a specialized non-REM parasomnia? Sleep. 2017;40(2):zsw043. https://doi.org/10.1093/sleep/zsw043.

Berry RB, Brooks R, Gamaldo CE, Harding SM, Lloyd RM, Marcus CL, et al. The AASM manual for the scoring of sleep and associated events: rules, terminology and technical specifications, Version 2.1. Darien: American Academy of Sleep Medicine; 2014. http://www.aasmnet.org. Accessed 15 Nov 2018.

Andersen ML, Poyares D, Alves RS, Skomro R, Tufik S. Sexsomnia: abnormal sexual behavior during sleep. Brain Res Rev. 2007;56(2):271–82. https://doi.org/10.1016/j.brainresrev.2007.06.005.

Wong K. Masturbation during sleep—a somnambulistic variant. Singap Med J. 1986;27(6):542–3.

Muza R, Lawrence M, Drakatos P. The reality of sexsomnia. Curr Opin Pulm Med. 2016;22(6):576–82. https://doi.org/10.1097/MCP.0000000000000321.

Buchanan A. Sleepwalking and indecent exposure. Med Sci Law. 1991;31(1):38–40. https://doi.org/10.1177/002580249103100107.

Guilleminault C, Moscovitch A, Yuen K, Poyares D. Atypical sexual behavior during sleep. Psychosom Med. 2002;64(2):328–36.

Fenwick P. Sleep and sexual offending. Med Sci Law. 1996;36(2):122–34. https://doi.org/10.1177/002580249603600207.

Arnulf I, Zhang B, Uguccioni G, Flamand M, Noel de Fontreaux A, Leu-Semenescu S, et al. A scale for assessing the severity of arousal disorders. Sleep. 2014;37(1):127–36. https://doi.org/10.5665/sleep.3322.

Chung SA, Yegneswaran B, Natarajan A, Trajanovic N, Shapiro CM. Frequency of sexsomnia in sleep clinic patients. Sleep. 2010;33:A226.

Bjorvatn B, Gronli J, Pallesen S. Prevalence of different parasomnias in the general population. Sleep Med. 2010;11(10):1031–4. https://doi.org/10.1016/j.sleep.2010.07.011.

Alkaabi S, Meyerovich MD, Yakubov B, Shapiro CM. Triggers of parasomnias—what sleep experts think? Disord Psychiatr Neurol J. 2018;1(1):1–8.

Schenck CH, Arnulf I, Mahowald MW. Sleep and sex: what can go wrong? A review of the literature on sleep related disorders and abnormal sexual behaviors and experiences. Sleep. 2007;30(6):683–702.

Klein LA, Houlihan D. Relationship satisfaction, sexual satisfaction, and sexual problems in sexsomnia. Int J Sex Health. 2010;22(2):84–90. https://doi.org/10.1080/19317610903510489.

Soca R, Keenan JC, Schenck CH. Parasomnia overlap disorder with sexual behaviors during sleep in a patient with obstructive sleep apnea. J Clin Sleep Med. 2016;12(8):1189–91. https://doi.org/10.5664/jcsm.6066.

Della Marca G, Dittoni S, Frusciante R, Colicchio S, Losurdo A, Testani E, et al. Abnormal sexual behavior during sleep. J Sex Med. 2009;6(12):3490–5. https://doi.org/10.1111/j.1743-6109.2009.01371.x.

Oudiette D, De Cock VC, Lavault S, Leu S, Vidailhet M, Arnulf I. Nonviolent elaborate behaviors may also occur in REM sleep behavior disorder. Neurology. 2009;72(6):551–7. https://doi.org/10.1212/01.wnl.0000341936.78678.3a.

Postuma RB, Montplaisir JY, Pelletier A, Dauvilliers Y, Oertel W, Iranzo A, et al. Environmental risk factors for REM sleep behavior disorder: a multicenter case-control study. Neurology. 2012;79(5):428–34. https://doi.org/10.1212/WNL.0b013e31825dd383.

Postuma RB, Montplaisir JY. Antidepressants and REM behavior disorder. Sleep. 2014;37(8):1395. https://doi.org/10.5665/sleep.3940.

Aurora RN, Zak RS, Maganti RK, Auerbach SH, Casey KR, Chowdhuri S, et al. Best practice guide for the treatment of REM sleep behavior disorder (RBD). J Clin Sleep Med. 2010;6(1):85–95.

Boeve BF. Idiopathic REM sleep behaviour disorder in the development of Parkinson's disease. Lancet Neurol. 2013;12(5):469–82. https://doi.org/10.1016/S1474-4422(13)70054-1.

Mysliwiec V, Brock MS, Creamer JL, O'Reilly BM, Germain A, Roth BJ. Trauma associated sleep disorder: a parasomnia induced by trauma. Sleep Med Rev. 2018;37:94–104. https://doi.org/10.1016/j.smrv.2017.01.004.

Khawaja IS, Hurwitz TD, Schenck CH. Sleep-related abnormal sexual behaviors (sexsomnia) successfully treated with a mandibular advancement device: a case report. J Clin Sleep Med. 2017;13(4):627–8. https://doi.org/10.5664/jcsm.6560.

Bejot Y, Juenet N, Garrouty R, Maltaverne D, Nicolleau L, Giroud M, et al. Sexsomnia: an uncommon variety of parasomnia. Clin Neurol Neurosurg. 2010;112(1):72–5. https://doi.org/10.1016/j.clineuro.2009.08.026.
Funding
This work was supported by the Strategic Technologies Program of the National Plan for Sciences and Technology and Innovation in the Kingdom of Saudi Arabia (MED511-02-08). The study sponsors played no role in the study design, the collection, analysis or interpretation of data, writing the manuscript, or the decision to submit the manuscript.
Ethics declarations
Conflict of interest
The authors have conflict of interest to declare.
Research involving human participants and/or animals
The study was approved by the Institutional Review Board, King Saud University and informed consent was obtained from the participants.
Additional information
Publisher's Note
Springer Nature remains neutral with regard to jurisdictional claims in published maps and institutional affiliations.
About this article
Cite this article
Pirzada, A., Almeneessier, A.S. & BaHammam, A.S. Abnormal Sexual Behavior During Sleep: Sexsomnia and More. Sleep Vigilance 3, 81–89 (2019). https://doi.org/10.1007/s41782-019-00057-5
Received:

Revised:

Accepted:

Published:

Issue Date:

DOI: https://doi.org/10.1007/s41782-019-00057-5
Keywords
Parasomnia

Obstructive sleep apnea

REM sleep behavior disorder

NREM sleep

Sex