Neurobiological Role of Hypocretin in Regulation of Psychiatric Disorders
Abstract
Hypocretins are hypothalamic neuropeptides acting on the regulation of several physiological functions, the most important being the control of arousal. Hypocretin 1 and hypocretin 2 are derived from the same precursor and both bind to the orexin receptors. The hypocretinergic system has been a target of several studies that try to understand its function on the regulation of mood and behavior. The hypocretinergic system has a direct relationship with the pathways related to emotions and reward system, besides the interaction with the stress circuit. This article aims to analyze the relationship of hypocretins with anxiety, stress and depression, through a review of the existing literature.
Keywords
Hypocretin 
Anxiety 
Depression 
Stress 
1

Introduction

Hypocretins, also known as orexins, are neuropeptides synthesized in the posterior lateral hypothalamus, with involvement in various physiological functions and pathological conditions [

1

]. Hypocretin 1 (named as orexin A) and hypocretin 2 (named as orexin B) are derived from the same precursor peptide containing 33 and 28 amino acids, respectively, and which bind to the orexin receptors [

2

]. Orexin 2 receptors (OXR2) bind to both forms with the same affinity, whereas the orexin type 1 receptor (OXR1) displays a higher affinity for hypocretin 1 [

2

]. Although hypocretinergic neurons are present in the posterior lateral hypothalamus, they project pathways to the central nervous system (spinal cord, brainstem, hypothalamus, thalamus, some cortical regions and limbic system) and also peripheral system, including the vagus nerve [

3

]. In addition, orexin receptors have an extensive distribution suggesting a relevant role in adaptive functions and functions regulated by the limbic system (Fig. 

1

). The distribution of these receptors is extensive and most often the subtypes overlap. However, some brain regions preferentially express a subtype, suggesting a certain degree of selectivity [

3

].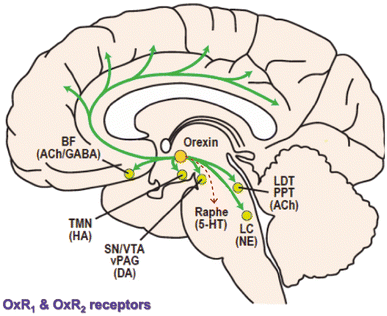 OXR1 expression is observed in various brain regions, including the prefrontal and infralimbic cortex, hippocampus, amygdala, dorsal striatum nucleus, paraventricular thalamic nucleus, anterior hypothalamus, dorsal raphe and locus coeruleus [4, 5]. The OXR2 subtype is found in the amygdala, the nucleus of the dorsal striatum, paraventricular thalamic nucleus, dorsal raphe and peduncle–pontine nuclei and accumbens [4, 5]. Recent studies suggest that OXR1 is involved in various functions, especially regulation of emotion, reward system and autonomic function [6], while OXR2 is mainly involved in the regulation of wakefulness [7]. This divergence in receptor functions is also observed in the regulation of mood and affect, having an important role in depression, anxiety and stress [8].
The hypocretinergic system is modulated by multiple endocrine signals and neural inputs from other areas, suggesting that this system is influenced by internal and external stimuli and is involved in several physiological functions, including the sleep–wake cycle, energetic metabolism, behavioral and neuroendocrinological responses to stress and reward system [9, 10, 11]. Diseases such as depression and anxiety, as well as conditions such as stress would affect this system, which will have the potential to modulate mood through its neuroanatomical projections and the expression of its receptors in certain brain regions [8].
Dysregulation of sleep/wake cycle predisposes to metabolic and psychiatric disorders [4]. The evidences of the role of the hypocretinergic system on the modulation of several physiological functions and mental diseases emerged after the discovery of this system, 15 years ago [10]. But the exact mechanism how this modulation occurs is not well known. In the last decade, a significant advance was made on the complex interactions between brain systems that control the transition of sleep and wake states [4]. Recently, a lot of research has been done with OXR1 and OXR2 antagonists, promising therapeutic target and encouraging investments of the pharmaceutic industry on basics researches. The database of these pre-clinical studies is limited and the involvement of the hypocretinergic system is still questionable [10]. Thus, the objective of the present study was to critically discuss the relationship between orexin and psychiatric disorders. Here, a literature search was conducted using the databases PubMed, ISI Web of Knowledge and PsycInfo combining the following terms: "hypocretin", "depression", "stress" and "schizophrenia". All articles were published in English and without temporal restriction. Additional references were identified through hand search of the selected articles.
2

Hypocretin as Regulator of Waking State

The waking state is controlled by several neurobiological networks, including circadian, homeostatic influences as well as by genetic, molecular, neuroanatomical and neurochemical elements [

12

,

13

,

14

]. For example, waking is modulated by the activity of diverse neurotransmitter systems such as noradrenaline, dopamine, serotonin, acetylcholine, histamine and hypocretin [

3

,

15

,

16

,

17

,

18

,

19

,

20

,

21

,

22

,

23

,

24

] (Fig. 

2

). A small number of hypocretinergic neurons are exclusively localized into the lateral hypothalamic area and send their projections throughout the brain as well as the spinal cord [

25

,

26

,

27

]. One might think that as a result of this projection pathway, the hypocretinergic system might have multiple physiological functions apart from controlling wakefulness, including motor control, drug reward and mental health [

28

,

29

,

30

]. In the following sections, we highlight the experimental evidence published in the literature regarding hypocretin as a mood modulator.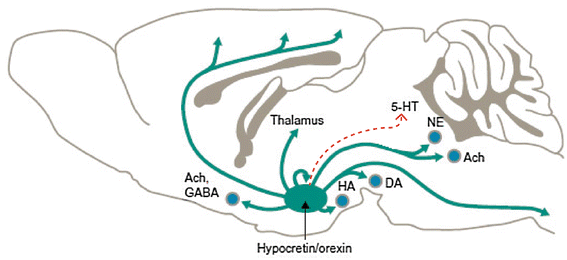 3

Psychiatric Disorders Regulated by Hypocretins

The hypocretinergic system has been related with narcolepsy, a disorder characterized by hypersomnolence during normal wakefulness [3, 31, 32, 33, 34, 35]. However, recent evidence has suggested that the hypocretinergic system is linked with other health issues, such as obesity, mood and other psychiatric disorders [28, 29, 36, 37, 38, 39]. This system has a close relationship (functional and anatomical) with pathways that regulate the autonomic system, mood, emotions and the reward system [5].
4

Orexin Receptor Antagonists

New drugs involving the hypocretinergic system are being studied. Several different chemical structures can bind to one or both hypocretin receptors; when the antagonist binds to a single receptor, it is called SORAs, and dual antagonists are called DORAs. Four DORAs have undergone clinical trials: almorexant, suvorexant, filorexant and SB-649868. Only suvorexant went through phase 3 and it was filed in the USA and Japan as a new treatment for insomnia in 2013. It selectively blocks neuropeptides hypocretin 1 and 2 from binding to the orexin receptor types 1 and 2, suppressing wakefulness [10, 55]. The tight regulation of the sleep/wake cycle is critical for mental well-being and drugs that acts in this cycle could have a place in psychiatry. Significant progress has been made in the knowledge of the contribution of the orexin system to mental health; for example, several studies indicate that orexin antagonists, in particular selective OXR1 antagonist, can reduce drug seeking [4, 55]. There is data indicating that depression may be associated with decreased orexin system function, and this knowledge raises concerns for the long-term use of orexin antagonists. Therefore, a greater understanding of the changes to orexin receptor expression in the brain areas will be necessary to predict the outcomes of therapeutic manipulation of orexin signaling [55].
5

Conclusions

Hypocretin is involved in the modulation of several neurobiological systems, both central and peripheral, but the exact mechanism by which this modulation occurs is not well known. Growing interest has been seen toward this system and its role in modulating anxious and depressive behavior. Advances in orexin antagonists may lead to the development of new molecules for the treatment of sleep disorders and psychiatric conditions. New researches need to be done to understand all mechanisms involved in psychiatric disorders and the hypocretinergic system.
Notes
Compliance with Ethical Standards
Ethical Standards
All data reported in this paper are from public repositories.
Conflict of interest
The authors declare no conflict of interest.
Copyright information
© Springer Nature Singapore Pte Ltd. 2018