The End of Snoring? Application of CRISPR/Cas9 Genome Editing for Sleep Disorders
Abstract
Science selected it as the 2015 Breakthrough of the Year: Clustered Regularly Interspaced Short Palindromic Repeats, also known as CRISPR. Adaptive immunity in some bacteria and archaea allow to respond and eliminate invading genetic material; CRISPR and CRISPR-associated (Cas) genes are new molecular techniques that allow deleting, replacing or otherwise editing DNA. Using modified bacterial protein and a RNA that allows a guidance to a specific DNA sequence, CRISPR provides a striking control over several genes by not deleting the entire gene but just inactivating it by deleting few bases. CRISPR/Cas9 has been used to generate knockout cells or animals by co-expressing a gRNA specific to the gene to be targeted and the endonuclease Cas9. This novel system has been tested in diverse species, with promising potential uses in humans. Theoretically, CRISPR/Cas9 will be able to remove genetic mutations related to incurable diseases, such as HIV, and certain cancer types. This scenario draws tentative and promising conditions using CRISPR/Cas9 as preventive and therapeutic tool in medical area. As expected, several groups have begun to test the putative gene editing properties of CRISPR/Cas9 on human cells. Since sleep disorders have been linked with specific genes, in this review, we suggest areas that require further investigation and experimental and/or clinical approaches to treat sleep disturbances using CRISPR/Cas9.
Keywords
Gene 
Somnolence 
DNA 
Insomnia 
Sleep 
Therapy 
1

Gene Expression: An Overview

Genes are subunits of DNA, the information database of a cell that is contained inside the cell nucleus and conform to the basic physical and functional units of heredity. These DNA subunits carry the genetic blueprint that is used to make all the proteins the cell needs. Every gene contains a particular set of instructions that code for a specific protein and the production of these functional molecules is the gene expression [1, 2]. There are two types of genes: regulating and constitutive. The first ones indicate the level of expression of the constitutive genes, which are the ones that produce a single-stranded RNA molecule, derived from a portion of the double-stranded DNA templates. By the expression of specific DNA motifs in the control regions of the regulating genes, the DNA segment is "read" by an enzyme called RNA polymerase, which produces the strand of RNA that is complimentary to the DNA. In this strand, some structural changes take place so that in some cases, the RNA molecule itself is a "finished product" that serves some important function within the cell. Often, however, transcription of an RNA molecule is followed by a translation step, which ultimately results in the production of a protein molecule [3, 4, 5].

For transcription to occur, the area around a prospective transcription zone needs to be unwound. This is a complex process requiring the coordinated modification of basic proteins that associate with DNA in the nucleus and help condense it into chromatin (histones), transcription factor binding and other chromatin remodeling activities. This primary RNA transcript is then modified to convert it into mature messenger RNA (mRNA) that can be used in translation. Interestingly, not all regions of an mRNA molecule correspond to particular aminoacids, the molecules that are then linked together in a chain by a ribosome to create a rudimentary protein chain. The mRNA undergoes splicing of its regions to remove the non-coding parts of the transcript being the introns, so that only the coding sections being the exons remain. This part is called processing and right after this step, the final mRNA carries the information needed to code for proteins, which will transform into a functional protein [4, 6, 7].

Importantly, there is extensive natural variation in human gene expression. Every person has two copies of each gene, one inherited from each parent. Most genes are the same in the population, but a small number of genes (less than 1 percent of the total) are slightly different between people. This characteristic is determined by the presence of various alleles, forms of the same gene with small differences in their sequence of DNA bases. These small differences contribute to each person's unique physical features. As quantitative phenotypes, expression levels of genes are heritable [8]. As a result, every human being has its own genetic information, inherited from its progenitor, which determines their anatomical characteristics, normal physiology and their predisposition to certain pathologic processes.

On the other hand, not all genes are active at all times and also are limited to control most of the physiological functions of an organism on their own. Rather, they must interact with and respond to the organism's environment. While some genes are constitutive, or display a "turn-on" mode regardless of environmental conditions, regulating genes are needed only occasionally [

6

]. Moreover, multiple mechanisms have an effect on one or various steps of the gene expression (Fig. 

1

).

2

Gene Expression in Pathological Conditions

Given the complex mechanism of gene expression, it is not a surprise to know that many of its steps can be altered in several ways conditioning the cell to an aberrant development. In humans, this situation is traduced to illnesses such as cancer, diabetes, Alzheimer's disease, osteoporosis and many others caused by a dysregulation in the gene expression. One example of this scenario is the abnormal expression in gene profile of all adipogenic markers that are not expressed in diabetic cells after differentiation [9]. An additional most common example of altered gene expression in human health aspects is cancer. In this regard, it was demonstrated that protein Semaphorin-3E (Sema3E) is overexpressed in human pancreatic cancer, and that high Sema3E levels are associated with tumor progression. Critically, Sema3E is a member of an axon guidance gene family, and has been reported as a contributor to tumor progression and metastasis. Moreover, overexpression of Sema3E in pancreatic cancer cells promotes cell proliferation and migration in vitro, and increases tumor incidence. Conversely, experimental animals (knockout) of Sema3E suppressed cancer cell proliferation and reduced tumor incidence and size in vivo [10].

Lastly, osteoporosis is a common disease in the adult population due to the normal decalcification enhanced by multiple causes including a diet deficient in vitamin D or calcium, alcoholism, tabaquism and genetic causes. Recently, the diagnostic potential of circulating miRNAs for postmenopausal osteoporosis has been investigated and some miRNAs were identified as potential biomarkers [11].
3

Sleep Disorders and Gene Modulation

According to the

International Classification of Sleep Disorders

, several disturbances of the sleep–wake cycle have been classified in extensive Axis [

12

] (Table 

1

). Sleep disorders have a wider spectrum of factors that promote and maintain the pathologies related to sleep. Regarding the molecular basis of sleep disruptions, several studies have provided milestones linking the presumable role of gene expression with the origin of sleep disorders [

13

,

14

,

15

,

16

,

17

]. Significant advances in understanding the neurobiological role of genes in sleep disorders have been obtained in the last decades. Given that the sleep disorders comprise several disturbances, it would be indeed ambitious to review genetics of all the sleep-related disturbances described so far. However, we highlight the most representative data linking genes and sleep disorders, including insomnia, obstructive sleep apnea (OSA), narcolepsy, advanced sleep phase syndrome and restless legs syndrome.

Table 1

Genes associated with sleep disturbances
Sleep disorder

Genes associated with sleep disturbances

Insomnia

1. Circadian genes (CLOCK, Timeless) Per2, 3

2. Serotonin transporter polymorphic region (5-HTTLPR)

3. Orexin/hypocretin gene

4. Catecholamine-O-methyltransferase (COMT) gene

5. Dopamine receptor D4 (DRD4) gene

6. Dopamine transporter 1 (DAT1) gene

7. ABCC9 gene (rs11046209) gene

Obstructive sleep apnea

1. Inflammatory factors: IL-6, IL-8, and TNF-α genes

2. 5-Hydroxytryptamine receptor 2A (5-HTR2A) gene

Narcolepsy

1. Human leukocyte antigen (HLA)-DRB1 × 15:01-DQB1 × 06:02 haplotype

2. Chemokine (C–C motif) receptor 1 (CCR1) gene

Advanced sleep phase syndrome

1. PER 1, 2, and 3

2. PER3(5/5)

3. PER3(4/4)

4. Cryptochrome genes 1 and 2

5. Arnt-like protein-1 (Bmal1/Aryl

6. Hydrocarbon receptor nuclear translocator-like (ARNTL1) gene

Restless legs syndrome

1. IL-ß gene

2. MEIS1 gene
4

CRISPR–Cas9: A Novel Molecular Approach for Gene Editing

Given the amount of diseases associated with "simple" errors in gene modulation and expression, several gene editing techniques have been developed aimed to treat these pathological conditions. Thus, inducible loss of gene function experiments is necessary to uncover mechanisms underlying development, physiology and disease [69]. One of these gene editing techniques is known as Clustered Regularly Interspaced Short Palindromic Repeats (CRISPR). The functions of CRISPR and CRISPR-associated (Cas) genes are essential for adaptive immunity in selected bacteria and archaea enabling the organisms to respond in an efficient manner to eliminate the invading genetic material using short-guide RNAs (sgRNAs) to target and destroy the DNA of exogenous pathogens. This biological phenomenon was observed for the first time in 2007 when a yogurt company identified a bacteria that could remember viruses. CRISPR obtained its name from the observation of remnants of bacterial genomes from previous infections, sandwiched between odd, and DNA sequence repeatedly, with unique sequences in between the duplications. Then, this mechanism was named "clustered regularly interspaced short palindromic repeats," or CRISPR. Later, between 2012 and 2013, diverse experimental groups experimented with CRISPR in combination with other gene editing tools. Then in 2015, a novel technique for gene editing named CRISPR was published in Science [70, 71].

Briefly, CRISPR uses a guide RNA to send biological "scissors"—usually the CRISPR-associated protein, Cas9—to a precise spot to cut in a genome. Once Cas9 enzymatically cuts, the cell engages healing mechanism in the wounded DNA, one of these mechanisms of repair leads to knockouts, whereas the second leads to knockins [70]. Later, the cell is able to function with altered DNA and continue the normal gene expression. Three types of CRISPR mechanisms have been identified, of which type II is the most studied. In this case, invading DNA from viruses or plasmids is cut into small fragments and incorporated into a CRISPR locus amidst a series of short repeats. Then, loci are transcribed, and transcripts are processed to generate small RNAs, which in turn guide endonucleases to target invading DNA based on sequence complementarity [72].

The advent of site-specific nucleases, particularly CRISPR/Cas9, provides the ability to manipulate genomic sequences, with special interest for develop treatments for human diseases [73, 74]. The biomedical applications of CRISPR are just starting to emerge with a promising active role in the ability to remove genetic mutations associated with diseases, such as cystic fibrosis, HIV, and even certain types of cancers [75, 76, 77, 78, 79, 80]. The authors share interest about the audacious investigations of CRISPR/Cas9-editing genes in insomnia, OSA, narcolepsy, advanced sleep phase syndrome, or restless legs syndrome.
5

Application of CRISPR/Cas9-Based Gene Therapy for Managing Sleep Disorders

Indeed, it may be that rather than a causal link, there are shared genetic risk factors for sleep disturbances. In terms of moving the field forward, further studies of gene edition–sleep disorders interaction could improve our understanding of the association between gene editions and sleep disorders. Translational animal models are an attractive approach for studying human-like sleep disorders. Altogether, the animal models have been used to study the most common human sleep disturbances including insomnia, OSA, narcolepsy, advanced sleep phase syndrome, restless legs syndrome or other sleep disturbances [

81

,

82

] (Fig. 

2

).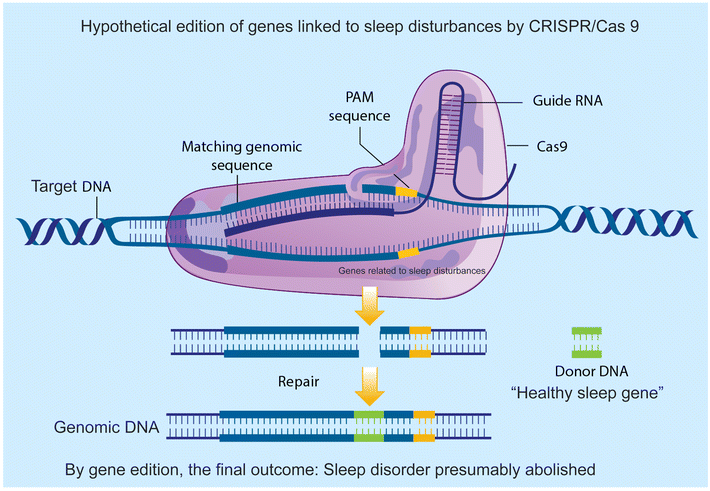 At last, considering the large degree of phenotypic variance in clinical presentation of sleep disturbances and the risk for sleep-associated morbidities, further studies should also consider detailed assessments for specific gene editing to gain increased insights into the potential genetic pathways involved in sleep disturbances. This scenario will present the possibility prior to a diagnosis of sleep disorders and perhaps even prior to the prodromal phase of sleep disturbances.
6

Conclusions

Sleep abnormalities such as insomnia, OSA, narcolepsy, advanced sleep phase syndrome and restless legs syndrome, among many others seem to have a genetic basis. Currently, CRISPR–Cas9 is an experimental technique that allows genome editing, targeting, and regulation in a wide range of organisms and cell types. The progress and the future potential of the CRISPR–Cas9 towards biomedical area are quite interesting. In this regard, novel uses of CRISPR–Cas9 as therapeutic tool for treating sleep disorders represent a new tempting research horizon. Using animal models of sleep disorders, it might be a convenient strategy for studying the putative benefits of CRISPR–Cas9 in sleep-related gene edition. We expect that in the coming years, further advances in the sleep medicine field would be achieved by gene edition experimental approach.
Notes
Compliance with Ethical Standards
Ethical standards
All data reported in this paper are from public repositories.
Funding
This work was supported by The University of California Institute for Mexico and the United States (UC MEXUS) and Consejo Nacional de Ciencia y Tecnología (CONACyT(Grant(CN-17-19) and Escuela de Medicina, Universidad Anáhuac Mayab Grant (PresInvEMR2014) given to E.M.-R.
Conflict of interest
Authors declare no conflict of interest.
Copyright information
© Springer Nature Singapore Pte Ltd. 2017