Abstract
In this study, mechanical properties and microstructural analysis of goat-derived hydroxyapatite/commercial inert glass biocomposites are considered in the temperature range between 1000 and 1300 °C. The results indicate that the best values of maximum compressive strength and microhardness are achieved in the samples sintered at 1200 °C for the glass in the weight of 5 and 10%. Moreover, above 1000 °C, decomposition of hydroxyapatite and new phase formations such as whitlockite and silicocarnotite play also a major role in the hardness and strength for goat hydroxyapatite/commercial inert glass biocomposites.
Access options
Buy single article
Instant access to the full article PDF.
USD 39.95
Price excludes VAT (USA)
Tax calculation will be finalised during checkout.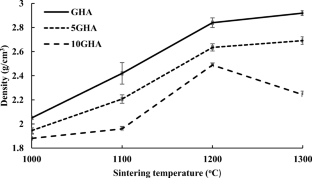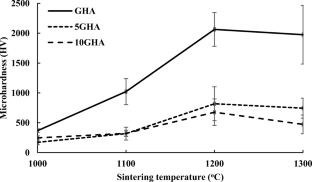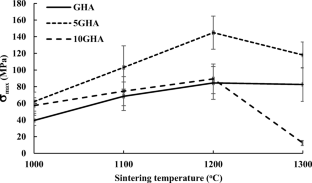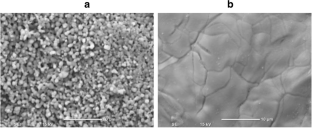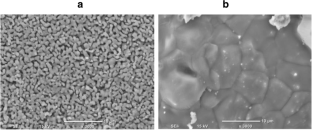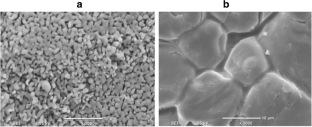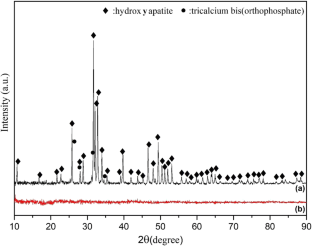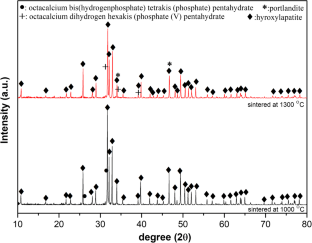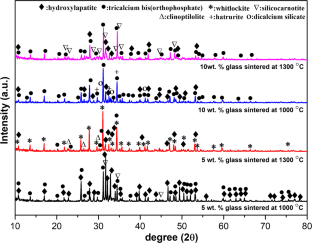 References
Serbetci, K., Korkusuz, F., Hasirci, N.: Thermal and mechanical properties of hydroxyapatite impregnated acrylic bone cements. Polym. Test. 23, 145–155 (2004)

Heidari, F., Razavi, M., Ghaedi, M., Forooghi, M., Tahriri, M., Tayebi, L.: Investigation of mechanical properties of natural hydroxyapatite samples prepared by cold isostatic pressing method. J. Alloys Compd. 693, 1150–1156 (2017)

Yamasaki, N., Yanagisawa, K., Kakiuchi, N.: Production of hydroxyapatite-glass compacts by hydrothermal hot-pressing technique. J. Mater. Res. 5(3), 647–653 (1990)

Santos, J.D., Knowles, J.C., Reis, R.L., Monteiro, F.J., Hastings, G.W.: Microstructural characterization of glass-reinforced hydroxyapatite composites. Biomater. 15(1), 5–10 (1994)

Suominen, E., Aho, A.J., Vedel, E., Kangasniemi, I., Ulusipaikka, E., Yli-Urpo, A.: Subchondral bone and cartilage repair with bioactive glasses, hydroxyapatite, and hydroxyapatite-glass composite. J. Biomed. Mater. Res. A. 32(4), 543–551 (1996)

Lopez, M.A., Monteiro, F.J., Santoz, J.D.: Glass-reinforced hydroxyapatite composites: fracture toughness and hardness dependence on microstructural characteristics. Biomater. 20(21), 2085–2090 (1999)

Oktar, F.N., Goller, G.: Sintering effects on mechanical properties of glass-reinforced hydroxyapatite composites. Ceram. Int. 28, 617–621 (2002)

Zhu, Q., De With, G., Dortmans, L.J.M.G., Feenstra, F.: Near net-shape fabrication of hydroxyapatite glass composites. J. Mater. Sci. Mater. Med. 15(11), 1187–1191 (2004)

Skorokhod, V.V., Ivanchenko, L.A., Pinchuk, N.D., Getman, O.I., Solonyn, S.M., Panichkina, V.V., Radchenko, P.J.: Porosity and bioactivity of hydroxyapatite-glass composites. Funct Mater. 13(2), 260–264 (2006)

Seo, D.S., Lee, J.K.: Dissolution-resistance of glass-added hydroxyapatite composites. Met. Mater. Int. 15(2), 265–271 (2009)

Sych, E.E., Pinchuk, N.D., Ivanchenko, L.A.: Effect of sintering temperature on the properties of biogenic hydroxyapatite-glass composites. Powder Metall. Met. Ceram. 49(4–5), 153–158 (2010)

Bellucci, D., Sola, A., Anesi, A., Salvatori, R., Chiarini, L., Cannillo, V.: Bioactive glass/hydroxyapatite composites: mechanical properties and biological evaluation. Mater. Sci. Eng. C. 51, 196–205 (2015)

Parkharney, O., Pinchuk, N., Sych, O., Tamila, T., Kuda, O., Tovstanoh, H., Gorban, V., Kolesnichenko, V., Evych, Y.: Effect of particle size of starting materials on the structure and properties of biogenic hydroxyapatite/glass composites. Process. Appl. Ceram. 10(1), 1–8 (2016)

Ning, J., Yao, A., Wang, D., Huang, W., Fu, H., Liu, X., Jiang, X., Zhang, X.: Synthesis and in vitro bioactivity of a borate-based bioglass. Mater. Lett. 61, 5223–5226 (2017)

Tulyaganov, D.U., Fernandez, H.R., Agathopoulos, S., Ferreira, J.M.F.: Preparation and characterization of high compressive strength foams from sheet glass. J. Porous. Mater. 13, 133–139 (2006)

Bernardo, E., Castellan, R., Hreglich, S.: Sintered glass-ceramics from mixtures of wastes. Ceram. Int. 33, 27–33 (2007)

Bernardo, E., Bonomo, E., Dattoli, A.: Optimisation of sintered glass-ceramics from an industrial waste glass. Ceram. Int. 36, 1675–1680 (2010)

Gunduz, O., Ahmad, Z., Ekren, N., Agathopoulos, S., Salman, S., Oktar, F.N.: Reinforcing of biologically derived apatite with commercial inert glass. J. Thermoplast. Compos. Mater. 22(4), 407–419 (2009)

Demirkol, N., Oktar, F.N., Kayali, E.S.: Influence of commercial inert glass addition on the mechanical properties of commercial synthetic hydroxyapatite. Acta Phys. Pol. A. 123(2), 427–429 (2013)

Demirkol, N., Oral, A.Y., Oktar, F.N., Kayali, E.S.: Effects of commercial inert glass (CIG) addition on mechanical and microstructural properties of chicken hydroxyapatite (CHA). Key Eng. Mater. 587, 33–38 (2014)

Meski, S., Khireddine, H., Ziani, S., Rengaraj, S.: Comparative study on the removal of zinc (II) by bovine bone, billy goat bone and synthetic hydroxyapatite. Desalin. Water Treat. 16, 271–281 (2010)

Fan, X., Zhang, T., Zhao, Z., Ren, H., Zhang, Q., Yan, Y., Lv, G.: Preparation and characterization of bacterial cellulose microfiber/goat bone apatite composites for bone repair. J. Appl. Polym. Sci. 129(2), 595–603 (2013)

Knagasniemi, I., groot, K.D., Wolke, J., Andersson, Ö., Luklinska, Z., Becht, J.G.M., lakkisto, M., Yli-Urpo, A.: The stability of hydroxyapatite in an optimized bioactive glass matrix at sintering temperatures. J. Mater. Sci. Mater. Med. 2, 133–137 (1991)

Bulut, B., Demirkol, N., Erkmen, Z.E., Kayalı, E.S.: Comparison of microstructural and mechanical properties of hydroxyapatite-Al2O3 composites with commercial inert glass (CIG) addition. Acta Phys. Pol. A. 127, 1094–1096 (2015)
About this article
Cite this article
Akyurt, N., Yetmez, M. & Oktar, F.N. Studies on goat hydroxyapatite/commercial inert glass biocomposites. J Aust Ceram Soc 55, 697–702 (2019). https://doi.org/10.1007/s41779-018-0279-z
Received:

Revised:

Accepted:

Published:

Issue Date:

DOI: https://doi.org/10.1007/s41779-018-0279-z
Keywords