Abstract
Nano-sized barium-doped hydroxyapatite (n-BaHA) was successfully synthesized by a facile one-pot mechanochemical process. The effect of dopant loading on phase composition and morphological features as well as hexagonal lattice constants was assessed to study structural evolution of the milled particles. From the XRD-Rietveld refinement, the a- and c-axis directions and unit cell volume showed an increasing trend with the increase of the dopant content. From the TEM observations, the doped nanopowders were composed of nanospheroids with an average particle size of 36 ± 2 nm. This novel top-down approach provides an outline for the future design of nanostructured bioceramics.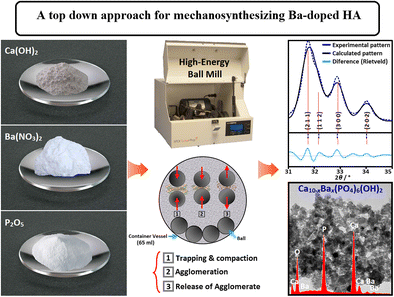 Access options
Buy single article
Instant access to the full article PDF.
USD 39.95
Price excludes VAT (USA)
Tax calculation will be finalised during checkout.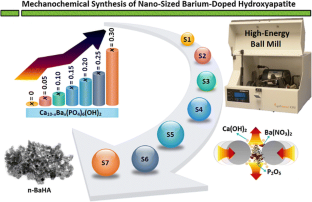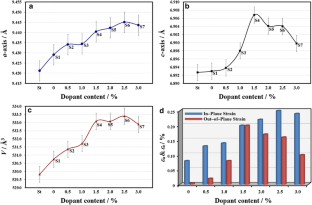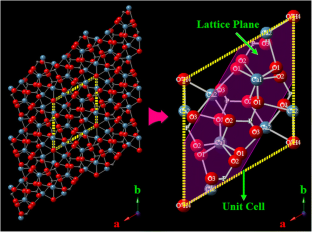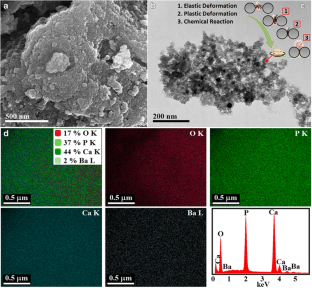 References
Vallet-Regí, M., Ruiz-Hernández, E.: Bioceramics: from bone regeneration to cancer nanomedicine. Adv Mater. 23, 5177–5218 (2011)

Liu, H., Xu, G.W., Wang, Y.F., Zhao, H.S., Xiong, S., Wu, Y., Heng, B.C., An, C.R., Zhu, G.H., Xie, D.H.: Composite scaffolds of nano-hydroxyapatite and silk fibroin enhance mesenchymal stem cell-based bone regeneration via the interleukin 1alpha autocrine/paracrine signaling loop. Biomaterials. 49, 103–112 (2015)

Sadat-Shojai, M., Khorasani, M.T., Dinpanah-Khoshdargi, E., Jamshidi, A.: Synthesis methods for nanosized hydroxyapatite with diverse structures. Acta Biomater. 9, 7591–7621 (2013)

Best, S.M., Porter, A.E., Thian, E.S., Huang, J.: Bioceramics: past, present and for the future. J Eur Ceram Soc. 28, 1319–1327 (2008)

Dorozhkin, S.V.: Calcium orthophosphate bioceramics. Ceram Int. 41, 13913–13966 (2015)

Šupová, M.: Substituted hydroxyapatites for biomedical applications: a review. Ceram Int. 41, 9203–9231 (2015)

Shirazi, S.F.S., Gharehkhani, S., Metselaar, H.S.C., Nasiri-Tabrizi, B., Yarmand, H., Ahmadi, M., Osman, N.A.A.: Ion size, loading, and charge determine the mechanical properties, surface apatite, and cell growth of silver and tantalum doped calcium silicate. RSC Adv. 6, 190–200 (2016)

Nasiri-Tabrizi, B., Pingguan-Murphy, B., Basirun, W.J., Baradaran, S.: Crystallization behavior of tantalum and chlorine co-substituted hydroxyapatite nanopowders. J Ind Eng Chem. 33, 316–325 (2016)

Fahami, A., Nasiri-Tabrizi, B., Beall, G.W., Pingguan-Murphy, B.: Effect of ion concentration on mechanosynthesis of carbonated chlorapatite nanopowders. Mater Lett. 146, 16–19 (2015)

Aaseth, J., Boivin, G., Andersen, O.: Osteoporosis and trace elements—an overview. J Trace Elem Med Bio. 26, 149–152 (2012)

Yuan, X., Zhu, B., Tong, G., Su, Y., Zhu, X.: Wet-chemical synthesis of Mg-doped hydroxyapatite nanoparticles by step reaction and ion exchange processes. J Mater Chem B. 1, 6551–6559 (2013)

Miao, S., Weng, W., Cheng, K., Du, P., Shen, G., Han, G., Zhang, S.: Sol–gel preparation of Zn-doped fluoridated hydroxyapatite films. Surf Coat Tech. 198, 223–226 (2005)

Alshemary, A.Z., Goh, Y., Akram, M., Razali, I.R., Kadir, M.R.A., Hussain, R.: Microwave assisted synthesis of nano sized sulphate doped hydroxyapatite. Mater Res Bull. 48, 2106–2110 (2013)

Wong, W.Y., Mohd Noor, A.F.: Synthesis and sintering-wet carbonation of nano-sized carbonated hydroxyapatite. Procedia Chem. 19, 98–105 (2016)

Wen, F.S., Zhao, X., Ding, H., Huo, H., Chen, J.S.: Hydrothermal synthesis and photoluminescent properties of Sb3+-doped and (Sb3+,Mn2+)-co-doped calcium hydroxyapatite. J Mater Chem. 12, 3761–3765 (2002)

Fahami, A., Nasiri-Tabrizi, B., Ebrahimi-Kahrizsangi, R.: Mechanosynthesis and characterization of chlorapatite nanopowders. Mater Lett. 110, 117–121 (2013)

Chen, C.W., Oakes, C.S., Byrappa, K., Riman, R.E., Brown, K., TenHuisen, K.S., Janas, V.F.: Synthesis, characterization, and dispersion properties of hydroxyapatite prepared by mechanochemical–hydrothermal methods. J Mater Chem. 14, 2425–2432 (2004)

Nasiri-Tabrizi, B., Fahami, A.: Production of poorly crystalline tricalcium phosphate nanopowders using different mechanochemical reactions. J Ind Eng Chem. 20, 1236–1242 (2014)

Nasiri-Tabrizi, B., Ebrahimi-Kahrizsangi, R., Basirun, W.J., Adhami, T.: Formation mechanism of ultra-high temperature nanocomposites by mechanically induced self-sustaining reactions. Syn React Inorg Met. 46, 1735–1739 (2016)

Shibata, S., Doi, Y., Takezawa, Y., Wakamatsu, N., Horiguchi, T., Kamemizu, H., Moriwaki, Y., Kubo, F., Haeuchi, Y.: Self-setting apatite cement. VII. Barium-apatite as radio-opaque medium. Shika Zairyo Kikai. 8, 77–82 (1989)

Kizuki, T., Ohgaki, M., Hashimoto, K., Toda, Y., Udagawa, S., Yamashita, K.: Synthesis of apatite-type barium rare earth oxide silicates and estimation of their biocompatibility. J Ceram Soc Jpn. 109, 162–167 (2001)

Alshemary, A.Z., Goh, Y.F., Akram, M., Kadir, M.R.A., Hussain, R.: Barium and fluorine doped synthetic hydroxyapatite: characterization and in-vitro bioactivity analysis. Sci Adv Mater. 7, 249–257 (2015)

Landi, E., Tampieri, A., Celotti, G., Sprio, S.: Densification behaviour and mechanisms of synthetic hydroxyapatites. J Eur Ceram Soc. 20, 2377–2387 (2000)

Cheong, Y.L., Yam, F.K., Ooi, Y.W., Hassan, Z.: Room-temperature synthesis of nanocrystalline titanium dioxide via electrochemical anodization. Mat Sci Semicon Proc. 26, 130–136 (2014)

Lee, Y.J., StePhen, P.W., Tang, Y., Li, W., Phillips, B.L., Parise, J.B., Reeder, R.J.: Arsenate substitution in hydroxylapatite: structural characterization of the Ca5(PxAs1–xO4)3OH solid solution. Am Mineral. 94, 666–675 (2009)

Rodriguez-Carvajal, J.: Recent developments of the program FULLPROF, commission on powder diffraction (IUCr). Newsletter. 26, 12–19 (2001)

Terra, J., Dourado, E.R., Eon, J.G., Ellis, D.E., Gonzalez, G., Rossi, A.M.: The structure of strontium-doped hydroxyapatite: an experimental and theoretical study. Phys Chem Chem Phys. 11, 568–577 (2009)

Lia, Z.Y., Lama, W.M., Yangb, C., Xub, B., Nia, G.X., Abbaha, S.A., Cheunga, K.M.C., Luka, K.D.K., Lua, W.W.: Chemical composition, crystal size and lattice structural changes after incorporation of strontium into biomimetic apatite. Biomaterials. 28, 1452–1460 (2007)

Lafon, J.P., Champion, E., Bernache-Assollant, D.: Processing of AB-type carbonated hydroxyapatite Ca10−x (PO4)6−x (CO3) x (OH)2−x−2y (CO3) y ceramics with controlled composition. J Eur Ceram Soc. 28, 139–147 (2008)

García-Tuñón, E., Dacuña, B., Zaragoza, G., Franco, J., Guitián, F.: Cl-OH ion-exchanging process in chlorapatite (Ca5(PO4)3Clx(OH)1 - x) - a deep insight. Acta Cryst. B68, 467–479 (2012)

Gibson, I.R., Bonfield, W.: Novel synthesis and characterization of an AB-type carbonate-substituted hydroxyapatite. J Biomed Mater Res. 59, 697–708 (2002)

Zhao, Y., Frost, R.L., Yang, J., Martens, W.N.: Size and morphology control of gallium oxide hydroxide GaO(OH), nano- to micro-sized particles by soft-chemistry route without surfactant. J Phys Chem C. 112, 3568–3579 (2008)

Vannice, M.A.: Kinetics of catalytic reactions, 1st edn. Springer (2005)

Razavi-Tousi, S.S., Szpunar, J.A.: Effect of ball size on steady state of aluminum powder and efficiency of impacts during milling. Powder Tech. 284, 149–158 (2015)

Balaz, P.: Mechanochemistry in nanoscience and minerals engineering, first edn. Springer, Berlin (2008)

Balema, V.P., Wiench, J.W., Pruski, M., Pecharsky, V.K.: Mechanically induced solid-state generation of phosphorus ylides and the solvent-free Wittig reaction. J Am Chem Soc. 124, 6244–6245 (2002)
Acknowledgements
This research was supported by the National Science Foundation (PREM center for interfaces, DMR-1205670), and the Robert A. Welch Foundation (AI-0045). The authors are also grateful to University of Malaya grant numbers: GC001C-14SBS and RP038C-15HTM, as well as Research Affairs of Islamic Azad University, Najafabad Branch, for supporting this research.
Additional information
Highlights
- Nano-sized Ba-doped HA was synthesized by a one-pot mechanochemical process.
- Structural changes during mechanical activation were investigated.
- Ba substitution increased the relative incorporation of CO3 2−.
- The doped powder was composed of nanospheroids with an average size of 36 ± 2 nm.
About this article
Cite this article
Fahami, A., Nasiri-Tabrizi, B., Beall, G.W. et al. A top-down approach for the synthesis of nano-sized Ba-doped hydroxyapatite. J Aust Ceram Soc 53, 491–498 (2017). https://doi.org/10.1007/s41779-017-0059-1
Received:

Revised:

Accepted:

Published:

Issue Date:

DOI: https://doi.org/10.1007/s41779-017-0059-1
Keywords
Ba-doped HA

Mechanochemical

Nanoparticles

Powders

Rietveld refinement