Abstract
Monitoring of land use and land cover (LULC) change is fundamental aspect of the landscape dynamics or environmental health evaluation at different spatio-temporal scales. Assessment of LULC change is highly imperative in evaluating the environmental and ecosystem management, conservation, land use planning, resource management and overall sustainable environmental management. The rich natural biodiversity zone of Bhutan–Bengal foothill has been considered to assess the LULC change from 1987 to 2019. The principal objective of this study is to identify the rate of transformation of land use and land cover change along with its causes and consequences. ETM, ETM+ and OLI Landsat satellite images of 1987, 2001 and 2019 are used to find out the magnitude of land use and land cover transformation. Maximum likelihood classifier or maximum likelihood classification method has been applied to classify the attributes of LULC change of Bhutan–Bengal foothill. The LULC components are further verified and rectified by reliable statistical error (confused) matrix accuracy assessment techniques to sort out the error incurred during preparation of final spatio-temporal LULC change maps. The result shows that there is a partial change of LULC during the last 3 decades (1987–2019). LULC data of 3 decades reveal a negative change or reduction of areas like vegetation (− 2.93%), agriculture (− 6.955) and plantation (− 0.5%), whereas other three important LULC components such as built-up area (6.44%), barren land (2.71%) and water body (1.29%) take slightly positive trend. Large-scale human encroachment, natural forest habitat fragmentation and conversion have brought rapid transformation from natural landscape to cultural landscape in Bhutan–Bengal foothill. This fundamental research will definitely help to make policy framing holistic management approach.
Access options
Buy single article
Instant access to the full article PDF.
USD 39.95
Price excludes VAT (USA)
Tax calculation will be finalised during checkout.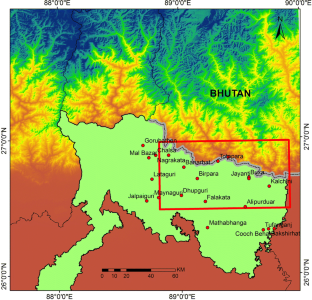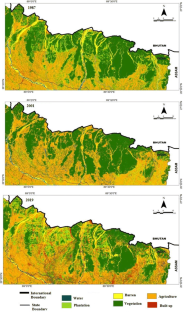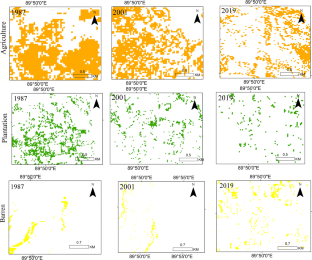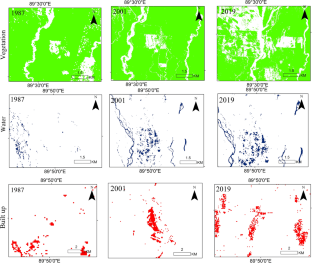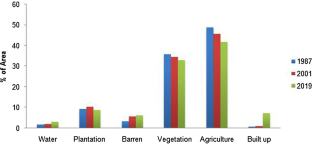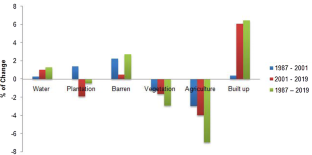 References
Abdullah AY, Masrur A, Adnan MS, Baky M, Al A, Hassan QK, Dewan A (2019) Spatio-temporal patterns of land use/land cover change in the heterogeneous coastal region of Bangladesh between 1990 and 2017. Remote Sens 11(7):790. https://doi.org/10.3390/rs11070790

Adnan MS, Dewan A, Zannat KE (2019a) Abdullah AY (2019) The use of watershed geomorphic data in flash flood susceptibility zoning: a case study of the Karnaphuli and Sangu river basins of Bangladesh. Nat Hazards 99(1):425–448. https://doi.org/10.1007/s11069-019-03749-3

Adnan MS, Haque A, Hall JW (2019b) Have coastal embankments reduced flooding in Bangladesh? Sci Total Environ 682:405–416. https://doi.org/10.1016/j.scitotenv.2019.05.048

Al-Ahmadi FS, Hames AS (2009) Comparison of four classification methods to extract land use and land cover from raw satellite images for some remote arid areas, kingdom of Saudi Arabia. Earth 20(1):167–191

Anderson JR (1976) A land use and land cover classification system for use with remote sensor data. US Government Printing Office, Washington, DC

Atkinson PM, Lewis P (2000) Geostatistical classification for remote sensing: an introduction. Comput Geosci 26(4):361–371. https://doi.org/10.1016/S0098-3004(99)00117-X

Banerjee R (2016) Storm in the tea bowl, The Week, 16 Oct, 2016. https://www.theweek.in/theweek/statescan/dooars-region-starvationdeaths.html

Bera B, Bhattacharjee S, Sengupta S (2016) Biogeography and environment. Nabodaya Publisher, Hyderabad. ISBN 978-81-927108-7-7

Bronstert A, Niehoff D, Bürger G (2002) Effects of climate and land-use change on storm runoff generation: present knowledge and modelling capabilities. Hydrol Process 16(2):509–529. https://doi.org/10.1002/hyp.326

Brown DG, Pijanowski BC, Duh JD (2000) Modeling the relationships between land use and land cover on private lands in the Upper Midwest, USA. J Environ Manag 59(4):247–263. https://doi.org/10.1006/jema.2000.0369

Burley TM (1961) Land use or land utilization? Prof Geogr 13(6):18–20. https://doi.org/10.1111/j.0033-0124.1961.136_18.x

Butt A, Shabbir R, Ahmad SS, Aziz N (2015) Land use change mapping and analysis using remote sensing and GIS: a case study of Simly watershed, Islamabad, Pakistan. Egypt J Remote Sens Space Sci 18(2):251–259. https://doi.org/10.1016/j.ejrs.2015.07.003

Chakraborty S, Datta K (2013) Causes and consequences of channel changes–a spatio-temporal analysis using remote sensing and GIS—Jaldhaka-Diana River System (Lower Course), Jalpaiguri (Duars), West Bengal. India. J. Geogr. Nat. Disasters 3(1):1–3. https://doi.org/10.4172/2167-0587.1000107

Chica-Olmo M, Abarca-Hernandez F (2000) Computing geostatistical image texture for remotely sensed data classification. Comput Geosci 26(4):373–383. https://doi.org/10.1016/S0098-3004(99)00118-1

Chokami AF, Gonbad RA (2009) Effect of liming of tea seedling (Camellia sinensis (L.) O. Kuntze). Asian J Chem 21(4):3301–3303. http://www.asianjournalofchemistry.com

Coppin PR, Bauer ME (1996) Digital change detection in forest ecosystems with remote sensing imagery. Remote Sens Rev 13(3–4):207–234. https://doi.org/10.1080/02757259609532305

David K, Yetta G, Agung F, Sharon H, Alison C (2016) Land use planning for disaster risk reduction and climate change adaptation: operationalizing policy and legislation at local levels. Int J Disaster Resil Built Environ 7(2):158–172

Debnath S (2010) The dooars in historical transition. N.L Publisher, Shiv Mandir

Diallo Y, Hu G, Wen X (2009) Applications of remote sensing in land use/land cover change detection in Puer and Simao Counties, Yunnan Province. J Am Sci 5(4):157–166

El Garouani A, Mulla DJ, El Garouani S, Knight J (2017) Analysis of urban growth and sprawl from remote sensing data: case of Fez, Morocco. Int J Sustain Built Environ 6(1):160–169. https://doi.org/10.1016/j.ijsbe.2017.02.003

Foley JA, DeFries R, Asner GP, Barford C, Bonan G, Carpenter SR, Chapin FS, Coe MT, Daily GC, Gibbs HK, Helkowski JH (2005) Global consequences of land use. Science 309(5734):570–574. https://doi.org/10.1126/science.1111772

Foody GM (2002) Status of land cover classification accuracy assessment. Remote Sens Environ 80(1):185–201. https://doi.org/10.1016/S0034-4257(01)00295-4

Gansser A (1964) Geology of the Himalayas. Interscience Publishers, New York

Gao Y, Zhang W (2009) LULC classification and topographic correction of Landsat-7 ETM+ imagery in the Yangjia River Watershed: the influence of DEM resolution. Sensors 9(3):1980–1995. https://doi.org/10.3390/s90301980

Goswami C, Mukhopadhyay D, Poddar BC (2012) Tectonic control on the drainage system in a piedmont region in tectonically active eastern Himalayas. Front Earth Sci 6(1):29–38. https://doi.org/10.1007/s11707-012-0297-z

Gruning JF (1911) Eastern Bengal and Assam district Gazetteers. Pioneer Press, Allahabad

Gumma MK, Thenkabail PS, Hideto F, Nelson A, Dheeravath V, Busia D, Rala A (2011) Mapping irrigated areas of Ghana using fusion of 30 m and 250 m resolution remote-sensing data. Remote Sens 3(4):816–835. https://doi.org/10.3390/rs3040816

Hegazy IR, Kaloop MR (2015) Monitoring urban growth and land use change detection with GIS and remote sensing techniques in Daqahlia governorate Egypt. Int J Sustain Built Environ 4(1):117–124. https://doi.org/10.1016/j.ijsbe.2015.02.005

Helmer EH, Brown S, Cohen WB (2000) Mapping montane tropical forest successional stage and land use with multi-date Landsat imagery. Int J Remote Sens 21(11):2163–2183. https://doi.org/10.1080/01431160050029495

Herold M, Scepan J, Clarke KC (2002) The use of remote sensing and landscape metrics to describe structures and changes in urban land uses. Environ Plan A 34(8):1443–1458. https://doi.org/10.1068/a3496

Irons JR, Dwyer JL, Barsi JA (2012) The next Landsat satellite: the Landsat data continuity mission. Remote Sens Environ 122:11–21. https://doi.org/10.1016/j.rse.2011.08.026

Islam K, Jashimuddin M, Nath B, Nath TK (2018) Land use classification and change detection by using multi-temporal remotely sensed imagery: the case of Chunati wildlife sanctuary, Bangladesh. Egypt J Remote Sens Space Sci 21(1):37–47. https://doi.org/10.1016/j.ejrs.2016.12.005

Jensen JR (2007) Remote sensing of vegetation. In: Remote sensing of the environment: an earth resource perspective. Pearson Prentice Hall, Upper Saddle River, NJ

Ji W, Ma J, Twibell RW, Underhill K (2006) Characterizing urban sprawl using multi-stage remote sensing images and landscape metrics. Comput Environ Urban Syst 30(6):861–879. https://doi.org/10.1016/j.compenvurbsys.2005.09.002

Jia K, Wei X, Gu X, Yao Y, Xie X, Li B (2014) Land cover classification using Landsat 8 operational land imager data in Beijing, China. Geocarto Int 29(8):941–951. https://doi.org/10.1080/10106049.2014.894586

Kaiser MF (2009) Environmental changes, remote sensing, and infrastructure development: the case of Egypt's East Port Said harbour. Appl Geogr 29(2):280–288. https://doi.org/10.1016/j.apgeog.2008.09.008

Kumar R (2014) Flood hazard assessment of 2014 floods in Sonawari sub-district of Bandipore district (Jammu & Kashmir): an application of geoinformatics. Remote Sens Appl Soc Environ 4:188–203. https://doi.org/10.1016/j.rsase.2016.10.002

Kumar R, Acharya P (2016) Flood hazard and risk assessment of 2014 floods in Kashmir Valley: a space-based multisensor approach. Nat Hazards 84(1):437–464. https://doi.org/10.1007/s11069-016-2428-4

Lahiri A (1941) Geology of Buxa Duars. Q J Geol Min Met Soc Ind 13(1):1–82

Lambin EF (1997) Modelling and monitoring land-cover change processes in tropical regions. Prog Phys Geogr 21(3):375–393. https://doi.org/10.1177/030913339702100303

Lambin EF, Turner BL, Geist HJ, Agbola SB, Angelsen A, Bruce JW, Coomes OT, Dirzo R, Fischer G, Folke C, George P (2001) The causes of land-use and land-cover change: moving beyond the myths. Glob Environ Change 11(4):261–269. https://doi.org/10.1016/S0959-3780(01)00007-3

Li M, Zang S, Zhang B, Li S, Wu C (2014) A review of remote sensing image classification techniques: the role of spatio-contextual information. Eur J Remote Sens 47(1):389–411. https://doi.org/10.5721/EuJRS20144723

Lillesand T, Kiefer RW, Chipman J (2015) Remote sensing and image interpretation. Wiley, New York

Liu T, Yang X (2015) Monitoring land changes in an urban area using satellite imagery, GIS and landscape metrics. Appl Geogr 56:42–54. https://doi.org/10.1016/j.apgeog.2014.10.002

Lo CP (1986) Applied remote sensing. pp 60–60. https://doi.org/10.1080/10106048609354071

Lo CP, Choi J (2004) A hybrid approach to urban land use/cover mapping using Landsat 7 Enhanced Thematic Mapper Plus (ETM+) images. Int J Remote Sens 25(14):2687–2700. https://doi.org/10.1080/01431160310001618428

Long S, McQuarrie N, Tobgay T, Grujic D, Hollister L (2014) Geologic map of Bhutan. J Maps 7(1):184–192. https://doi.org/10.4113/jom.2011.1159

Loveland TR Acevedo W (2006) Land cover change in the Eastern United States, US Geological survey. https://landcovertrends.usgs.gov/east/regionalSummary.html

Lu D, Weng Q (2004) Spectral mixture analysis of the urban landscape in Indianapolis with Landsat ETM+ imagery. Photogram Eng Remote Sens 70(9):1053–1062. https://doi.org/10.14358/PERS.70.9.1053

Lu D, Weng Q (2007) A survey of image classification methods and techniques for improving classification performance. Int J Remote Sens 28(5):823–870. https://doi.org/10.1080/01431160600746456

Lu D, Hetrick S, Moran E, Li G (2012) Application of time series Landsat images to examining land-use/land-cover dynamic change. Photogram Eng Remote Sens 78(7):747

Maeght JL, Rewald B, Pierret A (2013) How to study deep roots—and why it matters. Front Plant Sci 4:299. https://doi.org/10.3389/fpls.2013.00299

Mallet FR (1875) On geology and mineral resources of Darjeeling district and Western Duars. Mem Geol Surv India 2:1–72

Mouat DA, Mahin GG, Lancaster J (1993) Remote sensing techniques in the analysis of change detection. Geocarto Int 8(2):39–50. https://doi.org/10.1080/10106049309354407

Munoz-Mari J, Tuia D, Camps-Valls G (2012) Semisupervised classification of remote sensing images with active queries. IEEE Trans Geosci Remote Sens 50(10):3751–3763. https://doi.org/10.1109/TGRS.2012.2185504

Nakata T (1972) Geomorphic history and crustal movement of the foot-hills of the Himalayas. Science Report Tohoku University, 7th series (Geography) 22, 39–177. https://ci.nii.ac.jp/naid/10016689279/

Nelson RF (1983) Detecting forest canopy change due to insect activity using Landsat MSS. Photogram Eng Remote Sens 49(9):1303–1314

Ojima DS, Galvin KA, Turner BL (1994) The global impact of land-use change. Bioscience 44(5):300–304. https://doi.org/10.2307/1312379

Olofsson P, Foody GM, Stehman SV, Woodcock CE (2013) Making better use of accuracy data in land change studies: estimating accuracy and area and quantifying uncertainty using stratified estimation. Remote Sens Environ 129:122–131. https://doi.org/10.1016/j.rse.2012.10.031

Pilgrim GE (1906) Notes on the geology of a portion of Bhutan. Rec Geol Surv India 34:22–30

Prokop P, Sarkar S (2012) Natural and human impact on land use change of the Sikkimese-Bhutanese Himalayan piedmont, India. Quaest Geogr 31(3):63–75. https://doi.org/10.2478/v10117-012-0010-z

Quintas-Soriano C, Castro AJ, Castro H, García-Llorente M (2016) Impacts of land use change on ecosystem services and implications for human well-being in Spanish drylands. Land Use Policy 54:534–548. https://doi.org/10.1016/j.landusepol.2016.03.011

Rawat JS, Kumar M (2015) Monitoring land use/cover change using remote sensing and GIS techniques: a case study of Hawalbagh block, district Almora, Uttarakhand, India. Egypt J Remote Sens Space Sci 18(1):77–84. https://doi.org/10.1016/j.ejrs.2015.02.002

Rossiter DG (2004) Statistical methods for accuracy assessment of classified thematic maps. International Institute for Geo-information Science and Earth, Department of Earth Systems Analysis, Enschede

Sinha RS (1981) Alluvium fan model for the Himalayan piedmont deposits. J Geol Soc India Bangalore 22:164–174

Sarkar S (2008) Flood hazard in the Sub-Himalayan North Bengal India. In: Singh S, Starkel L, Syiemlieh HJ (eds) Environmental changes and geomorphic hazard. Bookwell, New Delhi, Shillong, pp 247–262

Seto KC, Kaufmann RK (2005) Using logit models to classify land cover and land-cover change from Landsat Thematic Mapper. Int J Remote Sens 26(3):563–577. https://doi.org/10.1080/01431160512331299270

Shah SA (2012) Use of geographic information system in land use studies: a micro level analysis. Eur J Appl Sci 4(3):123–128

Shaw R, Banba M (2017) Land use management in disaster risk reduction: an overview. In: Land use management in disaster risk reduction. Springer, Tokyo, pp 3–12. https://doi.org/10.1007/978-4-431-56442-3_1

Singh A (1989) Review article digital change detection techniques using remotely-sensed data. Int J Remote Sens 10(6):989–1003. https://doi.org/10.1080/01431168908903939

Starkel L, Sarkar S (2002) Different frequency of threshold rainfalls transforming the margin of Sikkimese and Bhutanese Himalaya. Stud Geomorphol Carpatho-Balcanica 36:51–67

Strakel L, Sarkar S, Soja R, Prokop P (2008) Present-day evolution of the Sikkimese–Bhutanese Himalayan Piedmon. Geographical studies No, 219, Academy of Science, Institute of Geography and Spatial Organization PAS https://books.google.co.in/books?hl=en&lr=&id=tU_eAgAAQBAJ&oi=fnd&pg=PA5&ots=aRAq44FbkZ&sig=rQfzellxSSNXgUKl6qzQCY4y3_g&redir_esc=y#v=onepage&q&f=false

Sutradhar KC (2015) Indo-Mongoloid tribes of the Western Duars—their identity crisis: a historical analysis. J Hum Soc Sci (IOSR-JHSS) 20:44–48

Tarantino E, Novelli A, Aquilino M, Figorito B, Fratino U (2015) Comparing the MLC and JavaNNS approaches in classifying multi-temporal LANDSAT satellite imagery over an ephemeral river area. Int J Agric Environ Inf Syst (IJAEIS) 6(4):83–102. https://doi.org/10.4018/IJAEIS.2015100105

Thakkar AK, Desai VR, Patel A, Potdar MB (2017) Post-classification corrections in improving the classification of Land Use/Land Cover of arid region using RS and GIS: the case of Arjuni watershed, Gujarat, India. Egypt J Remote Sens Space Sci 20(1):79–89. https://doi.org/10.1016/j.ejrs.2016.11.006

WAPCOS (2003) Master plan for flood management and erosion control in North Bengal Phase-I (Volume l and Volume-ll). Govt. of West Bengal, Uttarbanga Unnayan Parshad, Office of the Commissioner, Jalpaiguri Division, Jalpaiguri

Yang X (2002) Satellite monitoring of urban spatial growth in the Atlanta metropolitan area. Photogram Eng Remote Sens 68(7):725–734

Zhang D, Han J, Cheng G, Liu Z, Bu S, Guo L (2015) Weakly supervised learning for target detection in remote sensing images. IEEE Geosci Remote Sens Lett 12(4):701–705. https://doi.org/10.1109/lgrs.2014.2358994
Acknowledgements
We express our sincere gratitude to the United State Geological Survey (USGS) for making free available of Landsat satellite data archive. We are also indebted to local people for providing valuable information of land use and land cover change.
Ethics declarations
Conflict of interest
No potential conflicts of interest are reported by the authors.
About this article
Cite this article
Chamling, M., Bera, B. Spatio-temporal Patterns of Land Use/Land Cover Change in the Bhutan–Bengal Foothill Region Between 1987 and 2019: Study Towards Geospatial Applications and Policy Making. Earth Syst Environ 4, 117–130 (2020). https://doi.org/10.1007/s41748-020-00150-0
Received:

Accepted:

Published:

Issue Date:

DOI: https://doi.org/10.1007/s41748-020-00150-0
Keywords
Land use and land cover (LULC) change

Bhutan–Bengal foothill

Landsat satellite images

Maximum likelihood classifier (MLC)

Accuracy assessment