Abstract
Deficiency in rainfall introduces drought phenomena with temporal and spatial variability in terms of intensity and magnitude. Study of drought in different scales is necessary for successful planning in a country such as India, where agricultural sector contributes highest in economy. Drought indices (DI) have a tool to quantify the drought nature and express a single digit which is helpful to recognise a drought character. Standardized Precipitation Index (SPI) is a tool to quantify the drought characteristics, widely used for its simplicity and variable approaches to dignify a drought. Therefore, the present study deals with SPI to analyse drought phenomena in pre-monsoon, monsoon, post-monsoon and monthly time steps in three relatively drought prone districts (Purulia, Bankura, Midnapore) of West Bengal in India of rainfall data of 117 years (1901–2017). From SPI values, drought frequency is analysed using Gumbel's type 1 distribution and trend is calculated using Mann–Kendal test (M–K test). Occurrence of drought with negative SPI values is frequent in these districts with increasing dry events and decreasing wet and normal event. More intensive study in hydrological and agricultural drought is necessary to implement any plan with this increasing aggravation of drought.
Access options
Buy single article
Instant access to the full article PDF.
US$ 39.95
Tax calculation will be finalised during checkout.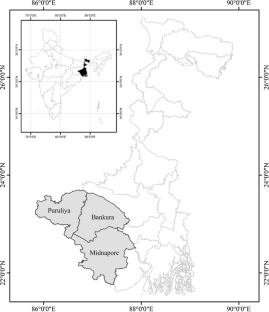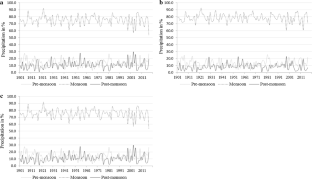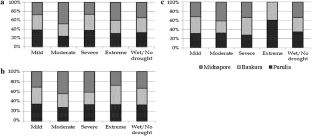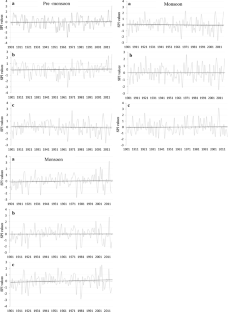 References
Agnew CT (2000) Using the SPI to identify drought. drought network news (1994–2001) 12(1): 6–12. DIALOG. http://digitalcommons.unl.edu/droughtnetnews/1. Accessed 13 Dec 2016

Beran M, Rodier JA (1985) Hydrological aspects of drought. Studies and reports in hydrology 39, Unesco-WMO, Paris

Bonaccorso B, Bordi I, Cancelliere A, Rossi G, Sutera A (2003a) Spatial variability of drought: an analysis of SPI in Sicily. Water Resour Manag 17:273–296

Bonaccorso B, Cancelliere A, Rossi G (2003b) An analytical formulation of return period of drought severity. Stoch Env Res Risk Assess 17(3):157–174

Byun HR, Wilhite DA (1999) Objective quantification of drought severity and duration. J Clim 12:2747–2756

Cancelliere A et al (2003) On the probabilistic characterization of drought events. Hydrol Days 33–44

Costa AC (2011) Local patterns and trends of the Standard Precipitation Index in southern Portugal (1940–1999). Adv Geosci 30:11–16

Dutta D et al (2015) Assessment of agricultural drought in Rajasthan (India) using remote sensing derived Vegetation Condition Index (VCI) and Standardized Precipitation Index (SPI). Egypt J Remote Sensing Space Sci. https://doi.org/10.1016/j.ejrs.2015.03.006

Guttman NB (1999) Accepting the standardized precipitation index: a calculation algorithm. J Amer Water Resour Assoc 35(2):311–322

Hangshing L, Dabral PP (2018) Multivariate frequency analysis of meteorological drought using copula. Water Resour Manag 32(5):1741–1758. https://doi.org/10.1007/s11269-018-1901-0

Hayes MJ, Svoboda MD, Wilhite DA, Vanyarkho OV (1999) Monitoring the 1996 drought using the standardized precipitation index. Bull Am Meterol Soc 80:429–438. https://doi.org/10.1175/1520-0477(1999)080%3c0429:MTDUTS%3e2.0.CO;2

Kar B, Saha J, Saha JD (2012) Analysis of meteorological drought: the scenario of West Bengal. Indian J Spat Sci 3(2):1–11

Khadr M, Morgenschweis G, Schlenkhoff A (2009) Analysis of meteorological drought in the ruhr basin by using the standardized precipitation index. World Acad Sci Eng Technol 57:607–616

Kwak J, Kim S, Kim G, Singh VP, Park J, Kim HS (2016) Bivariate drought analysis using streamfow reconstruction with tree ring indices in the Sacramento Basin, California, USA. Water 8(4):122. https://doi.org/10.3390/w8040122

Lloyd-Hughes B, Saunders MA (2002) A drought climatology for Europe. Int J Climatol 22(13):1571–1592

McKee TB, Doesken NJ, Kleist J (1993a) The relationship of drought frequency and duration to time scales. In: 8th conference on applied climatology, Am Meteor Soc, Boston, pp 179–184

McKee TB, Doesken NJ, Kleist J (1993b) The relationship of drought frequency and duration to time scales. In: Proceedings of the 8th Conference on Applied Climatology. American Meteorological Society, Boston 17(22):179–183

Mishra AK, Desai VR (2005) Drought forecasting using stochastic models. Stoch Env Res Risk Assess 19(5):326–339

Mishra AK, Singh VP, Desai VR (2009) Drought characterization: a probabilistic approach. Stoch Env Res Risk Assess 23(1):41–55

Pai DS, Sridhar L, Guhathakurata P, Hatwar HR (2011) District-wise drought climatology of the southwest monsoon season over india based on standardized precipitation index (SPI). Nat Hazards 59(3):1797–1813

Palmer WC (1965) Meteorological drought. Research Paper No. 45. US Weather Bureau. NOAA Library and Information Services Division, Washington, DC

Palmer WC (1968) Keeping track of crop moisture conditions, nationwide: the new crop moisture index. Weatherwise 21(4):156–161

Paulo A, Martins D, Pereira LS (2015) Influence of precipitation changes on the SPI and related drought severity: an analysis using long-term data series. Water Resour Manag 30(15):5737–5757

Reddy MJ, Ganguli P (2012) Bivariate food frequency analysis of upper Godavari river flows using Archimedean copulas. Water Resour Manag 26(14):3995–4018

Salas J, Fu C, Cancelliere A, Dustin D, Bode D, Pineda A, Vincent E (2005) Characterizing the severity and risk of droughts of the Poudre River, Colorado. J Water Resour Plan Manag 131(5):383–393

Shafer BA, Dezman LE (1982) Development of a surface water supply index (SWSI) to assess the severity of drought conditions in snowpack runoff areas. In: Proceedings of the Western Snow Conference. Fort Collins. Colorado State University, pp 164–175

Shah R, Bharadiya N, Manekar V (2015) Drought index computation using standardized precipitation index (SPI) method for Surat District, Gujarat. Aquatic Proc 4:1243–1249

Shiau JT (2006) Fitting drought duration and severity with two-dimensional copulas. Water Resour Manag 20(5):795–815

Tsakiris G (2017) Drought risk assessment and management. Water Resour Manag 31(10):3083–3095

Zelenhastic E, Salvai A (1987) A method of streamflow drought analysis. Water Resour Res 23(1):156–168
About this article
Cite this article
Bhunia, P., Das, P. & Maiti, R. Meteorological Drought Study Through SPI in Three Drought Prone Districts of West Bengal, India. Earth Syst Environ 4, 43–55 (2020). https://doi.org/10.1007/s41748-019-00137-6
Received:

Accepted:

Published:

Issue Date:
Keywords
Drought

Drought indices

SPI

Gumbel

M–K test