Abstract
Climate change leading to migration and conflicts is observed in many parts of the world and it is becoming a potential future in Pakistan. Climate change refugees in Pakistan undergo victimization, in situ mitigation, or migration, all three of which have consequences. Direct and indirect security threats posed by climate change can cause great economic losses to Pakistan. Arguably, there is growing evidence of a relationship between climate change and conflicts in Pakistan. Resource depletion and overpopulation result in rural-to-urban migration along with occupational shifts. This unprecedented study explores whether there is a significant relationship between climate change and conflicts in Pakistan. It assesses the given association from national to individual level. The study uses both qualitative and quantitative methodologies to determine the relationship of climate change and conflict. The science of climate change and conflicts is mostly qualitative. The assessment based on surveying, visits, interviews, literature review, multidisciplinary assessment, and examination of the sites. Furthermore, the relationship or association was quantified based on some of the results. Statistical analysis was performed on the results of the study. Relationship between climate change, socioeconomics, and conflicts has been explored. Surveys and interviews significantly supported that the frequency of the disasters such as droughts, heatwaves, floods, and diseases has increased in the study area and significantly affects the lives of local communities. It was also highlighted that the majority of conflicts in the region are due to overpopulation, economic competition, acquisition of land and resources, and migration. It was found that some associations are statistically significant, while others are not. However, site examination and ground realities suggested that there is a high risk and potential for climate change-induced conflicts in the study area. Data presented in the study indicate that Pakistan has the highest risk value for conflicts and human exposure to these risks. There is a significant causal relationship between climate change, migration, and conflicts. Over population together with resource depletion serves as catalyzing factors for climate change migration and dispute. Data on the subject for Pakistan are absent or lacking. However, it can be significantly established that climate change-induced migration and the conflicts are reality in Pakistan, with potential to induct further economic losses in the future.
Access options
Buy single article
Instant access to the full article PDF.
USD 39.95
Price excludes VAT (USA)
Tax calculation will be finalised during checkout.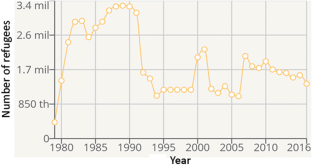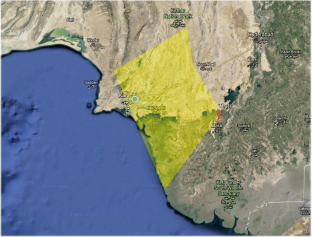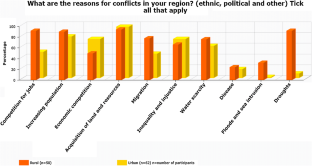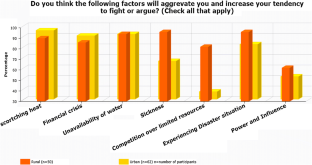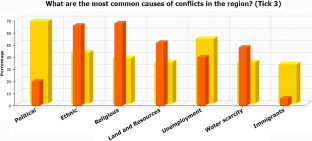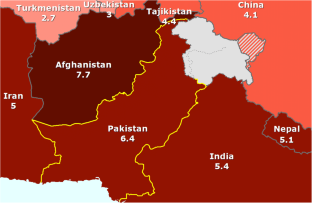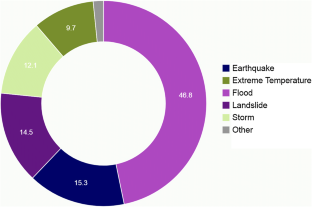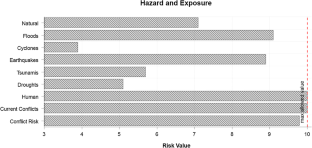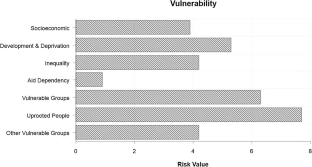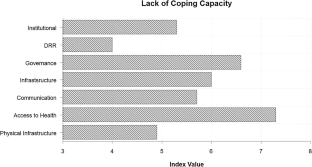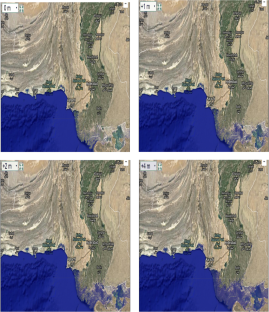 References
Abas N, Kalair A, Khan N, Kalair AR (2017) Review of GHG emissions in Pakistan compared to SAARC countries. Renew Sustain Energy Rev 80:990–1016. https://www.sciencedirect.com/science/article/pii/S1364032117305257. Accessed 27 July 2018

Adano WR, Daudi F (2012) Links between climate change, conflicts and governance in Africa. Inst Secur Stud Pap 2012(234):20

Aghazarm C, Laczko F (2009) Migration, environment and climate change: assessing the evidence. Rep. Ed Frank Laczko. International Organization for Migration, Le Grand-Saconnex

Ahmad S (2007) Land and water resources of Pakistan—a critical assessment. Pak Dev Rev 46(4):911–937

Ahmed Z (2013) Disaster risks and disaster management policies and practices in Pakistan: a critical analysis of disaster management act 2010 of Pakistan. Int J Disaster Risk Reduct 4:15–20

Alamgir A, Ali Khan M, Manino I, Shaukat SS, Shahab S (2016) Vulnerability to climate change of surface water resources of coastal areas of Sindh, Pakistan. Desalin Water Treat 57(40):18668–18678

Ali S (2015) Thatta and Badin to be drown by 2040: experts. Available at SINDHI DUNYA. https://www.sindhidunya.com/thatta-and-badin-to-be-drown-by-2040-experts

Amegah AK et al (2014) Household air pollution from solid fuel use and risk of adverse pregnancy outcomes: a systematic review and meta-analysis of the empirical evidence. PLoS One 9(12):e113920

Barnett J (2003) Security and climate change. Glob Environ Change 13(1):7–17

Barnett J, Adger WN (2007) Climate change, human security and violent conflict. Political Geogr 26(6):639–655

Beg AA, Khan MA, Shaukat SS (2012) Climate change and socioeconomic problems: A case of Pakistan. In: Security implications of climate change in South Asian Countries. Proceedings of Higher Education Commission, Pakistan Workshop. Institute of Environmental Studies University of Karachi-Karachi-75270:18-31. ISBN No.978-969-8538-02-0

Bilsborrow RE (1992) Rural poverty, migration, and the environment in developing countries: three case studies. World Bank Publications, Washington

Birdsall N (1992) Another look at population and global warming. World Bank Publications, Washington

Black R, Arnell NW, Adger WN, Thomas D, Geddes A (2013) Migration, immobility and displacement outcomes following extreme events. Environ Sci Policy 27:S32–S43

Blondel A (2012) Climate change fuelling resource-based conflicts in the Asia-Pacific. Asia-Pacific Human Development Report Background Papers Series 2012/12 (http://www.undp.org/content/undp/en/home/librarypage/hdr/asia-pacific-human-development-report-2012.html)

Briscoe J et al (2006) Pakistan's water economy: running dry. Oxford University Press, Karachi

Buhaug H, Gleditsch NP, Theisen OM (2010) Implications of climate change for armed conflict. Social dimensions of climate change: equity and vulnerability in a warming world. World Bank Publications, Washington, pp 75–101

Buonfino A (2004) Between unity and plurality: the politicization and securitization of the discourse of immigration in Europe. New Political Sci 26(1):23–49

Butt A (2015) Karachi may sink into the ocean by 2060, Senate warns. Available at DAWN. https://www.dawn.com/news/1169339 Accessed 27 July 2018

Castles S, De Haas H, Miller MJ (2013) The age of migration: international population movements in the modern world. Macmillan International Higher Education, London

Choucri N (1983) Population and conflict: new dimensions of population dynamics. United Nations Fund for Population Activities, New York

Collier P (2000) Economic causes of civil conflicts and their implications for policy. World Bank Publications, Washington

Conway D, Van Garderen EA, Deryng D, Dorling S, Krueger T, Landman W, Thurlow J (2015) Climate and southern Africa's water–energy–food nexus. Nat Clim Change 5(9):837. https://www.nature.com/articles/nclimate2735

de Sherbinin A et al (2011) Casualties of climate change. Sci Am 304(1):64–71

Farooqi AB et al (2005) Climate change perspective in Pakistan. Pak J Meteorol 2(3):11–21

Gayer L (2007) Guns, slums, and "yellow devils": a genealogy of urban conflicts in Karachi, Pakistan. Mod Asian Stud 41(3):515–544

Ghimire R, Ferreira S (2016) Floods and armed conflict. Environ Dev Econ 21(1):23–52

Giannakopoulos C et al (2009) Climatic changes and associated impacts in the Mediterranean resulting from a 2 C global warming. Glob Planet Change 68(3):209–224

Gill K, Shahzad N, Ashraf I, Saeed U, Laghari F (2012) Impact of floods 2010 in coastal area of Pakistan—a case study of Kharo Chann, Thatta District. Rec Zool Surv Pak 21:29–34

Gleick PH (2014) Water, drought, climate change, and conflicts in Syria. Weather Clim Soc 6(3):331–340

Kelley CP, Mohtadi S, Cane MA, Seager R, Kushnir Y (2015) Climate change in the fertile crescent and implications of the recent Syrian drought. PNAS 112(11):3241–3246

Hameed I, Soomro YA, Butt A, Shakoor R (2012) Coastline pollution problems of Karachi. Int J Emerg Trends Eng Dev 4(2):528–537

Hasan A et al (2017) Drivers of climate change vulnerability at different scales in Karachi. Int Inst Environ Dev. http://pubs.iied.org/pdfs/10805IIED.pdf

Helmer M, Hilhorst D (2006) Natural disasters and climate change. Disasters 30(1):1–4

Homer-Dixon TF (1991) On the threshold: environmental changes as causes of acute conflict. Int Secur 16(2):76–116

Hussain SE (2010) Terrorism in Pakistan: changing incident patterns. University of Pennsylvania, Philadelphia

Jehn KA (1997) A qualitative analysis of conflicts types and dimensions in organizational groups. Administrative science quarterly:530–557

Kälvemark S et al (2004) Living with conflicts-ethical dilemmas and moral distress in the health care system. Soc Sci Med 58(6):1075–1084

Karachi Population (2017) http://worldpopulationreview.com/. Accessed 27 July 2018

Keane D (2003) The environmental causes and consequences of migration: a search for the meaning of environmental refugees. Georget Int Environ Law Rev 16:209

Khan S (2012) Effects of climate change on Thatta and Badin. https://envirocivil.com/climate/effects-of-climate-change-on-thatta-and-badin. Accessed 3 Aug 2018

Khan MA (2015) Climate change risk and reduction approaches in Pakistan. Disaster risk reduction approaches in Pakistan. Springer, Tokyo, pp 195–216. https://doi.org/10.1007/978-4-431-55369-4_11

Kharl S, Xie X (2017) Green growth initative will lead toward sustainable development of natural resources in Pakistan: an Investgation of "Billion tree tsunami afforestation project"

Kundzewicz ZW et al (2014) Flood risk and climate change: global and regional perspectives. Hydrol Sci J 59(1):1–28

Lakhan GR (2015) Population and environment relationship: an empirical review with respect to Pakistan. Popul Environ 6(5):117–123. http://citeseerx.ist.psu.edu/viewdoc/download?doi=10.1.1.921.7178&rep=rep1&type=pdf

Lin B, Ahmad I (2017) Analysis of energy related carbon dioxide emission and reduction potential in Pakistan. J Clean Product 143:278–287. https://www.sciencedirect.com/science/article/pii/S095965261632176X

López RE (2015) Climate change and natural disasters. Santiago

Magsi H, Sheikh MJ (2017) Seawater intrusion: land degradation and food insecurity among coastal communities of Sindh, Pakistan. Regional cooperation in south asia. Springer, Cham, pp 209–223

Mahmood Z, Iftikhar S, Saboor A, Khan AU, Khan M (2016) Agriculture land resources and food security nexus in Punjab, Pakistan: an empirical ascertainment. Food Agric Immunol 27(1):52–71

Masood S, Imtiaz H (2010) Political bloodshed paralyzes Karachi, https://www.nytimes.com/2010/10/21/world/asia/21pstan.html

Mátyás C, Berki I, Bidló A, Csóka G, Czimber K, Führer E, Somogyi Z (2018) Sustainability of forest cover under climate change on the temperate-continental xeric limits. Forests 9(8):489. https://www.mdpi.com/1999-4907/9/8/489

McCarthy JJ et al (2001) Climate change 2001: impacts, adaptation, and vulnerability: contribution of Working Group II to the third assessment report of the Intergovernmental Panel on Climate Change. Cambridge University Press, Cambridge

Messer E (2010) Climate change and violent conflict. Oxfam American 1

Messer E, Cohen MJ, d'Costa J (1998) Food from peace: breaking the links between conflicts and hunger. Int Food Policy Res Inst 24

Mileti D (1999) Disasters by design: a reassessment of natural hazards in the United States. Joseph Henry Press, Washington

Modood T (2004) Capitals, ethnic identity and educational qualifications. Cult Trends 13(2):87–105

Mwiturubani DA, Van Wyk J-A (2010) Climate change and natural resources conflicts in Africa. Inst Secur Stud Monogr 2010(170):261

Neumann B, Vafeidis AT, Zimmermann J, Nicholls RJ (2015) Future coastal population growth and exposure to sea-level rise and coastal flooding-a global assessment. PLoS One 10(3):e0118571

Nhemachena C, Hassan R (2007) Micro-level analysis of farmers adaption to climate change in Southern Africa. Int Food Policy Res Inst

Nordås R, Gleditsch NP (2007) Climate change and conflict. Political Geogr 26(6):627–638

Null S, Risi LH (2016) Navigating complexity: climate, migration, and conflicts in a changing world. Woodrow Wilson Center, Washington

Obioha EE (2008) Climate change, population drift and violent conflict over land resources in northeastern Nigeria. J Hum Ecol 23(4):311–324

O'Malley P (2018) Migration and conflict. N Engl J Public Policy 30(2):14

Oreskes N (2007) The scientific consensus on climate change: how do we know we're not wrong? Climate change: what it means for us, our children, and our grandchildren. MIT press, Cambridge, pp 65–99

Pedersen D (2002) Political violence, ethnic conflict, and contemporary wars: broad implications for health and social well-being. Soc Sci Med 55(2):175–190

Pimentel D, Pimentel MH (2007) Food, energy, and society. CRC Press, Boca Raton

Possehl GL (1997) The transformation of the Indus civilization. J World Prehist 11(4):425–472

Qureshi S (2010) The fast growing megacity Karachi as a frontier of environmental challenges: urbanization and contemporary urbanism issues. J Geogr Reg Plan 3(11):306–321

Radu C (2010) Climate change, extreme weather events, and violent conflicts in Pakistan. ICE Case Studies. Number 233

Raleigh C (2010) Political marginalization, climate change, and conflicts in African Sahel states. Int Stud Rev 12(1):69–86

Raleigh C, Urdal H (2007) Climate change, environmental degradation and armed conflict. Political Geogr 26(6):674–694

Rasul G et al (2012) Vulnerability of the Indus delta to climate change in Pakistan. Pak J Meteorol 8(16):599–610

Reuveny R (2007) Climate change-induced migration and violent conflict. Political Geogr 26(6):656–673

Roy SS (2018) Climate refugees. Linking gender to climate change impacts in the global south. Springer, Cham, pp 93–115. https://doi.org/10.1007/978-3-319-75777-3_5

Salik KM, Jahangir S, ul Hasson S (2015) Climate change vulnerability and adaptation options for the coastal communities of Pakistan. Ocean Coast Manag 112, 61–73. https://www.sciencedirect.com/science/article/pii/S0964569115001209

Scheffran J, Brzoska M, Kominek J, Link P, Schilling J (2012) Climate change and violent conflict. Science (Washington) 336(6083):869–871

Schilling J et al (2012) Climate change, vulnerability and adaptation in North Africa with focus on Morocco. Agr Ecosyst Environ 156:12–26

Selby J, Hoffmann C (2014) Beyond scarcity: rethinking water, climate change and conflicts in the Sudans. Glob Environ Change 29:360–370

Shah SA (2010) War on terrorism: self defense, operation enduring freedom, and the legality of US drone attacks in Pakistan. Wash Univ Glob Stud Law Rev 9:77

Shekhawat S (2009) Governance crisis and conflicts in the Democratic Republic of Congo. University of Mumbai, Working Paper 6: 7–17

Skjonsberg M (2015) Democracy and climate change (No. EPFL-CHAPTER-217199). London School of Economics

Smit B, Pilifosova O (2003) Adaptation to climate change in the context of sustainable development and equity. Sustain Dev 8(9):9

Smith PJ (2007) Climate change, weak states and the" War on Terrorism" in South and Southeast Asia. Contemp Southeast Asia 264–285

Stavenhagen R (2016) Ethnic conflicts and the Nation-State. Springer, Berlin

Suhrke A, Hazarika S (1993) Pressure points: environmental degradation, migration and conflict. American Academy of Arts and Sciences Cambridge, Mass

Swain A (1996) Environmental migration and conflicts dynamics: focus on developing regions. Third World Q 17(5):959–974

Team CW et al (2014) IPCC, 2014: climate change 2014: synthesis report. Contribution of Working Groups I. II and III to the Fifth Assessment Report of the intergovernmental panel on Climate Change. IPCC, Geneva, Switzerland 151

Tir J, Diehl PF (1998) Demographic pressure and interstate conflict: linking population growth and density to militarized disputes and wars, 1930–1989. J Peace Res 35(3):319–339

Unhcr R (2016) Syria regional refugee response. UNHCR Inter-agency Information Sharing Portal, Turkey

Unrepresented Nations and Peoples Organization (2009) Balochistan: human rights organizations discussed at HRC. http://www.unpo.org/article/10104. Accessed 08 Aug 2018

Urry J (2015) Climate change and society. Why the social sciences matter. Palgrave Macmillan, London, pp 45–59. https://doi.org/10.1057/9781137269928_4

Warburton WA, Anderson CA (2015) Aggression, social psychology of. International encyclopedia of the social & behavioral sciences, Elsevier, Amsterdam, pp 373-380

Warner K, Hamza M, Oliver-Smith A, Renaud F, Julca A (2010) Climate change, environmental degradation and migration. Nat Hazards 55(3):689–715

Waseen M, Mufti M (2009) Religion, politics and governance in Pakistan. University of Birmingham, Birmingham

Watts N, Adger WN, Agnolucci P, Blackstock J, Byass P, Cai W, Cox PM (2015) Health and climate change: policy responses to protect public health. The Lancet 386(10006):1861–1914. https://www.thelancet.com/journals/lancet/article/PIIS0140− 6736(15)60854 − 6/fulltext

Webersik C (2010) Climate change and security: a gathering storm of global challenges: a gathering storm of global challenges. Abc-Clio, Santa Barbara

Wood WB (1994) Forced migration: local conflicts and international dilemmas. Ann Assoc Am Geogr 84(4):607–634

Wright TP (1991) Center-periphery relations and ethnic conflicts in Pakistan: sindhis, Muhajirs, and Punjabis. Com Politics 23(3):299–312

Yusuf H (2012) Conflicts dynamics in Karachi, vol 19. US Institute of Peace, Washington

Zaman CQU, Mahmmod A, Rasul G, Afzaal M (2009) Climate change indicators of Pakistan. Report No: PMD-22/2009. Pakistan Meteorological Department, Sector H-8/2, Islamabad
Ethics declarations
Conflict of interest
On behalf of all authors, the corresponding author states that there are no conflicts of interest.
About this article
Cite this article
Ali, F., Khan, T.A., Alamgir, A. et al. Climate Change-Induced Conflicts in Pakistan: From National to Individual Level. Earth Syst Environ 2, 573–599 (2018). https://doi.org/10.1007/s41748-018-0080-8
Received:

Accepted:

Published:

Issue Date:

DOI: https://doi.org/10.1007/s41748-018-0080-8
Keywords