Abstract
The decline in March–May (MAM) 'boreal spring' rainfall is of great concern to Kenya's agricultural sector. This study examines factors influencing MAM rainfall variability based on monthly observed and Climatic Research Unit (CRU) reanalysis rainfall datasets for the period 1971–2010. The distribution patterns of MAM rainfall were analyzed using Empirical Orthogonal Functions (EOF), whereas the Sequential Mann–Kendall (MK) statistic was used for trend analysis. Factors influencing seasonal rainfall were determined and assessment of the circulation anomalies associated with wet/dry condition during the study period was carried out. The MAM rainfall revealed decreasing trend. Wet years are associated with enhanced low-level convergence and upper-level divergence of winds, advection of moisture flux following a well-positioned and intensified Arabian high-pressure cell, and an accompanying rising branch of Walker circulation over Indian Ocean (IO). The sea surface temperatures anomalies (SSTAs) in the central and sub-tropical IO are closely related to MAM rainfall over Kenya. Positive SSTAs accompanying negative OLR anomalies may lead to intensified rising branch of the Walker circulation influencing the MAM wet events in Kenya. There is a negative correlation coefficient of − 0.62 between MAM rainfall and Outgoing Long-wave Radiation (OLR) indicating that the inter-annual variation of the MAM rainfall and OLR are in opposing phases and, hence, more convection and enhanced rainfall over the study domain. The study reveals that the circulation anomalies associated with the dry years are opposite to those in wet years, forming a good basis of monitoring similar events in future.
Access options
Buy single article
Instant access to the full article PDF.
USD 39.95
Price excludes VAT (USA)
Tax calculation will be finalised during checkout.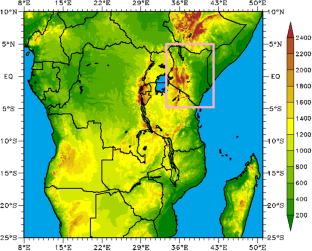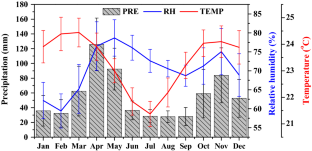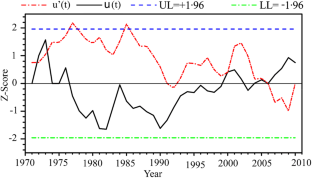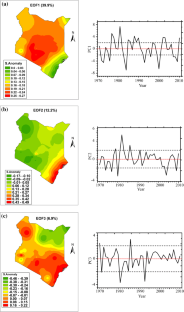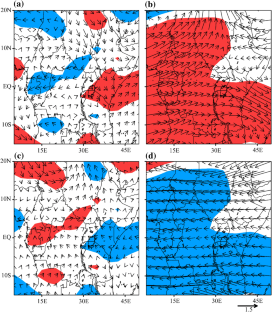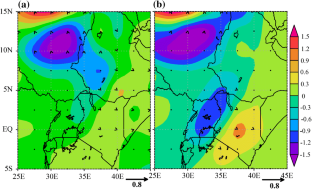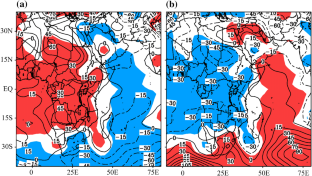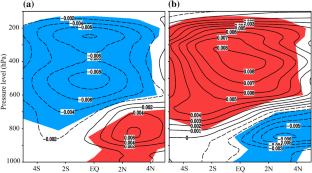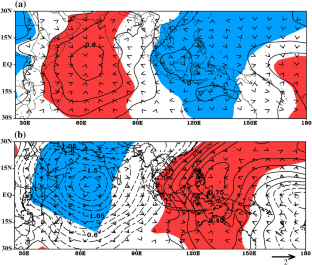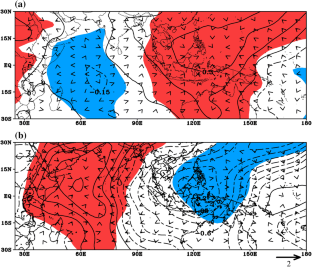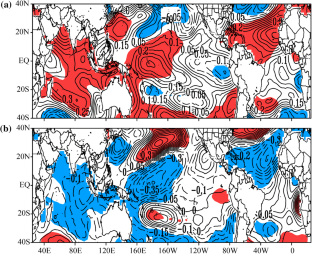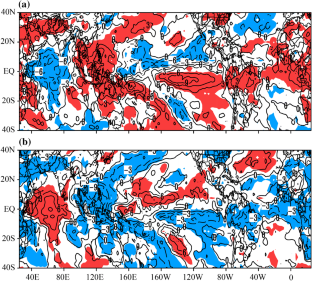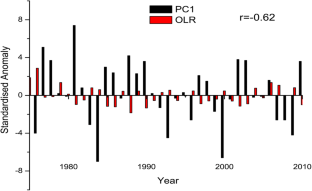 References
Araghi A, Mousavi-Baygi M, Adamowski J (2016) Detection of trends in days with extreme temperatures in Iran from 1961 to 2010. Theor Appl Climatol 125:213–225. https://doi.org/10.1007/s00704-015-1499-6

Awange JL, Aluoch J, Ogallo LA, Omulo M, Omondi P (2007) Frequency and severity of drought in the Lake Victoria region (Kenya) and its effects on food security. Clim Res 33:135–142. https://doi.org/10.3354/cr033135

Ayugi BO, Wang W, Chepkemoi D (2016) Analysis of spatial and temporal patterns of rainfall variations over Kenya. Environ Earth Sci 6:69–83

Behera SK, Luo J-J, Masson S, Delecluse P, Gualdi S, Navarra A, Yamagata T (2005) Paramount impact of the Indian Ocean dipole on the East African short rains: a CGCM study. J Clim 18:4514–4530. https://doi.org/10.1175/JCLI3541.1

Beri GC (2005) Business statistics, 2nd edn. Tata McGraw-Hill Publisher, New York, pp 312–340

Bisai D, Chatterjee S, Khan A, Barman NK (2014) Long term temperature trend and change point: a statistical approach. J Atmos Clim Chang 1:1–12. https://doi.org/10.15764/ACC.2014.01004

Black E, Slingo JM, Sperber KR (2003) An observational study of the relationship between excessively strong short rains in coastal East Africa and Indian Ocean SST Mon. Weather Rev 131:74–94. https://doi.org/10.1175/1520-0493

Black E, Tarnavsky E, Greatrex, H, Maidment R, Mookerjee A, Quaife T, Price J (2015) Exploiting satellite-based rainfall for weather index insurance: the challenges of spatial and temporal aggregation. In: First international electronic conference on remote sensing, 22 Jun–5 Jul 2015. (vol 1: f002). https://doi.org/10.3390/ecrs-1-f002

Boiyo R, Kumar KR, Zhao T, Bao Y (2016) Climatological analysis of aerosol optical properties over East Africa observed from space-borne sensors during 2001–2015. Atmos Environ 152:298–313. https://doi.org/10.1016/j.atmosenv

Bowden R (2007) Kenya, 2nd edn. Evan Brothers, London

Brass W, Jolly CL (eds) (1993) Population dynamics of Kenya. National Academy Press, Washington, p 183

Camberlin P, Okoola RE (2003) The onset and cessation of the 'long rains' in eastern Africa and their interannual variability. Theor Appl Climatol 54:43–54. https://doi.org/10.1007/s00704-002-0721-5

Camberlin P, Janicot S, Poccard I (2001) Seasonality and atmospheric dynamics of the teleconnection between African rainfall and tropical sea-surface temperature: Atlantic vs ENSO. Int J Climatol 21:973–1005. https://doi.org/10.1002/joc.673

Clark CO, Webster PJ, Cole JE (2003) Interdecadal variability of the relationship between the Indian Ocean zonal mode and East African coastal rainfall anomalies. J Clim 16:548–554. https://doi.org/10.1175/1520-0442(2003)016%3C0548:IVOTRB%3E2.0.CO;2

Cook KH, Vizy EK (2013) Projected changes in east african rainy seasons. J Climate 26:5931–5948. https://doi.org/10.1175/JCLI-D-12-00455.1

Daron JD (2014) Regional Climate Messages: East Africa. Scientific report from the CARIAA Adaptation at Scale in Semi-Arid Regions (ASSAR) Project, December 2014

Funk C, Hoell A, Shukla S, Bladé I, Liebmann B, Roberts JB, Husak G (2014) Predicting East African spring droughts using Pacific and Indian Ocean sea surface temperature indices. Hydrol Earth Syst Sci 18:4965–4978. https://doi.org/10.5194/hess-18-4965-2014

Gajbhiye S, Meshram C, Mirabbasi R, Sharma SK (2016) Trend analysis of rainfall time series for Sindh river basin in India. Theor Appl Climatol 125:593–608. https://doi.org/10.1007/s00704-015-1529-4

Gichangi EM, Gatheru M, Njiru EN, Mungube EO, Wambua JM, Wamuongo JW (2015) Assessment of climate variability and change in semi-arid eastern Kenya. Clim Change 130:287–297. https://doi.org/10.1007/s10584-015-1341-2

Hastenrath S, Polzin D, Mutai C (2011) Circulation mechanisms of kenya rainfall anomalies. J Clim 24:404–412. https://doi.org/10.1175/2010JCLI3599.1

Indeje M, Semazzi FHM, Ogallo LJ (2000) ENSO signals in East African rainfall seasons. Int J Climatol 20:19–46. https://doi.org/10.1002/(SICI)1097-0088(200001)20:1%3c19:AID-JOC449%3e3.0.CO;2-0

IPCC (2013) Climate change 2013: the physical science basis. Contribution of Working Group I to the Fifth Assessment Report of the Intergovernmental Panel on climate change [Stocker TF, Qin D, Plattner G-K, Tignor M, Allen SK, Boschung J, Nauels A, Xia Y, Bex V, Midgley PM (eds.)]. Cambridge University Press, Cambridge, pp 1535

Kendall MG (1975) Rank correlation methods, 4th edn. Griffin, London, p 202

Kerandi N, Arnault J, Laux P, Wagner S, Kitheka J, Kunstmann H (2018) Joint atmospheric-terrestrial water balances for East Africa: a WRF-Hydro case study for the upper Tana River basin. Theor Appl Climatol 131:1337–1355. https://doi.org/10.1007/s00704-017-2050-8

Liebmann B, Hoerling MP, Funk C, Bladé I, Dole RM, Allured D, Eischeid JK (2014) Understanding recent eastern Horn of Africa rainfall variability and change. J Clim 27:8630–8645. https://doi.org/10.1175/JCLI-D-13-00714.1

Liuzzo L, Bono E, Sammartano V, Freni G (2016) Analysis of spatial and temporal rainfall trends in Sicily during the 1921–2012 period. Theor Appl Climatol 126:113–129. https://doi.org/10.1007/s00704-015-1561-4

Lorenz EN (1956) Empirical orthogonal functions and statistical weather prediction. Technical Report Statistical Forecast Project Report 1 Department of Meteorology MIT 49

Maidment RI, Allan RP, Black E (2015) Recent observed and simulated changes in rainfall over Africa. Geophys Res Lett 42:8155–8164. https://doi.org/10.1002/2015GL065765

Makkonen L (2006) Plotting positions in extreme value analysis. J Clim Appl Meteorol 45:334–340

Manatsa D, Morioka Y, Behera SK, Matarira CH, Yamagata T (2014) Impact of Mascarene high variability on the East African 'short rains'. Clim Dyn 42:1259–1274. https://doi.org/10.1007/s00382-013-1848-z

Mann HB (1945) Nonparametric tests against trend. Econometrica 13:245–259

Marshall M, Funk C, Michaelsen J (2012) Examining evapotranspiration trends in Africa. Clim Dyn 38:1849–1865. https://doi.org/10.1007/s00382-012-1299-y

Meng X, Zhang S, Zhang Y, Wang C (2013) Temporal and spatial changes of temperature and precipitation in Hexi Corridor during 1955–2011. J Geogr Sci 23:653–667. https://doi.org/10.1007/s11442-013-1035-5

Ministry of Agriculture (2009) Agricultural Sector Development Strategy, ASDS (http://www.kilimo.go.ke)

Mouhamed L, Traore SB, Alhassane A, Sarr B (2013) Evolution of some observed climate extremes in the West African Sahel. Weather Clim Extremes 1:19–25. https://doi.org/10.1016/j.wace.2013.07.005

Nicholson SE (2008) The intensity, location and structure of the tropical rainbelt over west Africa as factors in interannual variability. Int J Climatol 28:1775–1785. https://doi.org/10.1002/joc.1507

Nicholson SE (2016) An analysis of recent rainfall conditions in eastern Africa. Int J Climatol 36:526–532. https://doi.org/10.1002/joc.4358

Nicholson SE, Selato JC (2000) The influence of La Nina on Africa raifall. Int J Climatol 20:1761–1776

Nicholson SE, Leposo D, Grist J (2001) The relationship between El Niño and drought over Botswana. J Clim 14:323–335. https://doi.org/10.1175/1520-0442(2001)014%3C0323:TRBENO%3E2.0.CO;2

Ogwang BA, Chen H, Li X, Gao C (2014) The influence of topography on East African October to December climate: sensitivity experiments with RegCM4. Adv Meteorol. https://doi.org/10.1155/2014/143917

Ogwang BA, Chen H, Tan G, Ongoma V, Ntwali D (2015a) Diagnosis of East African climate and the circulation mechanisms associated with extreme wet and dry events: a study based on RegCM4. Arab J Geosci 8:10255–10265. https://doi.org/10.1007/s12517-015-1949-6

Ogwang BA, Ongoma V, Li X, Ogou FK (2015b) Influence of mascarene high and Indian Ocean dipole on East African extreme weather events. Geogr Pannon 19:64–72

Okoola RE (1999) Midtropospheric circulation patterns associated with extreme dry and wet episodes over equatorial Eastern Africa during the Northern Hemisphere spring. J Clim Appl Meteorol Climatol 38:1161–1169. https://doi.org/10.1175/1520-0450(1999)038%3c1161:MCPAWE%3e2.0.CO;2

Ongoma V, Chen H (2017) Temporal and spatial variability of temperature and precipitation over East Africa from 1951 to 2010. Meteorol Atmos Phys 129:131–144. https://doi.org/10.1007/s00703-016-0462-0

Ongoma V, Muthama JN, Gitau W (2013) Evaluation of urbanization influences on urban temperature of Kenyan cities. Glob Meteorol. https://doi.org/10.4081/gm.2013.e1

Ongoma V, Guirong T, Ogwang BA, Ngarukiyimana JP (2015) Diagnosis of seasonal rainfall variability over East Africa: a case study of 2010-2011 drought over Kenya. Pak J Meteorol 11:13–21

Ongoma V, Chen H, Gao C, Sagero PO (2017) Variability of temperature properties over Kenya based on observed and reanalyzed datasets. Appl Climatol, Theor. https://doi.org/10.1007/s00704-017-2246-y

Ongoma V, Chen H, Gao C (2018a) Projected change in mean rainfall and temperature over East Africa based on CMIP5 models. Int J Climatol 38:1375–1392. https://doi.org/10.1002/joc.5252

Ongoma V, Chen H, Gao C, Nyongesa AM, Polong F (2018b) Future changes in climate extreme over equatorial East Africa based on CMIP5 multimodel ensemble. Nat Hazards 90:901–920. https://doi.org/10.1007/s11069-017-3079-9

Owiti Z, Ogallo LA, Mutemi J (2008) Linkages between the Indian Ocean Dipole and east African seasonal rainfall anomalies. J Kenya Meteorol Soc 2:3–17

Partal T, Kahya E (2006) Trend analysis in Turkish precipitation data. Hydrol Process 20:2011–2026. https://doi.org/10.1002/hyp.5993

Peel MC, Finlayson BL, Mcmahon TA (2007) Updated world map of the Koppen-Geiger climate classification. Hydrol Earth Syst Sci 11:1633–1644

Saji NH, Yamagata T (2003) Structure of SST and surface wind variability during Indian Ocean Dipole mode events: COADS observations. J Clim 16:2735–2751. https://doi.org/10.1175/1520-0442(2003)016%3c2735:SOSASW%3e2.0.CO;2

Schreck CJ, Semazzi FHM (2004) Variability of the recent climate of eastern Africa. Int J Climatol 24:681–701. https://doi.org/10.1002/joc.1019

Stern DI, Gething PW, Kabaria CW, Temperley WH, Noor AM, Okiro EA, Hay SI (2011) Temperature and malaria trends in highland East Africa. PLoS ONE 6:4–12. https://doi.org/10.1371/journal.pone.0024524

University of East Anglia Climatic Research Unit, Harris I, Jones PD (2014) CRU TS3.22: Climatic Research Unit (CRU) Time-Series (TS) Version 3.22 of high resolution gridded data of month-by-month variation in climate (Jan. 1901- Dec. 2013). NCAS British Atmospheric Data Centre, http://dx.doi.org/10.5285/18BE23F8-D252-482D-8AF9-5D6A2D40990C. Accessed 10 May 2017

Yang W, Seager R, Cane MA, Lyon B (2014) The East African long rains in observations and models. J Clim 27:7185–7202. https://doi.org/10.1175/JCLI-D-13-00447.1

Yang W, Seager R, Cane MA, Lyon B (2015) The annual cycle of East African precipitation. J Clim 28:2385–2404. https://doi.org/10.1175/JCLI-D-14-00484.1
Acknowledgement
The authors express gratitude to Nanjing University of Information Science and Technology (NUIST) for setting up a conducive learning environment. The work described in this paper is supported by National Science and Technology Support Program of China (2015BAC03B02) and the Priority Academic Program Development of Jiangsu Higher Education Institutions (PAPD) of China. The authors are grateful to the anonymous reviewers for their inputs that tremendously improved the quality of manuscript. Special appreciation goes to all data centers that provided the data sets used in the study.
Ethics declarations
Conflict of interest
On behalf of all authors, the corresponding author states that there is no conflict of interest.
About this article
Cite this article
Ayugi, B.O., Tan, G., Ongoma, V. et al. Circulations Associated with Variations in Boreal Spring Rainfall over Kenya. Earth Syst Environ 2, 421–434 (2018). https://doi.org/10.1007/s41748-018-0074-6
Received:

Accepted:

Published:

Issue Date:

DOI: https://doi.org/10.1007/s41748-018-0074-6
Keywords
Rainfall variability

Trend analysis

Circulation anomalies

Kenya