Abstract
This study is an attempt to understand the differences in exposure, impacts, and responses to heat stress between peri-urban and rural population. Furthermore, it explores how crucial a role heat stress plays in impacting migration decisions. Based on the analysis of an ensemble of regional climate models, it is found that the studied region is projected to undergo an increase in the frequency of heat waves under RCP 8.5 scenario. Afterwards, a randomly selected household survey was carried out at rural as well as peri-urban areas of Faisalabad. At both areas, the available economic opportunities were analyzed to understand how economic well-being and type of occupation are associated with thermal discomfort. It was found that people involved in outdoor activities are highly vulnerable to heat stress. Poverty is one of the prime barriers to adapt to heat stress. People's livelihoods, in terms of labor productivity and decline in agriculture production, are reported to be affected by the heat stress. This study found that peri-urban respondents came from the rural areas of the district and other cities across the providence to improve their level of income and reduce their vulnerabilities but due to the low level of education and skills, they have only been able to improve their livelihoods to a limited extent. As a result, there is very little improvement in their standard of living as well as their thermal discomfort/exposure to heat stress.
This is a preview of subscription content, log in to check access.
Access options
Buy single article
Instant access to the full article PDF.
US$ 39.95
Price includes VAT for USA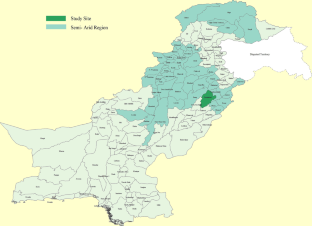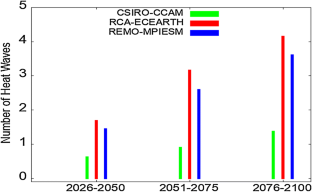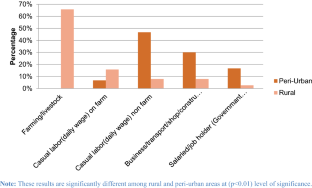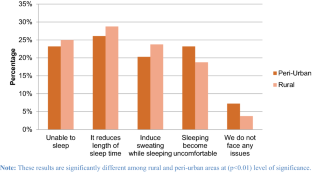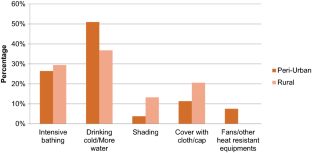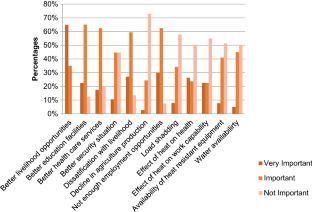 Notes
1.

Economic Survey of Pakistan (2015–2016), Ministry of Finance, Pakistan.

2.
References
ADB (2013) The urbanization–poverty–inequality triangle in Asia and the Pacific. Asian Development Bank technical assistance report

Adhikari U, Nejadhashemi AP, Woznicki SA (2015) Climate change and eastern Africa: a review of impact on major crops. Food Energy Secur 4:110–132

Batool Z, Abbasi SRS, Zafar MI, Hameed S (2008) Evaluation of risk factors and prevalence of depressive disorders among rural females in district Faisalabad. J Anim Plant Sci 18(2–3):89–93

De Haas H (2010) Migration and development: a theoretical perspective. Int Migr Rev 44(1):227–264

Depietri Y, Welle T, Renaud FG (2013) Social vulnerability assessment of the Cologne urban area (Germany) to heat waves: links to ecosystem services. Int J Disaster Risk Reduct 6:98–117

Farooq M, Mateen A, Cheema MA (2005) Determinants of migration in Punjab Pakistan: a case study of Faisalabad metropolitan. J Agric Soc Sci 1(3):280–282

Franck U, Krüger M, Schwarz N, Grossmann K, Röder S, Schlink U (2013) Heat stress in urban areas: indoor and outdoor temperatures in different urban structure types and subjectively reported well-being during a heat wave in the city of Leipzig. Meteorol Z 22:167–177

Gao C, Kuklane K, Östergren PO, Kjellstrom T (2018) Occupational heat stress assessment and protective strategies in the context of climate change. Int J Biometeorol 62(3):359–371

Garbarino S, Holland J (2009) Quantitative and qualitative methods in impact evaluation and measuring results. Issue paper; Governance and Social Development Resource Centre (GSDRC), UK

Garg T, Jagnani M, Taraz V (2017) Effects of heat stress on physiology and livelihoods: implications for human capital accumulation, Working paper

GoP (2011) District level employment trends 2009–2010. Ministry of Finance Statistic Division Government of Pakistan, Islamabad

GoP (2014) Economic Survey of Pakistan 2013–14. Ministry of Finance Statistic Division, Government of Pakistan, Islamabad

Hajizadeh R, Golbabaei F, Monazzam M, Farhang-Dehghan S, Ezadi-Navan E (2015) Productivity loss from occupational exposure to heat stress: a case study in Brick Workshops/Qom-Iran. Int J Occup Hyg 6:143–148

Hatcher C (2017) Rural urban linkages: in the context of sustainable development and environmental protection. Global Land Outlook, working paper

Hope Sr KR (2009) Climate change and poverty in Africa. Int J Sustain Dev World Ecol 16:451–461

Hussain I (2014) 'Urbanization in Pakistan' Keynote address delivered at South Asia Cities conference and Pakistan Urban Forum, 9 Jan 2014

Jacob D, Elizalde A, Haensler A, Hagemann S, Kumar P, Podzun R, Rechid R, Remedio AR, Saeed F, Sieck K, Teichmann C, Wilhelm C (2012) Assessing the transferability of the regional climate model REMO to different coordinated regional climate downscaling experiment (CORDEX) regions. Atmosphere. https://doi.org/10.3390/atmos3010181

Khan M, Akhtar S, Mehmood HZ, Muhmood K (2013) Analysing skills education and wages in Faisalabad: implications for labour market. Procedia Econ Finance 5:423–432

Khan AW, Moshammer HM, Kundi M (2015) Industrial hygiene occupational safety and respiratory symptoms in the Pakistani cotton industry. BMJ Open 5:007266

Kjellstrom T (2016) Impact of climate conditions on occupational health and related economic losses: a new feature of global and urban health in the context of climate change. Asia Pac J Public Health 28:28S–37S

Kjellstrom T, Kovats RS, Lloyd SJ, Holt T, Tol RS (2009) The direct impact of climate change on regional labor productivity. Arch Environ Occup Health 64:217–227

Kjellstrom T, Briggs D, Freyberg C, Lemke B, Otto M, Hyatt O (2016) Heat human performance and occupational health: a key issue for the assessment of global climate change impacts. Annu Rev Public Health 37:97–112

Kreft S, Eckstein D, Melchior I (2016) Global climate risk index 2017: who suffers most from extreme weather events? Weather-related loss events in 2015 and 1996 to 2015. Germanwatch Nord-Süd Initiative eV, Bonn

Kugelman M (ed) (2014) Pakistan's runaway urbanization: What can be done?. Wilson Center, Washington

Lewin AC, Stier H (2003) Immigration, state support, and the economic well-being of the elderly in Israel. Res Aging 25(3):195–223

Lin RT, Chan CC (2009) Effects of heat on workers' health and productivity in Taiwan. Glob Health Action 2:2024

Lundgren K, Kuklane K, Gao C, Holmer I (2013) Effects of heat stress on working populations when facing climate change. Ind Health 51:3–15

Majid H, Zahir H (2013) Farmer adaptability to climate change: the role of socio economic factors in agricultural productivity. IDRC Working Paper Series

Mueller V, Gray C, Kosec K (2014) Heat stress increases long-term human migration in rural Pakistan. Nat Climate Change 4:182–185

Nicodemus M, Ness B (2010) Peri-urban development, livelihood change and household income: a case study of peri-urban Nyahururu, Kenya. J Agric Ext Rural Dev 2(5):73–83

Opitz-Stapleton S, Sabbag L, Hawley K, Tran P, Hoang L, Nguyen PH (2016) Heat index trends and climate change implications for occupational heat exposure in Da Nang Vietnam. Climate Serv 2:41–51

Park J, Hallegatte S, Bangalore M, Sandhoefner E (2015) Households and heat stress: estimating the distributional consequences of climate change. World Bank Policy Research Working Paper 7479

Rehman A, Jingdong L, Chandio AA, Hussain I (2017) Livestock production and population census in Pakistan: determining their relationship with agricultural GDP using econometric analysis. Inf Process Agric 4:168–177

Rubin GJ, Bakhshi S, Amlôt R, Fear N, Potts HW, Michie S (2014) The design of a survey questionnaire to measure perceptions and behaviour during an influenza pandemic: the Flu TElephone Survey Template (FluTEST). In: Health Services and Delivery Research, vol 2, no. 41. NIHR Journals Library, Southampton, UK

Saeed F, Suleri AQ (2015) Future heat-waves in Pakistan under IPCC's AR5 climate change scenario. SDPI policy brief #46

Saeed F, Salik KM, Ishfaq S (2016) Climate induced rural-to-urban migration in Pakistan. PRISE Working Paper. http://prise.odi.org/wp-content/uploads/2016/01/Low_Res-Climate-induced-rural-to-urban-migration-in-Pakistan.pdf. Accessed 13 Aug 2018

Saeed F, Almazroui M, Islam N, Khan MS (2017) Intensification of future heat waves in Pakistan: a study using CORDEX regional climate models ensemble. Nat Hazards 87:1635–1647

Salik KM, Qaisrani A, Umar M.A, Ali SM (2017) Migration futures in Asia and Africa: economic opportunities and distributional effects—the case of Pakistan. PRISE Working Paper. http://prise.odi.org/research/migration-futures-in-asia-and-africa-economic-opportunities-and-distributional-effects-the-case-of-pakistan/. Accessed 13 Aug 2018

Scheffran J, Marmer E, Sow P (2012) Migration as a contribution to resilience and innovation in climate adaptation: social networks and co-development in Northwest Africa. Appl Geogr 33:119–127

Shah N, Abbas F, Abbas Y, Haider SA, Khan Q, Asghar N, Noor S, Abbas SN, Ali N, Ali A (2015) Assessment of the workplace conditions and health and safety situation in chemical and textile industries of Pakistan. Science 3:862–869

Smith MD, Saywell DL (1998) Basic services in peri-urban areas. AGUA `98 (Agua y sostenibilidad) International conference and seminar, CINARA, University of Cali, Columbia, June

Smith KR, Woodward A, Campbell-Lendrum D, Chadee DD, Honda Y, Liu Q, Olwoch JM, Revich B, Sauerborn R (2014) Human health: impacts, adaptation, and co-benefits. In: Climate change. pp 709–754

Tacoli C (2009) Crisis or adaptation? Migration and climate change in a context of high mobility. Environ Urban 21:513–525

Venugopal V, Chinnadurai JS, Lucas RA, Kjellstrom T (2015) Occupational heat stress profiles in selected workplaces in India. Int J Environ Res Public Health 13:89

WB (2014) Pakistan: Country snapshot, no. 91629, World Bank, Washington, DC. http://documents.worldbank.org/curated/en/758111507887869177/Pakistan-Country-snapshot. Accessed 13 Aug 2018

Zahid M, Rasul G (2010) Rise in summer heat index over Pakistan. Pak J Meteorol 6:85–89
Acknowledgements
This study is based on the Pathways to Resilience in Semi-Arid Economies (PRISE) project, funded by Canada's International Development Research Centre (IDRC) and the UK's Department for International Development (DFID) through the Collaborative Adaptation Research Initiative in Africa and Asia (CARIAA).
Ethics declarations
Conflict of Interest Statement
On behalf of all authors, the corresponding author states that there is no conflict of interest.
Electronic supplementary material
Below is the link to the electronic supplementary material.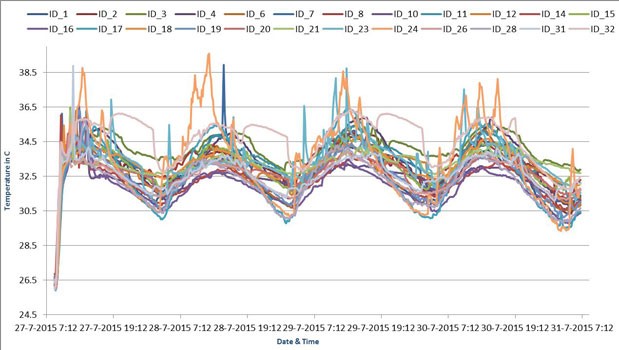 About this article
Cite this article
Umar, M.A., Saeed, F., Salik, K.M. et al. Exposure, Impacts, and Responses to Heat Stress: A Comparison Between Rural and Peri-urban Poor Population. Earth Syst Environ 2, 633–642 (2018). https://doi.org/10.1007/s41748-018-0070-x
Received:

Revised:

Accepted:

Published:

Issue Date:
Keywords
Migration

Climate change

Heat stress

Poverty