Abstract
Background
Long records of sea level show decadal and multi-decadal oscillations of synchronous and asynchronous phases, which cannot be detected in short-term records. Without incorporating these oscillations, it is impossible to make useful assessments of present global accelerations and reliable predictions of future changes of sea level. Furthermore, it is well known that local sea-level changes occur also because of local factors such as subsidence due to groundwater or oil extraction, or tectonic movements that may be either up or down.
Purpose
Limited data from limited areas of study are, therefore, unsuitable for making predictions about the whole world sea level. Yet, people continue to make such predictions, often on an alarming scale. Here, we use one example to illustrate the problems associated with trying to make sea-level predictions based on a short record (25 years) in a limited region.
Methods
Linear and parabolic fittings of monthly average mean sea levels (MSL) of global as well as different local (United States Atlantic Coast, United States Pacific Coast) data sets of long tide gauge records.
Results
It is clear from the analyses of the tide gauges of the "NOAA-120", "US 39", "PSMSL-162", "Mitrovica-23", "Holgate-9", and "California-8" data sets and the United States Pacific and Atlantic coasts that the sea level has been oscillating about the same almost perfectly linear trend line all over the 20th century and the first 17 years of this century.
Conclusion
It is of paramount importance to discuss the proper way to assess the present acceleration of sea levels. This can not be done by focusing on the short-term upward oscillations in selected locations. The information from the tide gauges of the United States does not support any claim of rapidly changing ice mass in Greenland and Antarctica. The data only suggest the sea levels have been oscillating about the same trend line during the last century and this century.
This is a preview of subscription content, log in to check access.
Access options
Buy single article
Instant access to the full article PDF.
US$ 39.95
Price includes VAT for USA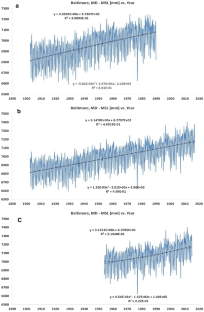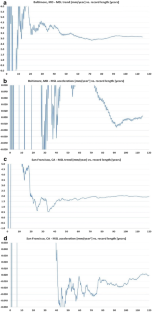 References
Baart F, Van Gelder PH, De Ronde J, Van Koningsveld M, Wouters B (2012) The effect of the 18.6-year lunar nodal cycle on regional sea-level rise estimates. J Coast Res 28(2):511–516

Boretti A (2012a) Short term comparison of climate model predictions and satellite altimeter measurements of sea levels. Coast Eng 60:319–322

Boretti A (2012b) Is there any support in the long term tide gauge data to the claims that parts of Sydney will be swamped by rising sea levels? Coast Eng 64:161–167

Boretti A, Watson T (2012) The inconvenient truth: ocean level not rising in Australia. Energy Environ 23(5):801–817

Chambers DP, Merrifield MA, Nerem RS (2012) Is there a 60-year oscillation in global mean sea level? Geophys Res Lett 39(18)

Davis JL, Vinogradova NT (2017) Causes of accelerating sea level on the East Coast of North America. Geophys Res Lett. doi:10.1002/2017GL072845

Douglas BC (1992) Global sea level acceleration. J Geophys Res Oceans 97(C8):12699–12706

Douglas BC (1995) Global sea level change: determination and interpretation. Rev Geophys 33(S2):1425–1432

Douglas BC (1997) Global sea rise: a redetermination. Surv Geophys 18(2–3):279–292

Douglas BC, Peltier WR (2002) The puzzle of global sea-level rise. Phys Today 55(3):35–41

Fasullo JT, Nerem RS, Hamlington B (2016) Is the detection of accelerated sea level rise imminent? Sci Rep 6:31245

Gervais F (2016) Anthropogenic CO2 warming challenged by 60-year cycle. Earth Sci Rev 155:129–135

Holgate SJ (2007) On the decadal rates of sea level change during the twentieth century. Geophys Res Lett 34(1)

Houston JR, Dean RG (2011) Sea-level acceleration based on U.S. tide gauges and extensions of previous global-gauge analyses. J Coast Res 27:409–417

Jevrejeva S, Grinsted A, Moore JC, Holgate S (2006) Nonlinear trends and multiyear cycles in sea level records. J Geophys Res Oceans 111(C9)

Jevrejeva S, Moore JC, Grinsted A, Woodworth PL (2008) Recent global sea level acceleration started over 200 years ago? Geophys Res Lett 35(8)

Knudsen MF, Seidenkrantz MS, Jacobsen BH, Kuijpers A (2011) Tracking the Atlantic multidecadal oscillation through the last 8,000 years. Nat Commun 2:178

Mörner N-A (2010a) Sea level changes in Bangladesh new observational facts. Energy Environ 21(3):235–249

Mörner N-A (2010b) Some problems in the reconstruction of mean sea level and its changes with time. Quat Int 221(1–2):3–8

Mörner NA (2016) Rates of sea level changes—a clarifying note. Int J Geosci 7(11):1318

Mörner N-A, Parker A (2013) Present-to-future sea level changes: the Australian case. Environ Sci Indian J 8(2):43–51

Parker A (2013a) Sea level trends at locations of the United States with more than 100 years of recording. Nat Hazards 65(1):1011–1021

Parker A (2013b) Oscillations of sea level rise along the Atlantic coast of North America north of Cape Hatteras. Nat Hazards 65(1):991–997

Parker A (2014) Apparent hot and cold spots of acceleration along the Atlantic and Pacific coasts of the United States. Nonlinear Eng 3(1):51–56

Parker A (2017) The 20th century sea level rise from tidal gauges does not show any recent acceleration. New Concepts Glob Tecton J

Parker A, Ollier CD (2016) Coastal planning should be based on proven sea level data. Ocean Coast Manag 124:1–9

Parker A, Ollier CD (2017) California sea level rise: evidence based forecasts vs. model predictions. Ocean Coast Manag. 10.1016/j.ocecoaman.2017.07.008

Parker A, Saleem MS, Lawson M (2013) Sea-level trend analysis for coastal management. Ocean Coast Manag 73:63–81

Scafetta N (2013a) Discussion on climate oscillations: CMIP5 general circulation models versus a semi-empirical harmonic model based on astronomical cycles. Earth Sci Rev 126:321–357

Scafetta N (2013b) Solar and planetary oscillation control on climate change: hind-cast, forecast and a comparison with the CMIP5 GCMs. Energy Environ 24(3–4):455–496

Scafetta N (2014) Multi-scale dynamical analysis (MSDA) of sea level records versus PDO, AMO, and NAO indexes. Clim Dyn 43(1–2):175–192

Schlesinger ME, Ramankutty N (1994) An oscillation in the global climate system of period 65–70 years. Nature 367(6465):723–726

Wenzel M, Schröter J (2010) Reconstruction of regional mean sea level anomalies from tide gauges using neural networks. J Geophys Res Oceans 115:C08013

Wenzel M, Schröter J (2014) Global and regional sea level change during the 20th century. J Geophys Res Oceans 119(11):7493–7508

Woodworth PL (2011) A note on the nodal tide in sea level records. J Coast Res 28(2):316–323

Wunsch C, Ponte RM, Heimbach P (2007) Decadal trends in sea level patterns: 1993–2004. J Clim 20(24):5889–5911
About this article
Cite this article
Parker, A., Ollier, C.D. Short-Term Tide Gauge Records from One Location are Inadequate to Infer Global Sea-Level Acceleration. Earth Syst Environ 1, 17 (2017). https://doi.org/10.1007/s41748-017-0019-5
Received:

Accepted:

Published:
Keywords
Sea-level rise

Sea-level acceleration

Short records

Phases of the oscillations