Abstract
Memories of lifetime experiences, events and facts are thought to be acquired through part of the brain region termed hippocampus. These memories are very distinct when they form initially. However, in due course of time after their formation, these memories become less specific. This process of losing specificity and being able retrieve a memory at the presentation of cues that are related, though not necessarily the same as the one that was initially used, is termed generalisation. In this review, first we propose a modification to the categorisation of memories based on lifetime of memories and then proceed forward to introduce the idea of memory consolidation at various scales and their relevance to generalisation. We conclude by reviewing some of the recent pertinent methodologies and their basis in performing these studies.
Access options
Buy single article
Instant access to the full article PDF.
USD 39.95
Price excludes VAT (USA)
Tax calculation will be finalised during checkout.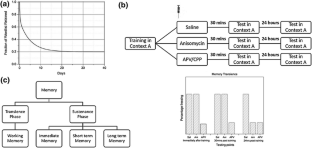 References
Scoville WB, Milner B (1957) Loss of recent memory after bilateral hippocampal lesions. J Neuropsychiatry Clin Neurosci 20:11–21

Kim JJ, Fanselow MS (1992) Modality-specific retrograde amnesia of fear. Science 256:675–677

Squire LR, Alvarez P (1995) Retrograde amnesia and memory consolidation : a neurobiological perspective. Curr Opin Neurobiol 5(2):169–177

Ribot T (1882) Diseases of memory: an essay in the positive psychology. Science. https://doi.org/10.1017/CBO9781107415324.004

Squire LR, Slater PC, Chace PM (1975) Retrograde amnesia: temporal gradient in very long term memory following electroconvulsive therapy. Science 187:77–79

McGaugh JL (2000) Memory—a century of consolidation. Science 287:248–251

Agranoff BW, Klinger PD (1964) Puromycin effect on memory fixation in the goldfish. Science 146:952–953

Bannerman DM, Good MA, Butcher SP, Ramsay M, Morris RG (1995) Distinct components of spatial learning revealed by prior training and NMDA receptor blockade. Nature 378:182–186

Reber PJ, Squire LR (1994) Parallel brain systems for learning with and without awareness. Learn Mem 1:217–229

Singh A, Kumar S, Singh VP, Das A, Balaji J (2017) Flavor dependent retention of remote food preference memory. Front Behav Neurosci 11:7

Ennaceur A, Delacour J (1988) A new one-trial test for neurobio-logical studies of memory in rats. Behav Brain Res 31:47–59

Goshen I, Brodsky M, Prakash R, Wallace J, Gradinaru V, Ramakrishnan C, Deisseroth K (2011) Dynamics of retrieval strategies for remote memories. Cell 147:678–689

Wiltgen BJ, Zhou M, Cai Y, Balaji J, Karlsson MG, Parivash SN, Li W, Silva AJ (2010) The hippocampus plays a selective role in the retrieval of detailed contextual memories. Curr Biol 20:1336–1344

Lesburguères E, Gobbo OL, Alaux-Cantin S, Hambucken A, Trifilieff P, Bontempi B (2011) Early tagging of cortical networks is required for the formation of enduring associative memory. Science 331:924–928

Kitamura T, Ogawa SK, Roy DS, Okuyama T, Morrissey MD, Smith LM, Redondo RL, Tonegawa S (2017) Engrams and circuits crucial for systems consolidation of a memory. Science 356:73–78

Schacter DL, Eich JE, Tulving E (1978) Richard Semon's theory of memory. J Verbal Learn Verbal Behav 17:721–743

Lanahan A, Worley P (1998) Immediate-early genes and synaptic function. Neurobiol Learn Mem 70:37–43

Guzowski JF, McNaughton BL, Barnes CA, Worley PF (1999) Environment-specific expression of the immediate-early gene Arc in hippocampal neuronal ensembles. Nat Neurosci 2:1120–1124

Reijmers LG, Perkins BL, Matsuo N, Mayford M (2007) Localization of a stable neural correlate of associative memory. Science 317:1230–1233

Ramirez S, Liu X, Lin P-A, Suh J, Pignatelli M, Redondo RL, Ryan TJ, Tonegawa S (2013) Creating a false memory in the hippocampus. Science 341:387–391

Liu X, Ramirez S, Pang PT, Puryear CB, Govindarajan A, Deisseroth K, Tonegawa S (2012) Optogenetic stimulation of a hippocampal engram activates fear memory recall. Nature 484:381–385

Cowansage KK, Shuman T, Dillingham BC, Chang A, Golshani P, Mayford M (2014) Direct reactivation of a coherent neocortical memory of context. Neuron 84:432–441

Sheng M, Greenberg ME (1990) The regulation and function of c-fos and other immediate early genes in the nervous system. Neuron 4:477–485

Richards BA, Xia F, Santoro A, Husse J, Woodin MA, Josselyn SA, Frankland PW (2014) Patterns across multiple memories are identified over time. Nat Neurosci 17:981–986
Additional information
P. Meenakshi and J. Balaji have contributed equally to this article.
About this article
Cite this article
Meenakshi, P., Balaji, J. Neural Circuits of Memory Consolidation and Generalisation. J Indian Inst Sci 97, 487–495 (2017). https://doi.org/10.1007/s41745-017-0042-4
Received:

Accepted:

Published:

Issue Date:

DOI: https://doi.org/10.1007/s41745-017-0042-4
Keywords
Remote memories

systems consolidation

generalisation