Abstract
Cheliff River is the most important permanent river of North-west Algeria which plays an essential role for irrigation and drinking water supply, but suffers from high anthropogenic pressure. Multi-dimensional and multi-factorial aspects of water pollution in Cheliff River and its tributary Mina River were evidenced during two contrasting climatic seasons. Urban discharges were identified as a major source of water organic pollution. The inputs of untreated sewages were characterized by maximum concentrations of tryptophan-like (5.7 µmol l−1) and tyrosine-like (9.8 µmol l−1) compounds during the dry period, confirming these amino acids as fingerprints of untreated urban discharges. The synchronous monitoring and assessment of physicochemical parameters, fluorescent organic compounds and metallic elements of Cheliff River waters highlighted its global contamination, mainly in its downstream part. Cheliff River was mainly affected by organic pollution with maximum COD (1536 mg O2 l−1) and BOD5 (12 mg O2 l−1) during the wet period, and by metallic contamination with maximum Fe (287 ± 4.4 µg l−1) and Al (422.4 ± 9.4 µg l−1) during the dry period, exceeding the guideline limits. This chronic contamination was related to untreated domestic sewages, agricultural effluents and technical landfill center discharges in this area. Diffuse pollutions were also evidenced, which made the identification of different contamination sources complicated. Mina River was mostly affected by non-treated domestic sewages with maximum COD (3161 mg O2 l−1) during the wet period and maximum BOD5 (12 mg O2 l−1) during the dry period, exceeding the guideline limits. The correlation Li/Sr showed the contribution of natural influence from saline soils of Mina valley, particularly during the dry period.
Article Highlights
Cheliff River is an essential water resource for drinking water and irrigation.

Cheliff River suffers from high anthropogenic pressure.

Untreated sewages were directly discarded into the Cheliff River.

Synchronous monitoring and assessment of physicochemical parameters, fluorescent organic compounds and metallic elements were conducted.

Urban discharges were identified as a major source of water organic pollution.

Contribution of natural influence (Li, Sr, SO42− and Cl−) from saline soil of the watershed was studied.
Access options
Buy single article
Instant access to the full article PDF.
US$ 39.95
Tax calculation will be finalised during checkout.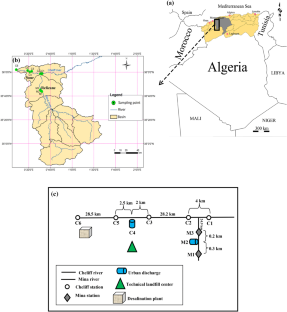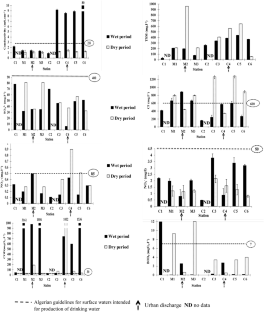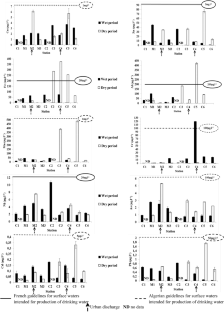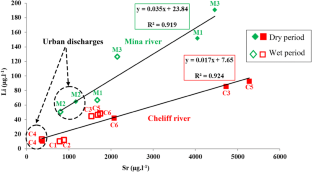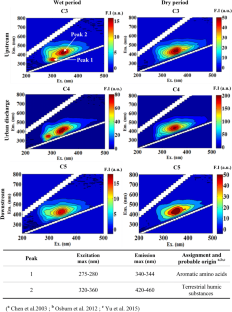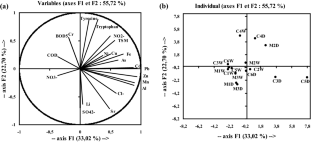 References
AFNOR (1999) Association Française de Normalisation. Qualité de l'eau: collection, environnement. Paris-La Défense, p 1733

Agence du bassin hydrographique Cheliff-Zahrez (2017) http://abh-cz.com.dz. Accessed 6 Dec 2017

Algerian guidelines (2011) Décret exécutif no. 11-219 du 20 Rabie El Aouel 1432, correspondant au 12 avril 2011. Normes Algériennes de la qualité des eaux superficielles et souterraines destinées à l'alimentation en eau potable des populations. Journal Officiel de la République Algérienne Démocratique et Populaire

Algerian guidelines (2012) Arrêté interministériel du 8 safar, correspondant au 2 janvier 2012. Spécifications des Eaux Usées Epurées Utilisées à des Fins d'Irrigation. Journal Officiel de la République Algérienne Démocratique et Populaire

Ammor MS (2007) Recent advanced in the use of intrinsic fluorescence for bacterial identification and characterization. J Fluoresc 17:455–459

Baker A (2001) Fluorescence excitation- emission matrix characterization of some sewage-impacted rivers. Environ Sci Technol 35:948–953

Baker A, Spencer RG (2004) Characterization of dissolved organic matter from source to sea using fluorescence and absorbance spectroscopy. Sci Total Environ 333:217–232

Baker A, Inverarity R, Charlton M, Richmond S (2003) Detecting river pollution using fluorescence spectrophotometry: case studies from the Ouseburn, NE England. Environ Pollut 124:57–70

Belhadj M, Ghezzar M, Abdelmalek F, Benahmed AA, Ouddane B, Addou A (2006) Assessment of the sediment contamination by heavy metals of the Chéliff river, Algeria. Fresen Environ Bull 15(3):186–192

Benson-Evans K, Antoine S, Randerson P, Al-Asadi MS (2006) Ecological studies of three West Algerian rivers: the river Cheliff and its tributary, the river Mina. Mesopot J Mar Sci 21(2):175–196

Bouabdli A, Saidi N, M'Rabet S, Escarre J, Leblanc M (2005) Heavy metal transport by the Moulouya River (Morocco). Rev Sci Eau 18(2):199–213

Boulaine MJ, Bellon J (1955) Carte de reconnaissance des sols de la région de Mostaganem (Algeria). Gouvernement Général de l'Algérie

Bro R, Kiers HA (2003) A new efficient method for determining the number of components in PARAFAC models. J Chemom 17:274–286

Bu H, Song X, Guo F (2017) Dissolved trace elements in a nitrogen-polluted river near to the Liaodong Bay in Northeast China. Mar Pollut Bull 114:547–554

Çadraku H, Gashi F, Shala A, Fetoshi O (2016) Variations in the physico-chemical parameters of under groundwater of Blinaja catchment. Kosovo. IFAC-PapersOnline 49(29):200–205

Carstea EM, Baker A, Pavelescu G, Boomer I (2009) Continuous fluorescence assessment of organic matter variability on the Bournbrook River, Birmingham, UK. Hydrol Process 23:1937–1946

Chen W, Westerhoff P, Leenheer JA, Booksh K (2003) Fluorescence excitation- emission matrix regional integration to quantify spectra for dissolved organic matter. Environ Sci Technol 37:5701–5710

Cruz MAS, Gonçalves A, de Arago R, de Amorium JRA, Melo da Mota PV, Srinivasan VS et al (2019) Spatial and seasonal variability of the water quality characteristics of a river in Brazil. Environ Earth Sci 78:68. https://doi.org/10.1007/s12665-019-8087-5

Daoud Y, Cheverry C, Robert M (1993) Rôle du magnésium dans les sols salés des plaines du Chéliff (Algérie). Sci Sol Afes 31(4):281–293

Direction d'hydraulique de Mostaganem (Algeria) (2013). http://wilaya-mostaganem.dy-webs.com/developpement-local/hydraulique. Accessed 11 Nov 2017

Douaoui A, Walter C, Gouar A, Hammoudi S (2001) Assessment of the topsoil structural degradation of the lower Cheliff Valley (Algeria)-application of multivariate analysis. In: 4th Conference of the Working Group on Pedometrics (WG-PM), Ghent, 19–21 Sept

Douaoui A, Hervé N, Walter C (2006) Detecting salinity hazards within a semiarid context by means of combining soil and remote-sensing data. Geoderma 134:217–230

Duée PH, Jung J, Gueugneau AM (1973) Composition en acides aminés du lait de truie. Ann Zootech 22(2):243–247

Effendi H (2016) River water quality preliminary rapid assessment using pollution index. Proc Environ Sci 33:562–567

Elewa HH (2010) Potentialities resources pollution of the Nile River Delta, Egypt. Open Hydrol J 4:1–13

French guidelines (2013) Arrêté officiel du 25 décembre 2013 fixant les normes françaises des eaux destinées à la consommation humaine, code de la santé publique : Articles R.1321-1 à R.1321-66 et annexes 13-1 au 13-3. Journal Officiel de la République Française

French guidelines (2016) Instruction interministérielle n°DGS/EA4/DEB/DGBE/2016/135 du 26 avril 2016 relative à la réutilisation des eaux usées traitées pour l'irrigation de cultures et d'espaces verts. Journal Officiel de la République Française

Hammou A (2012) Charactéristiques de la fluorescence des eaux du fleuve côtier Têt (Pyrénées-Orientales) en relation avec la matière organique naturelle du bassin versant: utilisation de l'algorithme PARAFAC. PhD Thesis. University of Perpignan Via Domitia (France), 271 p

Houhou J, Lartiges BS, France-Lanord C, Guilmette C, Poix S, Mustin C (2010) Isotopic tracing of clear water sources in an urban sewer: a combined water and dissolved sulphates stable isotope approach. Water Res 44:256–266

Hudson N, Baker A, Ward D, Reynold DM, Brundson C, Carliell-Marquet Ch et al (2008) Can fluorescence spectrometry be used as a surrogate for the Biochemical Oxygen Demand (BOD) test in water quality assessment? An example from South West England. Sci Total Environ 391:149–158

Kabata-Pendias A, Szteke B (2015) Trace elements in abiotic and biotic environments. CRC Press Taylor & Francis Group Boca Raton, London, p 393

Koukal B, Dominik J, Vignati D, Arpagaus P, Santiago S, Ouddane B et al (2004) Assessment of water quality and toxicity of polluted Rivers Fez and Sebou in the region of Fez (Morocco). Environ Pollut 131:163–172

Laiche A (2017) Origines de la salinisation des eaux et des sols d'une zone à climat semi-aride: cas de Remila (W. Khenchela). PhD Thesis. University of Biskra (Algeria), p 215

Le Pape P, Ayrault S, Michelot JL, Monvoisin G, Noret A, Quantin C (2013) Building an isotopic hydrogeochemical indicator of anthropogenic pressure on urban rivers. Chem Geol 344:63–72

Mendiguchía C, Moreno C, García-Vargas M (2007) Evaluation of natural and anthropogenic influences on the Guadalquivir River (Spain) by dissolved heavy metals and nutrients. Chemosphere 69:1509–1517

Naimi Ait-Aoudia M, Berezowska-Azzag E (2016) Water resources carrying capacity assessment : the case of Algeria's capital city. Habitat Int 58:51–58

Nehme N, Haydar C, Koubaissy B, Fakih M, Awad S, Toufaily J et al (2013) Evaluation of the physicochemical characteristics of water in the lower Litani Basin, Lebanon. Elixir Journal 62:17478–17484

Nishio Y, Okamura K, Tanimizu M, Ishikawa T, Sano Y (2010) Lithium and strontium isotopic systematics of waters around Ontake volcano, Japan: implications for deep-seated fluids and earthquake swarms. Earth Planet Sci Lett 297:567–576

Office National d'Assainissement de Relizane (Algeria) (2014). http://www.ona-dz.org. Accessed 11 Nov 2017

Ohno T (2002) Fluorescence inner-filtering correction for determining the humification index of dissolved organic matter. Environ Sci Technol 36:742–746

Olivier P, Radakovitch O, Hamelin B (2011) Major and trace element partition and fluxes in the Rhône River. Chem Geol 285:15–31

Osburn CL, Handsel LT, Mikan MP, Paerl HW, Montogomery MT (2012) Fluorescence tracking of dissolved and particulate organic matter quality in a river-dominated estuary. Environ Sci Technol 46:8628–8636

Perrin JL, Raïs N, Chahinian N, Moulin P, Ijjaali M (2014) Water quality assessment of highly polluted rivers in a semi-arid Mediterranean zone Oued Fez and Sebou River (Morocco). J Hydrol 510:26–34

Salam MA, Kabir MM, Yee LF, Khan MS (2019) Water Quality Assessment of Perak River, Malaysia. J Pollut 5(3):637–648

Singh KK, Sharma BM, Usha KH (2010) Ecology of Kharungpat lake, Thoubal, Manipur, India: part-I water quality status. Ecoscan 4(2 & 3):241–245

Stedmon CA, Bro R (2008) Characterizing dissolved organic matter fluorescence with parallel factor analysis: a tutorial. Limnol Oceanogr 6:572–579

Strady E, Dang VBH, Némery J, Guédron S, Dinh QT, Denis H et al (2017) Baseline seasonal investigation of nutrients and trace metals in surface waters and sediments along the Saigon River basin impacted by the megacity of Ho Chi Minh (Vietnam). Environ Sci Pollut Res 24:3226–3243

Tutiempo Network TN. (2018). https://tutiempo.net/. Accessed 14 Nov 2018

Vouvé F, da Cunha LC, Serve L, Salmon JV, Salmon JM (2009) Spatio-temporal variations of fluorescence properties of dissolved organic matter along the River Têt (Pyrénées-Orientales, France). Chem Ecol 25:435–452

Winter AR, Fish TAE, Playle RC, Scott Smith D, Jefferson Curtis P (2007) Photodegradation of natural organic matter from diverse freshwater sources. Aquat Toxicol 84:215–222

World databank (2017). https://data.worldbank.org. Accessed 6 Dec 2017

Yan W, Li J, Bai X (2016) Comprehensive assessment and visualized monitoring of urban drinking water quality. Chemom Intell Lab Syst 155:26–35

Yu H, Song Y, Gao H, Liu L, Yao L, Peng J (2015) Applying fluorescence spectroscopy and multivariable analysis to characterize structural composition of dissolved organic matter and its correlation with water quality in an urban river. Environ Earth Sci 73:5163–5171

Zhaoyong Z, Abuduwaili J, Jiang F (2015) Heavy metal contamination, sources, and pollution assessment of surface water in the Tianshan Mountains of China. Environ Monit Assess 33:187–200
Acknowledgements
This study has been partially founded by the Hubert Curien Tassili Partnership Program (France—Algeria) No. 15MDU937. The authors would like to thank the Departmental Council of Pyrénées-Orientales (France) for providing financial support through the Departmental Fund of External Cooperation (France). They gratefully acknowledge the contribution of the Algerian Ministry of High Education and Scientific Research through a doctoral grant from the Outstanding National Program (PNE).
About this article
Cite this article
Benkaddour, B., Abdelmalek, F., Addou, A. et al. Assessment of Anthropogenic and Natural Factors on Cheliff River Waters (North-West of Algeria) at Two Contrasted Climatic Seasons. Int J Environ Res 13, 925–941 (2019). https://doi.org/10.1007/s41742-019-00223-7
Received:

Revised:

Accepted:

Published:

Issue Date:
Keywords
Cheliff River

Physicochemical parameters

Organic compounds

Metallic elements

Water quality