Abstract
This paper introduces a speculative method of 3D printing reinforced concrete columns called "piling and pressing." Innovations in concrete 3D printing research are discussed, specifically those that pertain to the integration of reinforcement, the customization of printing extruders, and the development of 3D printed concrete structures as architectural components. Previous research into an experimental technique of 3D printing concrete called "pointillistic, time-based deposition" (PTBD) is introduced. Findings from research into PTBD that led to the development of the piling and pressing method are presented. The custom concrete 3D printing system that was innovated in order to develop the piling and pressing method is outlined in detail, including its material systems, mechatronic configurations, and temporal parameters. Challenges in both the prototyping of this system and the piling and pressing method are discussed. Finally, future investigations into the piling and pressing method are outlined with a particular emphasis on those that will advance this method towards full-scale architectural construction.
Access options
Buy single article
Instant access to the full article PDF.
USD 39.95
Price excludes VAT (USA)
Tax calculation will be finalised during checkout.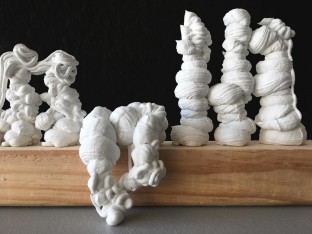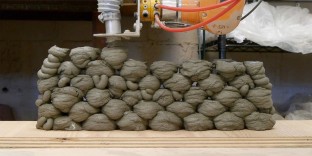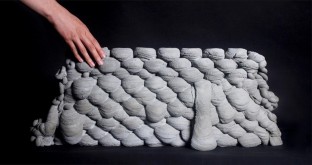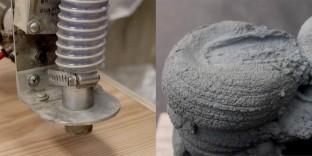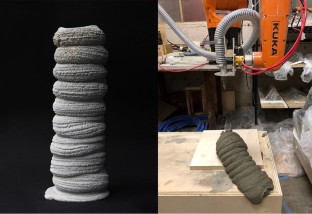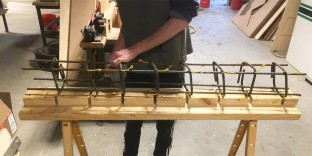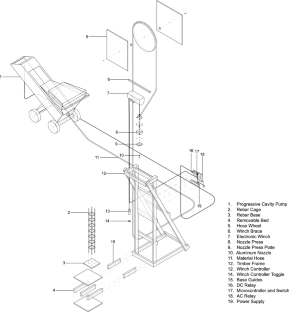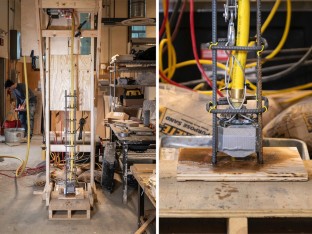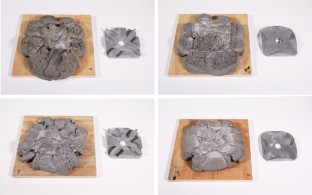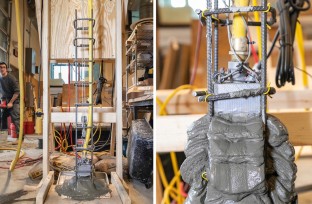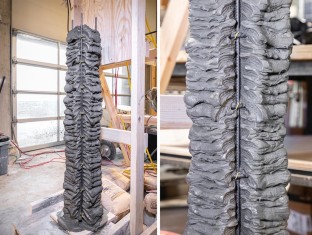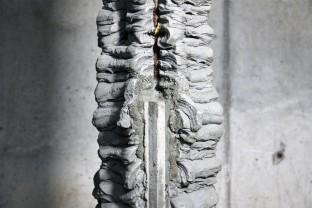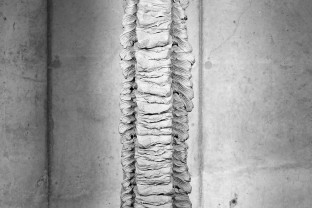 References
American Concrete Institute (2011) Building code requirements for structural concrete (ACI 318–11). Farmington Hills, MI

Bos FP, Wolfs RJM, Ahmed ZY, Salet TAM (2016) Additive manufacturing of concrete in construction: potentials and challenges of 3D concrete printing. Virtual Phys Prototyp 11(3):209–225

Bos FP, Ahmed ZY, Jutinov ER, Salet TAM (2017) Experimental exploration of metal cable as reinforcement in 3D printed concrete. Materials 10:1–22

Bos FP, Bosco E, Salet TAM (2019) Ductility of 3D printed concrete reinforced with short straight steel fibers. Virtual Phys Prototyp 14(2):160–174

Cohen Z (2018) Hold up: machine delay in architectural design. In: Proceedings of the 2018 robotic fabrication in architecture, art, and design conference. Association for Robots in Architecture, Zurich, pp 126–138

Hack N, Laurer WV (2014) Mesh mould: robotically fabricated spatial meshes as reinforced concrete formwork. Architect Des 84(3):44–53

Koshnevis B (2014) Automated construction by contour crafting—related robotics and information technologies. Autom Constr 13(1):5–19

Lasky J (2019) A 3D print-out you could call home. https://www.nytimes.com/2019/11/08/realestate/a-3d-print-out-you-could-call-home.html. Accessed 1 Dec 2019

Lloret Fristchi E, Reiter L, Wangler T, Gramazio F, Kohler M, Flatt RJ (2017) Smart dynamic casting: slipforming with flexible formwork – inline measurement and control. In: Proceeding of the 11th high performance concrete and the 2nd concrete innovation conference, Tromsø, Norway

Nematollahi B, Xia M, Sanjayan J (2017) Current progress of 3D concrete printing technologies. In: Proceedings of the 34th international symposium on automation and robotics in construction. IAARC, Taipei

Nerella VN, Ogura H, Mechtherine V (2018a) Incorporating reinforcement into digital concrete construction. In: Proceedings of the IASS symposium 2018: creativity in structural design, Boston

Nerella VN, Hempel S, Mechtcherine V (2018b) Effect of layer-interface properties on mechanical performance of concrete elements produced by extrusion-based 3D printing. Constr Build Mater 205:586–601

Rael R, San Fratello V (2011) Developing concrete polymer building components for 3D printing. In: Proceedings of the 2011 association for computer-aided design in architecture conference, ACADIA, Calgary

Steven P (2019) Robots 3d-print nine different concrete columns without any formwork. https://www.designboom.com/architecture/3d-printed-concrete-columns-switzerland-eth-zurich-07-15-2019/. Accessed 1 Dec 2019

Valente M, Sibai A, Sambucci M (2019) Extrusion-based additive manufacturing of concrete product: revolutionizing and remodeling the construction industry. J Compos Sci 3(88):1–20

Vialva T (2019) Sunconomy to develop 3D printed concrete homes in Texas. https://3dprintingindustry.com/news/sunconomy-to-develop-3d-printed-concrete-homes-in-texas-146575/. Accessed 2 Dec 2019

Zivkovic S, Battaglia C (2018) Rough pass extrusion tooling: CNC post-processing of 3D-printed sub-additive concrete lattice structures. In: Proceedings of the 2018 association for computer-aided design in architecture conference, ACADIA, Mexico City, 302–11
Acknowledgements
This research is made possible through the support of the Christos Yessios Visiting Professorship and the Knowlton School of Architecture. The authors would also like to thank William Klotnia and Michael Baumberger for their assistance.
Additional information
Publisher's Note
Springer Nature remains neutral with regard to jurisdictional claims in published maps and institutional affiliations.
About this article
Cite this article
Cohen, Z., Carlson, N. Piling and pressing: towards a method of 3D printing reinforced concrete columns. Constr Robot 4, 61–73 (2020). https://doi.org/10.1007/s41693-020-00029-6
Received:

Accepted:

Published:

Issue Date:

DOI: https://doi.org/10.1007/s41693-020-00029-6
Keywords
Digital fabrication

Concrete 3D printing

Reinforced concrete

Architectural design

Building construction