Abstract
Developing learner autonomy—or the ability to take charge of one's learning—is a crucial element of teaching and learning and of design work. In this article, we argue that developing learner autonomy in students requires instructors to adopt a two-fold approach through a mindset rooted in creativity and reflective practice. We discuss the theoretical grounding for this mindset, and then situate our discussion by examining an award-winning hybrid-blended course about design thinking in an educational psychology and educational technology doctoral program. The course outcomes qualitatively demonstrated the ways in which students developed a perception of learner autonomy through their work in creating and implementing context-specific educational technology design solutions. We present and discuss evidence from our own formative reflective practice as instructors, along with evidence from students' reflections, on how themes of learner autonomy emerged via our proposed pedagogical mindset.
This is a preview of subscription content, log in to check access.
Access options
Buy single article
Instant access to the full article PDF.
US$ 39.95
Price includes VAT for USA
Subscribe to journal
Immediate online access to all issues from 2019. Subscription will auto renew annually.
US$ 99
This is the net price. Taxes to be calculated in checkout.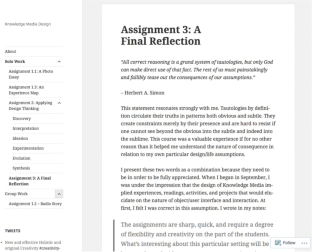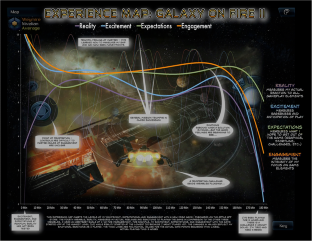 References
Amabile, T. (1996). Creativity in context. Boulder: Westview Press Harper Collins Publishers.

Baer, M., & Oldham, G. R. (2006). The curvilinear relation between experienced creative time pressure and creativity: moderating effects of openness to experience and support for creativity. Journal of Applied Psychology, 91(4), 963.

Beghetto, R. A., & Kaufman, J. C. (Eds.). (2010). Nurturing creativity in the classroom. Cambridge: Cambridge University Press.

Bell, J., Sawaya, S., & Cain, W. (2014). Synchromodal classes: designing for shared learning experiences between face-to-face and online students. International Journal of Designs for Learning, 5(1).

Betts, G., Kapushion, B., & Carey, R. J. (2016). The autonomous learner model. In Giftedness and talent in the 21st Century (pp. 201–220). Sense Publishers, Rotterdam.

Collins, A., & Halverson, R. (2018). Rethinking education in the age of technology: the digital revolution and schooling in America. New York, NY: Teachers College Press.

Cotterall, S. (2000). Promoting learner autonomy through the curriculum: principles for designing language courses. ELT Journal, 54(2), 109–117.

Creswell, J. W. (1998). Qualitative inquiry and research design: Choosing among five traditions. Thousand Oaks: SAGE Publications.

Cropley, A. J. (2003). Creativity in education & learning: a guide for teachers and educators. Bodmin: Routledge Falmer.

Cross, N. (2001). Designerly ways of knowing: design discipline versus design science. Design Issues, 17(3), 49–55.

Freedman, K. (2007). Artmaking/troublemaking: creativity, policy, and leadership in art education. Studies in Art Education, 48(2), 204–217.

Harris, J. A. (2004). Measured intelligence, achievement, openness to experience, and creativity. Personality and Individual Differences, 36(4), 913–929.

Henriksen, D. (2011). We teach who we are: creativity and trans-disciplinary thinking in the practices of accomplished teachers. (PhD diss., Michigan State University).

Henriksen, D., & Mishra, P. (2015). We teach who we are. Teachers College Record, 117(7), 1–46.

Holec, H. (1981). Autonomy and foreign language learning. Oxford: Pergamon Press.

Jay, J. K., & Johnson, K. L. (2002). Capturing complexity: a typology of reflective practice for teacher education. Teaching and Teacher Education, 18(1), 73–85.

Karwowski, M. (2014). Creative mindsets: measurement, correlates, consequences. Psychology of Aesthetics, Creativity, and the Arts, 8(1), 62.

Kear, K. (2010). Social presence in online learning communities. In Proceedings of the 7th International Conference on Networked Learning 2010, Aalborg, Denmark.

Kenny, R. (2017). Introducing journal of formative design in learning. Journal of Formative Design in Learning, 1(1), 1–2.

Korgel, B. A. (2002). Nurturing faculty-student dialogue, deep learning and creativity through journal writing exercises. Journal of Engineering Education, 91(1), 143–146.

Kuhn, T. S. (1977). The essential tension: selected studies in scientific tradition and change. Chicago: University of Chicago Press.

Lan, Y. J., Sung, Y. T., & Chang, K. E. (2013). From particular to popular: facilitating EFL mobile-supported cooperative reading. Language Learning & Technology, 17(3), 23–38.

Liedtka, J. (2015). Perspective: linking design thinking with innovation outcomes through cognitive bias reduction. Journal of Product Innovation Management, 32(6), 925–938.

Liu, S. H. J., Lan, Y. J., & Ho, C. Y. Y. (2014). Exploring the relationship between self-regulated vocabulary learning and web-based collaboration. Educational Technology & Society, 17(4), 404–419.

Moore, M. G. (1993). Theory of transactional distance. In D. Keegan (Ed.), Theoretical principles of distance education. New York: Routledge.

Moore, M. G., & Kearsley, G. (2012). Distance education: a systems view (3rd ed.). Belmont: Wadsworth.

Moustakas, C. (1994). Phenomenological research methods. Beverly Hills, CA: Sage Publications.

Prabhu, V., Sutton, C., & Sauser, W. (2008). Creativity and certain personality traits: Understanding the mediating effect of intrinsic motivation. Creativity Research Journal, 20(1), 53–66.

Prichard, C., & Moore, J. (2016). The balance of teacher autonomy and top-down coordination in ESOL programs. TESOL Quarterly, 50(1), 190–201.

Santo, R., Ching, D., Peppler, K., & Hoadley, C. (2016). Working in the open: lessons from open source on building innovation networks in education. On the Horizon, 24(3), 280–295.

Schön, D. A. (1984). The architectural studio as an exemplar of education for reflection-in-action. Journal of Architectural Education, 38(1), 2–9.

Simon, H. A. (1969). The sciences of the artificial. Cambridge, MA: MIT Press.

Sawyer, K. (2015). A call to action: the challenges of creative teaching and learning. Teachers College Record, 117(10), 10.

Schön, D. A. (1987). Educating the reflective practitioner: toward a new design for teaching and learning in the professions. Hoboken, NJ: Jossey-Bass.

Simmons, N., & Marquis, E. (2017). Defining the scholarship of teaching and learning. The Canadian Journal for the Scholarship of Teaching and Learning, 8(2), 2.

Smith, S., & Henriksen, D. (2016). Fail again, fail better: embracing failure as a paradigm for creative learning in the arts. Art Education, 69(2), 6–11.

Valkenburg, R., & Dorst, K. (1998). The reflective practice of design teams. Design Studies, 19(3), 249–271.

Van Manen, M. (1995). On the epistemology of reflective practice. Teachers and Teaching, 1(1), 33–50.

Zhao, Y. (2012). World class learners: ducating creative and entrepreneurial students. Thousand Oaks: Corwin Press.

Zhou, J., & George, J. (2001). When job dissatisfaction leads to creativity: Encouraging the expression of voice. Academy of Management Journal, 44(4), 682–696.
Ethics declarations
Conflict of Interest
The authors declare that they have no conflict of interest.
Disclaimer
Any opinions, findings, conclusions, or recommendations expressed in this material are those of the authors and do not necessarily reflect the views of the National Science Foundation.
About this article
Cite this article
Henriksen, D., Cain, W. & Mishra, P. Everyone Designs: Learner Autonomy through Creative, Reflective, and Iterative Practice Mindsets. J Form Des Learn 2, 69–81 (2018). https://doi.org/10.1007/s41686-018-0024-6
Keywords
Education

Teaching

Learning

Hybrid course designs

Design thinking

Creativity

Reflective practice

Educational technology

Blended learning