Abstract
Although Pakistan has reduced maternal mortality ratio by 57% over the last 2 decades, Millennium Development Goals (MDGs) unmet maternal mortality targets are a matter of concern to achieve the Sustainable Development Goals (SDGs) by 2030. Provincial level maternal mortality data suggested large disparities and inequalities within the country. Therefore, the primary objective of this study was to identify the national- and provincial-level spatial inequalities regarding access to reproductive health care services. Exploratory Spatial Data Analysis (ESDA) was used to leverage the information of spatial clusters and outliers based on the Reproductive Healthcare Services (RHCS) index of 2004 and 2014. Growing high–high clusters were only found in the North-east Punjab Province and neighboring Khyber Pakhtun Khawa Province. Conversely, low–low clusters increased in North Baluchistan and neighboring districts south of Khyber Pakhtun Khawa and southwest of Punjab. The present study is one of the first attempt to investigate the national- and provincial-level variations for access to reproductive healthcare services across Pakistan. The findings provide valuable insights for the government and policymakers regarding the dimensions of clusters to address reproductive healthcare issues in vulnerable districts. These results also revealed many questions that need further investigation to uncover the determinants of these geographical clusters and outliers in reproductive healthcare services.
Access options
Buy single article
Instant access to the full article PDF.
US$ 39.95
Tax calculation will be finalised during checkout.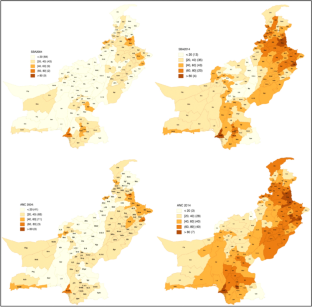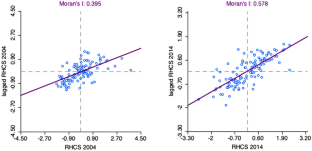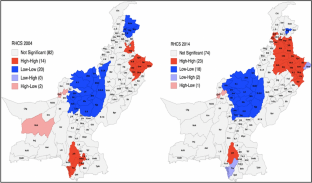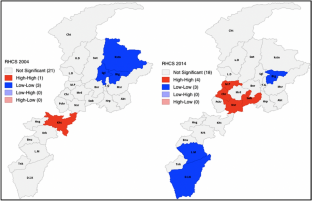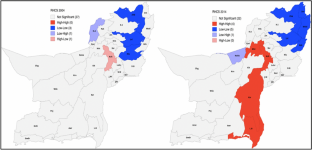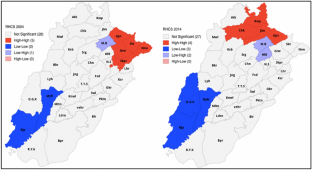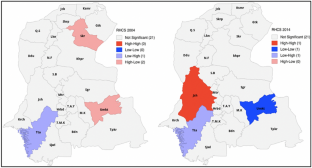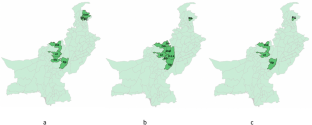 Availability of data and materials
The datasets for the present study are taken from the Pakistan social and living standards measurement surveys as well as the Multiple Indicators Custer Surveys (MICS) that are available online on the website of Pakistan Bureau of Statistics (PBS) as well as Data for Pakistan website.
Notes
1.

BHUs are the basic health units with small number of medical personnel who provide basic healthcare services. Each BHU must have one medical doctor who serves as the main head of the BHU and is supported by lady health workers who move around the communities to provide essential nutrition information and vaccines to newborns and pregnant women.
References
Agha S (2014) A profile of women at the highest risk of maternal death in Pakistan. Health Policy Plan 30(7):830–836. https://doi.org/10.1093/heapol/czu066

Ahmed S (2011) Does Economic Geography Matter for Pakistan? A Spatial Exploratory Analysis of Income and Education Inequalities. Pakistan Develop Rev 50(4), 929–952. Retrieved May 20, 2020, from http://www.jstor.org/stable/23617745

Amoo TB, Ajayi OS (2019) Maternal mortality and factors affecting it, among pregnant women in Abeokuta South, Nigeria. Clin J Obstetr Gynecol 2(2):071–078. https://doi.org/10.29328/journal.cjog.1001025

Anselin L, Sridharan S, Gholston S (2007) Using Exploratory spatial data analysis to leverage social indicator databases: the discovery of interesting patterns. Soc Indic Res 82(2):287–309. https://doi.org/10.1007/s11205-006-9034-x

Azuh D, Azuh A, Iweala E, Adeloye D, Akanbi M, Mordi R (2017) Factors influencing maternal mortality among rural communities in southwestern Nigeria. Int J Women's Health 9:179–188. https://doi.org/10.2147/ijwh.s120184

Battagram District Profile (Rep.). (2007). Earthquake Reconstruction & Rehabilitation Authority Government of Pakistan. Retrieved March 15, 2020, from http://web.ndma.gov.pk/publications/District%20Profile%20Battagram.pdf

Bernis LD, Sherratt DR, Abouzahr C, Lerberghe WV (2003) Skilled attendants for pregnancy, childbirth and postnatal care. Br Med Bull 67(1):39–57. https://doi.org/10.1093/bmb/ldg017

Bhutta ZA, Hafeez A (2015) What can Pakistan do to address maternal and child health over the next decade? Health Res Policy Syst. https://doi.org/10.1186/s12961-015-0036-5

Bhutta ZA, Reddy KS (2012) Achieving equity in global health. JAMA. https://doi.org/10.1001/jama.2012.4659

Blumenthal P, Voedisch A, Gemzell-Danielsson K (2010) Strategies to prevent unintended pregnancy: Increasing use of long-acting reversible contraception. Hum Reprod Update 17(1):121–137. https://doi.org/10.1093/humupd/dmq026

Callen M, Gulzar S, Hasanain A, Khan AR, Khan Y, Mehmood MZ (2013) Improving public health delivery in Punjab, Pakistan: issues and opportunities. Lahore J Econ 18:249–269. https://doi.org/10.35536/lje.2013.v18.isp.a11

Delivering hope and saving lives – investing in midwifery (rep.). (2012). UNFPA. Retrieved June 10, 2010, from https://www.unfpa.org/sites/default/files/resource-pdf/EN-SRH%20fact%20sheet-Midwifery.pdf.

The Humanitarian Data Exchange. Retrieved May 06, 2020, from https://data.humdata.org/

Fatmi Z, Avan BI (2002) Demographic, socio-economic and environmental determinants of utilisation of antenatal care in a rural setting of Sindh, Pakistan. J Pak Med Assoc 52(4):138–142

Jin C, Cheng J, Lu Y, Huang Z, Cao F (2015) Spatial inequity in access to healthcare facilities at a county level in a developing country: A case study of Deqing County, Zhejiang, China. Int J Equity Health. https://doi.org/10.1186/s12939-015-0195-6

Khowaja AR, Mitton C, Qureshi R, Bryan S, Magee LA, von Dadelszen P, Bhutta ZA (2018) A comparison of maternal and newborn health services costs in Sindh Pakistan. PLoS ONE 13(12):e0208299. https://doi.org/10.1371/journal.pone.0208299

Koblinsky MA, Mosley WH (2000) The consequences of maternal morbidity and maternal mortality (Rep.) (966739957 751168714 Reed HE, (ed.)). Committee on Population, National Research Council, Washington. https://www.ncbi.nlm.nih.gov/books/NBK225434/pdf/Bookshelf_NBK225434.pdf

Koblinsky M, Matthews Z, Hussein J, Mavalankar D, Mridha MK, Anwar I, Lerberghe WV (2006) Going to scale with professional skilled care. The Lancet 368(9544):1377–1386. https://doi.org/10.1016/s0140-6736(06)69382-3

Kuhnt J, Vollmer S (2017) Antenatal care services and its implications for vital and health outcomes of children: Evidence from 193 surveys in 69 low-income and middle-income countries. BMJ Open. https://doi.org/10.1136/bmjopen-2017-017122

Ljungblad LW, Sandvik SO, Lyberg A (2019) The impact of skilled birth attendants trained on newborn resuscitation in Tanzania: A literature review. Int J Africa Nurs Sci 11:100168. https://doi.org/10.1016/j.ijans.2019.100168

Mahmud G, Zaman F, Jafarey S, Khan RL, Sohail R, Fatima S (2011) Achieving millennium development goals 4 and 5 in Pakistan. BJOG 118(Supp. 2):69–77

Mandokhail R (2020) Zhob healthcare. DAWN. Retrieved April 20, 2020, from https://www.dawn.com/news/1539688/zhob-healthcare

Mohanty B, Bhanumurthy NR (2018) Regional growth policy experience in India: The spatial dimension. Asia-Pacific J Regional Sci 2(2):479–505. https://doi.org/10.1007/s41685-018-0075-3

Mumtaz Z, Salway S, Shanner L, Zaman S, Laing L (2012) Addressing disparities in maternal health care in Pakistan: Gender, class and exclusion. BMC Pregnancy Childbirth. https://doi.org/10.1186/1471-2393-12-80

Pakistan Demographic and Health Survey (2012–13) (Rep.). (2013). Islamabad: National Institute of Population Studies Islamabad, Pakistan

Nisar N, Abbasi RM, Chana SR, Rizwan N, Badar R (2017) Maternal mortality in pakistan: is there any metamorphosis towards betterment? J Ayub Med Col Abbottabad: JAMC 29(1):118–122

Nuamah GB, Agyei-Baffour P, Mensah KA, Boateng D, Quansah DY, Dobin D, Addai-Donkor K (2019) Access and utilization of maternal healthcare in a rural district in the forest belt of Ghana. BMC Pregnancy Childbirth. https://doi.org/10.1186/s12884-018-2159-5

Onarheim K, Iversen J, Bloom D (2016) Economic benefits of investing in women's health: a systematic review. Retrieved from https://journals.plos.org/plosone/article?id=10.1371%2Fjournal.pone.0150120

Pakistan Balochistan Economic Report From Periphery to Core (Vol. 1, Rep. No. 40345-PK). (2008). The World Bank

Panda BK, Kumar G, Awasthi A (2020) District level inequality in reproductive, maternal, neonatal and child health coverage in India. BMC Public Health. https://doi.org/10.1186/s12889-020-8151-9

Pandit RD (1992) Role of antenatal care in reducing maternal mortality. Asia Oceania J Obstet Gynaecol 18(1):1–6. https://doi.org/10.1111/j.1447-0756.1992.tb00291.x

Pervin J, Moran A, Rahman M, Razzaque A, Sibley L, Streatfield PK, Rahman A (2012) Association of antenatal care with facility delivery and perinatal survival – a population-based study in Bangladesh. BMC Pregnancy Childbirth. https://doi.org/10.1186/1471-2393-12-111

Prata N, Passano P, Rowen T, Bell S, Walsh J, Potts M (2011) Where There Are (Few) Skilled Birth Attendants. J Health Popul Nutr. https://doi.org/10.3329/jhpn.v29i2.7812

Rahman MA, Rahman MA, Rawal LB, Paudel M, Howlader MH, Khan B, Siddiquee T, Rahman A, Sarkar A, Rahman MS, Botlero R, Islam Sheikh Mohammad S (2021) Factors influencing place of delivery: Evidence from three south-Asian countries. PLOS ONE 16(4):e0250012. https://doi.org/10.1371/journal.pone.0250012

Rajanpur lacks health facilities. (2003) DAWN. Retrieved April 10, 2020, from https://www.dawn.com/news/134900.

Reducing maternal mortality: a challenge for the 21st century (Rep.). (2000) World health organization regional office for Africa. Retrieved August 10, 2020, from https://apps.who.int/iris/bitstream/handle/10665/95460/AFR_RC50_TD_1E.pdf?sequence=1&isAllowed=y.

Reducing maternal mortality: A challenge for the 21st century technical discussion. (1970) Retrieved October 06, 2020, from https://apps.who.int/iris/handle/10665/95460

Rizvi N, Nishtar S (2008) Pakistan's health policy: Appropriateness and relevance to women's health needs. Health Policy 88(2–3):269–281. https://doi.org/10.1016/j.healthpol.2008.03.011

Sageer R, Kongnyuy E, Adebimpe WO, Omosehin O, Ogunsola EA, Sanni B (2019) Causes and contributory factors of maternal mortality: Evidence from maternal and perinatal death surveillance and response in Ogun state, Southwest Nigeria. BMC Pregn Childbirth. https://doi.org/10.1186/s12884-019-2202-1

Santos-Marquez F, Mendez C (2020) Regional convergence, spatial scale, and spatial dependence: Evidence from homicides and personal injuries in Colombia 2010–2018. Reg Sci Policy Practice Published. https://doi.org/10.1111/rsp3.12356

Siddiqi S, Haq I, Ghaffar A, Akhtar T, Mahaini R (2004) Pakistan's maternal and child health policy: analysis, lessons and the way forward. Health Policy 69(1):117–130. https://doi.org/10.1016/j.healthpol.2003.12.007

Tatipatta CH, Widyaningsih Y, Nurrohmah S (2018) The factors affecting maternal mortality in java: spatial modeling application on demographic data. J Phys: Conf Ser 1108:012020. https://doi.org/10.1088/1742-6596/1108/1/012020

The Millennium Development Goals Report (Rep.). (2015) UNICEF. Retrieved June 15, 2020, fromhttps://www.un.org/millenniumgoals/2015_MDG_Report/pdf/MDG%202015%20rev%20(July%201).pdf

WHO (2017) Country cooperation Strategy for Pakistan 2011–2017. http://www.emro.who.int/images/stories/pakistan/documents/CCS_Pakistan_-_15_Feb_2012.pdf

WHO, Maternal mortality. (2019). Retrieved July 06, 2020, from https://www.who.int/news-room/fact-sheets/detail/maternal-mortality

World Bank Database (2019) Lifetime risk of maternal death- Pakistan, Bangladesh, Nepal, Sri Lanka, India. Retrieved July 06, 2020,from https://data.worldbank.org/indicator/SH.MMR.RISK?locations=PK-IN
Acknowledgements
The author would like to thank Professor Carlos Mendez, for his tremendous support motivation and immense knowledge. Moreover, I express my gratitude to the two anonymous referees and the members of Quarcs-lab for their valuable comments and suggestions during the writing phase of this article. Finally, I would like to acknowledge my family, for their priceless support.
Funding
The author has received no funding or grant to conduct this research.
Ethics declarations
Competing interests
The author declares no competing interests.
Additional information
Publisher's Note
Springer Nature remains neutral with regard to jurisdictional claims in published maps and institutional affiliations.
Appendix
Appendix
About this article
Cite this article
Sarwar, A. Mapping out regional disparities of reproductive health care services (RHCS) across Pakistan: an exploratory spatial approach. Asia-Pac J Reg Sci 5, 825–849 (2021). https://doi.org/10.1007/s41685-021-00207-6
Received:

Accepted:

Published:

Issue Date:
Keywords
Maternal mortality

Reproductive healthcare services

Provincial spatial inequality

Spatial analysis