Abstract
The assessment of the suitability of a region for urban development is crucial. It is necessary to make appropriate decisions for urban and regional development by considering essential criteria. Remote sensing and GIS techniques can be used to provide spatial information when assessing the suitability of a region. The aim of this study was to identify a suitable site for urban settlement in Tiruchirappalli. This study incorporates the GIS-based multi-influence factor (MIF) technique to identify land-use suitability for future development in Tiruchirappalli. Open land and agricultural land were the primary land-use classes in the study area. The evaluation process for land suitability analysis was based on 11 criteria including land-use/land-cover (LULC), road and rail network, industrial area, settlement, soil map, slope, population density, surface water bodies, groundwater level, and water quality. The site suitability map for urban settlement was divided into four regions: I—restricted, II—less suitable, III—moderately suitable, and IV—highly suitable. The results indicated that 15.46% of the study area was highly suitable for urban settlement, 41.38% was moderately suitable, 39.33% was less suitable, and 3.82% was restricted for urban settlement. Most of the suitable area was located in the central zone of the city, where the existing urban land was located. Receiver-operating characteristic (ROC) was applied to validate the model, and the area under the curve (AUC) was 0.837, suggesting that the model was efficient. The current study is thus proposed to be an effective tool for sustainable land-use planning and development in Tiruchirappalli.
Access options
Buy single article
Instant access to the full article PDF.
US$ 39.95
Tax calculation will be finalised during checkout.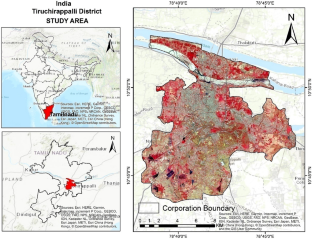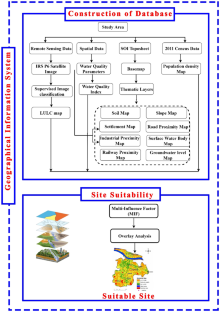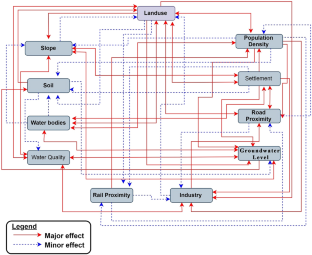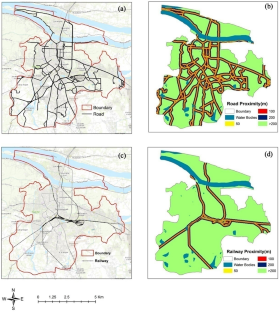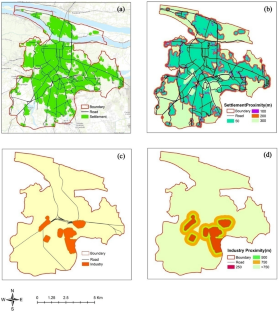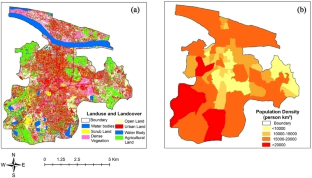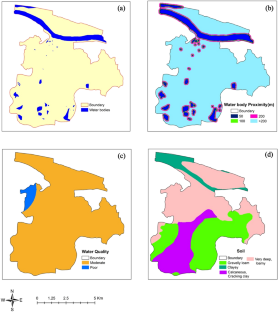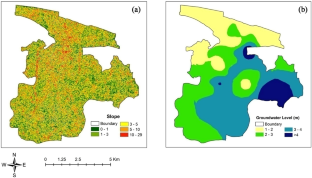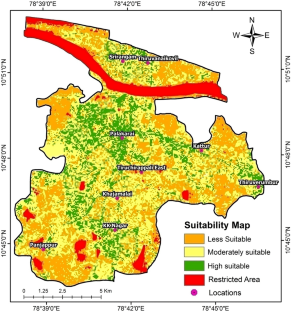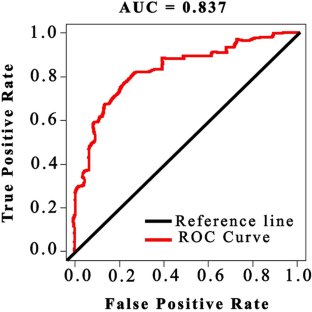 References
Aburas MM, Abdullah SH, Ramli MF, Asha'ari ZH (2017) Land suitability analysis of urban growth in Seremban Malaysia, using GIS based analytical hierarchy process. Procedia Eng 198:1128–1136

Antrop M (2004) Landscape change and the urbanization process in Europe. Landsc Urban Plan 67(1–4):9–26

Arekhi M (2011) Modeling spatial pattern of deforestation using GIS and logistic regression: a case study of northern Ilam forests, Ilam Province. Iran. Afr J Biotechnol 10(72):16236–16249

Arivazhagan S, Kirubakaran M (2016) Detection of urban changes and statistical site suitability analysis in tiruchencode taluk using geoinformatictechniques. Int J Earth Sci Eng 9(4):1465–1473

Arivazhagan S, Karthi A, Kirubakaran M (2018) Change detection analysis and statistical site suitability mapping for edappadi taluk using GIS techniques. Int J Sci Adv Res Technol 4(4):1562–1570

Arkoprovo B, Adarsa J, Animesh M (2013) Application of remote sensing, GIS and MIF technique for elucidation of groundwater potential zones from a part of Orissa coastal tract, Eastern India. Res J Recent Sci 2(11):42–49

BIS (Bureau of Indian Standards) 10500 (2012) Indian Standard Drinking Water Specification

Bhatta B (2010) Analysis of urban growth and sprawl from remote sensing data. Springer Science & Business Media, Berlin

Bowman A, Wilson A (eds) (2011) Settlement, urbanization, and population, vol 2. Oxford University Press on Demand, Oxford

Bunruamkaew K, Murayam Y (2011) Site suitability evaluation for ecotourism using GIS and AHP: a case study of Surat Thani province, Thailand. Procedia Soc Behav Sci 21:269–278

Buruso FH (2018) Habitat suitability analysis for hippopotamus (H. amphibious) using GIS and remote sensing in Lake Tana and its environs Ethiopia. Environ Syst Res 6(1):6

Central Ground Water Board (2006). Ground water year book of national capital of territory, Delhi. Ministry of Water Resources, Government of India, New Delhi. https://doi.org/10.13140/RG.2.2.31963.36645

Chadchan J, Shankar R (2012) An analysis of urban growth trends in the post-economic reforms period in India. Int J Sustain Built Environ 1(1):36–49

Chakma S (2014) Analysis of urban development suitability. Dhaka Megacity. Springer, Dordrecht, pp 147–161

Chinnasamy P, Agoramoorthy G (2015) Groundwater storage and depletion trends in Tamil Nadu State, India. Water Resourc Manag 29(7):2139–2152

Collins MG, Steiner FR, Rushman MJ (2001) Land-use suitability analysis in the United States: historical development and promising technological achievements. Environ Manag 28(5):611–621

Congalton RG (1991) A review of assessing the accuracy of classifications of remotely sensed data. Remote Sens Environ 37(1):35–46

Dai FC, Lee CF, Zhang XH (2001) GIS-based geo-environmental evaluation for urban land-use planning: a case study. Eng Geol 61(4):257–271

Daneshfar M, Zeinivand H (2015) Application of frequency ratio, weights of evidence and multi influencing factors models for groundwater potential mapping using GIS. J Appl Hydrol 2:45–61

Das S (2019) Comparison among influencing factor, frequency ratio, and analytical hierarchy process techniques for groundwater potential zonation in Vaitarna basin, Maharashtra, India. Groundw Sustain Dev 8:617–629

Das S, Gupta A, Ghosh S (2017) Exploring groundwater potential zones using MIF technique in semi-arid region: a case study of Hingoli district Maharashtra. Spat Inform Res. https://doi.org/10.1007/s41324-017-0144-0

Desa U (2018) Revision of world urbanization prospects. UN Department of Economic and Social Affairs, p 16

Diemer J (1998) The compact city a guiding star. Der Stadtetag 1:1–2

Dong J, Zhuang D, Xu X, Ying L (2008) Integrated evaluation of urban development suitability based on remote sensing and GIS techniques–a case study in Jingjinji Area China. Sensors 8(9):5975–5986

Dutta V (2012) Land use dynamics and peri-urban growth characteristics: reflections on master plan and urban suitability from a sprawling north Indian city. Environ Urban Asia 3(2):277–301

Eastman JR, Kyem PA, Toledano J (1993) A procedure for multi-objective decision making in GIS under conditions of conflicting objectives. In: Proceedings of the Fourth European Conference on Geographic Information Systems (Vol. 29).

Fawcett T (2006) An introduction to ROC analysis. Pattern Recogn Lett 27(8):861–874

Fazal S, Amin A (2011) Impact of urban land transformation on water bodies in Srinagar City India. J Environ Prot 2(02):142

Feizizadeh B, Blaschke T (2013) Land suitability analysis for Tabriz County, Iran: a multi-criteria evaluation approach using GIS. J Environ Plan Manag 56(1):1–23

Feng D, Li J, Li X, Zhang Z (2019) The effects of urban sprawl and industrial agglomeration on environmental efficiency: evidence from the Beijing–Tianjin–Hebei Urban Agglomeration. Sustainability 11(11):3042

Gumma MK, Pavelic P (2012) Mapping of groundwater potential zones across Ghana using remote sensing, geographic information systems, and spatial modeling. Environ Monit Assess 185(4):3561–3579

Gupta AD, Onta PR (1997) Sustainable groundwater resources development. Hydrol Sci J 42(4):565–582

Huang H, Li Q, Zhang Y (2019) Urban residential land suitability analysis combining remote sensing and social sensing data: a case study in Beijing China. Sustainability 11(8):2255

Ivanova E, Masarova J (2013) Importance of road infrastructure in the economic development and competitiveness. Econ Manag 18(2):263–274

Jaeger J, Bertiller R, Schwick C, Kienast F (2007) Weiterhinsteigende Zersiedelung der Schweiz: WielasstsicheineTrendwendeerreichen? Geomatik Schweiz 105(3):114

Jain K, Subbaiah YV (2007) Site suitability analysis for urban development using GIS. J Appl Sci 7(18):2576–2583

Javadian M, Shamskooshki H, Momeni M (2011) Application of sustainable urban development in environmental suitability analysis of educational land use by using AHP and GIS in Tehran. Procedia Eng 21:72–80. https://doi.org/10.1016/j.proeng.2011.11.1989

Jayakumar S, Enkhbaatar L, Heo J (2008) Urban sprawl and its impact on the land cover-a geospatial study. J Korean Soc Geospat Inform Syst 16(4):73–78

Jenelius E, Petersen T, Mattsson LG (2006) Importance and exposure in road network vulnerability analysis. Transport Res Part A Pol Pract 40(7):537–560

Jha MK, Shekhar A, Jenifer MA (2020) Assessing groundwater quality for drinking water supply using hybrid fuzzy-GIS-based water quality index. Water Res. https://doi.org/10.1016/j.watres.2020.115867

Jiang D, Yang XH, Wang NB, Liu HH (2002) Study on spatial distribution of population based on remote sensing and GIS. Adv Earth Sci 17(5):734–738

Joerin F, Thériault M, Musy A (2001) Using GIS and outranking multicriteria analysis for land-use suitability assessment. Int J Geograp Inform Sci 15(2):153–174

Jun MJ (2006) The effects of Portland's urban growth boundary on housing prices. J Am Plan Assoc 72(2):239–243

Kourgialas NN, Karatzas GP (2011) Flood management and a GIS modelling method to assess flood-hazard areas—a case study. Hydrol Sci J 56(2):212–225

Kulkarni PM (2014) Demographic Transition in India. In: http://www.censusindia.gov.in/2011census/presentation.demographic-transition-in-india.pdf. Accessed 10 Jun 2016

Kumar S, Kumar R (2014) Site suitability analysis for urban development of a Hill Town using GIS based multicriteria evaluation technique: a case study of Nahan Town, Himachal Pradesh, India. Int J Adv Remote Sens GIS 3(1):516–524

Kumar M, Shaikh VR (2013) Site suitability analysis for urban development using GIS based multicriteria evaluation technique—a case study of mussoorie municipal area, Dehradun District, Uttarakhand India. J Indian Soc Remote Sens pp. 417–424 Land Use Policy, 30 (1), pp. 519–527.

La Rosa D, Geneletti D, Spyra M, Albert C, Fürst C (2018) Sustainable planning for peri-urban landscapes. Ecosystem services from forest landscapes. Springer, Cham, pp 89–126

Liu R, Zhang K, Zhang Z, Borthwick AG (2014) Land-use suitability analysis for urban development in Beijing. J Environ Manag 145:170–179

Liu Y, Luo T, Liu Z, Kong X, Li J, Tan R (2015) A comparative analysis of urban and rural construction land use change and driving forces: Implications for urban–rural coordination development in Wuhan, Central China, vol 47. Habitat International, pp 113–125

Machiwal D, Jha MK, Mal BC (2011) Assessment of groundwater potential in a semi-arid region of India using remote sensing, GIS and MCDM techniques. Water Resour Manag 25(5):1359–1386

Malczewski J (2004) GIS-based land-use suitability analysis: a critical overview Prog. Plan 62(1):3–65

Malmir M, Zarkesh MMK, Monavari SM, Jozi SA, Sharifi E (2016) Analysis of land suitability for urban development in Ahwaz County in southwestern Iran using fuzzy logic and analytic network process (ANP). Environ Monit Assess 188(8):447

Marinoni O (2006) A discussion on the computational limitations of outranking methods for land-use suitability assessment. Int J Geograp Inform Sci 20(1):69–87

Marull J, Pino J, Mallarach JM, Cordobilla MJ (2007) A land suitability index for strategic environmental assessment in metropolitan areas. Landsc Urban Plan 81(3):200–212

McDonald RI (2008) Global urbanization: can ecologists identify a sustainable way forward? Front Ecol Environ 6(2):99–104

McNeil BJ, Hanley JA (1984) Statistical approaches to the analysis of receiver operating characteristic (ROC) curves. Med Decis Making 4(2):137–150

Misra SK, Sharma S (2015) SS site suitability analysis for urban development: a review. Int J Recent Innov Trends Comput Commun 3:3647–3651

Morgan J, Talbot R (2001) Sustainable social housing for no extra cost. Achieving sustainable urban form, 319–328

Mouton AM, Dedecker AP, Lek S, Goethals PL (2010) Selecting variables for habitat suitability of Asellus (Crustacea, Isopoda) by applying input variable contribution methods to artificial neural network models. Environ Model Assess 15(1):65–79. https://doi.org/10.1007/s10666-009-9192-8

Mukherjee P, Chander KS, Saumitra M (2011) Delineation of groundwater potential zones in Arid region of India, a remote sensing and GIS approach. Water Resour Manag 26:2643–2672

Mundia CN, Aniya M (2005) Analysis of land use/cover changes and urban expansion of Nairobi city using remote sensing and GIS. Int J Remote Sens 26(13):2831–2849

Murray AT (2001) Strategic analysis of public transport coverage. Socio Econ Plan Sci 35(3):175–188

Nampak H, Pradhan B, AbdManap M (2014) Application of GIS based data driven evidential belief function model to predict groundwater potential zonation. J Hydrol 513:283–300

Nas B, Berktay A (2010) Groundwater quality mapping in urban groundwater using GIS. Environ Monit Assess 160(1–4):215–227

Nasir MJ, Khan S, Zahid H, Khan A (2018) Delineation of groundwater potential zones using GIS and multi influence factor (MIF) techniques: a study of district Swat, Khyber Pakhtunkhwa Pakistan. Environ Earth Sci 77(10):367

Negnevitsky M (2002) Artificial intelligence: a guide to intelligent systems. Addison Wesley/Pearson Education, King's Lynn, p 415

Nganga BW, Ngetich KO, Adamtey N, Milka K, Ngetich KF (2019) Application of GIS on the identification of suitable areas for water conservation technologies in the Upper Tana Watershed of the Central Highlands of Kenya. Int J Plant Soil Sci 30(1):1–20

Parry JA, Ganaie SA, Bhat MS (2018) GIS based land suitability analysis using AHP model for urban services planning in Srinagar and Jammu urban centers of J&K India. J Urban Manag 7(2):46–56

Pontius RG Jr, Schneider LC (2001) Land-cover change model validation by an ROC method for the Ipswich watershed, Massachusetts, USA. Agr Ecosyst Environ 85(1–3):239–248

Pouyat RV, Pataki DE, Belt KT, Groffman PM, Hom J, Band LE (2007) Effects of urban land-use change on biogeochemical cycles. Terrestrial ecosystems in a changing world. Springer, Berlin, Heidelberg, pp 45–58

Pouyat RV, Yesilonis ID, Szlavecz K, Csuzdi C, Hornung E, Korsós Z, Giorgio V (2008) Response of forest soil properties to urbanization gradients in three metropolitan areas. Lands Ecol 23(10):1187–1203

Prakash S, Mahapatra S (2018) Flood susceptibility pattern mapping along Visakhapatnam coastal zone of India, using multi-influencing-factor (MIF) technique in conjunction with remote sensing data. Int J Adv Innov Res 5(4):21–33

Ramachandraiah C, Prasad S (2004) Impact of urban growth on water bodies: the case of Hyderabad. Centre for Economic and Social Studies, Hyderabad

Reis S (2008) Analyzing land use/land cover changes using remote sensing and GIS in Rize North-East Turkey. Sensors 8(10):6188–6202

Rogan J, Chen D (2004) Remote sensing technology for mapping and monitoring land-cover and land-use change. Progress Plan 61(4):301–325

Rojas C, Pino J, Jaque E (2013) Strategic environmental assessment in Latin America: a methodological proposal for urban planning in the Metropolitan Area of Concepción (Chile). Land Use Policy 30(1):519–527

Rwanga SS, Ndambuki JM (2017) Accuracy assessment of land use/land cover classification using remote sensing and GIS. Int J Geosci 8(04):611

Saaty TL (1980) The analytic hierarchy process (AHP). J Oper Res Soc 41(11):1073–1076

Sadhasivam S, Rahaman A, Bala Sundareshwaran A (2017) Urban change detection and site suitability analysis in thiruverumbur taluk, tiruchirappalli district–a geospatial approach. In: 38th Asian Conference on remote sensing—space applications: touching human lives at New Delhi.

Saeidi S, Mohammadzadeh M, Salmanmahiny A, Mirkarimi SH (2017) Performance evaluation of multiple methods for landscape aesthetic suitability mapping: a comparative study between Multi-Criteria Evaluation, Logistic Regression and Multi-Layer Perceptron neural network. Land Use Policy 67:1–12

Salo A, Keisler J, Morton A (eds) (2011) Portfolio decision analysis: improved methods for resource allocation, vol 162. Springer Science & Business Media, Berlin

Senapati U, Das TK (2020) Assessment of Potential Land Degradation in Akarsa Watershed, West Bengal, Using GIS and Multi-influencing Factor Technique. In: Shit P, Pourghasemi H, Bhunia G (eds) Gully Erosion Studies from India and Surrounding Regions. Advances in Science, Technology & Innovation (IEREK Interdisciplinary Series for Sustainable Development). Springer, Cham. https://doi.org/10.1007/978-3-030-23243-6_11

Shaban A, Khawlie M, Abdallah C (2006) Use of remote sensing and GIS to determine recharge potential zones: the case of Occidental Lebanon. Hydrogeol J 14(4):433–443

Shi X, Fang R, Wu J, Xu H, Sun Y, Yu J (2012) Sustainable development and utilization of groundwater resources considering land subsidence in Suzhou, China. Eng Geol 124:77–89

Siedentop S (2005) "Urban Sprawl–verstehen, messen, steuern–Ansatzpunktefüreinempirisches Mess-und Evaluationskonzept der urbanenSiedlungsentwicklung" in DisPNr. 160.

Singh KN (1978) Urban development in India. Abhinav Publications, Ajmer

Singh L, Katpatal YB (2018) Wetland change analysis and their impact on dense vegetation by spatial approach. J Urban Environ Eng 12(1):70–76

Sisodia PS, Tiwari V, Kumar A (2014) Analysis of supervised maximum likelihood classification for remote sensing image. In: International Conference on Recent Advances and Innovations in Engineering (ICRAIE-2014), pp 1–4), IEEE.

Store R, Kangas J (2001) Integrating spatial multi-criteria evaluation and expert knowledge for GIS-based habitat suitability modelling. Lands Urban Plan 55(2):79–93

Swets JA (1988) Measuring the accuracy of diagnostic systems. Science 240:1285–1293. https://doi.org/10.1126/science.3287615

Taheri K, Missimer TM, Taheri M, Moayedi H, Pour FM (2019) Critical zone assessments of an alluvial aquifer system using the multi-influencing factor (MIF) and analytical hierarchy process (AHP) models in Western Iran. Nat Resour Res 1–29

Tanguay GA, Rajaonson J, Lefebvre JF, Lanoie P (2010) Measuring the sustainability of cities: an analysis of the use of local indicators. Ecol Ind 10(2):407–418

Tao W (2013) Interdisciplinary urban GIS for smart cities: advancements and opportunities. Geo-spat Inform Sci 16(1):25–34

Thapa RB, Murayama Y (2010) Drivers of urban growth in the Kathmandu valley, Nepal: examining the efficacy of the analytic hierarchy process. Appl Geogr 30(1):70–83

Thapa R, Gupta S, Guin S, Kaur H (2017) Assessment of groundwater potential zones using multi-influencing factor (MIF) and GIS: a case study from Birbhum district West Bengal. Appl Water Sci 7(7):4117–4131

Thinh NX, Arlt G, Heber B, Hennersdorf J, Lehmann I (2002) Evaluation of urban land-use structures with a view to sustainable development. Environ Impact Assess Rev 22(5):475–492

Tiwari TN, Mishra MA (1985) A preliminary assignment of water quality index of major Indian rivers. Indian J Environ Prot 5(4):276–279

United Nations (2004) Integration of GPS, digital imagery and GIS with census mapping. United Nations Statistics Division, New York

Yang J, Liu Y, Wang S (2007) An overview of the methods of GIS-based land-use suitability analysis. In: Geoinformatics 2007: Geospatial information technology and applications, vol 6754. International Society for Optics and Photonics, p 675438

Youssef AM, Pradhan B, Tarabees E (2011) Integrated evaluation of urban development suitability based on remote sensing and GIS techniques: contribution from the analytic hierarchy process. Arab J Geosci 4(3–4):463–473

Zabihi H, Ahmad A, Vogeler I, Said MN, Golmohammadi M, Golein B, Nilashi M (2015) Land suitability procedure for sustainable citrus planning using the application of the analytical network process approach and GIS. Comput Electron Agric 117:114–126
Additional information
Publisher's Note
Springer Nature remains neutral with regard to jurisdictional claims in published maps and institutional affiliations.
About this article
Cite this article
Singh, L., Saravanan, S., Jennifer, J.J. et al. Application of multi-influence factor (MIF) technique for the identification of suitable sites for urban settlement in Tiruchirappalli City, Tamil Nadu, India. Asia-Pac J Reg Sci 5, 797–823 (2021). https://doi.org/10.1007/s41685-021-00194-8
Received:

Accepted:

Published:

Issue Date:
Keywords
Urban site suitability

Multi-influence factor

GIS

Tiruchirappalli