Abstract
The proportion of New Zealand households living in owner-occupied dwellings has declined steadily since the early 1990s. The unemployment rate declined steadily as well, except for upward shifts due to the late 1990s Asian Financial Crisis and the Global Financial Crisis a decade later. Research initiated by Andrew Oswald in the 1990s posits that declining homeownership and declining unemployment are linked and that the causality runs from high homeownership leading to high unemployment. The international empirical evidence for this hypothesis is rather mixed. In this paper, we revisit the issue with New Zealand census data for commuting-defined labour market areas from 1986 until 2013. Allowing for spatial spillovers in our data, we apply a general nesting spatial-econometric model. We also consider the potentially different impacts of freehold and mortgaged homeownership. Generally, the evidence that a declining homeownership rate contributes to a lower unemployment rate is statistically fragile. When statistically significant, an increase of 1% in freehold ownership appears to increase a labour market area's unemployment rate by between 0.07 and 0.2% points. The effect is relatively stronger in those labour market areas where freehold ownership is still relatively low.
Access options
Buy single article
Instant access to the full article PDF.
USD 39.95
Price includes VAT (USA)
Tax calculation will be finalised during checkout.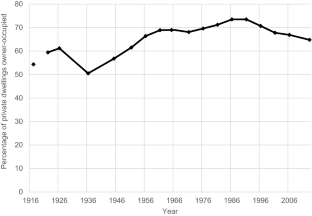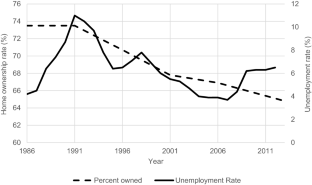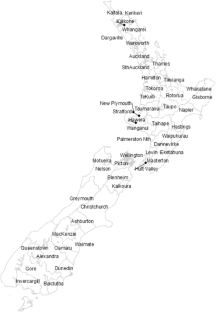 Notes
1.

Homeownership rates are only observed in the NZ Census of Population and Dwellings. The rates have been linearly interpolated for the intercensal periods. It should also be noted that there have been changes in the census questions on homeownership that may affect the intercensal comparison.

2.

A left-of-centre coalition government elected in October 2017 has implemented a range of policies to improve the supply, quality and affordability of housing.

3.

4.

Prior to the restructuring period many manufacturing products received effective rates of protection in excess of 100%. In addition, subsidization of manufacturing exports was also common. Following 1984, tariffs were removed so that the effective assistance rate for manufacturing fell from 30 to around 7% in 1996. Contemporaneously with the substantive removal of tariff protection, import licensing was removed from all but a few products (Chatterjee 1996, p 29).

5.

It should be noted than even the 2–3% unemployment prevailing at the start of the 1980s was a marked departure from the unemployment rates that had been experienced in the period of the so-called long boom (Marglin and Schor 1990) during which New Zealand's unemployment rate is estimated to have remained below 1 percent until the final quarter of 1967 (Chappell 1994).

6.

A panel model with regional and time fixed effects was used for the "State-level US Unemployment Regressions with Housing Owner-Occupation as an Independent Variable, 1986–1995" and the "Region-level UK Unemployment Regressions with Proportion of Housing Privately Rented as an Independent Variable, 1973–1994", Tables 4 and 5 respectively in Oswald (1996, pp 27–28).

7.

New Zealand is divided into 2020 area units. In urban areas these generally coincide with suburbs that contain a population of 3000–5000. In rural areas, area units cover larger areas but have much smaller populations.

8.

Some housing stock may be vacant. However, housing tenure (ownership or renting) is in our data only defined for all private dwellings that were occupied on census night. Hence the vacancy rate is by definition zero. It is in theory possible for renters to own a home that they did not occupy on census night (e.g. because it is an unoccupied vacation home or a home rented out to someone else) but the ownership rate in this paper is based on the tenure of the dwelling the person lives in during the night of the census. This is arguably the best measure of housing tenure in terms of a potential relationship with labour mobility.

9.

The range of variables that can be considered for our modelling is limited by the information included in the census and the extent to which this information is collected consistently across censuses. Except for the ownership variables, other variables included in this paper have been selected based on their robustness in our previous work (Cochrane and Poot 2007). Additionally we also considered household type (% single person households); ethnicity and the net migration rate. The latter variable is problematic due to its endogeneity and the use of the others did not improve the fit. These alternative results are available upon request from the authors. See also Cochrane and Poot (2007) for including these variables in non-spatial estimation. By adopting panel estimation with fixed area and period effect, we reduce the potential impact of omitted variable bias.

10.

The New Zealand Census is normally held every five years. However, a devastating earthquake in 2011 in the city of Christchurch, from where the census is administered, led to this census being delayed until 2013.

11.

The classic illustration of a local spatial spillover is the case of an increase in the sales tax on cigarettes in one state causing sales of cigarettes in neighbouring states with lower taxes to increase, as smokers cross state borders in search of cheaper cigarettes. However, if there is a nationwide commercial smuggling network, cigarettes are bought in states where prices are relatively low and sold in states where they are high-leading to global spillovers in which sales of cigarettes in any state are related to sales in all other states. See, e.g., LeSage (2014).

12.

13.

We thank an anonymous reviewer for suggesting to check for interaction effects and nonlinearity effects.
References
Arbia G, Fingleton B (2008) New spatial econometric techniques and applications in regional science. Papers Reg Sci 87(3):311–317

Atterhög M, Song H-S (2009) A survey of policies that may increase access to home ownership for low-income households. Hous Theory Soc 26(4):248–270

Baert S, Heylen F, Isebaert D (2014) Does homeownership lead to longer unemployment spells? The role of mortgage payments. De Econ 162(3):263–286

Baltagi BH, Hani B (2005) Econometric analysis of panel data, 3rd edn. Wiley, New York

Bartik TJ (1991) Who benefits from state and local economic development policies?. W.E. Upjohn Institute for Employment Research, Kalamazoo

Beenstock M, Felsenstein D (2007) Spatial vector autoregressions. Spat Econ Anal 2(2):167–196

Bellamare MF, Masaki T, Pepinsky T (2017) Lagged explanatory variables and the estimation of causal effects. J Polit 79(3):949–963

Blanchflower DG, Oswald AJ (2013) Does high home-ownership impair the labor market? Working Paper No. 19079. National Bureau of Economic Research, Cambridge MA

Borg I, Brandén M (2018) Do high levels of home-ownership create unemployment? Introducing the missing link between housing tenure and unemployment. Hous Stud 33(4):501–524

Bouyon S (2015) Home ownership, labour markets and the economic crisis. ECRI Commentaries No. 14. European Credit Research Institute, Brussels

Brunet C, Havet N (2009) Propriété immobilière et déqualification dans l'emploi. Revue Française d'Economie 24:121–155

Chatterjee S (1996) Ten years on: an appraisal of New Zealand's economic restructuring 1984–1994. Int J Soc Econ 23(10/11):23–45

Cochrane W, Poot J (2007) Homeownership and the New Zealand labour market. In: Morrison PS (ed) Labour, Employment and work in New Zealand 2006 Proceedings of the Twelfth Conference. Victoria University of Wellington, pp 416–426

Demyanyk Y, Hryshko D, Luengo-Prado MJ, Sorensen BE (2017) Moving to a job: the role of home equity, debt, and access to credit. Am Econ J Macroecon 9(2):149–181

Eaqub S, Eaqub S (2015) Generation rent: rethinking New Zealand's priorities. Bridget Williams Books, Wellington

Elhorst JP (2014) Spatial econometrics: from cross-sectional data to spatial panels. Springer, Heidelberg

Evans L, Grimes A, Wilkinson B, Teece D (1996) Economic reform in New Zealand 1984–95: the pursuit of efficiency. J Econ Lit 34:1856–1902

Flatau P, Forbes M, Hendershott P, O'Dwyer L, Wood G (2002) Homeownership and unemployment: does the Oswald thesis hold for Australian regions? In: Paper presented at the 4th Path to Full Employment Conference Newcastle NSW

Florax RJ, Folmer H, Rey SJ (2003) Specification searches in spatial econometrics: the relevance of Hendry's methodology. Reg Sci Urban Econ 33(5):557–579

Getis A, Aldstadt J (2004) Constructing the spatial weights matrix using a local statistic. Geogr Anal 36(2):90–104

Glaeser E, Shapiro J (2002) The benefits of the home mortgage interest deduction. NBER Working Paper. National Bureau of Economic Research, Cambridge MA

Global Property Guide (2009) Roundtrip transaction costs. April 28, 2009. Retrieved 10 December 2010, from https://www.globalpropertyguide.com/faq/guide-transaction-costs. Accessed 1 Apr 2014

Goodman LS, Mayer C (2018) Homeownership and the American Dream. J Econ Perspect 32(1):31–58

Gorter C, Poot J (1999) Measuring the impact of labour market deregulation. Res Labour Econ Adv Eur Res Reg Sci 9:63–90

Green R, Hendershott P (2001) Home-ownership and unemployment in the US. Urban Stud 38(9):1509–1520

Griffith DA (1996) Some guidelines for specifying the geographic weights matrix contained in spatial statistical models. In: Griffith DA, Arlinghaus SL (eds) Practical handbook of spatial statistics. CRC Press, Boca Raton, pp 65–82

Hall VB, McDermott CJ (2007) Regional business cycles in New Zealand: do they exit? What might drive them? Papers Reg Sci 86(2):167–191

Hyslop D, Maré D (2009) Skill upgrading in New Zealand, 1986–2001. Austral Econ Rev 42(4):422–434

Isebaert D, Heylen F, Smolders C (2015) Houses and/or jobs: ownership and the labour market in Belgian districts. Reg Stud 49(8):1387–1406

Kantor Y, Möhlman J, Nijkamp P, Rouwendal J (2015) Homeownership, mortgages, and unemployment. Lett Spat Resour Sci 8(3):253–265

Knoll K, Schularick M, Steger T (2017) No price like home: global house prices, 1870–2012. Am Econ Rev 107(2):331–353

Kuhn M, Ochsen C (2009) Labour markets and demographic change. VS Verlag, Wiesbaden

Laamanen J (2017) Home-ownership and the labour market: evidence from rental housing market deregulation. Labour Econ 48:157–167

Nickell S, Layard R (1999) Labor market institutions and economic performance. In: Ashenfelter OC, Card D (eds) Handbook of labor economics, vol 3. Elsevier, Amsterdam, pp 3029–3086

LeSage JP (2014) What regional scientists need to know about spatial econometrics. Review of Regional Studies 44(1):13–32

LeSage JP, Pace RK (2009) Introduction to spatial econometrics. Chapman & Hall/CRC, Boca Raton

LeSage J, Pace R (2014) The biggest myth in spatial econometrics. Econometrics 2(4):217–249

Maré D, Timmins J (2004) Internal migration and regional labour markets in New Zealand. Motu Economic and Public Policy Research, Wellington

Marglin SA, Schor JB (1990) The golden age of capitalism: reinterpreting the postwar experience. Oxford University Press, New York

Morrison P (2008) On the falling rate of home ownership in New Zealand. Centre for Housing Research, Aotearoa New Zealand, Wellington

Morton SMB, Atatoa Carr PE, Berry SD, Grant CC, Bandara DK, Mohal J, Tricker PJ (2014) Growing up in New Zealand: a longitudinal study of New Zealand children and their families. Residential Mobility Report 1: moving house in the first 1000 days. Growing Up in New Zealand, Auckland

Munch J, Rosholm M, Svarer M (2006) Are homeowners really more unemployed? Econ J 116(514):991–1013

Munch JR, Rosholm M, Svarer M (2008) Home ownership, job duration, and wages. J Urban Econ 63(1):130–145

Newell JO, Papps KL (2001) Identifying functional labour market areas in New Zealand: A reconnaissance study using travel-to-work data. Occasional Paper Series No. 2001/6. Department of Labour, Wellington

ONS, Coombes MG (1998) Travel to work areas. Office for National Statistics, London

Oswald A (1996) A conjecture on the explanation for high unemployment in the industrialized nations: part I. Warwick Economics Research Paper 475. University of Warwick

Oswald A (1997) Theory of homes and jobs. University of Warwick, Coventry

Oswald A (1999) The housing market and Europe's unemployment: a non-technical paper. University of Warwick, Coventry

Partridge M, Rickman D (1997) The dispersion of US state unemployment rates: The role of market and non-market equilibrium factors. Reg Stud 31(6):593–606

Pehkonen J (1999) Unemployment and home-ownership. Appl Econ Lett 6(5):263–265

Poot J (1984) Models of New Zealand internal migration and residential mobility. Victoria University of Wellington, Wellington

Ren H, Folmer H, Van der Vlist AJ (2018) The impact of home ownership on life satisfaction in urban China: a propensity score matching analysis. J Happiness Stud 19:397–422

Rouwendal J, Nijkamp P (2010) Homeownership and labour market behaviour: interpreting the evidence. Environ Plann A 42(2):419–433

Sari F (2015) Home-ownership and unemployment: a French test of the Oswald hypothesis. Revue d'Économie Régionale & Urbaine 2015(1/2):211–249

Skilling D (2004) It's not just about the money: The benefits of asset ownership. Discussion Paper 2004/2. The New Zealand Institute, Auckland

Stanley TD, Doucouliagos H, Giles M, Heckemeyer JH, Johnston RJ, Loroche P, Nelson JP, Paldam M, Poot J, Pugh G, Rosenberger RS, Rost K (2013) Meta-analysis of economics research reporting guidelines. J Econ Surv 27(2):390–394

Statistics New Zealand (2007) Housing indicators. Statistics New Zealand, Wellington

Statistics New Zealand (2015) A century of censuses: long-term trends from the census of population and dwellings to 2013. Retrieved July 20, 2015 from http://archive.stats.govt.nz/Census/2013-census/profile-and-summary-reports/century-censuses.aspx

Stillman S, Maré DC (2008) Housing markets and migration: Evidence from New Zealand. Working paper No. 08–06. Motu Economic and Public Policy Research, Wellington

Stock J, Watson M (2003) Introduction to econometrics. Addison Wesley, Boston

Vega HS, Elhorst JP (2015) The SLX model. J Reg Sci 55(3):339–363

Verbeek M (2004) A guide to modern econometrics. Wiley, New York

Yang X (2019) The effects of home ownership on post-unemployment wages. Reg Sci Urban Econ 74:1–17
Additional information
Publisher's Note
Springer Nature remains neutral with regard to jurisdictional claims in published maps and institutional affiliations.
About this article
Cite this article
Cochrane, W., Poot, J. Did the post-1986 decline in the homeownership rate benefit the New Zealand labour market? A spatial-econometric exploration. Asia-Pac J Reg Sci 4, 261–284 (2020). https://doi.org/10.1007/s41685-020-00148-6
Received:

Accepted:

Published:

Issue Date:
Keywords
Oswald hypothesis

Unemployment

Homeownership

Labour market flexibility

Spatial econometrics
JEL Classification