Abstract
The theory of the yardstick competition argues that the voters may compare their administration performance with their jurisdiction neighbors. This paper analyzes the presence of yardstick competition shapes in municipal finances. The competition mechanism prevails the effects of the neighbor's tax setting, allocation preference, public service provision, and awarded competitive grants to a local government decision. I show these effects by examining the Indonesian municipality's data from 2000 to 2014 by a spatial economics approach. Later, I test the consistency of the effects of the yardstick competition to the voting results. However, it appears that the neighborhood performance does not have significant impact to the voter gauge.
Access options
Buy single article
Instant access to the full article PDF.
USD 39.95
Price includes VAT (USA)
Tax calculation will be finalised during checkout.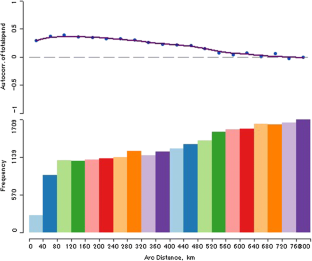 Notes
1.

2.

I follow Allers' (2012) framework on defining welfare. The voters only have information on received services and paid taxes, and information about these variables in neighbors also accessible. Alternatively, welfare also can define as contribution to citizen income, for instance, pension benefit, tax compensation, and employment benefit (Fiva and Rattsø 2006).

3.

The data from Indonesia Dataset for Policy and Economic Research (INDO-DAPOER), The World Bank, also included in the data set.

4.

The analysis covers all sub-provincial governments in Indonesia, which include municipals (Kabupaten) and cities (Kota). City of Jakarta not included, since the inclusion creates a strong outlier effect.

5.

PAD is an abbreviation of Pendapatan Asli Daerah.

6.

Definition of capital and routine spending are from Republic of Indonesia Government Regulation No 21 Year 2004.

7.

The paper follows Martinez-Vazquez et al. (2008) who employ a dummy variable for regional clusters where are categorized into Sumatra, Jawa, Kalimantan, Sulawesi, Bali and Nusa Tenggara, Maluku, and Papua group.

8.

9.

They are two kinds of weighting matrices using sharing border concept; rook contiguity matrix and queen contiguity matrix. Both produce similar weighting matrix if the shape of observation is irregular (Anselin et al. 2006).

10.

DAU is an abbreviation Dana Alokasi Umum and DAK is an abbreviation of Dana Alokasi Khusus.

11.

Before the stipulation of Law No. 32 year 2004 on Local Government, the appointment of local government leader is carried out by indirect election. Erb and Sulistiyanto (2009) noted that until 2008, only 440 municipals/cities have conducted direct election.
References
Akai N, Suhara M (2013) Strategic interaction among local governments in Japan: an application to cultural expenditure. Jpn Econ Rev 64(2):232–247. https://doi.org/10.1111/j.1468-5876.2012.00581.x

Allers MA (2012) Yardstick competition, fiscal disparities, and equalization. Econ Lett. https://doi.org/10.1016/j.econlet.2012.04.076

Allers MA, Elhorst JP (2005) Tax mimicking and yardstick competition among local governments in the Netherlands. Int Tax Public Financ. https://doi.org/10.1007/s10797-005-1500-x

Anselin L, Bera AK (1998) Spatial dependence in linear regression models with an introduction to spatial econometrics. Handb Appl Econ Stat. https://doi.org/10.2307/1271490

Anselin L, Syabri I, Kho Y (2006) GeoDa: an introduction to spatial data analysis. Geogr Anal. https://doi.org/10.1111/j.0016-7363.2005.00671.x

Baicker K (2005) The spillover effects of state spending. J Public Econ 89(2–3):529–544. https://doi.org/10.1016/j.jpubeco.2003.11.003

Besley T, Case A (1992) Incumbent behavior: vote seeking, tax setting and yardstick competition (No. w4041). National Bureau of Economic Research. https://www.nber.org/papers/w4041. Accessed 8 Aug 2018

Boarnet MG, Glazer A (2002) Federal grants and yardstick competition. J Urban Econ. https://doi.org/10.1016/S0094-1190(02)00001-3

Bordignon M, Cerniglia F, Revelli F (2003) In search of yardstick competition: a spatial analysis of Italian municipality property tax setting. J Urban Econ 54(2):199–217. https://doi.org/10.1016/S0094-1190(03)00062-7

Bosch N, Solé-Ollé A (2007) Yardstick competition and the political costs of raising taxes: an empirical analysis of Spanish municipalities. Int Tax Public Financ 14(1):71–92. https://doi.org/10.1007/s10797-006-6348-1

Brueckner JK (1998) Testing for strategic interaction among local governments: the case of growth controls. J Urban Econ 44(3):438–467. https://doi.org/10.1006/juec.1997.2078

Brueckner JK (2003) Strategic interaction among governments: an overview of empirical studies. Int Reg Sci Rev 26(2):175–188. https://doi.org/10.1177/0160017602250974

Brueckner JK, Saavedra LA (2001) Do local governments engage in strategic property—tax competition? Natl Tax J 203–229. https://www.jstor.org/stable/41789546

Carruthers JI, Ulfarsson GF (2003) Urban sprawl and the cost of public services. Environ Plan B Plann Des 30(4):503–522. https://doi.org/10.1068/b12847

Case AC, Rosen HS, Hines JR Jr (1993) Budget spillovers and fiscal policy interdependence: evidence from the states. J Public Econ 52(3):285–307. https://doi.org/10.1016/0047-2727(93)90036-S

Chalil TM (2018) The size of flypaper effect in decentralizing Indonesia. Indones J Dev Plan 2(2):101–119. https://journal.bappenas.go.id/index.php/jurnal/article/view/58

Dowding K, John P, Biggs S (1994) Tiebout: a survey of the empirical literature. Urban Stud 31(4–5):767–797. https://doi.org/10.1080/00420989420080671

Drazen A, Eslava M (2010) Electoral manipulation via voter-friendly spending: theory and evidence. J Dev Econ 92(1):39–52. https://doi.org/10.1016/j.jdeveco.2009.01.001

Erb M, Sulistiyanto P (eds) (2009) Deepening democracy in Indonesia?: direct elections for local leaders (Pilkada). Institute of Southeast Asian Studies, Singapore

Fiva JH, Rattsø J (2006) Welfare competition in Norway: norms and expenditures. Eur J Polit Econ 22(1):202–222. https://doi.org/10.1016/j.ejpoleco.2005.04.007

Heyndels B, Vuchelen J (1998) Tax mimicking among Belgian municipalities. Natl Tax J 89–101. https://www.jstor.org/stable/41789314

Hortas-Rico M (2014) Urban sprawl and municipal budgets in Spain: a dynamic panel data analysis. Pap Reg Sci 93(4):843–864. https://doi.org/10.1111/pirs.12022

LeSage JP, Dominguez M (2012) The importance of modeling spatial spillovers in public choice analysis. Public Choice. https://doi.org/10.1007/s11127-010-9714-6

Lewis BD, Smoke P (2017) Intergovernmental fiscal transfers and local incentives and responses: the case of Indonesia. Fisc Stud 38(1):111–139. https://doi.org/10.1111/1475-5890.12080

Martinez-Vazquez J, Arze del Granado FJ, Simatupang RR (2008) Local government fiscal competition in developing countries: the case of Indonesia. Urban Public Econ Rev (8):13–45. https://scholarworks.gsu.edu/econ_facpub/39/

Pierskalla JH, Sacks A (2018) Unpaved road ahead: the consequences of election cycles for capital expenditures. J Polit 80(2):510–524. https://doi.org/10.1086/694547

Revelli F (2002) Testing the tax mimicking versus expenditure spill-over hypotheses using English data. Appl Econ 34(14):1723–1731. https://doi.org/10.1080/00036840210122353

Revelli F (2005) On spatial public finance empirics. Int Tax Public Financ 12(4):475–492. https://doi.org/10.1007/s10797-005-4199-9

Roudo M, Chalil TM (2016) Depolarization in delivering public services? Impacts of minimum service standards (MSS) on the quality of health services in Indonesia. J Reg City Plan. https://doi.org/10.5614/jrcp.2016.27.1.1

Sjahrir BS, Kis-Katos K, Schulze GG (2013) Political budget cycles in Indonesia at the district level. Econ Lett 120(2):342–345. https://doi.org/10.1016/j.econlet.2013.05.007

Sofi AA, Sasidharan S (2018) Do Indian states mimic, compete or interact in local public spending? A spatial econometric analysis. Asian Econ J 32(2):187–213. https://doi.org/10.1111/asej.12148

Solé-Ollé A (2006) Expenditure spillovers and fiscal interactions: empirical evidence from local governments in Spain. J Urban Econ 59(1):32–53. https://doi.org/10.1016/j.jue.2005.08.007

Usman S, Mawardi MS, Poesoro A, Suryahadi A (2008) Mekanisme dan Penggunaan Dana Alokasi Khusus (DAK) (Mechanism and Allocation of Specific Allocation Grants). The SMERU Research Institute. http://www.smeru.or.id/id/content/mekanisme-dan-penggunaan-dana-alokasi-khusus-dak. Accessed 3 Sept 2018

Varela-Candamio L, Morollón FR, Sedrakyan G (2019) Urban sprawl and local fiscal burden: analysing the Spanish case. Empirica 46(1):177–203. https://doi.org/10.1007/s10663-018-9421-y

Veiga LG, Veiga FJ (2007) Political business cycles at the municipal level. Public Choice 131(1–2):45–64. https://doi.org/10.1007/s11127-006-9104-2
Acknowledgements
The author would like to thank Nobuo Akai and Tetsuya Matsubayashi (Osaka University) for their kind input, comments, and supervision on this research. I would also like to thank three anonymous reviewers for their constructive comments and suggestions to improve this paper. Any errors in this paper are subjected to the author.
Ethics declarations
Conflict of interest
The author declares there are no conflicts of interest in this research.
Additional information
Publisher's Note
Springer Nature remains neutral with regard to jurisdictional claims in published maps and institutional affiliations.
About this article
Cite this article
Chalil, T.M. Fiscal competitions among Indonesian municipalities: a spatial econometric analysis. Asia-Pac J Reg Sci 4, 241–260 (2020). https://doi.org/10.1007/s41685-019-00138-3
Received:

Accepted:

Published:

Issue Date:
Keywords
Yardstick competition

Public spending

Spatial interaction

Indonesian municipalities
JEL Classification