Abstract
Buildings are an essential component of urban form. Urban morphologists know that buildings can be classified by type, but types are specific to given cultural areas. In a transnational context, detailed expert knowledge is not always available, hence the need for identifying typologies of buildings inductively from large urban databases exists. This paper presents the application of a Bayesian Network clustering protocol to buildings and the study of the spatial aggregates of the obtained family types for two metropolitan areas located in countries with marked cultural and societal differences: Osaka-Kobe in Japan and Marseille-Provence in France. Six indicators of building characteristics are calculated and used to perform the clustering: Footprint Surface, Elongation, Convexity, Number of Adjoining Neighbors, Height and Specialization. Cluster results are first extracted, detailed and analyzed and then, building type prevalence is studied at the metropolitan scale using local indicators of network-constrained clusters (ILINCS). The building families obtained through clustering show that these two coastal metropolitan areas are made up of apparently similar "ingredients" (very similar typologies are found at the relatively coarse level of detail of our study), but with different weights and spatial organization. This approach is appropriate for the automated processing of large building datasets and the results are a good entry point to study the link between building families, urban development periods and urban functions.
Access options
Buy single article
Instant access to the full article PDF.
US$ 39.95
Tax calculation will be finalised during checkout.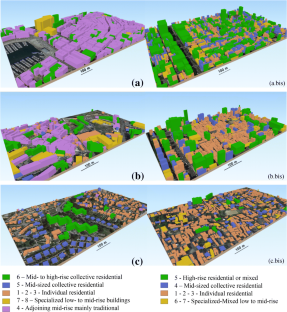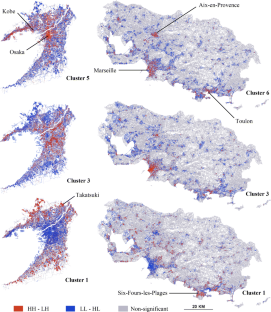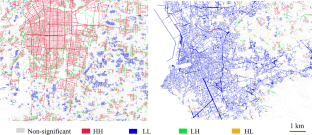 Notes
1.

2.

A topological neighborhood of order 3 was used to delimit the surrounding values.
References
Anselin L (1995) Local indicators of spatial association. Geogr Anal 27(2):93–115

Araldi A, Fusco G (2017) Decomposing and recomposing urban fabric: the city from the pedestrian point of view. In: Gervasi O et al. (eds) Computational science and its applications—ICCSA 2017, proceedings, part IV. Lecture notes in computer science, vol 10407, pp 365–376

Araldi A, Perez J, Fusco G, Fuse T (2018) Multiple fabric assessment: focus on method versatility and flexibility. In: Gervasi O et al (eds) Computational science and its applications—ICCSA 2018. ICCSA 2018. Lecture notes in computer science, vol 10962. Springer, Cham

Berghauser Pont MY, Haupt P (2010) SPACEMATRIX, space, density and urban form. NAi Publishers, Rotterdam, p 279

Biljecki F, Ledoux H, Stoter J (2016) An improved LOD specification for 3D building models. Comput Environ Urban Syst 59:25–37

Brown FE, Steadman JP (1991a) The morphology of British housing: an empirical basis for policy and research. Part 1: functional and dimensional characteristics. Environ Plan B Plan Des 18:277–299

Brown FE, Steadman JP (1991b) The morphology of British housing: an empirical basis for policy and research. Part 2: topological characteristics. Environ Plan B Plan Des 18:385–415

Caniggia G, Maffei GL (2001) Architectural composition and building typology: interpreting basic building Alinea Editrice, Firenze; translated by S.J. Frazer, first published in Italian in 1979

Conzen MRG (1969) Alnwick, Northumberland: a study in town-plan analysis, vol 27, 2nd edn. Institute of British Geographers Publication, London

Dempster AP, Laird NM, Rubin DB (1977) Maximum likelihood from incomplete data via the EM algorithm. J R Stat Soc B 39(1):1–38

Duda RO, Hart PE (1973) Pattern classification and scene analysis. Wiley, New York

Fisher F (2001) Building bridges through participatory planning, part I, UN-HABITAT. https://unhabitat.org/books/building-bridges-through-participatory-planning-part-1/. Accessed 25 Aug 2018

Fusco G (2016) Beyond the built-up form/mobility relationship: spatial affordance and lifestyles. Comput Environ Urban Syst 60:50–66

Fusco G, Araldi A (2017) Significant patterns in urban form. Spatial analysis of morphological indicators. Revue Internationale de Géomatique, 4/2017, pp 455–479

Fusco G, Perez J (2019) Bayesian network clustering and self-organizing maps under the test of Indian Districts. A comparison. Cybergeo Eur Geogr Syst Modél Géostat (Document 887)

Galan Aguilar MP (2015) Participatory design for public urban spaces. UN Global Compact Cities Programme, Melbourne

Giedion S (1948) Mechanization takes command, a contribution to anonymous history. Oxford University Press, Oxford

Gil J, Beirao JN, Montenegro N, Duarte J (2012) On the discovery of urban typologies: data mining the many dimensions of urban form. Urban Morphol 16(1):27

Gourdon J-L (2001) La rue, essai sur l'économie de la forme urbaine. La Tour d'Aigue: Editions de l'Aube

Haggag MA, Ayad HM (2002) The urban structural units method: a basis for evaluating environmental prospects for sustainable development. Urban Des Int 7:97–108

Hanna S (2007) Automated representation of style by feature space archetypes: distinguishing spatial styles from generative rule. Int J Archit Comput 5:2–23

Hecht R (2014) Automatische Klassifizierung von Gebäudegrundrissen. Ein Betrag sur kleinräumigen Beschreibung der Siedlungstruktur. IÖR Schriften Band 63. Rhombos-Verlag, Berlin

Hillier B (1996) Space is the machine. Cambridge University Press, Cambridge

Langley P, Iba W, Thompson K. (1992) An analysis of Bayesian classifiers. In: Proceedings of the tenth national conference on artificial intelligence, San Jose, pp 223–238

Le Corbusier (1924) Mass produced housing, translated by Tim Benton. Architecture and design, 1890–1939: an international anthology of original articles. The Whitney Library of Design. New York, 1975

Maceachren A (1985) Compactness of geographic shape: comparison and evaluation of measures, Geografiska Annaler. Ser B Hum Geogr Wiley 67(1):53–67

Martin L, March L (1972) Urban space and structures. Cambridge University Press, Cambridge, p 282

Meinel G, Hecht R, Herold H., Schiller G (2008) Automatische Ableitung von stadtstrukturellen Grundlagendaten und Integration in einem Geographischen Informationssystem. Technical Report 134, Bundesamt für Bauwesen und Raumordnung, Bonn

Mies van der Rohe L (1924) The industrialization of building methods. G: Zeitschrift für elementare Gestaltung, 3, June 1924

Moriconi-Ebrard F, Perez J (2016) Macro-structure urbaines et potentiel de développement en Chine. Institut e-Geopolis, rapport Chinapolis, p 76

OECD (2013) Vers une croissance plus inclusive de la métropole Aix-Marseille: Une perspective internationale. OECD report, p 221

Okabe A, Sugihara K (2012) Spatial analysis along networks: statistical and computational methods. Wiley, Hoboken

Popham P (1985) Tokyo: the city at the end of the world. Tokyo: Kodansha International

Reffat R (2008) Investigating patterns of contemporary architecture using data mining techniques. In: 26th eCAADe proceedings, pp 601–608

Reibel M (2014) Classification approaches in neighborhood research: introduction and review. Urban Geogr 32:305–316

Reibel M, Regelson M (2007) Quantifying neighborhood racial and ethnic transition clusters in multiethnic cities. Urban Geogr 28:361–376

Rissanen J (2007) Information and complexity in statistical modeling. Springer, Heidelberg

Roncayolo M (1996) Les grammaires d'une ville. Essai sur la genèse des structures urbaines à Marseille. Editions de l'Ecole des Hautes Etudes en Sciences Sociales, Paris

Royall RA, Wortmann T (2015) Finding the state space of urban regeneration: modeling gentrification as a probabilistic process using k-means clustering and Markov models, CUPUM 2015 Proceedings, Paper 275

Russell SJ, Norvig P (2003) Artificial intelligence: a modern approach, 2nd edn. Prentice Hall, Upper Saddle River, p 1080

Ruz GA, Pham DT (2009) Building Bayesian network classifiers through a Bayesian complexity monitoring system. Proc IMechE 223(C3):743–755

Sassen S (2005) The global city: introducing a concept. Brown J World Aff 11(2):27–43

Scheer BC (2015) The epistemology of urban morphology. Urban Morphol 19(2):117–134

Schirmer P, Axhausen K (2015) A multiscale classification of urban morphology. J Transp Land Use 9(1):101–130

Serra M, Lopes Gil JA, Pinho P (2013) Unsupervised classification of evolving metropolitan street patterns. In: Proceedings of ninth international space syntax symposium, p 46

Shelton B (2012) Learning from the Japanese city: west meets east in urban design. Routledge, Taylor & Francis, p 224

Shoultz G, Givens J, Drane W (2007) Urban form, heart disease, and geography: a case study in composite index formation and bayesian spatial modeling. Popul Res Policy Rev 26(5–6):661–685

Sokmenoglu A, Cagdas G, Sariyildiz S (2011) Application of data mining in micro-scale urban feature analysis. Proc GeoComput 2011:154–160

Son JS, Thill JC (2018) Is your city economic, cultural, or political? Recognition of city image based on multidimensional scaling of quantified web pages. In: Thill JC (ed) Spatial analysis and location modeling in urban and regional systems. Springer, New York, pp 63–95

Sorensen A (2002) The making of urban Japan: cities and planning from Edo to the twenty-first century. Routledge, Abingdon, p 386

Steadman P (2014) Building types and built forms. Troubador Publishing Ltd, Leicester, p 420

Steadman P (2016) Research in architecture and urban studies at Cambridge in the 1960s and 1970s: what really happened. J Archit 21(2):291–306

Steadman P, Bruhns HR, Holtier S, Gakovic B (2000) A classification of built forms. Environ Plan B Plan Des 27:73–91

Vialard A (2013) A typology of block-faces. PhD Dissertation, Georgia Institute of Technology, USA. https://smartech.gatech.edu/handle/1853/52182

Yamada I, Thill JC (2010) Local indicators of network-constrained clusters in spatial patterns represented by a link attribute. Ann Assoc Am Geogr 100(2):269–285
Acknowledgements
This research was carried out thanks to a Grant-in-Aid for Scientific Research from the Japan Society for the Promotion of Science (JSPS). This study is supported by Joint Research Program no. 774 at CSIS, UTokyo (Zmap TOWN II 2013/14 Shapefile Osaka prefecture).
Additional information
Publisher's Note
Springer Nature remains neutral with regard to jurisdictional claims in published maps and institutional affiliations.
About this article
Cite this article
Perez, J., Fusco, G., Araldi, A. et al. Identifying building typologies and their spatial patterns in the metropolitan areas of Marseille and Osaka. Asia-Pac J Reg Sci 4, 193–217 (2020). https://doi.org/10.1007/s41685-019-00127-6
Received:

Accepted:

Published:

Issue Date:
Keywords
Building

Clustering

Typology

Geoprocessing

Japan

France

Osaka

Marseille