Abstract
Shizuoka prefecture in Japan has many tourism destinations and a lot of international and domestic tourists visit it. There are regional cooperative destination marketing organizations (DMOs), which provide the lion's share of promotion of tourism for Shizuoka prefecture. In this paper, a methodology to evaluate economic impacts on the sightseeing area is developed. The evaluation is based on the number of tourists who visited and the length of stay in the municipality. Then, an inter-regional input–output model (consisting of 35 municipalities and 37 industrial sectors) at the municipality level is estimated to evaluate the spillover effects between cities and towns. The non-survey method based on the gravity-RAS method is used on the inter-regional input–output table estimate. Economic hotspots with economic spillover effects were identified for Shizuoka prefecture. Moreover, the economic impacts of partnerships in sightseeing areas in the three regions of DMO, namely, Suruga DMO, Hamamatsu DMO, and Izu DMO, are also measured.
Access options
Buy single article
Instant access to the full article PDF.
US$ 39.95
Tax calculation will be finalised during checkout.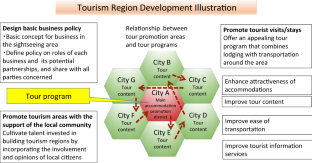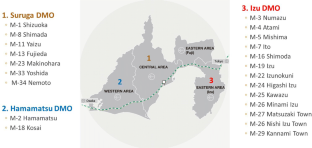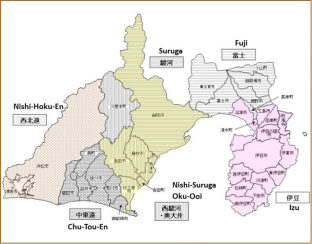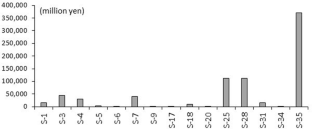 References
Aberg KG (2014) The importance of being local-prioritizing knowledge in recruitment for destination development. Tour Rev 69(3):229–243

Archer BH (1995) Importance of tourism for the economy of Bermuda. Ann Tour Res 22(4):918–930

Archer B, Fletcher J (1996) The economic impact of tourism in the Seychelles. Ann Tour Res 23(1):32–47

Balli F, Tsui WHK (2016) Tourism demand spillovers between Australia and New Zealand: evidence from the partner countries. J Travel Res 55(6):804–812

Balli F, Curry J, Balli HO (2015) Inter-regional spillover effects in New Zealand International Tourism Demand. Tour Geogr 17(2):262–278

Baster J (1980) Input–output analysis of tourism benefits: lessons from Scotland. Int J Tour Manag 1(2):99–108

Del Vecchio Pasquale, Mele Gioconda, Ndou Valentina, Secundo Giustina (2018) Creating value from social big data: implications for smart tourism destinations. Inf Process Manage 54:847–860

Dwyer L, Gill A, Seetaram N (2012) Handbook of research methods in tourism—quantitative and qualitative approaches. Edward Elgar, Cheltenham

Frechtling DC, Horvath E (1999) Estimating the multiplier effects of tourism expenditures on a local economy through a regional input–output model. J Travel Res 37(4):324–332

Freemand D, Sultan E (1997) The economic impact of tourism in Israel: a multi-regional input–output analysis. Tour Econ 3(4):341–459

Fretcher JE (1989) Input–output analysis and tourism impact studies. Ann Tour Res 16:514–529

Hamanako Kankoken Promotion Council (2014) Masterplan for Hamanako Kankoken (in Japanese). http://www.mlit.go.jp/kankocho/shisaku/kankochi/pdf/seibi_pdf20.pdf. Accessed 27 July 2016

Hoti S, McAleer M, Shareef R (2007) Modelling international tourism and country risk spillovers for Cyprus and Malta. Tour Manag 28(6):1472–1484

Incera AC, Feranandez MF, Lopez XP (2015) Spillover effects of tourism consumption between Galicia and the rest of Spain. Int J Tour Res 17:185–195

Japan DMO Alliances (2018) http://www.dmojapan.org. Accessed 17 Sept 2018

Japan Tourism Agency (2008) Tourism zone development act. http://www.mlit.go.jp/kankocho/en/shisaku/kankochi/seibi.html. Accessed 15 Sept 2018

Japan Tourism Agency (2015) Handbook on forming and establishing the Japanese DMO. http://www.mlit.go.jp/kankocho/page04_000049.html. Accessed 15 Sept 2018

Japan Tourism Agency (2016) Tourism vision to support the future of Japan. http://www.mlit.go.jp/common/001126601.pdf. Accessed 15 Sept 2018

Japan Tourism Agency (2017) List of registered DMO candidate organizations (as of 4 August 2017). http://www.mlit.go.jp/kankocho/page04_000075.html. Accessed 17 Sept 2018

Kadiyali V, Kosova R (2013) Inter-industry employment spillovers from tourism inflows. Reg Sci Urb Econ 43:272–281

Katayama K, Makishima R (2016) A study on the possibilities and challenges of fostering tourism destination and communities based on regional cooperation: case study of Sasebo-Ojika tourism area. Rep City Plan Inst Jpn 14:317–321 (in Japanese)

Kim S-H, Kim K-H (1998) Impact of tourism on local economies: an income multiplier analysis. Asia Pac J Tour Res 2(2):49–56

Kumar J, Hussain K (2014) Evaluating tourism's economic effects: comparison of different approaches. Proc Soc Behav Sci 144:360–365

Li X, Pan B, Law R, Huang X (2017) Forecasting tourism demand with composite search index. Tour Manag 59:57–66

Li Jingjing, Lizhi Xu, Tang Ling, Wang Shouyang, Li Ling (2018) Big data in tourism research: a literature review. Tour Manag 68:301–323

Nagai H, Doering A, Yashima Y (2017) The early emergence of the Japanese DMO: preliminary insights from Miyazaki, Japan. In: CAUTHE 2017: time for big ideas? Re-thinking the field for tomorrow

Nagai H, Makino E, Kashiwagi S, Doering A, Yashima Y (2018) The increased usage of the English term 'DMO' in a Japanese context: on analysis of five major national newspapers. In: The 28th Council for Australasian Tourism and Hospitality Education (CAUTHE) annual conference, pp 640–645

Nomura J, Kinoshita M, Saito H, Asahi S (2011) Economic impacts of trans-regional tourists' expenditures utilizing multiregional I–O Table of Yamaguchi prefecture, Japan. Input–Output Anal 19(3):72–93 (in Japanese)

Pearce DG, Schanzel HA (2013) Destination management: the tourists' perspective. J Destin Market Manag 2(3):137–145

Pechlaner H, Herntrei M, Kofink L (2009) Growth strategies in mature destinations: linking spatial planning with product development. Tourism 57(3):285–307

Pike S, Page SJ (2014) Destination marketing organizations and destination marketing: a narrative analysis of the literature. Tour Manag 40:202–227

Shibusawa H, Sakurai K, Sakaibara N, Yamaguchi M (2017) A study on the evaluation method for the spatial economic impacts of tourism consumption: using the inter-regional input–output table of Shizuoka prefecture. Stud Region Sci 47(2):159–173 (in Japanese)

Shizuoka Guide Website (2018) Shizuoka map. https://shizuoka-guide.com/english/. Accessed 15 Sept 2018

Shizuoka Prefecture (2013) A survey of sightseeing and the degree of satisfaction in Shizuoka 2012 (in Japanese)

Shizuoka Prefecture (2016a) Trend of sightseeing in Shizuoka 2015 (in Japanese). ​https://toukei.pref.shizuoka.jp/chosa/21-010/index.html. Accessed 15 Sept 2018

Shizuoka Prefecture (2016b) Input–output table 2011 (in Japanese). https://toukei.pref.shizuoka.jp/chosa/15-050/index.html. Accessed 15 Sept 2018

Wagner JE (1997) Estimating the economic impacts of tourism. Ann Tour Res 24(3):592–608

West G, Gamage A (2001) Macro-effects of tourism in Victoria, Australia: a nonlinear input–output approach. J Travel Res 40(1):101–109

Yamada M, Oowaki Y (2012) Estimation of 4 regions inter-regional input–output table in Aichi. Chukyo University Institute of Economics. Discuss Pap Series 1205:1–53 (in Japanese)

Yang Y, Wong KKF (2012) A spatial econometric approach to model spillover effects in tourism flows. J Travel Res 51(6):768–778

Yang X, Pan B, Evans JA, Lv B (2015) Forecasting Chinese tourist volume with search engine data. Tour Manag 46:386–397

Zhang J, Madsen B, Jensen-Butler C (2007) Regional economic impacts of tourism: the case of Denmark. Reg Stud 41(6):839–853
Additional information
Publisher's Note
Springer Nature remains neutral with regard to jurisdictional claims in published maps and institutional affiliations.
About this article
Cite this article
Patandianan, M.V., Shibusawa, H. Evaluating the spatial spillover effects of tourism demand in Shizuoka Prefecture, Japan: an inter-regional input–output model. Asia-Pac J Reg Sci 4, 73–90 (2020). https://doi.org/10.1007/s41685-019-00111-0
Received:

Accepted:

Published:

Issue Date:
Keywords
Economic impacts

Tourism demand

Destination marketing organization

Inter-regional input–output table
JEL classifications