Abstract
A diaphragm-based MEMS pressure sensor, suitable for harsh environments, was designed, simulated, analyzed and virtually fabricated on p-type SiC epitaxial semi-insulating 4H–SiC substrate to measure the external pressure in the range of 0–8 MPa using device simulation software. The critical component of the pressure sensor is a thin flat square SiC diaphragm with an area of 1500 µm × 1500 µm and thickness of 75 µm. The area and thickness were optimized by performing computer simulation using the finite element method of simulation. The p-type SiC resistors were virtually fabricated in Wheatstone bridge configuration on top of the SiC diaphragm to convert the mechanical stress signal, generated due to external pressure into an electrical output voltage signal. The 4H–SiC MEMS pressure sensor was virtually fabricated on high-purity semi-insulating SiC substrate by dry etching method and its sensitivity was obtained at 2.42 µV/V/KPa for the operating pressure range. A thin SiC diaphragm was fabricated toward the realization of the SiC piezoresistive MEMS pressure sensor.
Access options
Buy single article
Instant access to the full article PDF.
USD 39.95
Price excludes VAT (USA)
Tax calculation will be finalised during checkout.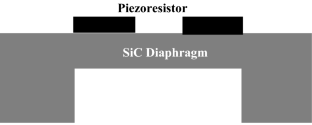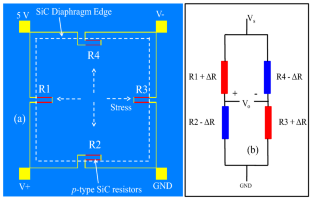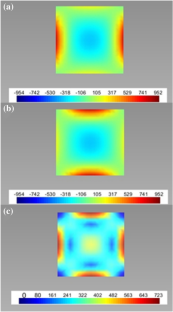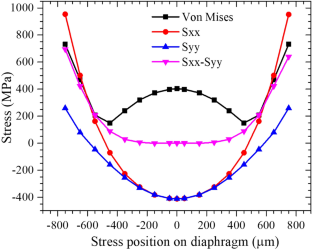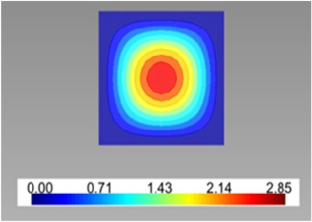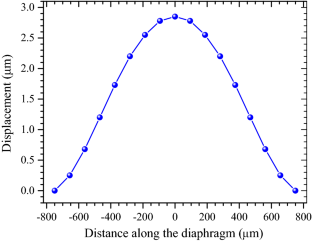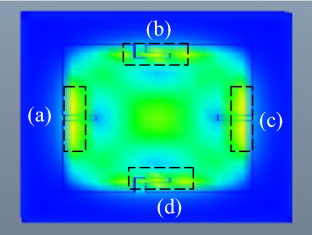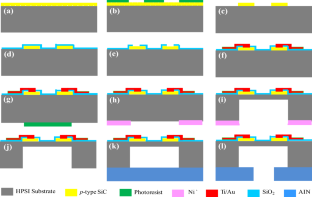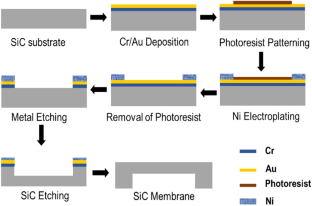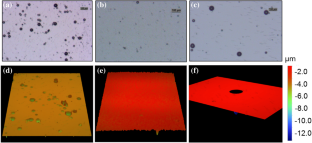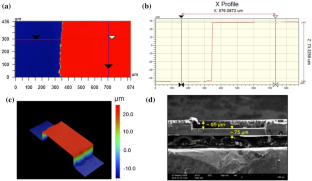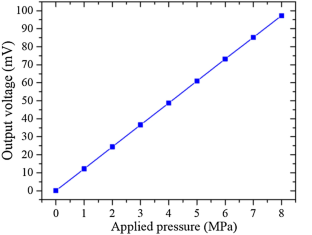 References
Akiyama T, Briand D, Rooij NF (2011) Piezoresistive n-type 4H–SiC pressure sensor with membrane formed by mechanical milling. Proc IEEE Sens 222–225

Barlian AA, Park W-T, Mallon JR, Rasteger AJ, Beth LP (2009) Review: semiconductor piezoresistance for microsystems. IEEE Conf Proc 97(3):513–552

Dowling KM, Ransom EH, Senesky DG (2017) Profile evolution of high aspect ratio silicon sarbide trenches by inductive coupled plasma etching. J Microelectromech Syst 26:135–142

Eickhoffa M, Mollera H, Kroetza G, Bergb JV, et al (1999) A high temperature pressure sensor prepared by selective deposition of cubic silicon carbide on SOI substrates. Sens Actuators A 74:56–59

Hou SM-C (2003) Design fabrication of MEMS-array pressure sensor system for passive underwater navigation inspired by the lateral lines. Dissertation, Massachusetts Institute of Technology

Hsu T-R (2008) MEMS and microsystems: design manufacture and nanoscale engineering. Wiley

Lebedev AA, Ivanov AM, Strokan NB (2004) Radiation resistance of SiC and nuclear-radiation detectors based on SiC films. Semiconductors 38(2):125–147

Mario DG (1982) Flat and corrugated diaphragm design handbook. CRC Press

Mehregany M, Zorman CA, Razan N, Wu CH (1998) Silicon Carbide MEMS for harsh environments. IEEE Conf Proc 86(8):1594-1609

NajafiSohi A (2013) A multifunctional MEMS pressure and temperature sensor for harsh environment application. Dissertation, University of Waterloo

Nguyen T-K, Phan H-P, DinhToan TT, Nakamura K, Foisal ARM, Nguyen N-T, Dao DV (2018) Isotropic piezoresistance of p-type 4H–SiC in (0001) plane. Appl Phys Lett 113:012104

Okojie RS, Ned AA, Kurtz AD (1998) Operation of α (6H)-SiC pressure sensor at 500°C. Sens Actuators A 66:200–204

Okojie RS, Lukco D, Nguyen V, Savrun E (2015) 4H–SiC piezoresistive pressure sensors at 800°C with observed sensitivity recovery. IEEE Electron Device Lett 36(2):174–176

Sawhney AK (1995) Electrical & electronics measurement and instrumentation. Dhanpat Rai & Sons New Delhi

Shore JS, Goldstein D, Kurtz AD (1993) Characterization of n-type β-SiC as a piezoresistor. IEEE Trans Electron Devices 40(6):1093–1099

Tanaka S, Rajanna K, Abe T, Eshashi M (2001) Deep reactive ion etching of silicon carbide. J Vac Sci Tech B 19(6):2173–2176

Wieczorek G, Schellin B, Obermeier E, Fagnani G, Drera L (2007) SiC based pressure sensor for high-temperature environments. IEEE Sensors Conf Proc 748–751

Wijesundara MBJ, Azevedo RG (2011) Silicon carbide microsystems for harsh environments. Springer, London

Wu C-H, Stefanescu S, Kuo H-I, Zorman CA, Mehregany M (2001) Fabrication and testing of single crystalline 3C–SiC piezoresistive pressure sensors. Transducers' 01 Eurosensors XV Springer

Zappe S, Franklin J, Obermeier E, Eickhoff M, Moller KG, Rougeot C, Lefort O, Stoemens J (2001) High temperature 10 bar pressure sensor based on 3C-SiC/SOI for turbine control applications. Mater Sci Forum 353–356:753–756

Zettterling C-M (2002) Process technology for silicon carbide devices. INSPEC: UK
Acknowledgements
Authors would like to thank all the scientific and technical staff of Electronics & Instrumentation Group, Material Science Group of IGCAR and IITM, Chennai. The authors also would like thank to Dr. Santanu Parida, MSG, IGCAR for preparation of the paper.
Additional information
Publisher's Note
Springer Nature remains neutral with regard to jurisdictional claims in published maps and institutional affiliations.
About this article
Cite this article
Patankar, M.K., Gupta, A., Kasinathan, M. et al. Design, analysis and fabrication of 4H–SiC diaphragm for piezoresistive MEMS pressure sensor. ISSS J Micro Smart Syst 10, 41–50 (2021). https://doi.org/10.1007/s41683-021-00068-3
Received:

Revised:

Accepted:

Published:

Issue Date:

DOI: https://doi.org/10.1007/s41683-021-00068-3
Keywords
MEMS

Piezoresistive

SiC diaphragm

HPSI

Plasma etching