Abstract
Developing countries are majorly resource-constrained societies which do not have the financial power to invest in meeting all infrastructure needs. Although there are multiple types of emergency response systems (ERS), the most important ones are the basic essentials—fire, medical and police. Along with emergency response planning for man-made emergencies in an urban scenario, there is a gap in the recent literature about integration of basic ERS into a single framework. We propose a novel framework that first evaluates the existing ERS in place and then provides solutions for improvement with the inclusion of additional facilities at optimal locations. Keeping in mind dynamic congestion patterns and land use resource constraints in different areas of the urban space, the proposed facilities are labeled as either permanent or floating. We also propose three different schemes, each with two competing strategies that cater to a specific type of constraint common to developing nations. Through comparison of system performance metrics like first response time, area coverage, and average response time, the ERS pre- and post-implementation of the framework are compared to check for degree of improvement. A case study of the framework is shown using the city of Chandigarh in India as an example. The framework proposed in the paper takes into account the growth and compactness of urban spaces and can be used to continually assess and improve ERS in mixed use urban spaces after fixed periods of time.
Access options
Buy single article
Instant access to the full article PDF.
US$ 39.95
Tax calculation will be finalised during checkout.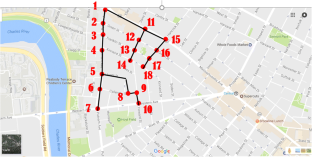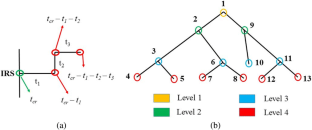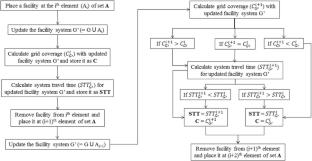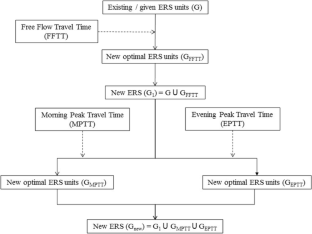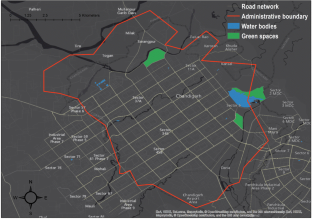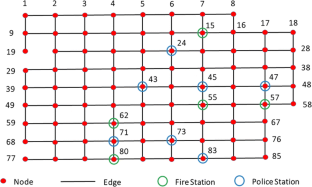 References
Altay N, Green WG III (2006) OR/MS research in disaster operations management. Eur J Oper res 175:475–493. doi:10.1016/j.ejor.2005.05.016

Arbabi MH, Weigle M (2009) Using vehicular networks to collect common traffic data. Paper presented at the Proceedings of the sixth ACM international workshop on VehiculAr InterNETworking, Beijing, China

Balcik B, Beamon BM (2008) Facility location in humanitarian relief. Int J log res Appl 11:101–121. doi:10.1080/13675560701561789

Blackwell TH, Kaufman JS (2002) Response time effectiveness: comparison of response time and survival in an urban emergency medical services system. Acad Emerg med 9:288–295. doi:10.1197/aemj.9.4.288

Caunhye AM, Nie X, Pokharel S (2012) Optimization models in emergency logistics: a literature review. Socio Econ Plan Sci 46:4–13. doi:10.1016/j.seps.2011.04.004

Chaminda P, Krisanthi S, Dilanthi A, Richard H (2012) Managing disaster knowledge: identification of knowledge factors and challenges. Int J Disaster Resilience Built Environ 3:237–252. doi:10.1108/17595901211263620

ChandigarhPolice (2013) Jurisdiction map of Chandigarh police. Chandigarh Police. http://chandigarhpolice.nic.in/psjm.html. Accessed 25th June 2016

Chandramouli C (2011) Census of India 2011. Provisional population totals. Registrar General & Census Commissioner, India. Ministry of Home Affairs. New Delhi, Government of India

Chen M, Chien S (2001) Dynamic freeway travel-time prediction with probe vehicle data: link based versus path based. Transp Res Rec: J Transp Res Board 1768:157–161. doi:10.3141/1768-19

CHGOV (2009) Comprehensive mobility plan for Chandigarh urban complex

Chun-Hsin W, Jan-Ming H, Lee DT (2004) Travel-time prediction with support vector regression. IEEE Trans Intell Transp Syst 5:276–281. doi:10.1109/TITS.2004.837813

David M, Crocker CG, Ekong P (2010) Addressing vulnerability through an integrated approach. Int J Disaster Resilience Built Environ 1:50–64. doi:10.1108/17595901011026472

Deep A (2015) Chandigarh has the highest police density in India. Chandigarh Metro, Chandigarh

Dijkstra EW (1959) A note on two problems in connexion with graphs. Numer Math 1:269–271. doi:10.1007/BF01386390

FICCI (2016) India Risk Survey 2015. http://ficci.in/Sedocument/20328/India-Risk-Survey-2015.pdf. Accessed 19th June 2016

Goodrich MT, Tamassia R (2002) Algorithm design Wiley India

Gwilliam K (2003) Urban transport in developing countries. Transp rev 23:197–216. doi:10.1080/01441640309893

Henderson LJ (2004) Emergency and disaster: pervasive risk and public bureaucracy in developing nations. Public Organization Review 4:103–119. doi:10.1023/B:PORJ.0000031624.46153.b2

Hunter M, Wu S, Kim H (2006) Practical procedure to collect arterial travel time data using GPS-instrumented test vehicles. Transp Res Rec: J Transp Res Board 1978:160–168. doi:10.3141/1978-21

Lee J (2007) A three-dimensional navigable data model to support emergency response in Microspatial built-environments. Ann Assoc am Geogr 97:512–529. doi:10.1111/j.1467-8306.2007.00561.x

M. C.Chandigarh (2016) Fire and emergency services. Municipal Corporation Chandigarh. http://mcchandigarh.gov.in/firedept.htm. Accessed 25th June 2016

Nagarkoti R (2013) Fire stations lack firepower. Chandigarh Tribune, Chandigarh

Nayak D (2011) Violation of Building Codes is the price we've paid for development The New Indian Express 18th December, 2011

NCRB (2014) Fire accident cases, injuries and deaths by place of occurrence during 2014 (state & UT wise). Ministry of Home Affairs, Government of India, New Delhi

NDMA (2012) National Disaster Management Guidelines—scaling, type of equipment and training of fire services. NDMA, New Delhi

Pandey V (2015) IMF expects India to retain world's fastest growing economy tag. The Economic Times. http://economictimes.indiatimes.com/news/economy/indicators/imf-expects-india-to-retain-worlds-fastest-growing-economy-tag/articleshow/49245651.cms. Accessed 18th June 2016

Papageorgiou JC (1994) The role of the public sector in introducing operations research/management science within developing countries. Public Adm dev 14:293–312. doi:10.1002/pad.4230140306

Quiroga CA, Bullock D (1998) Travel time studies with global positioning and geographic information systems: an integrated methodology. Transp Res Part C: Emerg Technol 6:101–127. doi:10.1016/S0968-090X(98)00010-2

Rambaldi G, Kyem PAK, McCall M, Weiner D (2006) Participatory spatial information management and communication in developing countries. Electron J Inf Syst Dev Countries:25

Richard H, Dilanthi A (2010) An integrative review of the built environment discipline's role in the development of society's resilience to disasters. Int J Disaster Resilience Built Environ 1:11–24. doi:10.1108/17595901011026454

Roy S (2016) Kolkata tragedy: monumental failure as a city, not just a party. The Huffington Post. http://www.huffingtonpost.in/2016/03/31/kolkata-flyover-collapse_n_9581582.html. Accessed 19th June 2016

Sanghavi P, Bhalla K, Das V (2009) Fire-related deaths in India in 2001: a retrospective analysis of data. Lancet 373:1282–1288. doi:10.1016/S0140-6736(09)60235-X

Sheu J-B (2007) Challenges of emergency logistics management. Transp Res Part E: Log Transp Rev 43:655–659. doi:10.1016/j.tre.2007.01.001

Simpson CN, Hancock GP (2009) Fifty years of operational research and emergency response. Journal of the Operational Research Society 60:S126-S139. doi: 10.1057/jors.2009.3

Tarjan R (1972) Depth-first search and linear graph algorithms. SIAM J Comput 1:146–160. doi:10.1137/0201010

TNN (2012) New fire station for southern sectors. The Times of India, Chandigarh

Tsui W (2015) QGIS Python Plugins Repository: GeoSearch. https://plugins.qgis.org/plugins/GeoSearch/. Accessed 24th June 2016

Vempaty NR, Kumar V, Korf RE (1991) Depth-First Versus Best-First Search. In: AAAI, pp 434–440

Vlahov D, Freudenberg N, Proietti F, Ompad D, Quinn A, Nandi V, Galea S (2007) Urban as a determinant of health. J Urban Health 84:16–26. doi:10.1007/s11524-007-9169-3

Wang H, Fan W (1997) Progress and problems of fire protection in China. Fire Saf J 28:191–205. doi:10.1016/S0379-7112(97)00007-6

Wang F, Lu S, Li C (2005) Analysis of fire statistics of China: fire frequency and fatalities in fires. Fire Safety Sci 8:353–362

West DB (2001) Introduction to graph theory vol 2. Prentice hall, Upper Saddle River

Zhan FB, Noon CE (1998) Shortest path algorithms: an evaluation using real road networks. Transp Sci 32:65–73. doi:10.1287/trsc.32.1.65

Zhang W, Korf RE (1993) Depth-first vs. best-first search: New results. In: AAAI, pp 769–775

Pal I, Ghosh T (2014) Fire incident at AMRI hospital, Kolkata (India): a real time assessment for urban fire. J Bus Manag Soc Sci Res 3:9–13
About this article
Cite this article
Basu, R., Aggarwal, R. & Jana, A. An Integrated Framework for Allocation of New Emergency Response Facilities in Developing Nations. Process Integr Optim Sustain 1, 121–134 (2017). https://doi.org/10.1007/s41660-017-0009-y
Received:

Revised:

Accepted:

Published:

Issue Date:
Keywords
Emergency response

Facility location

Optimization

Planning framework

Resource-constrained societies

Developing countries