Abstract
The excavation and reconstruction of the ca. 1638 Waterman site is providing the first comprehensive and detailed look at the architecture and household material culture of an early period Pilgrim house in Plymouth Colony. The small vernacular house was of earth-fast, post-in-ground, and palisaded-wall construction, and burned down in a catastrophic fire after only a short period of occupation. The archaeological features, artifact patterns, and historical documents are integrated with 17th-century anthropomorphic architectural metaphors to reconstruct the house's architecture and the various domestic activities that occurred within and around the house, including foodways, expressions of gender roles, environmental adaptation, and English and Native American cultural exchange.
Resumen
La excavación y reconstrucción del sitio de Waterman de ca. 1638 proporciona la primera visión completa y detallada de la arquitectura y la cultura material del hogar de una casa de peregrinos del período temprano en la Colonia de Plymouth. La pequeña casa vernácula era de construcción de muros hecho de postes de madera metidos en el suelo y de paredes empalizadas, y se quemó en un incendio catastrófico después de solo un breve período de ocupación. Las características arqueológicas, los patrones de artefactos y los documentos históricos se integran con metáforas arquitectónicas antropomórficas del siglo XVII para reconstruir la arquitectura de la casa y las diversas actividades domésticas que ocurrían dentro y alrededor de la casa, incluidas las formas de comer, las expresiones de los roles de género, la adaptación ambiental y el intercambio cultural entre nativos americanos e ingleses.
Résumé
Les fouilles et la reconstruction du site de Waterman datant de 1638 apportent la première vision exhaustive et détaillée de l'architecture et de la culture des objets domestiques d'une demeure de Pèlerin des tous débuts dans la colonie de Plymouth. La petite maison vernaculaire était un bâtiment en charpente, poteaux en terre, aux murs de palissade. Elle a brûlé dans un incendie catastrophique après une brève période d'occupation. Les caractéristiques archéologiques, les modèles d'artéfact et les documents historiques sont intégrés à des métaphores architecturales anthropomorphiques du 17ème siècle afin de reconstruire l'architecture de la maison et les différentes activités domestiques ayant eu lieu au sein de la demeure et autour d'elle, notamment les pratiques alimentaires, les expressions des rôles des sexes, l'adaptation environnementale et les échanges culturels entre anglais et Natifs américains.
Access options
Buy single article
Instant access to the full article PDF.
US$ 39.95
Tax calculation will be finalised during checkout.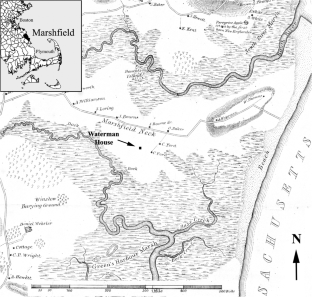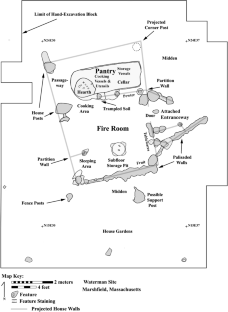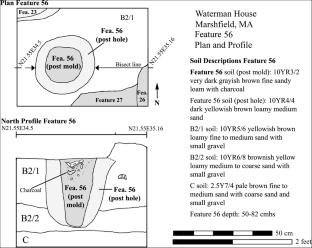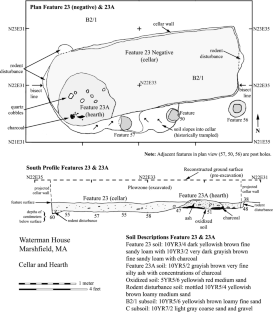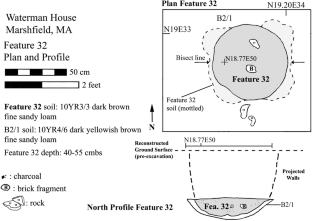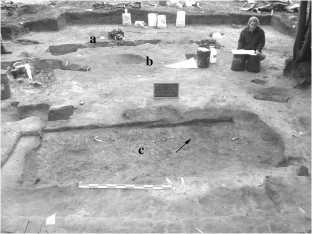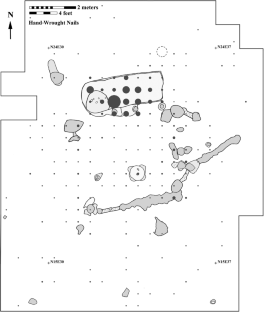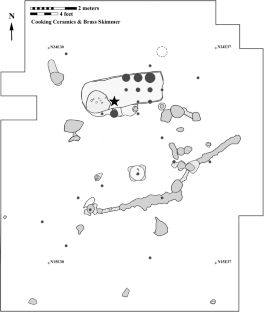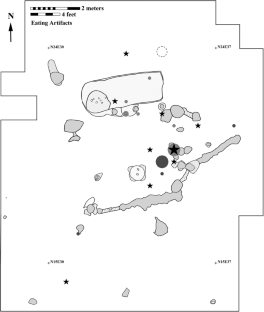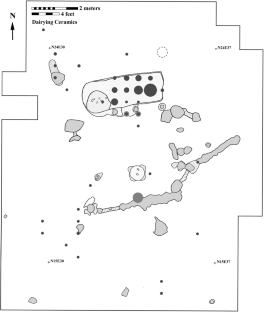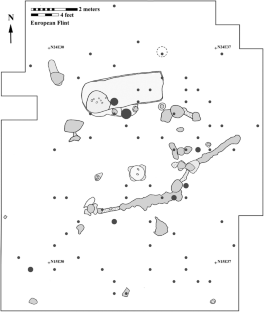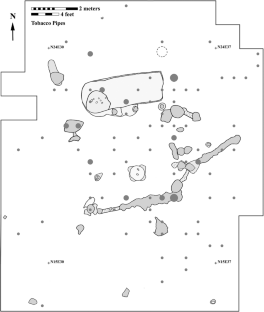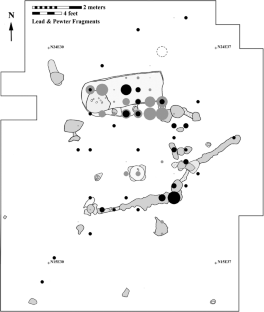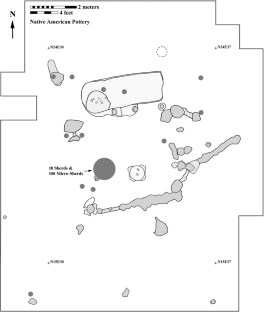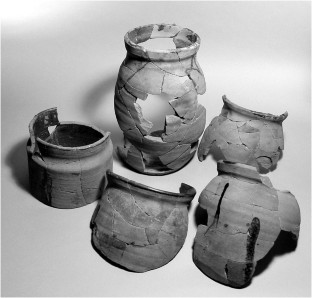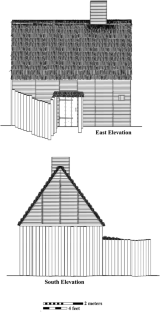 References
Baker, Emerson W. 1985 The Clarke and Lake Company: The Historical Archaeology of a Seventeenth-Century Maine Settlement. Maine Historic Preservation Commission, Occasional Publications in Maine Archaeology, No. 4. Augusta.

Baker, Emerson W. 2012 The Archaeology of 1690: Status and Material Life on New England's Northern Frontier. In New Views of New England: Studies in Material and Visual Culture, 1680–1830, Georgia Barnhill and Martha McNamara, editors, pp. 1–6. Colonial Society of Massachusetts, Boston.

Baker, Emerson W., Robert L. Bradley, Leon Cramner, and Neill De Paoli 1992 Earthfast Architecture in Early Maine. Paper presented at the annual Vernacular Architecture Forum meeting, Portsmouth, NH.

Baker, Emerson W., and John G. Reid 1998 The New England Knight: Sir William Phips, 1651–1695. University of Toronto Press, Toronto, ON.

Bangs, Jeremy Dupertuis (editor) 2015 The Town Records of Marshfield during the Time of Plymouth Colony, 1620–1692. Leiden American Pilgrim Museum, Leiden, the Netherlands.

Barley, Maurice W. 1961 The English Farmhouse and Cottage. Routledge and Kegan Paul, London, UK.

Beaudry, Mary C., and Douglas C. George 1987 Old Data, New Findings: 1940s Archaeology at Plymouth Reexamined. American Archaeology 6(1):20–30.

Beaudry, Mary C., Karin J. Goldstein, and Craig Chartier 2003 Archaeology of the Plymouth Colony in Massachusetts. Avalon Chronicles 8:155–185.

Beaudry, Mary C., Janet Long, Henry M. Miller, Fraser D. Neiman, and Garry Wheeler Stone 1983 A Vessel Typology for Early Chesapeake Ceramics: The Potomac Typological System Historical Archaeology 17(1):18–43.

Beranek, Christa M., David B. Landon, John M. Steinbreng, and Brian Damiata (editors) 2017 Project 400: The Plymouth Colony Archaeological Survey. Report on the 2016 Field Season Cole's Hill, Brewster Garden, and Burial Hill, Plymouth, Massachusetts. University of Massachusetts Boston, Andrew Fiske Memorial Center for Archaeological Research, Cultural Resource Management Study No. 77. Boston.

Bowman, George Ernest (editor) 1909 The Settlement of Robert Waterman's Estate. Mayflower Descendant 11(2):100–104. Boston, MA.

Bowman, George Ernest (editor) 1914 Plymouth Colony Wills and Inventories. Mayflower Descendant 16(1):21–26. Boston, MA.

Bradford, William 1989 Of Plymouth Plantation 1620–1647, Samuel Eliot Morison, editor. Alfred A. Knopf, New York, NY.

Bradley, Robert L. 1989 Test Excavations at the Phips Site, Woolrich, Maine (1986–88). Bulletin of the Maine Archaeological Society 29(1):1–12.

Brain, Jeffrey Phipps 2007 Fort St. George. Archaeological Investigation of the 16-7-1608 Popham Colony. Maine State Museum, Augusta.

Brears, Peter 2015 Cooking and Dining in Tudor and Early Stuart England. Prospect, London, UK.

Burton, Alfred 1891 Rush-Bearing: An Account of the Old Custom of Strewing Rushes; Carrying Rushes to Church; the Rush-Cart; Garlands in Churches; Morris Dancers; the Wakes; the Rush. Brook & Chrystal, Manchester, UK.

Candee, Richard M. 1969 A Documentary History of Plymouth Colony Architecture 1620–1700. Old-Time New England 60(218):37–53.

Carson, Cary, Norman F. Barka, William M. Kelso, Garry Wheeler Stone, and Dell Upton 1981 Impermanent Architecture in the Southern American Colonies. Winterthur Portfolio 16(2&3):232–196.

Chartier, Craig S. 2000 The Aptucxet Trading Post: Fact, Fiction, and a Study in 20th-Century Myth Creation. Manuscript, Massachusetts Historical Commission, Boston.

Chartier, Craig S. 2001 A Reevaluation of the John Alden Archaeological Site (DUX- HA-3). Plymouth Archaeological Rediscovery Project <https://www.plymoutharch.com/wp-content/uploads/2014/11/49383937-Alden-Site-Archaeological-Report.pdf>. Accessed 5 October 2020.

Chartier, Craig S. 2015a Report on the C-1/RM/Clark Site Plymouth, Massachusetts. Plymouth Archaeological Rediscovery Project <https://www.plymoutharch.com/wp-content/uploads/2015/03/RM-Clark-Homesite-report.pdf>. Accessed 21 October 2020.

Chartier, Craig S. 2015b Report on the C-21/Allerton/Prence/Cushman Site, Kingston, Massachusetts. Plymouth Archaeological Rediscovery Project <https://www.plymoutharch.com/wp-content/uploads/2015/04/Report-on-the-Archaeology-of-the-Allerton-Site.pdf>. Accessed 5 October 2020.

Cranmer, Leon E. 1990 Cushnoc: The History and Archaeology of Plymouth Colony Traders on the Kennebec. Maine Archaeological Society, Augusta.

Crockett, Nathaniel, and Margaret Ordoñez 2015 Report: Waterman House Textile Analysis Summary. Manuscript, University of Rhode Island, Textile Conservation Laboratory. Kingston.

Cummings, Abbott Lowell 1979 The Framed Houses of Massachusetts Bay, 1625–1725. Belknap Press of Harvard University Press, Cambridge, MA.

Deetz, James 1974 A Cognitive Historical Model for American Material Culture, 1620–1835. In Reconstructing Complex Societies. An Archaeological Colloquium, Charlotte B. Moore, editor, pp. 21–29. Supplement to the Bulletin of the American Schools of Oriental Research, No. 20. Cambridge, MA.

Deetz, James, and Patricia Scott Deetz 2000 The Times of Their Lives. Life, Love, and Death in Plymouth Colony. W. H. Freeman and Company, New York, NY.

DeForest, Louis E. 1938 Moore and Allied Families: The Ancestry of William Henry Moore. DeForest, New York, NY.

Demos, John 1970 A Little Commonwealth. Family Life in Plymouth Colony. Oxford University Press, London, UK.

Farley, William A. 2016 Report: Archaeobotanical Analysis, 19-PL-426, Waterman Site House, Marshfield, Massachusetts. Manuscript, Archaeological and Historical Services, Inc., Storrs, CT.

Ford, John, Jr. (surveyor) 1838 Map of Marshfield, Mass. Thomas Moore's Lithography, Boston, MA.

Green Harbor Commissioners 1872 Survey of Lots within Green Harbor Marsh. Plan 39, Plan Book 1, Plymouth County Registry of Deeds, Plymouth, MA.

Hagar, Joseph C. 1940 Marshfield: The Autobiography of a Pilgrim Town. Marshfield Tercentenary Committee, Marshfield, MA.

Harper, Ross K. 2012 "Their Houses Are Ancient and Ordinary": Archaeology and Connecticut's Eighteenth-Century Domestic Architecture. Historical Archaeology 46(4):8–47.

Harper, Ross K., Mary G. Harper, and Bruce Clouette 2013 Highways to History: The Archaeology of Connecticut's 18th-Century Lifeways. Connecticut Department of Transportation, Newington.

Harper, Ross K., Mary G. Harper, and Bruce Clouette 2017 Report: Archaeological Data Recovery: Historic-Period Sites Site MRS.HA.11 (the ca. 1638 Waterman House) and Four Campsites: Site MRS.HA.12, MRS.HA.16, MRS.HA.17, and MRS.HA.18. George D. Harlow Field Airport Improvement Project, Marshfield, Massachusetts, 3 vol. Report to Gale Associates, Bedford, NH, from Archaeological and Historical Services, Inc., Storrs, CT.

Harper, Ross K., and Megan D. Postemski 2016 Cross-Mending a 17th-Century Household Ceramic Assemblage from Marshfield. Council for Northeast Historical Archaeology Newsletter 93:8–10.

Harris, Richard 1999 Discovering Timber-Framed Buildings. Shire, Princes Risborough, UK.

Heath, Dwight B. (editor) 1963 Mourt's Relation. A Journal of the Pilgrims at Plymouth. Applewood, Bedford, MA.

James, Sydney V. (editor) 1997 Three Visitors to Early Plymouth. Applewood, Bedford, MA.

Johnson, Edward 1974 Wonder-Working Providence of Sions Saviour in New England (1654) and Good News from New England (1648). Scholars' Facsimiles & Reprints, Delmar, NY.

Jones, Brian, David E. Leslie, Jennifer Ort, Brianna Rae, and Sarah Sportman 2017 Report: Data Recovery Excavations at Loci 9 and 10, Site 19-PL-426, Improvements to George D. Harlow Field/Marshfield Municipal Airport, Marshfield, Massachusetts. Manuscript, Massachusetts Historical Commission, Boston.

Josselyn, John 1988 John Josselyn, Colonial Traveler: A Critical Edition of Two Voyages to New-England, Paul J. Lindholt, editor. University Press of New England, Hanover, NH.

King, Julia A. 1988 A Comparative Midden Analysis of a Household and Inn in St. Mary's City, Maryland. Historical Archaeology 22(2):17–39.

Luedtke, Barbara E. 1998 Worked Ballast Flint at Aptucxet. Northeast Historical Archaeology 27:33–50.

Markham, Gervase 1635 The English Husbandman. T. S. for John Browne, London, UK.

Morton, Nathaniel 1937 New Englands Memoriall, Howard J. Hall, editor. Scholar's Facsimiles & Reprints, New York, NY.

Neiman, Fraser D. 1993 Temporal Patterning in House Plans from the 17th-Century Chesapeake. In The Archaeology of 17th-Century Virginia, Theodore R. Reinhart and Dennis R. Pogue, editors, pp. 251–283. Dietz Press, Richmond, VA.

O'Brien, Michael J., and Dennis E. Lewarch (editors) 1981 Plowzone Archaeology: Contributions to Theory and Techniques. Vanderbilt University, Publications in Anthropology, No. 27. Nashville, TN.

Pulsifer, David (editor) 1861a Records of the Colony of New Plymouth in New England. Deeds &c., Vol. 1., 1620–1651. William White, Boston, MA.

Pulsifer, David (editor) 1861b Records of the Colony of New Plymouth in New England [Vol. 11]. Laws, 1623–1682. William White, Boston, MA.

St. George, Robert Blair 1998 Conversing by Signs. Poetics of Implication in Colonial New England Culture. University of North Carolina Press, Chapel Hill.

Shurtleff, Nathaniel B. (editor) 1855a Records of the Colony of New Plymouth, in New England, Court Orders: Vol. 1. 1633–1640. William White, Boston, MA.

Shurtleff, Nathaniel B. (editor) 1855b Records of the Colony of New Plymouth, in New England, Court Orders: Vol. 2, 1641–1651. William White, Boston, MA.

Smith, John 1884 A Description of New-England. In Capt. John Smith, of Willoughby by Alford, Lincolnshire; President of Virginia, and Admiral of New England, Works 1608–1631, Edward Arber, editor, pp. 175–232. English Scholar's Library, Birmingham, UK.

Smith, J. T. 2002 The Miles Standish House, Duxbury, Mass., and Its British Antecedents. Vernacular Architecture 33(1):57–66.

Sportman, Sarah P. 2016 Report: Waterman House Faunal Analysis. Manuscript, Archaeological and Historical Services, Inc., Storrs, CT.

Thomas, Marcia A. 1854 Memorials of Marshfield and Guide Book to Its Localities at Green Harbor. Dutton and Wentworth, Boston, MA.

Waterman, Charles E. 1906 The Maine Watermans, with an Account of Their Ancestors in Massachusetts, Rhode Island and Connecticut. Ledger Publishing Company, Mechanic Falls, ME.

Waterman, Edgar Francis 1939 The Waterman Family. Descendants of Robert Waterman of Marshfield, Massachusetts through Seven Generations, Vol. 1. Edgar F. Waterman, New Haven, CT.

Watkins, Lura Woodside 1950 Early New England Potters and Their Wares. Harvard University Press, Cambridge, MA.

Winslow, Edward 1963 Good Newes from New England. A True Relation of Things Very Remarkable at the Plantation of Plymouth in New England. Applewood, Bedford, MA.

Winthrop, John 1908 Winthrop's Journal: "History of New England," 1630–1649, 2 vols., James Kendall Hosmer, editor. Charles Scribner's Sons, New York, NY.

Wood, William 1977 New England Prospect, Alden T. Vaughan, editor. University of Massachusetts Press, Amherst.
Acknowledgments:
Preservation archaeology takes many skilled and dedicated people, and the Waterman site was no exception. With great appreciation and respect I thank, first and foremost, Mary G. Harper, director of AHS; also, Bruce Clouette, AHS senior historian; the AHS crew; state archaeologist/state historic preservation officer Brona Simon and Jonathan Patton of the Massachusetts Historical Commission; Gale Associates; the Federal Aviation Administration; the Town of Marshfield; and the Marshfield Municipal Airport. I would also like to thank Cary Carson, Emerson Baker, the late Brian Jones, and the late Karin Goldstein for their insights and support. Thank you also to the Society for Historical Archaeology, including Historical Archaeology's editor-in-chief Christopher Matthews, copy editor Richard Schaefer, and the anonymous reviewers for their efforts and perspectives. In memory of Robert Waterman and Elizabeth (Bourne) Waterman.
Ethics declarations
Conflict of Interest
The author states that there is no conflict of interest.
Additional information
Publisher's Note
Springer Nature remains neutral with regard to jurisdictional claims in published maps and institutional affiliations.
About this article
Cite this article
Harper, R.K. The ca. 1638 Waterman Site, Marshfield, Massachusetts: The Anatomy of a Pilgrim House. Hist Arch (2021). https://doi.org/10.1007/s41636-020-00277-x
Keywords
household

gender

Plymouth Colony

New England

architecture

methods

17th century