Abstract
Aim of the study
The aim of the study is to assess the effectiveness of Er,Cr:YSGG laser therapy as a method for recycling debonded stainless steel orthodontic brackets.
Materials and methods
Sixty extracted premolar teeth bonded to stainless steel brackets were tested for rebonded shear bond strength after recycling by three protocols and compared with a control group. These 60 samples were randomized into four groups which were recycled by three protocols, namely, sandblasting, adhesive grinding by tungsten carbide bur, and Er,Cr:YSGG laser (Waterlase, Iplus, Biolase Technology, CA, USA), emitting a wavelength of 2780 nm, with an average power of 5 W; repetition rate, 20 Hz; pulse duration, 60 µs; water, 80%; air, 60%; and the control group where new brackets were used. After recycling, stereomicroscope and shear bond strength analysis were used to analyze the efficiency of the recycling protocols.
Results
Laser group showed the highest shear bond strength values. There was no statistically significant difference between bur removal and sandblasting; both showed the lowest values.
Conclusions
Er,Cr:YSGG laser was found to be the most efficient protocol for orthodontic brackets recycling.
This is a preview of subscription content,
to check access.
Access this article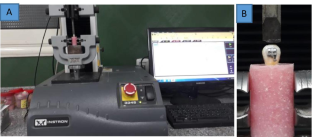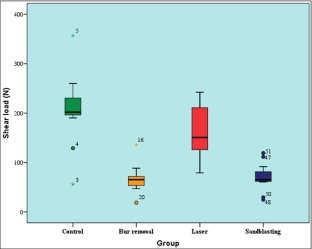 References
Buonocore MG (1955) A simple method of increasing the adhesion acrylic filling materials to enamel surfaces. J Dent Res 34:84953

Sonis AL (1996) Air abrasion of failed bonded metal brackets: a study of shear bond strength and surface characteristics as determined by scanning electron microscopy. Am J Orthod Dentofac Orthop 110:96–98

Karan S, Kircelli BH, Tasdelen B (2010) Enamel surface roughness after debonding. Angle Orthod 80:1081–1088

Cacciafesta V, Sfondrini MF, Melsen B, Dcribante A (2004) A 12 month clinical study of bond failures of recycled versus new stainless steel orthodontic brackets. Eur J Orthod 26:449–454

Wright WL, Powers JM (1985) In vitro tensile bond strength of reconditioned brackets. Am J Orthod Dentofac Orthop 87:247–252

Basiouny S, Elshourbagy E, Ghobashy S (2017) The effect of recycling and repeated recycling with Er:YAG laser on shear bond strength and surface characteristics of stainless steel orthodontic brackets. Egypt Dent J 63:107–116

Tavares SW, Consani S, Nouer DF, Magnani MB, Nouer PR, Martins LM (2006) Shear bond strength of new and recycled brackets to enamel. Braz Dent J 17:44–48

Chetan GB, Muralidhar Reddy Y (2011) Comparative evaluation of four office reconditioning methods for orthodontic stainless steel brackets on shear bond strength—an in vitro study. Ann Ess Dent 3:6–13. https://doi.org/10.5368/aedj.2011.3.1.1.2

Aksu M, Kocadereli I (2013) Influence of two different bracket base cleaning procedures on shear bond strength reliability. J Contemp Dent Pract 14(2):250–254

Halwai HK, Kamble RH, Hazarey PV, Gautam V (2012) Evaluation and comparision of the shear bond strength of rebonded orthodontic brackets with air abrasion, flaming, and grinding techniques: an in vitro study. Orthodontics (Chic) 13(1):e1-9

Chacko PK, Kodoth J, John J, Kumar K (2012) Recycling stainless steel orthodontic brackets with Er: YAG laser– an environmental scanning electron microscope and shear bond strength study. J Orthod Sci 2(3):87–94

Wendl B, Muchitsch P, Pichelmayer M, Droschl H, Kern W (2011) Comparative bond strength of new and reconditioned brackets and assessment of residual adhesive by light and electron microscopy. Eur J Orthod 33(3):288–292

Toroglu MS, Yaylali S (2008) Effects of sandblasting and silica coating on the bond strength of rebonded mechanically retentive ceramic brackets. Am J Orthod Dentofacial Orthop 134(2):181–187

Moritz A (2006) Oral laser application. Editorial: taking up a new challenge Vol 6, Berlin: Quintessence Publication

Colluzi DJ (2000) An overview of laser wavelengths used in dentistry. Dent Clin North Am 44:753–765

Dederich DN, Bushick RD (2004) Lasers in dentistry. J Am Dent Assoc 135:204–212

Basaran G, Ozer T, Berk N, Hamamci O (2007) Etching enamelfor orthodontics with an erbium, chromium: yttrium scandium gallium garnet laser system. Angle Orthod 77:117–123

Özer T, Başaran G, Berk N (2008) Laser etching of enamel for orthodontic bonding. Am J Orthod Dentofac Orthop 134:193–197

Almeida HC, Vedovello Filho M, Vedovello SA, Young AAA, Ramirez-yanez GO (2009) Er:YAG laser for composite removal after bracket debonding: a qualitative SEM analysis. IJO 20:9–13

Tortamano A, Lenzi DC, Hadad AC, Bottino MC, Dominguez GC, Vigorito JW (2009) Low-level laser therapy for pain caused by placement of the first orthodontic archwire: a randomized clinical trial. Am J Orthod Dentofac Orthop 136:622–627

Yamaguchi M, Fujita S, Yoshida T, Oikawa K, Utsunomiya T, Yamamoto H, Kasai K (2007) Low-energy laser irradiation stimulates the tooth movement velocity via expression of M-CSF and c-fms. Ortho Waves 66:139–148

Kim JS, Chou YM, Park GY (2015) Effect of low-level laser on the rate of tooth movement. Semin Orthodont 21:210–218

Alessandra M, Correa A, Regina G, Palma D, Jesus DP (2010) Composite filling removal with erbium: yttrium-aluminum-garnet laser: morphological analyses. Lasers Med Sci 25:1–7

Ahrari F, Fekrazad R, Kalhori KAM (2012) Reconditioning of ceramic orthodontic brackets with an Er, Cr:YSGG laser. Lasers Med Sci 28:223–228

Sharma-Sayal SK, Rossouw PE, Kulkarni GV, Titley KC (2003) The influence of orthodontic bracket base design on shear bond strength. Am J Orthod Dentofacial Orthop 124:74–82

Amirhossein M, Mohammad H, Nasim C (2018) Shear bond strength of rebonded ceramic brackets using four different methods of adhesive removal. J Dent, Tehran Univ Med Sci 15(1):54–62

Katsuyuki I, Toshiya E, Koichi S (2011) Shear bond strength of rebonded brackets after removal of adhesives with Er, Cr:YSGG laser. Odontology 99:129–134

Ahmed ZA, AL-khatieeb MM, (2020) Shear bond strength of rebonded self ligating ceramic brackets after different reconditioning procedures (a comparative an in vitro study). Journal of Research in Medical and Dental Science 8(1):144–151

Basudan AM, Al-Emran SE (2001) The effects of in-office reconditioning on the morphology of slots and bases of stainless steel brackets and on the shear/peel bond strength. J Orthod 28:231–236

Sogra Y, Hossein A, Azadeh F (2017) Effect of Er:YAG laser and sandblasting in recycling of ceramic brackets. J Lasers Med Sci 8:17–21
Ethics declarations
Ethics approval
This study does not include any human participants or animals. It was conducted on anonymous extracted teeth.
Conflict of interest
The authors declare no competing interests.
Additional information
Publisher's note
Springer Nature remains neutral with regard to jurisdictional claims in published maps and institutional affiliations.
About this article
Cite this article
Sedky, Y., AbdelHamid, M.B. Evaluating the efficiency of Er,Cr:YSGG laser for recycling of debonded stainless steel orthodontic brackets: an in vitro study. Laser Dent Sci 5, 185–191 (2021). https://doi.org/10.1007/s41547-021-00136-9
Received:

Accepted:

Published:

Issue Date:

DOI: https://doi.org/10.1007/s41547-021-00136-9
Keywords