Abstract
Purpose
The influence of dual-wavelength lasers Er,Cr:YSGG 2780 nm and diode 940 nm on bond strength of the epoxy resin-based sealer (AH Plus) to the root dentin was evaluated.
Methods
Thirty-three extracted human mandibular and maxillary straight and single-rooted teeth were sectioned at the cementoenamel junction perpendicular to the long axis. All the teeth were endodontically prepared and cut with thin disc 1.1 mm thickness transversally to the long axis. The teeth were randomly divided into three groups (n = 40). In group 1, 1 ml of NaOCl (5.25%) was used between every drill exchange for irradiating the canals. Group 2 was irradiated with EDTA (17%) and NaOCl in order to remove the smear layer from the canals. In group 3, the canals irradiated with 2780 nm Er,Cr:YSGG laser using radial firing tips and 940 nm diode laser. One root from every group was selected for scanning electron microscopy (SEM) analysis. Statistical analysis was performed using the Shapiro–Wilk test and one-way ANOVA test.
Results
Statistically significant differences were observed in group 2 (EDTA Plus NaOCl) compared with the two other groups (p < 0.001). There were no significant differences between the laser and control group (p = 0.987). The mode of failure in all groups was the cohesion failure indicating the failure within the sealer. SEM examination confirmed the presence of a thick smear layer in group 1 and open dentinal orifices in groups 2 and 3.
Conclusion
In spite of removing the smear layer, the dual-wavelength laser has no effect on the push-out bond strength of AH Plus sealer.
Access options
Buy single article
Instant access to the full article PDF.
US$ 39.95
Tax calculation will be finalised during checkout.
Subscribe to journal
Immediate online access to all issues from 2019. Subscription will auto renew annually.
US$ 79
Tax calculation will be finalised during checkout.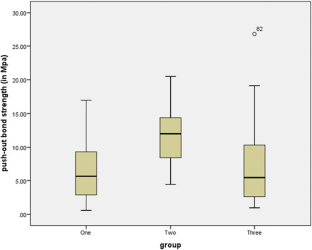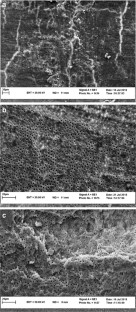 References
1.

Sjogren U, Hagglund B, Sundqvist G, Wing K (1990) Factors affecting the long-term results of endodontic treatment. J End 16:498–504

2.

Violich DR, Chandler NP (2010) The smear layer in endodontics—a review. Int Endod J 43:2–15

3.

Shahravan A, Haghdoost AA, Adl A, Rahimi H, Shadifar F (2007) Effect of smear layer on sealing ability of canal obturation: a systematic review and meta-analysis. J Endod 33(2):96–105

4.

Clark-Holke D, Drake D, Walton R, Rivera E, Guthmiller JM (2003) Bacterial penetration through canals of endodontically treated teeth in the presence or absence of the smear layer. J Dent 31:275–281

5.

Cobankara FK, Adanr N, Belli S (2004) Evaluation of the influence of smear layer on the apical and coronal sealing ability of two sealers. J Endod 30:406–409

6.

Hulsmann M, Heckendorff M, Lennon A (2003) Chelating agents in root canal treatment: mode of action and indications for their use. Int Endod J 36:810–830

7.

Crumpton BJ, Goodell GG, McClanahan SB (2005) Effects on smear layer and debris removal with varying volumes of 17% REDTA after rotary instrumentation. J Endod 31:536–538

8.

Siqueira JF Jr, Magalhaes KM, Rocas IN (2007) Bacterial reduction in infected root canals treated with 2.5% NaOCl as an irrigant and calcium hydroxide/camphorated paramonochlorophenol paste as an intracanal dressing. J Endod 33(6):667–672

9.

Kouchi Y, Ninomiya J, Yasuda H, Fukui K, Moriyama T, Okamoto H (1980) Location of Streptococcus mutans in the dentinal tubules of open infected root canals. J Dent Res 59:2038–2046

10.

Spratt DA, Pratten J, Wilson M, Gulabivala K (2001) An in vitro evaluation of the antimicrobial efficacy of irrigants on biofilms of root canal isolates. Int Endod J 34:300–307

11.

George R, Meyers IA, Walsh LJ (2008) Laser activation of endodontic irrigants with improved conical laser fiber tips for removing smear layer in the apical third of the root canal. J Endod 34:1524–1527

12.

Takeda FH, Harashima T, Kimura Y, Matsumoto K (1998) Comparative study about the removal of smear layer by three types of laser devices. J Clin Laser Med Surg 16(2):117–122

13.

Gutknecht N, van Gogswaardt D, Conrads G, Apel C, Schubert C, Lampert F (2000) Diode laser radiation and its bactericidal effect in root canal wall dentin. J Clin Laser Med Surg 18(2):57–60

14.

Fegan SE, Steiman HR (1995) Comparative evaluation of the antibacterial effects of intracanal Nd:YAG laser irradiation: an in vitro study. J Endod 21(8):415–417

15.

Silva AC, Guglielmi C, Meneguzzo DT, Aranha AC, Bombana AC, de Paula Eduardo C (2010) Analysis of permeability and morphology of root canal dentin after Er,Cr:YSGG laser irradiation. Photomed Laser Surg 28(1):103–108

16.

Varella CH, Pileggi R (2007) Obturation of root canal system treated by Cr, Er: YSGG laser irradiation. J Endod 33(9):1091–1093

17.

Eldeniz AU, Ozer F, Hadimli HH, Erganis O (2007) Bactericidal efficacy of Er, Cr:YSGG laser irradiation against Enterococcus faecalis compared with NaOCl irrigation: an ex vivo pilot study. Int Endod J 40(2):112–119

18.

Wang QQ, Zhang CF, Yin XZ (2007) Evaluation of the bactericidal effect of Er, Cr:YSGG, and Nd:YAG lasers in experimentally infected root canals. J Endod 33(7):830–832

19.

Ishizaki NT, Matsumoto K, Kimura Y, Wang X, Kinoshita J, Okano SM et al (2004) Thermographical and morphological studies of Er,Cr:YSGG laser irradiation on root canal walls. Photomed Laser Surg 22(4):291–297

20.

George R, Walsh LJ (2010) Thermal effects from modified endodontic laser tips used in the apical third of root canals with erbium-doped yttrium aluminum garnet and erbium, chromium-doped yttrium scandium gallium garnet lasers. Photomed Laser Surg 28:161–165

21.

Martins MR, Carvalho MF, Vaz IP, Capelas JA, Martins MA, Gutknecht N (2013) Efficacy of Er,Cr:YSGG laser with endodontical radial firing tips on the outcome of endodontic treatment: blind randomized controlled clinical trial with six-month evaluation. Lasers Med Sci 28:1049–1055

22.

Schoop U, Barylyak A, Goharkhay K, Beer F, Wernisch J, Georgopoulos A, Sperr W, Moritz A (2009) The impact of an erbium, chromium:yttrium-scandium-gallium-garnet laser with radial-firing tips on endodontic treatment. Lasers Med Sci 24:59–65

23.

Licata ME, Albanese A, Campisi G, Geraci DM, Russo R, Gallina G (2015) Effectiveness of a new method of disinfecting the root canal using Er,Cr:YSGG laser to kill Enterococcus faecalis in an infected tooth model. Lasers Med Sci 30(2):707–712

24.

Bago Juric I, Plecko V, Anic I (2014) Antimicrobial efficacy of Er,Cr:YSGG laser-activated irrigation compared with passive ultrasonic irrigation and RinsEndo((R)) against intracanal Enterococcus faecalis. Photomed Laser Surg 32(11):600–605

25.

Falkenstein F, Gutknecht N, Franzen R (2014) Analysis of laser transmission and thermal effects on the inner root surface during periodontal treatment with a 940-nm diode laser in an in vitro pocket model. J Biomed Opt 19(12):128002

26.

Haidary D, Franzen R, Gutknecht N (2016) Root surface temperature changes during root canal laser irradiation with dual wavelength laser (940 and 2780 nm): a preliminary study. Photomed Laser Surg 34(8):336–334

27.

Al-Karadaghi TS, Franzen R, Jawad HA, Gutknecht N (2015) Investigations of radicular dentin permeability and ultrastructural changes after irradiation with Er,Cr:YSGG laser and dual wavelength (2780 and 940 nm) laser. Lasers Med Sci 30(8):2115–2121

28.

Erickson R (1992) Surface interactions of dental adhesive materials. Oper Dent 5:81–94

29.

Versiani MA, Carvalho-Junior JR, Padilha MIAF, Lacey S, Pascon EA, Sousa-Neto MD (2006) A comparative study of physicochemical properties of AH Plus and Epiphany root canal sealants. Int Endod J 39:464–471

30.

Tsui-Hsien H, Chong-Kuei L, Ming-Yung C, Chia-Tze K (2000) Lactate dehydrogenase leakage of hepatocytes with AH26 and AH Plus sealer treatments JOE, VOL. 26, NO. 9, SEPTEMBER 2000

31.

Ngoh EC, Pashley DH, Loushine RJ, Weller RN, Kimbrough WF (2001) Effects of eugenol on resin bond strengths to root canal dentin. J Endod 27:411–414

32.

Schwartz RS (2006) Adhesive dentistry and endodontics (2006) bonding in the root canal system-the promise and the problems: a review. J Endod 32(12):1125–1134

33.

Onay EO, Orucoglu H, Kiremitci A, Korkmaz Y, Berk G (2010) Effect of Er,Cr:YSGG laser irradiation on the apical sealing ability of AH Plus/gutta-percha and hybrid root seal/Resilon combinations. Oral Surg Oral Med Oral Pathol Oral Radiol 110:657–664

34.

Uzunoglu E, Aktemur S, Uyanik MO, Durmaz V, Nagas E (2012) Effect of ethylenediaminetetraacetic acid on root fracture with respect to concentration at different time exposures. J Endod 38:1110–1113

35.

Calt S, Serper A (2002) Time-dependent effects of EDTA on dentin structures. J Endod 28:17–19

36.

Martins M, Franzen R, Depraet F, Gutknecht N (2018) Rationale for using a double-wavelength (940 nm + 2780 nm) laser in endodontics: literature overview and proof-of-concept. Lasers Dent Sci 2:29–41

37.

Goldman M, Goldman LB, Cavaleri R, Bogis J, Lin PS (1982) The efficacy of several endodontic irrigating solutions: a scanning electron microscopic study: part 2. J Endod 8:487–492

38.

Chen WP, Chen YY, Huang SH, Lin CP (2013) Limitations of push-out test in bond strength measurement. J Endod 39(2):283–287

39.

Pane ES, Palamara JE, Messer HH (2013) Critical evaluation of the push-out test for root canal filling materials. J Endod 39(5):669–673

40.

Jainaen A, Palamara JE, Messer HH (2007) Push-out bond strengths of the dentine-sealer interface with and without a main cone. Int Endod J 40:882–890

41.

Nagas E, Uyanik O, Durmaz V, Cehreli ZC (2011) Effect of plunger diameter on the push-out bond values of different root filling materials. Int Endod J 44(10):950–955

42.

Haragushiku GA, Sousa-Neto MD, Silva-Sousa YT, Alfredo E, Silva SC, Silva RG (2010) Adhesion of endodontic sealers to human root dentine submitted to different surface treatments. Photomed Laser Surg 28(3):405–410

43.

Lee KW, Williams MC, Camps JJ, Pashley DH (2002) Adhesion of endodontic sealers to dentin and gutta-percha. J Endod 28:684–688

44.

Fisher MA, Berzins DW, Bahcall JK (2007) An in vitro comparison of bond strength of various obturation materials to root canal dentin using a push-out test design. J Endod 33:856–858

45.

Moura-Net to CPT, Davidowicz H, de Moura AA (2009) Apical leakage of three resin-based endodontic sealers after 810-nm diode laser irradiation. Photomed Laser Surg 27(6):891–894
Ethics declarations
Conflict of interest
The authors declare that they have no conflict of interest.
Ethical approval
This article does not contain any studies with human participants or animals performed by any of the authors.
Additional information
Publisher's note
Springer Nature remains neutral with regard to jurisdictional claims in published maps and institutional affiliations.
About this article
Cite this article
Rahati, M., Kazeminejad, E., Yekta-Michael, S.S. et al. In vitro evaluation of the push-out bond strength of the epoxy resin-based root canal sealer to root dentin irradiated with double-wavelength lasers. Laser Dent Sci 3, 191–197 (2019). https://doi.org/10.1007/s41547-019-00067-6
Received:

Accepted:

Published:

Issue Date:
Keywords
Dual-wavelength laser

Endodontic

Smear layer

Er,Cr:YSGG laser

Diode laser