Access options
Buy single article
Instant access to the full article PDF.
US$ 39.95
Tax calculation will be finalised during checkout.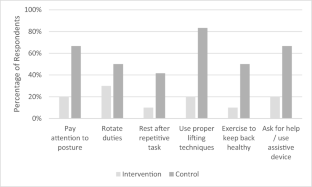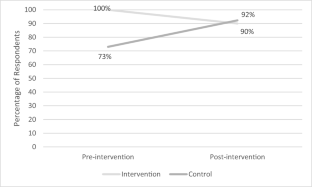 References
Bureau of Labor Statistics. (2007). Incidence rates for nonfatal occupational injuries and illnesses involving days away from work per 10,000 full-time workers by industry and selected events or exposures leading to injury or illness, 2006. Washington, DC: U.S. Department of Labor.

Bureau of Labor Statistics. (2015). Nonfatal occupational injuries and illnesses requiring days away from work, 2015. Washington, DC: U.S. Department of Labor.

Canadian Centre for Occupational Health and Safety (2017). Back Injury Prevention. Retrieved from https://www.ccohs.ca/oshanswers/ergonomics/inj_prev.html.

Cheng, B., Wanga, M., Mørchb, A. I., Chenc, N., & Spectore, K. M. (2014). Research on e-Learning in the workplace 2000-2012: A bibliometric analysis of the literature. Educational Research Review, 11, 56–72.

Collins, J. W., Nelson, A., & Sublet, V. (2006). Safe lifting and movement of nursing home residents, DHHS (NIOSH) Publication No. 2006–117. Cincinnati: National Institute for Occupational Safety and Health.

Cullen, E. T. (2008). Tell Me a Story. Centers for Disease Control and Prevention. https://www.cdc.gov/niosh/mining/UserFiles/works/pdfs/tmasust.pdf. Accessed 15 Dec 2017.

Ehrlich, G. E. (2003). Low back pain/Ehrlich George E. Bulletin of the World Health Organization, 81, 671–676.

Fan, X., & Straube, S. (2016). Reporting on work-related low back pain: data sources, discrepancies and the art of discovering truths. Pain management, 6(6), 553–559.

Glanz, K., Rimer, B. K., & Viswanath, K. (Eds.). (2008). Health behavior and health education: Theory, research and practice. San Francisco: Jossey-Bass.

Green, M. C., & Brock, T. C. (2000). The role of transportation in the persuasiveness of public narratives. Journal of Personality and Social Psychology, 79, 701–721.

Guillén-Nieto, V., & Aleson-Carbonell, M. (2012). Serious games and learning effectiveness: The case of It's a Deal! Computers & Education, 58(1), 435–448.

Guo, H. R., Tanaka, S., Cameron, L. L., et al. (1995). Back pain among workers in the United States: national estimates and workers at high risk. American Journal of Industrial Medicine, 28, 591–602.

Katz, J. N. (2006). Lumbar disc disorders and low-back pain: socioeconomic factors and consequences. The Journal of Bone and Joint Surgery, 88(suppl_2), 21–24.

Lothridge, K., Fox, J., & Fynan, E. (2013). Blended learning: efficient, timely and cost effective. Australian Journal of Forensic Sciences, 45(4), 407–416.

Maher, C. G. (2000). A systematic review of workplace interventions to prevent low back pain. The Australian Journal of Physiotherapy, 46(4), 259–269.

Milanese, S. F., Grimmer-Somers, K., Souvlis, T., Innes-Walker, K., & Chipchase, L. S. (2014). Is a blended learning approach effective for learning in allied health clinicians? Physical Therapy Reviews, 19(2), 86–93.

O'Donnell, M. P. (2014). Health promotion in the workplace. Troy: American Journal of Health Promotion Inc..

Occupational Safety and Health Administration (2017). Back Disorders and Injuries. OSHA Technical Manual.

Rey, G. D. (2012). A review of research and a meta- analysis of the seductive detail effect. Educational Research Review, 7, 216–237.

Ricketts, M. (2015). Using stories to teach safety: practical research-based tips. Professional Safety, 60(5), 51–57.

Ricketts, M., Shanteau, J., McSpadden, B., & Fernandez-Medina, K. M. (2010). Using stories to battle unintentional injuries: narratives in safety and health communication. Social Science & Medicine, 70(9), 1441–1449.

Robson L.S., Stephenson C.M., Schulte P.A., Amick B.C. III, Irvin E.L., Eggerth D.E., Chan S., Bielecky A.R., Wang A.M., Heidotting T. L., Peters R.H., Clarke J.A., Cullen K., Rotunda C.J., Grubb P.L. (2012). A systematic review of the effectiveness of occupational health and safety training. Scandinavian Journal of Work, Environment, & Health, 38(3): 193–208.

Schank, R. C., & Abelson, R. P. (1977). Scripts, plans, goals, and understanding. Hillsdale: Lawrence Erlbaum Associates.

Sherer, M., & Rogers, R. W. (1984). The role of vivid information in fear appeals and attitude change. Journal of Research in Personality, 18, 321–334.

Smith-Jentsch, K. A., Jentsch, F. G., Payne, S. C., & Salas, E. (1996). Can pretraining experiences explain individual differences in learning? Journal of Applied Psychology, 81(1), 110.

State of Washington (2006). An act relating to reducing injuries among patients and healthcare workers. Accessible on Web at: http://www.leg.wa.gov/pub/billinfo/2005-06/Pdf/BillReports/House/1672.HBR.pdf.

Strecher, V. J., McClure, J., Alexander, G., Chakraborty, B., Nair, V., Konkel, J., … & Little, R. (2008). The role of engagement in a tailored web-based smoking cessation program: randomized controlled trial. Journal of Medical Internet Research, 10(5).

Suhasini, R., & Suganthalakshmi, T. (2015). Emerging Trends in Training and Development. International Journal of Scientific and Research Publications, 5(3), 1–10.

Thompson, D. (2012). Designing serious video games for health behavior change: current status and future directions. Journal of Diabetes Science and Technology, 6(4), 807–811.

Trout, G. (2016). E-Learning & Online Training. Professional Safety, 61(6), 34.

Zaharias, P., & Poylymenakou, A. (2009). Developing a usability evaluation method for e-learning applications: beyond functional usability. International Journal of Human Computer Interaction, 25(1), 75–98.

Zhang, D., Zhou, L., Briggs, R. O., & Nunamaker, J. F. (2006). Instructional video in e-learning: Assessing the impact of interactive video on learning effectiveness. Information Management, 43(1), 15–27.
About this article
Cite this article
Hughes, M.C., McCulloch, E. & Valdes, E. The Impact of Story-Based Video Back Injury Prevention Training on Employee Motivation, Engagement, Knowledge, and Behavior. Occup Health Sci 2, 203–214 (2018). https://doi.org/10.1007/s41542-018-0016-6
Received:

Accepted:

Published:

Issue Date: