Abstract
Grotte de la Carrière is one of the secondary caves with paleontological record within the Réseau Lachambre karstic complex, an important network located in the Têt Valley at Villefranche-de-Conflent (Occitaine, France). After the discovery of dozens of cave bear remains in 2012, four systematical excavations in different parts of the cave allowed to recover a noteworthy Pleistocene mammal assemblage. Here we describe the dentognathic specimens of ursids coming from the lower layers of the first performed sondage. Based on morphological and morphometric comparisons with other late Early to Late Pleistocene European fossil material, the studied specimens were referred to the Middle Pleistocene species Ursus deningeri. Due to the scantiness of well-preserved and chronologically well-constrained U. deningeri remains, this study represents an important contribution to acquire knowledge on this Middle Pleistocene bear.
Resumen
La Grotte de la Carrière es una de las cuevas secundarias con registro fósil dentro del complejo cárstico del Réseau Lachambre, una importante red de cuevas localizadas en el valle del río Têt en Villefranche-de-Conflent (Occitaine, France). Después del descubrimiento de decenas de restos fósiles en la cueva en 2012, cuatro excavaciones sistemáticas han tenido lugar en diferentes sondeos permitiendo el descubrimiento de un importante yacimiento Pleistoceno. Aquí se describen los restos dentognáticos de úrsidos que provienen de los niveles inferiores del sondeo número 1. En base a comparaciones morfológicas y biométricas con otros especímenes fósiles del Pleistoceno, referimos el material estudiado a la especie del Pleistoceno medio Ursus deningeri. Debido a la escasez de restos bien preservados y datados de la anterior especie, este estudio representa una importante contribución al estudio de este oso del Pleistoceno medio.
Access options
Buy single article
Instant access to the full article PDF.
USD 39.95
Price excludes VAT (USA)
Tax calculation will be finalised during checkout.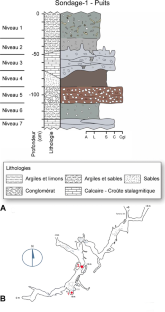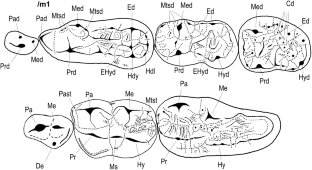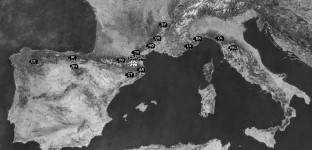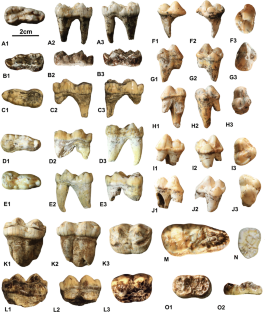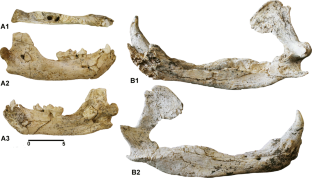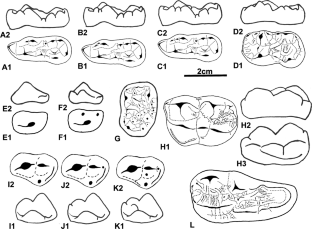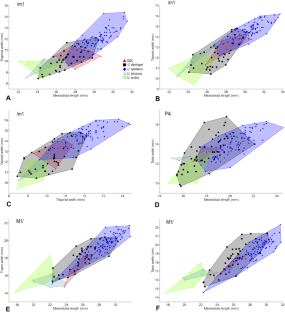 Similar content being viewed by others
Abbreviations
ICP:

Institut Català de Paleontologia Miquel Crusafont

S1:

Sondage 1

SH:

Sima de los Huesos

CDA:

Caune de l' Arago

IR:

Santa Isabel de Ranero

CT:

Cova del Toll

CE:

Cova Eirós

AR:

Cova de l' Arbreda

SV:

Saint Vallier

VAL:

Upper Valdarno

OL:

Olivola

PO:

Grotte du Portel

TR:

Grotte Tournal

OR:

Avenc d' Orgnac III

CRO:

Trou de la Crouzade

HO:

Grotte d' Hortus

BA:

Grotta della Basura

GDC:

Grotte de la Carrière

MZB:

Museu Zoològic de Barcelona

M/m:

Molars, uppercase indicate upper molars and lowercase lower ones

P4/p4:

Fourth upper and lower premolar, respectively

Pad:

Paraconid

Prd:

Protoconid

Med:

Metaconid

Mtsd:

Metastylid

Ed:

Entoconid

Hyd:

Hypoconid

Hld:

Hypoconulid

EHyd:

Enthypoconid

Cd:

Centrolophid

Pa:

Paracone

Past:

Parastyle

Me:

Metacone

Mtst:

Metastyle

De:

Deuterocone

Pr:

Protocone

Ms:

Mesocone

Hy:

Hypocone

Tf:

Talonfield
References
Argant, A. (2004). Les Carnivores du gisement Pliocène final de Saint-Vallier (Drôme, France). Geobios,37, 133–182.

Baca, M., Popovic, D., Stefaniak, K., Marciszak, A., Urbanowski, M., Nadachowski, A., et al. (2016). Retreat and extinction of the Late Pleistocene cave bear (Ursus spelaeus sensu lato). The Science of Nature,103, 92.

Baryshnikov, G. F., & Puzachenko, A. Y. (2018a). Morphometry of upper check teeth of cave bears (Carnivora, Ursidae). Boreas,48(3), 581–604.

Baryshnikov, G. F., & Puzachenko, A. Y. (2018b). Morphometric analyses of cave bear mandibles (Carnivora, Ursidae). Revue de Paléobiologie, Genève,37(2), 379–393.

García, N. (2003). Osos y otros carnívoros de la sierra de Atapuerca. Oviedo: Fundación Oso de Asturias.

Grandal-d'Anglade, A. (1993). El Oso de las Cavernas en Galicia: el yacimiento de Cova Eirós. Serie Nova Terra, 8 (pp. 1–246). A Coruña: Laboratorio Xeolóxico de Laxe.

Grandal-d'Anglade, A., & López González, F. (2004). A study of the evolution of the Pleistocene Cave Bear by a morphometric analysis of the lower carnassial. Oryctos,5, 83–94.

Jiangzuo, Q., Wagner, J., Chen, J., Dong, C., Wei, J., Ning, J., et al. (2018). Presence of the Middle Pleistocene cave bears in China confirmed-Evidence from Zhoukoudian area. Quaternary Science Reviews,199, 1–17.

Knapp, M., Rohland, N., Weinstock, J., Baryshnikov, G., Sher, A., Nagel, D., et al. (2009). First DNA sequences from Asian cave bear fossils reveal deep divergences and complex phylogeographic patterns. Molecular Ecology,18, 1225–1238.

Kurtén, B. (1955). Sex dimorphism and size trends in the cave bear, Ursus spelaeus Rosenmueller and Heinroth. Acta Zoologica Fennica,90, 1–47.

Kurtén, B. (1958). Life and death of the Pleistocene Cave Bear. A study in Paleoecology. Acta Zoologica Fennica,95, 1–56.

Kurtén, B. (1976). The Cave Bear story (pp. 1–163). New York: Life and Death of a Vanished Animal. Columbia University Press.

Llenas, M., Madurell-Malapeira, J., Nebot, M., González-Mateos, J., Susanna, I., Hernández-Ruiz, T., Pladevall, C., Ferrandiz-Rovira, M., & Hernández-Martínez, R. (2011). "La Grotte de Vida Tripa: A new Middle Pleistocene locality in Southeastern France". In: J. Marigó, M. Pérez de los Ríos, R. Minwer-Barakat, A. Bolet & D. DeMiguel (Eds.) XXVII Jornadas de la Sociedad Española de Paleontología y Simposios de los Proyectos PICG 587 y 596. Paleontologia i Evolució, Memòria Especial (pp. 197–199).

López-Garcia, J. M., Luzi, E., Furió, M., Susanna, I., Llenas, M., & Madurell-Malapeira, J. (2016). Biochronological data for the Middle Pleistocene site of Grotte de la Carrière (Lachambre karstic complex, Corneilla-de-Conflent, Eastern Pyrenees, southern France) inferred from the small-mammal assemblage. Quaternaire,27(2), 133–138.

Loreille, O., Orlando, M., Patou-Mathis, M., Philippe, M., Taberlet, P., & Hanni, C. (2001). Ancient DNA analysis reveals divergence of the cave bear Ursus spelaeus and brown bear Ursus arctos lineages. Current Biology,11, 200–203.

Madurell-Malapeira, J., & Llenas, M. (2018). Projet de fouille programmée dans la Grotte de la Carrière. Corneillà de Conflent: Pyrénées-Orientales, Occitanie) (Unpublished project).

Mazza, P., & Rustioni, M. (1994). On the Phylogeny of Eurasian Bears. Paleontrographica Abt. A,230, 1–38.

Mazza, P., Rustioni, M., & Boscagli, G. (1995). Evolution of ursid dentition, with inferences on the functional morphology of the masticatory apparatus in the genus Ursus. In J. Moggi-Cecchi (Ed.), Aspects of dental biology: paleocontology, anthropology and evolution (pp. 147–157). Florence: International Institute for the Study of Man.

Musil, R. (2001). Die Ursiden-Reste aus dem Unterpleistozän von Untermaßfeld. In: Kahlke, R.-D. (Ed.), Das Pleistozän von Untermaßfeld. Römisch-Germanisches Zentralmuseum. Monographien, 40(2), 633–658.

Musil, R. (2005). Die Bärenpopulation von Bilzingsleben - eine neue mittelpleistozäne. Munibe (Antropologia-Arkeologia), 57, 67–101.

Quilès, J. (2003). Les Ursidae du Pléistocène moyen et supérieur en Midi méditerranéen: Apports paléontologiques, biochronologiques et archéozoologiques. (Unpublished Ph. D. Thesis). Muséum National d'Histoire Naturelle: Paris.

Rabeder, G. (1999). Die Evolution des Höhlenbärengebisses. Mitteilungen der Kommission für Quartärforschung der Österreichischen. Akademie der Wissenschaften, 11, 1–102.

Rabeder, G., Hofreiter, M., Withalm, G., Nagel, D. (2004). New Taxa of Alpine Cave Bears (Ursidae, Carnivora). In: Cahiers scientifiques du Muséum d'histoire naturelle de Lyon. Hors-série, tome 2. Actes du 9e symposium international sur l'ours des cavernes, pp. 47–67.

Rabeder, G., Pacher, M., & Withalm, G. (2010). Early Pleistocene bear remains from Deutsch-Altenburg (Lower Austria). Mitteilungen der Kommission für Quartäarforschung der Österreichischen Akademie der Wissenschaften,17, 1–135.

Stiller, M., Molak, M., Prost, S., Rabeder, G., Baryshnikov, G., Rosendahl, W., et al. (2014). Mitochondrial DNA diversity and evolution of the Pleistocene cave bear complex. Quaternary International,339–340, 224–231.

Torres, T. (1984). Úrsidos del Pleistoceno-holoceno de la Península Ibérica (Unpublished Ph. D. Thesis). Escuela Técnica Superior de Ingenieros de Minas: Madrid.

Torres, T., Ortiz, J.E., Cobo, R., Julià, R., Camacho, A., Puch, C. Llamas, J.F. (2005). Presence of two cave bear species in La Lucia cave (Lamasón, Cantabria, N Spain): Ursus deningeri von Reichenau and Ursus spelaeus Rosenmüller-Heinroth. Munibe (Antropologia-Arkeologia) 57, 103–122.

Van Heteren, A. H., MacLarnon, A., Soligo, C., & Rae, T. C. (2016). Functional morphology of the cave bear (Ursus spelaeus) mandible: a 3D geometric morphometric analysis. Organisms Diversity Evolution,16(1), 299–314.

Wagner, J., & Čermák, S. (2012). Revision of the early Middle Pleistocene bears (Ursidae, Mammalia) of Central Europe, with special respect to possible co-occurrence of speleoid and arctoid lineages. Bulletin of Geosciences,87, 461–496.
Acknowledgements
We thank Marina Rull and Júlia Jiskoot and the other preparators from Institut Català de Paleontologia Miquel Crusafont (ICP) for the excellent preparation of the specimens. The collaboration of Jean-Louis Pérez from Conflent Spéléo Club, Philippe Galant, Véronique Lallemand and Caroline Guerineau from the Direction Régionale des Affaires Culturelles (DRAC) Occitaine of the Ministère de la Culture French Government for their assistance and help is also acknowledged such as the assistance of Javier Quesada and Vicent Vicedo, curators of vertebrate and paleontology collections from Museu Zoològic de Barcelona (MZB) and Museu Martorell (MGB) respectively. We also acknowledge funding from DRAC Occitaine and the Spanish Agencia Estatal de Investigación/European Regional Development Fund of the European Union (CGL2017-82654-P, AEI/FEDER EU). Comments by Jan Wagner, Marco Cherin and an anonymous reviewer helped to significantly improve the manuscript.
About this article
Cite this article
Prat-Vericat, M., Rufí, I., Llenas, M. et al. Middle Pleistocene Ursus deningeri from Grotte de la Carrière (Réseau Lachambre, Têt Valley, Eastern Pyrenees). J Iber Geol 46, 163–175 (2020). https://doi.org/10.1007/s41513-020-00124-1
Received:

Accepted:

Published:

Issue Date:

DOI: https://doi.org/10.1007/s41513-020-00124-1
Keywords
Palabras clave