Abstract
Reading is a complex activity, which combines and exploits different components (visual and perceptive abilities, memory, metacognition, emotional components), evolving and qualitatively changing across development. Research has primarily focused on investigating and teaching—and if necessary re-habilitating—reading skills during development, with a special emphasis on decoding processes and reading aloud. In adulthood, however, reading is generally practiced in the silent mode, with the aim of understanding texts, and these aspects have been devoted little attention, above all in the perspective of improving reading abilities. Given the crucial role of reading for comprehension not only in the academic context but also in everyday life, this gap needs filling. This paper investigates the effects of a training programme, named SuperReading, on the reading and comprehension abilities of adult subjects. The course is focused on silent reading and combines metacognitive training, memorisation techniques, self-empowerment and eye-movement practice to enhance reading effectiveness. After a brief presentation of the course and its crucial components, the paper illustrates a research project, aimed at measuring the effects of the training. It presents and analyses the data gathered on a population of 108 university students, all of them normotypical readers (test group), and compares them with a control group of 88 subjects matched for age and educational level; it then comments on the results, which show significant improvements in the performance of the test group and significant differences with the control group.
Access options
Buy single article
Instant access to the full article PDF.
US$ 39.95
Tax calculation will be finalised during checkout.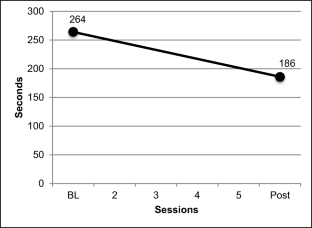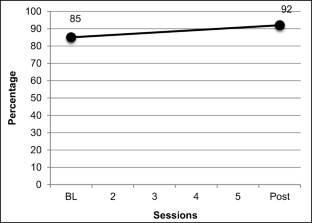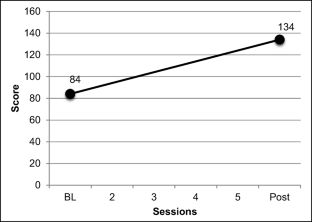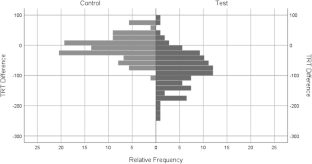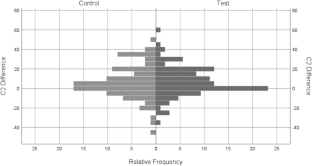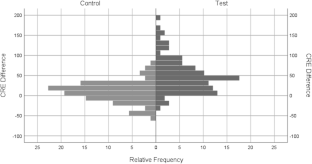 Data Availability
The dataset generated during and analysed during the current study are available from the corresponding author on reasonable request.
References
Aghababian, V., & Nazir, T. A. (2000). Developing normal reading skills: aspects of the visual processes underlying word recognition. Journal of Experimental Child Psychology, 76, 123–150.

Alam, M. (2013). A study test anxiety, self-esteem and academic performance among adolescents. The IUP Journal of Organizational Behavior, XII(4), 34-43.

Albanese, O., Doudin, P. A., & Martin, D. (2003). Metacognizione ed educazione: processi, apprendimenti, strumenti. Milano: Franco Angeli.

Alloway, T. P., & Alloway, R. G. (2010). Investigating the predictive roles of working memory and IQ in academic attainment. Journal of Experimental Child Psychology, 106(1), 20–29.

Alloway, T. P., Gathercole, S. E., Adams, A. M., Willis, C., Eaglen, R., & Lamont, E. (2005). Working memory and phonological awareness as predictors of progress towards early learning goals at school entry. British Journal of Developmental Psychology, 23(3), 417–426.

Anderson, T. H., & Armbruster, B. B. (1984). Content area textbooks. In R. Anderson, J. Osborn, & R. J. Tierney (Eds.), Learning to read in American schools: basal readers and content texts (pp. 193–226). London: Erlbaum.

Andrich, S. (2015). Strategie di lettura metacognitive. Erickson: Trento.

Angel, P., & Amar, P. (2005). Le coching. Parigi: PUF.

Bacon, A. M., Parmentier, F. B. R., & Barr, P. (2013). Visuospatial memory in dyslexia: evidence for strategic deficits. Memory, 21(2), 189–209.

Baddeley, A. (1990). Human memory: theory and practice. Hove Sussex: Erlbaum.

Baker, L., & Beall, L. C. (2009). 17 metacognitive processes and reading comprehension, Handbook of research on reading comprehension. Oxford: Routledge.

Borkowski, J. G., & Muthukrishna, N. (1992). Moving metacognition into the classroom: working models and effective strategy teaching. In M. Pressley, K. R. Harris, & J. T. Guthrie (Eds.), Promoting academic competence and literacy in school (pp. 477–501). San Diego: Academic Press.

Boulware-Gooden, R., Carreker, S., Thornhill, A., & Joshi, R. M. (2007). Instruction of metacognitive strategies enhances reading comprehension and vocabulary achievement of third-grade students. The Reading Teacher, 61(1), 70–77.

Ciuffo, M., Angelini, D., Barletta Rodolfi, C., Gagliano, A., Ghidoni, E., & Stella, G. (2019). BDA–16-30 Batteria per la Diagnosi della Dislessia Disortografia, Disturbo di comprensione in età adulta. Firenze: Giunti.

Cohen, J. (1988). Statistical power analysis for the behavioral sciences. Abingdon: Routledge.

Cole, R. (2009). How to be a super reader. London: Piactus.

Cooper, R. (2009a). Evaluation of a SuperReading course with dyslexic adults. Journal of Inclusive Practice in Further and Higher Education, 1(2), 4–21.

Cooper, R. (2009b). SuperReading: a 'Real Reading' alternative to phonics in adults? Patoss Bulletin, 22(2), 19–24.

Cooper, R. (2012). Updating the evidence of the impact of SuperReading on dyslexic students. Journal of Inclusive Practice in Further and Higher Education, 4(1), 26–24.

Cooper, J. O., Heron, T. E., & Heward, W. L. (2007). Applied behavior analysis. Upper Saddle River: Pearson.

Cornoldi, C. (1995). Metacognizione e Apprendimento. Il Mulino: Bologna.

Damer, D., & Melendres, L. (2011). Tackling test anxiety: a group for college students. The Journal for Specialists in Group Work, 36(3), 163–177.

De Beni, R., & Pazzaglia, F. (1995). La comprensione del testo. Modelli teorici e programmi di intervento. Torino: UTET.

Efklides, A. (2006). Metacognition and affect: what can metacognitive experiences tell us about the learning process? Educational Research Review, 1, 3–14.

Flavell, J. H. (1979). Metacognition and cognitive monitoring: a new area of cognitive developmental inquiry. American Psychologist, 34(10), 906–911.

Franceschini, S., Bertoni, S., Gianesini, T., Gori, S., & Facoetti, A. (2017). A different vision of dyslexia: local precedence on global perception. Scientific Reports, 7(1), 1–10.

Gathercole, S. E., Pickering, S. J., Knight, C., & Stegmann, Z. (2004). Working memory skills and educational attainment: evidence from national curriculum assessments at 7 and 14 years of age. Applied Cognitive Psychology, 18(1), 1–16.

Geiger, G., Lettvin, J., & Fahle, M. (1994). Dyslexic children learn a new visual strategy for reading: a controlled experiment. Vision Research, 34, 1223–1233.

Grainger, J., Dufau, S., & Ziegler, J. C. (2016). A vision of reading. Trends in Cognitive Sciences, 20, 171–179.

Hacker, D. J., Keener, M. C., & Kircher, J. C. (2009). Writing is applied metacognition. In D. J. Hacker, J. Dunlosky, & A. C. Graesser (Eds.), Handbook of metacognition in education (pp. 154–172). New York: Routledge.

Holmes, J., Gathercole, S. E., & Dunning, D. L. (2009). Adaptive training leads to sustained enhancement of poor working memory in children. Developmental Science, 12, 9–15.

Kershner, J. R. (1990). Self-concept and IQ as predictors of remedial success in children with learning disabilities. Journal of Learning Disabilities, 23(6), 368–374.

Kintsch, W. (1998). Comprehension: a paradigm for cognition. Cambridge: Cambridge University Press.

Kostons, D., & Van der Werf, G. (2015). The effects of activating prior topic and metacognitive knowledge on text comprehension scores. British Journal of Educational Psychology, 85, 264–275.

Law, Y., Chan, C. K. K., & Sachs, J. (2008). Beliefs about learning, self-regulated strategies and text comprehension among Chinese children. British Journal of Educational Psychology, 78, 51–73.

Legge, G. E., Mansfield, J. S., & Chung, S. T. L. (2001). Psychophysics of reading. XX. Linking letter recognition to reading speed in central and peripheral vision. Vision Research, 41, 725–734.

Legrenzi, P. (1994). Prepararsi agli esami. Tecniche e strategie per superare gli esami universitari. Bologna: Il Mulino.

Mandl, H., Stein, N., & Trabasso, T. (1984). Learning and comprehension of text. Hillsdale: Erlbaum.

Mason, M., & Katz, L. (1976). Visual processing of non-linguistic strings: redundancy effects in reading ability. Journal of Experimental Psychology: General, 105, 338–348.

Nevo, E., & Breznitz, Z. (2013). The development of working memory from kindergarten to first grade in children with different decoding skills. Journal of Experimental Child Psychology, 114(2), 217–228.

O'Regan, J. K. (1990). Eye movements and reading. In E. Kowler (Ed.), Eye movements and their role in visual and cognitive processes (pp. 395–453). New York: Elsevier.

O'Regan, J. K. (1991). Understanding visual search and reading using the concept of stimulus "grain". IPO Annual Progress Reports, 26, 96–108.

O'Regan, J. K., Levy-Schoen, A., & Jacobs, A. M. (1983). The effect of visibility on eye-movement parameters in reading. Perception & Psychophysics, 34, 457–464.

Peterson, R. L., & Pennington, B. F. (2015). Developmental dyslexia. Annual Review of Clinical Psychology, 11, 283–307.

Preeti, R., Behmani, R. & Singh, K. (2016). Impact of self-esteem and adjustment on academic performance of adolescents. Indian Journal of Health & Wellbeing, 7(1), 133–135.

Pressley, M., & Gaskins, I. W. (2006). Metacognitively competent reading comprehension is constructively responsive reading: how can such reading be developed in students? Metacognition and Learning, 1, 99–113.

Pressley, M., Wharton-McDonald, R., Mistretta, J., & Echevarria, M. (1998). Literacy instruction ten fourth-and fifth-grade classrooms in upstate New York. Scientific Studies of Reading, 2, 159–194.

Rouet, J., Vidal-Abarca, E., Bert-Erboul, A., & Millogo, V. (2001). Effects of information search tasks on comprehension of instructional texts. Discourse Processes, 21, 163–186.

Santulli, F., & Scagnelli, M. (2017). The improvement of silent reading strategies through SuperReading. The Journal of Inclusive Practice in Further and Higher Education, 9(1), 88–100.

Santulli, F., & Scagnelli, M. (2018). Un percorso di inclusione attraverso SuperReading. L'integrazione scolastica e sociale, 17(3), 275–286.

Santulli, F., & Scagnelli, M. (2019). Leggere per comprendere. Un intervento inclusivo nei contesti formativi. Milano: FrancoAngeli.

Scagnelli, M. (2018). Le abilità metacognitive nel contesto universitario, In A. Cardinaletti (a cura di), Test linguistici accessibili per studenti sordi e con DSA. Pari opportunità per l'accesso all'Università (279-295). FrancoAngeli, Milano.

Scagnelli, M., Ciuffo, M., Baradello, A., & Santulli, F. (2018). SuperReading: ulteriori prove di efficacia rilevate con i test di valutazione per l'adulto. Dislessia, 15(1), 35–52.

Scagnelli, M., Della Beffa, F., & Santulli, F. (2019). Valutazione delle competenze di lettura: quali parametri? Giornale Italiano dei Disturbi del Neurosviluppo, 97–109.

Smith, S. D., Pennington, B. F., Kimberling, W. J., & Ing, P. S. (1990). Familial dyslexia: use of genetic linkage data to define subtypes. Journal of the American Academy of Child and Adolescent Psychiatry, 29, 204–213.

van Oostendrop, H., & Goldman, S. (1999). The construction of mental representations during reading. Mahwah: Erlbaum.

Vanderswalmen, R., Vrijders, J., & Desoete, A. (2010). Metacognition and spelling performance in college students. In A. Efklides & P. Misailidi (Eds.), Trends and prospects in metacognition research (pp. 367–394). Boston: Springer.

Vellutino, F. R., Fletcher, J. M., Snowling, M. J., & Scanlon, D. M. (2004). Specific reading disability (dyslexia). What have we learn in the past four decades? Journal of Child Psychology and Psychiatry, 45, 2–40.

Vidyasagar, T. R., & Pammer, K. (2010). Dyslexia: a deficit in visuo-spatial attention, not in phonological processing. Trends in Cognitive Sciences, 14, 57–63.

Weiss, B., Knakker, B., & Vidnuanszky, Z. (2016). Visual processing during natural reading. Scientific Reports, 6, 1–16.

Williams, J. P., & Atkins, J. G. (2009). The role of metacognition in teaching reading comprehension to primary students. In D. J. Hacker, J. Dunlosky, & A. C. Graesser (Eds.), Handbook of metacognition in education (pp. 26–43). New York: Routledge.

Wittrock M.C., & Lumsdaine A.L. (1977). Instructional psychology. In M. Rozensweig, L.W. Porter (Eds.).: Annual review of psychology, Palo Alto: Annual Reviews.

Yang, J., Peng, J., Zhang, D., Zheng, L., & Mo, L. (2017). Specific effects of working memory training on the reading skills of Chinese children with developmental dyslexia. PLoS One. https://doi.org/10.1371/journal.pone.0186114.

Ziegler, J. C., Castel, C., Pech-Georgel, C., George, F., Alario, F. X., & Perry, C. (2008). Developmental dyslexia and the dual route model of reading: simulating individual differences and subtypes. Cognition, 107(1), 151–178.

Ziegler, J., Pech-Georgel, C., Dufau, S., & Grainger, J. (2010). Rapid processing of letters, digits and symbols: what purely visual-attentional deficit in developmental dyslexia? Developmental Science, 13(4), 8–14.
Acknowledgements
This study is part of a project developed by the research centre Euresis, at IULM University. We thank the staff of the Office for Support to Students with Disabilities at IULM University, who collaborated to the gathering of data. We are grateful to all participants to the SuperReading courses for their consent to the acquisition of their personal data and of their reading performances.
Also, The tests were administered to the control group thanks to the cooperation of Angelica Brustia, who participated to the project as an MA student.
Funding
This research has been partially funded by the Department of Humanities, IULM University, Milan.
Ethics declarations
Conflict of Interest
The authors declare that they have no conflict of interest
Ethics approval
This study was performed in accordance with the ethical standards as laid down in the 1964 Declaration of Helsinki and its later amendments. As IULM University has no ethical committee, the project was submitted to the Ethical Committee of the Università Ca' Foscari in Venice, which approved it last February.
Consent to Participate
Informed consent was obtained from all individual participants included in the study.
Additional information
Publisher's Note
Springer Nature remains neutral with regard to jurisdictional claims in published maps and institutional affiliations.
About this article
Cite this article
Scagnelli, M., Della Beffa, F. & Santulli, F. Reading and Comprehension in Adulthood: a Training Programme. J Cogn Enhanc 5, 25–34 (2021). https://doi.org/10.1007/s41465-020-00182-4
Received:

Accepted:

Published:

Issue Date:
Keywords
Reading

Comprehension

Adulthood

Silent reading

Training