Abstract
Claims that ingested nutrients can enhance cognitive performance are common but rarely tested. Here, the influence of acute consumption of a polyphenol-rich, non-caffeinated coffeeberry extract on performance of a series of fatiguing cognitive tasks, motivation to do the cognitive tasks, and mood state responses were tested in 30 healthy adults using a block-randomized, double-blind, placebo-controlled, cross-over design. The effects of 300 and 100 mg coffeeberry extracts were compared to beverages without the extract (placebo) and with 75 mg caffeine (positive control). Outcomes were measured before and twice after beverage consumption. Significant self-reported mood effects were found for the positive control indicating sample responsiveness. The coffeeberry extract beverages had non-significant effects on the cognitive test battery performance and motivation to complete these cognitive tasks. The ingestion of the 300 mg and 100 mg coffeeberry extract beverages significantly attenuated perceptions of increased fatigue and decreased alertness resulting from the completion of the fatiguing cognitive tasks. The magnitude of these mental energizing effects was similar for the low and moderate dose extract beverages; thus, there was not support for a dose-response effect. It was concluded that beverages containing low (100 mg) and moderate (300 mg) amounts of a polyphenol-rich, non-caffeinated coffeeberry extract significantly attenuate both increases in self-reported fatigue and decreases in self-reported alertness resulting from the completion of a series of fatiguing cognitive tasks.
Access options
Buy single article
Instant access to the full article PDF.
USD 39.95
Price includes VAT (USA)
Tax calculation will be finalised during checkout.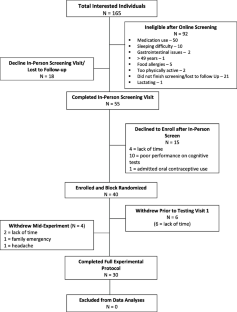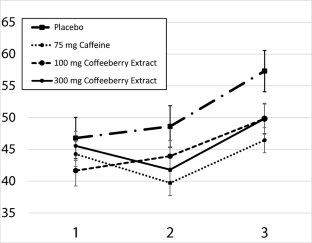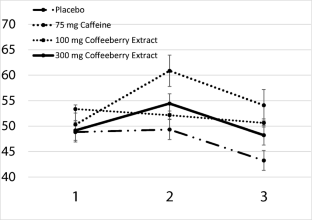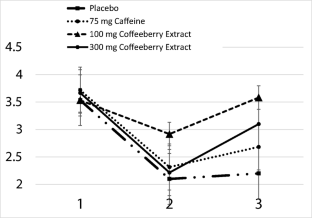 References
Bassoli, B. K., et al. (2008). Chlorogenic acid reduces the plasma glucose peak in the oral glucose tolerance test: effects on hepatic glucose release and glycaemia. Cell Biochemistry and Function, 26(3), 320–328.

Bond, A., & Lader, M. (1974). The use of analogue scales in rating subjective feelings. British Journal of Medical Psychology, 47, 211–218.

Camfield, D. A., et al. (2013). A randomised placebo-controlled trial to differentiate the acute cognitive and mood effects of chlorogenic acid from decaffeinated coffee. PLoS One, 8(12), 14.

Futureceuticals (2016). Coffeeberry extract. [cited 2017; Available from: http://www.coffeeberry.com/applications/food-and-beverage. Accessed 15 Jan 2017.

Cropley, V., et al. (2012). Does coffee enriched with chlorogenic acids improve mood and cognition after acute administration in healthy elderly? A pilot study. Psychopharmacology, 219(3), 737–749.

de Mejia, E. G., & Ramirez-Mares, M. V. (2014). Impact of caffeine and coffee on our health. Trends in Endocrinology & Metabolism, 25(10), 489–492.

EFSA-Panel. (2014). Scientific opinion on the substantiation of a health claim related to caffeine and increased alertness pursuant to Article 13(5) of Regulation (EC) No 1924/2006. EFSA Journal, 12(2), 3574.

Einother, S. J., & Giesbrecht, T. (2013). Caffeine as an attention enhancer: reviewing existing assumptions. Psychopharmacology, 225(2), 251–274.

Esquivel, R., & Jimenez, V. M. (2011). Functional properties of coffee and coffee by-products. Food Research International.

Figueira, I., Menezes, R., Macedo, D., Costa, I., & Nunes dos Santos, C. (2017). Polyphenols beyond barriers: a glimpse into the brain. Current Neuropharmacology, 15(4), 562–594.

Fortenbaugh, F. C., DeGutis, J., & Esterman, M. (2017). Recent theoretical, neural, and clinical advances in sustained attention research. Annals of the New York Academy of Sciences, 1396(1), 70–91.

Fredholm, B. B. (1995). Adenosine, adenosine receptors and the actions of caffeine*. Pharmacology & Toxicology, 76(2), 93–101.

Godin, G., et al. (2015). Leisure Time Exercise Questionnaire. Reciprocal effects of exercise and nutrition treatment-induced weight loss with improved body image and physical self-concept, 41: p. 18–24.

Karton, Y., et al. (1996). Synthesis and biological activities of flavonoid derivatives as A3 adenosine receptor antagonists. Journal of Medicinal Chemistry, 39(12), 2293–2301.

Kaster, M. P., et al. (2015). Caffeine acts through neuronal adenosine A2A receptors to prevent mood and memory dysfunction triggered by chronic stress. Proceedings of the National Academy of Sciences, 112(25), 7833–7838.

Katavic, P. L., et al. (2007). Flavonoids as opioid receptor ligands: identification and preliminary structure–activity relationships. Journal of Natural Products, 70(8), 1278–1282.

Kennedy, D., & Haskell, C. (2016). Investigation of acute mood and cognitive performance effects of beverages containing phenolics in healthy adults (p. 44). Newcastle upon Tyne: Brain, Performance and Nutrition Research Centre, Northumbria University.

Kennedy, D. O., & Scholey, A. B. (2004). A glucose-caffeine 'energy drink' ameliorates subjective and performance deficits during prolonged cognitive demand. Appetite, 42(3), 331–333.

Kennedy, D., Wightman, E., & Haskell, C. (2015). Investigation of acute cognitive and cerebral blood flor effects of drinks containing phenolics, nitrates and botanicals in healthy adults (p. 58). Newcastle upon Tyne: Brain, Performance and Nutrition Research Centre, Northumbria University.

Kim, J., et al. (2012). Caffeinated coffee, decaffeinated coffee, and the phenolic phytochemical chlorogenic acid up-regulate NQO1 expression and prevent H(2)O(2)-induced apoptosis in primary cortical neurons. Neurochemistry International, 60(5), 466–474.

Lee, C. H., et al. (2011). alpha4beta2 neuronal nicotinic receptor positive allosteric modulation: an approach for improving the therapeutic index of alpha4beta2 nAChR agonists in pain. Biochemical Pharmacology, 82(8), 959–966.

Lindquist, K. A., et al. (2012). The brain basis of emotion: a meta-analytic review. Behavioral and Brain Sciences, 35(3), 121–143.

Manzano, S., & Williamson, G. (2010). Polyphenols and phenolic acids from strawberry and apple decrease glucose uptake and transport by human intestinal Caco-2 cells. Molecular Nutrition & Food Research, 54(12), 1773–1780.

Maridakis, V., Herring, M. P., & O'Connor, P. J. (2009). Sensitivity to change in cognitive performance and mood measures of energy and fatigue in response to differing doses of caffeine or breakfast. The International Journal of Neuroscience, 119(7), 975–994.

Mullen, W., et al. (2011). The antioxidant and chlorogenic acid profiles of whole coffee fruits are influenced by the extraction procedures. Journal of Agricultural and Food Chemistry, 59(8), 3754–3762.

O'Connor, P. J. (2004). Evaluation of four highly cited energy and fatigue mood measures. Journal of Psychosomatic Research, 57, 435–441.

O'Connor, P. J. (2006a). Mental energy: developing a model for examining nutrition-related claims. Nutrition Reviews, 64, S2–S6.

O'Connor, P. J. (2006b). Mental and Physical State and Trait Energy and Fatigue Scales. Athens: University of Georgia.

Pilcher, J. J., & Huffcutt, A. J. (1996). Effects of sleep deprivation on performance: a meta-analysis. Sleep: Journal of Sleep Research & Sleep Medicine, 19(4), 318–326.

Rebai, O., et al. (2017). Differential molecular targets for neuroprotective effect of chlorogenic acid and its related compounds against glutamate induced excitotoxicity and oxidative stress in rat cortical neurons. Neurochemical Research, 42(12), 3559–3572.

Scholey, A. B., et al. (2010). Consumption of cocoa flavanols results in acute improvements in mood and cognitive performance during sustained mental effort. Journal of Psychopharmacology, 24(10), 1505–1514.

Sinisi, V., et al. (2015). Interaction of chlorogenic acids and quinides from coffee with human serum albumin. Food Chemistry, 168, 332–340.

Sun, Y., et al. (2007). Caffeine and placebo expectation. Journal of Psychophysiology, 21(2), 91–99.

Tajik, N., Tajik, M., Mack, I., & Enck, P. (2017). The potential effects of chlorogenic acid, the main phenolic components in coffee, on health: a comprehensive review of the literature. European Journal of Nutrition.

Temple, J. L., & Ziegler, A. M. (2011). Gender differences in subjective and physiological responses to caffeine and the role of steroid hormones. Journal of Caffeine Research, 1(1), 41–48.

Tunnicliffe, J. M., & Shearer, J. (2008). Coffee, glucose homeostasis, and insulin resistance: physiological mechanisms and mediators. Applied Physiology, Nutrition, and Metabolism, 33(6), 1290–1300.

Wasowski, C., & Marder, M. (2012). Flavonoids as GABA(A) receptor ligands: the whole story? Journal of Experimental Pharmacology, 4, 9–24.

Wightman, E. L., et al. (2012). Epigallocatechin gallate, cerebral blood flow parameters, cognitive performance and mood in healthy humans: a double-blind, placebo-controlled, crossover investigation. Human Psychopharmacology, 27(2), 177–186.
Acknowledgements
The authors thank the participants for their efforts. The hard work of Katie Fritz and Brian Huong is acknowledged for assistance with data collection, entry, and cleaning. The current address for Caroline Saunders is Suntory Beverage & Food Europe LTD, Reading, UK.
Funding
The University of Georgia received funding from PepsiCo, Inc. to support this investigation (Contract No. 61660).
Ethics declarations
Informed consent was obtained from every participant in the study. The University of Georgia's Institutional Review Board approved all study protocols and materials.
Conflict of Interest
Drs. Reed and O'Connor have no conflicts of interest. Dr. Saunders has no current conflict of interest but was previously employed as a nutrition scientist at PepsiCo. Dr. Mitchell has a conflict of interest because she is currently senior principal scientist for PepsiCo Global Nutrition R&D.
Additional information
Publisher's Note
Springer Nature remains neutral with regard to jurisdictional claims in published maps and institutional affiliations.
About this article
Cite this article
Reed, R.A., Mitchell, E.S., Saunders, C. et al. Acute Low and Moderate Doses of a Caffeine-Free Polyphenol-Rich Coffeeberry Extract Improve Feelings of Alertness and Fatigue Resulting from the Performance of Fatiguing Cognitive Tasks. J Cogn Enhanc 3, 193–206 (2019). https://doi.org/10.1007/s41465-018-0118-8
Received:

Accepted:

Published:

Issue Date:
Keywords
Cognition

Mental energy

Mental fatigue

Polyphenols