Abstract
While creativity is a vastly debated topic, little research has been dedicated to determining whether exercise can boost cognitive factors associated with creativity, such as divergent thinking. Yoga, as a form of exercise, comprises physical activity and open-monitoring meditation, which may increase divergent thinking. We compared performance on a test of divergent thinking in healthy adults, the Abbreviated Torrance Test for Adults (ATTA), and one test of convergent thinking and field independence, the Group Embedded Figures Test (GEFT), before and after one session of ashtanga yoga, and one session of aerobic exercise. Divergent thinking was not affected by either intervention overall; however, fluency of novel ideas generated was reduced post-intervention in both groups. Practice effects were registered for the convergent thinking task, and those in the yoga group performed better at this task both at baseline and following yoga, although yoga did not lead to a greater change from baseline performance. The current findings do not suggest that one bout of yoga is associated with an immediate cognitive benefit. However, further research is required onto whether long-term yoga practice may enhance divergent thinking.
This is a preview of subscription content, log in to check access.
Access options
Buy single article
Instant access to the full article PDF.
US$ 39.95
Price includes VAT for USA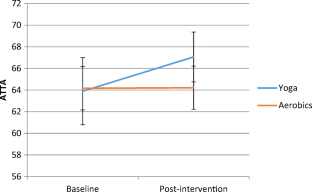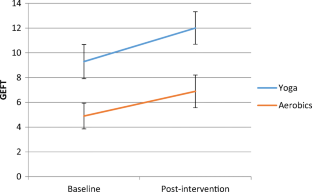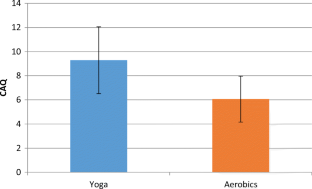 References
Allen, A. P. (2011). The zoo of the new. The Psychologist, 24, 862–863.

Allen, A. P., & Thomas, K. E. (2011). A dual process account of creative thinking. Creativity Research Journal, 23(2), 109–118.

Baas, M., Nevicka, B., & Ten Velden, F. S. (2014). Specific mindfulness skills differentially predict creative performance. Personality and Social Psychology Bulletin, 40(9), 1092–1106.

Beaty, R. E., & Silvia, P. J. (2012). Why do ideas get more creative across time? An executive interpretation of the serial order effect in divergent thinking tasks. Psychology of Aesthetics, Creativity, and the Arts, 6(4), 309–319.

Beilock, S. L., & Carr, T. H. (2001). On the fragility of skilled performance: What governs choking under pressure? Journal of Experimental Psychology: General, 130(4), 701–725.

Blanchette, D. M., Ramocki, S. P., O'del, J. N., & Casey, M. S. (2005). Aerobic exercise and creative potential: immediate and residual effects. Creativity Research Journal, 17(2–3), 257–264.

Booth, M. (2000). Assessment of physical activity: an international perspective. Research Quarterly for Exercise and Sport, 71(sup2), 114–120.

Carson, S. H., Peterson, J. B., & Higgins, D. M. (2005). Reliability, validity, and factor structure of the creative achievement questionnaire. Creativity Research Journal, 17(1), 37–50.

Chang, Y.-K., Labban, J. D., Gapin, J. I., & Etnier, J. L. (2012). The effects of acute exercise on cognitive performance: a meta-analysis. Brain Research, 1453, 87–101.

Colcombe, S., & Kramer, A. F. (2003). Fitness effects on the cognitive function of older adults: a meta-analytic study. Psychological Science, 14(2), 125–130.

Colzato, L. S., & Hommel, B. (2017). Meditation. In L. S. Colzato (Ed.), Theory-driven approaches to cognitive enhancement (pp. 225–236). Cham: Springer.

Colzato, L. S., Ozturk, A., & Hommel, B. (2012). Meditate to create: the impact of focused-attention and open-monitoring training on convergent and divergent thinking. Frontiers in Psychology, 3, 116.

Colzato, L. S., Szapora Ozturk, A., Pannekoek, J. N., & Hommel, B. (2013). The impact of physical exercise on convergent and divergent thinking. Frontiers in Human Neuroscience, 7, 824.

Cropley, D. H., Cropley, A. J., Kaufman, J. C., & Runco, M. A. (Eds.). (2010). The dark side of creativity. Cambridge University Press.

Davis, J. K., & Haueisen, W. C. (1976). Field independence and hypothesis testing. Perceptual and Motor Skills, 43(3), 763–769.

Ding, X., Tang, Y. Y., Tang, R., & Posner, M. I. (2014). Improving creativity performance by short-term meditation. Behavioral and Brain Functions, 10(1), 9.

Duncker, K. (1945). On problem-solving. Psychological Monographs, 58(5), (Whole No. 270), 1–113.

Dziedziewicz, D., Gajda, A., & Karwowski, M. (2014). Developing children's intercultural competence and creativity. Thinking Skills and Creativity, 13, 32–42.

Dziedziewicz, D., Oledzka, D., & Karwowski, M. (2013). Developing 4-to 6-year-old children's figural creativity using a doodle-book program. Thinking Skills and Creativity, 9, 85–95.

Ferris, L. T., Williams, J. S., & Shen, C.-L. (2007). The effect of acute exercise on serum brain-derived neurotrophic factor levels and cognitive function. Medicine and Science in Sports and Exercise, 39(4), 728–734.

Goff, K., & Torrance, E. P. (2002). Abbreviated Torrance test for adults. Bensenville, IL: Scholastic Testing Service.

Guilford, J. P. (1957). Creative abilities in the arts. Psychological Review, 64(2), 110–118.

Hillman, C. H., Erickson, K. I., & Kramer, A. F. (2008). Be smart, exercise your heart: exercise effects on brain and cognition. Nature Reviews Neuroscience, 9(1), 58–65.

Howard-Jones, P. A. (2002). A dual-state model of creative cognition for supporting strategies that foster creativity in the classroom. International Journal of Technology and Design Education, 12(3), 215–226.

Kasof, J. (1997). Creativity and breadth of attention. Creativity Research Journal, 10(4), 303–315.

Kelly, M. E., Loughrey, D., Lawlor, B. A., Robertson, I. H., Walsh, C., & Brennan, S. (2014). The impact of exercise on the cognitive functioning of healthy older adults: a systematic review and meta-analysis. Ageing Research Reviews, 16, 12–31.

Khasky, A. D., & Smith, J. C. (1999). Stress, relaxation states, and creativity. Perceptual and Motor Skills, 88(2), 409–416.

Lebuda, I., Zabelina, D. L., & Karwowski, M. (2016). Mind full of ideas: a meta-analysis of the mindfulness–creativity link. Personality and Individual Differences, 93, 22–26.

Lippelt, D. P., Hommel, B., & Colzato, L. S. (2014). Focused attention, open monitoring and loving kindness meditation: effects on attention, conflict monitoring, and creativity—a review. Frontiers in Psychology, 5.

Marrocu, E., & Paci, R. (2012). Education or creativity: what matters most for economic performance? Economic Geography, 88(4), 369–401.

O'Brien, J., Ottoboni, G., Tessari, A., & Setti, A. (2017). One bout of open skill exercise improves cross-modal perception and immediate memory in healthy older adults who habitually exercise. PLoS One, 12(6), e0178739. https://doi.org/10.1371/journal.pone.0178739.

Schneider, W., & Chein, J. M. (2003). Controlled & automatic processing: behavior, theory, and biological mechanisms. Cognitive Science, 27(3), 525–559.

Sowden, P. T., Pringle, A., & Gabora, L. (2015). The shifting sands of creative thinking: connections to dual-process theory. Thinking & Reasoning, 21(1), 40–60.

Sridevi, K., Sitamma, M., & Krishna Rao, P. V. (1995). Perceptual organisation and yoga training. Journal of Indian Psychology, 13(2), 21–27.

Steinberg, H., Sykes, E. A., Moss, T., Lowery, S., LeBoutillier, N., & Dewey, A. (1997). Exercise enhances creativity independently of mood. British Journal of Sports Medicine, 31(3), 240–245.

Tomporowski, P. D. (2003). Effects of acute bouts of exercise on cognition. Acta Psychologica, 112(3), 297–324.

Torrance, P. E. (1966/1999). The Torrance tests of creative thinking: Norms and technical manual. Bensenville, IL: Scholastic testing Services.

Williams, L. K., & McGuire, S. J. (2010). Economic creativity and innovation implementation: the entrepreneurial drivers of growth? Evidence from 63 countries. Small Business Economics, 34(4), 391–412.

Witkin, H. A., Oltman, P. K., Raskin, E., & Karp, S. A. (1971). A manual for the Group Embedded Figures Test. Menlo Park, CA: Mind Garden, Inc..
Acknowledgments
The authors wish to acknowledge Amy Jordan and Maeve McLoughlin for assistance with data collection, as well as the gyms that hosted the exercise groups.
About this article
Cite this article
Donnegan, K.F., Setti, A. & Allen, A.P. Exercise and Creativity: Can One Bout of Yoga Improve Convergent and Divergent Thinking?. J Cogn Enhanc 2, 193–199 (2018). https://doi.org/10.1007/s41465-018-0082-3
Received:

Accepted:

Published:

Issue Date:
Keywords
Creativity

Divergent thinking

Exercise

Yoga