Abstract
Lumosity is a subscription-based suite of online brain-training games, intended to improve cognitive skills. Due to an influx of products designed to train cognition through games such as Lumosity, it is important to determine their effectiveness for the sake of consumers and for the potential implications of any training effects for theories of transfer of cognitive skills. Two training experiments were conducted using the Lumosity platform. Participants were divided into three groups: those who trained with five attention games in Lumosity (attention group), those who trained with five flexibility games in Lumosity (flexibility group), and an inactive control group. Participants were assessed on accuracy and response time for two cognitive tests of attention (useful field of view and change detection) and two cognitive tests of flexibility (Wisconsin card sort and Stroop) both before and after a training period. In experiment 1, the training period was 3 h spread over four sessions. In experiment 2, the training period was 15 to 20 h spread over an average of 73 sessions. The trained groups did not show significantly greater pretest-to-posttest gains than the control group on any measures in either experiment, except in experiment 2 where the flexibility group significantly outperformed the other two groups on Stroop response time and UFOV reaction time. A practical implication concerns the lack of strong evidence for the effectiveness of brain-training games to improve cognitive skills. A theoretical implication concerns the domain specificity of cognitive skill learning from brain training games.
This is a preview of subscription content,
to check access.
Access this article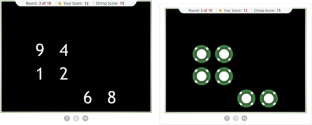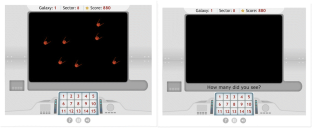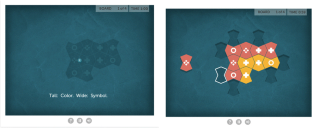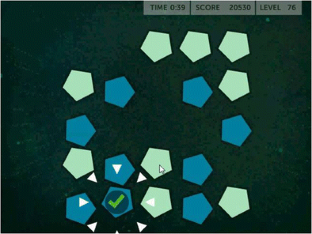 References
Au, J., Sheehan, E., Tsai, N., Duncan, G. J., Buschkuehl, M., & Jaeggi, S. M. (2015). Improving fluid intelligence with training on working memory: a meta-analysis. Psychonomic Bulletin & Review, 22(2), 366–377. https://doi.org/10.3758/s13423-014-0699-x.

Berg, E. (1948). A simple objective technique for measuring flexibility in thinking. Journal of General Psychology., 39, 15–22. https://doi.org/10.1080/00221309.1948.9918159.

Boot, W. R., Blakely, D. P., & Simons, D. J. (2011). Do action video games improve perception and cognition? Frontiers in Psychology, 2, 226. https://doi.org/10.3389/fpsyg.2011.00226.

Conover, W. J., & Iman, R. L. (1981). Rank transformations as a bridge between parametric and nonparametric statistics. The American Statistician, 35(3), 124. https://doi.org/10.2307/2683975.

Deveau, J., Jaeggi, S. M., Zordan, V., Phung, C., & Seitz, A. R. (2014). How to build better memory training games. Frontiers in Systems Neuroscience, 8, 243. https://doi.org/10.3389/fnsys.2014.00243.

Edwards, J. D., Vance, D. E., Wadley, V. G., Cissell, G. M., Roenker, D. L., & Ball, K. K. (2005). Reliability and validity of useful field of view test scores as administered by personal computer. Journal of Clinical and Experimental Neuropsychology, 27, 529–543. https://doi.org/10.1080/13803390490515432.

Finn, M., & McDonald, S. (2011). Computerised cognitive training for older persons with mild cognitive impairment: a pilot study using a randomised controlled trial design. Brain Impairment, 12(3), 187–199. https://doi.org/10.1375/brim.12.3.187.

Gee, J. P. (2007). Good video games+ good learning pp. 1-82. New York: Peter Lang.

Golden, C. J. (1978). A manual for the clinical and experimental use of the stroop color and word test. Chicago: Stoelting Available at: http://nsuworks.nova.edu/cps_facbooks/47.

Green, C., & Bavelier, D. (2012). Learning, attentional control, and action video games. Current Biology, 22(6), R197–R206.

Grubbs, F. E. (1969). Procedures for detecting outlying observations in samples. Technometrics, 11(1), 1. https://doi.org/10.2307/1266761.

Hardy, J. L., Drescher, D., Sarkar, K., Kellett, G., & Scanlon, M. (2011). Enhancing visual attention and working memory with a web-based cognitive training program. Mensa Research Journal, 42(2), 13–20. https://doi.org/10.1371/journal.pone.0134467.

Hardy, J. L., Nelson, R. A., Thomason, M. E., Sternberg, D. A., Katovich, K., Farzin, F., & Scanlon, M. (2015). Enhancing cognitive abilities with comprehensivetraining: a large, online, randomized, active-controlled trial. PLoS One, 10(9).

Honey, M. A., Hilton, M. L. (Eds.). (2011). Learning science through computer games and simulations. Washington, DC: National Academies Press.

Hulme, C., & Melby-Lervåg, M. (2012). Current evidence does not support the claims made for CogMed working memory training. Journal of Applied Research in Memory and Cognition, 1(3), 197–200. https://doi.org/10.1016/j.jarmac.2012.06.006.

Kane, M. J., Poole, B. J., Tuholski, S. W., & Engle, R. W. (2006). Working memory capacity and the top-down control of visual search: Exploring the boundaries of "executive attention". Journal of Experimental Psychology, Learning, Memory, and Cognition, 32(4), 749–777. https://doi.org/10.1037/0278-7393.32.4.749.

Kesler, S., Hadi Hosseini, S. M., Heckler, C., Janelsins, M., Palesh, O., Mustian, K., & Morrow, G. (2013). Cognitive training for improving executive function in chemotherapy-treated breast cancer survivors. Clinical Breast Cancer, 13(4), 299–306. https://doi.org/10.1016/j.clbc.2013.02.004.

Klingberg, T., Fernell, E., Olesen, P. J., Johnson, M., Gustafsson, P., Dahlström, K., et al. (2005). Computerized training of working memory in children with ADHD—a randomized, controlled trial. Journal of the American Academy of Child & Adolescent Psychiatry, 44(2), 177–186. https://doi.org/10.1097/00004583-200502000-00010.

Mayer, R. E. (2014). Computer games for learning: an evidence-based approach. Cambridge: MIT Press.

McGonigal, J. (2011). Reality is broken: Why games make us better and how they can change the world. Penguin.

Melby-Lervåg, M., & Hulme, C. (2012). Is working memory training effective? a meta-analytic review. Developmental Psychology, 49(2), 270–291. https://doi.org/10.1037/a0028228.

Mueller, S. T., & Piper, B. J. (2014). The psychology experiment building language (PEBL) and PEBL test battery. Journal of Neuroscience Methods, 222, 250–259. https://doi.org/10.1016/j.jneumeth.2013.10.024.

O'Neil, H. F., & Perez, R. S. (2008). Computer games and team and individual learning. Amsterdam: Elsevier.

Owen, A. M., Hampshire, A., Grahn, J. A., Stenton, R., Dajani, S., Burns, A. S., & Ballard, C. G. (2010). Putting brain training to the test. Nature, 465(7299), 775–778. https://doi.org/10.1038/nature09042.

Parong, J., Mayer, R. E., Fiorella, L., MacNamara, A., Plass, J., & Homer, B. (2017). Learning executive function skills by playing focused video games. Contemporary Educational Psychology, 45, 000–000.

Prensky, M. (2006). Don't bother me, Mom, I'm learning!: How computer and video games are preparing your kids for 21st century success and how you can help!. St. Paul, MN: Paragon house.

Redick, T. S., Shipstead, Z., Harrison, T. L., Hicks, K. L., Fried, D. E., Hambrick, D. Z., & Engle, R. W. (2013). No evidence of intelligence improvement after working memory training: a randomized, placebo-controlled study. Journal of Experimental Psychology General, 142(2), 359–379. https://doi.org/10.1037/a0029082.

Robbennolt, J. K. (2016). Brain games: helpful tool or false promise? Monitor on Psychology, 47(8), 18.

Shaffer, D. W. (2006). How computer games help children learn. Macmillan.

Shipstead, Z., Hicks, K. L., & Engle, R. W. (2012). Working memory training remains a work in progress. Journal of Applied Research in Memory and Cognition, 1(3), 217–219. https://doi.org/10.1016/j.jarmac.2012.07.009.

Shute, V. J., Ventura, M., & Ke, F. (2015). The power of play: the effects of Portal 2 and Lumosity on cognitive and noncognitive skills. Computers & Education, 80, 58–67.

Simons, D. J., Boot, W. R., Charbness, N., Gathercole, S. E., Chabris, C. F., Hambrick, D. Z., & Stine-Morrow, E. A. L. (2016). Do brain training programs work? Psychological Science in the Public Interest, 17(3), 103–186.

Singley, M. K., & Anderson, M. K. (1989). The transfer of cognitive skill. Cambridge: Harvard University Press.

Squire, K. (2011). Video games and learning. Teaching and participatory culture in the digital age. New York, NY: Teachers College Print.

Tobias, S., & Fletcher, J. D. (Eds.). (2011). Computer games and instruction. Charlotte: Information Age Publishing.

Wouters, P., & van Oostendorp, H. (Eds.). (2017). Instructional techniques to facilitate learning and motivation of serious games. New York: Springer.
Funding Information
This project was supported by grant N000141612046 from the Office of Naval Research.
Ethics declarations
We adhered to guidelines for ethical treatment of human subjects and obtained IRB approval.
Conflict of Interest
The authors declare that they have no conflict of interest.
About this article
Cite this article
Bainbridge, K., Mayer, R.E. Shining the Light of Research on Lumosity. J Cogn Enhanc 2, 43–62 (2018). https://doi.org/10.1007/s41465-017-0040-5
Received:

Accepted:

Published:

Issue Date:

DOI: https://doi.org/10.1007/s41465-017-0040-5
Keywords