Abstract
Optimal information processing requires appropriate mobilization of mental resources. Sleep loss increases homeostatic sleep pressure, thereby reducing mobilization of mental resources and consequently diminishing attention function. Meditation techniques engage attention processes and mobilize mental resources needed to sustain control of these processes, suggesting a promising role for meditation in counteracting attention deficits associated with sleep loss. Following a 21-day training period with a concentrative form of yoga nidra meditation, participants completed tests of sustained attention and attention interference control, and reported sleepiness and fatigue before and after restricted sleep, and then again after a session of meditation or rest following a crossover design. Sustained attention, sleepiness, and fatigue, but not attention interference control, were impaired following a single night of sleep restriction. Following a session of meditation, sustained attention performance improved and sleepiness decreased. Rest alone did not provide these benefits. These findings provide evidence that meditation can improve attention deficits following sleep loss. The impact of meditation on attention can be explained by reduced mobilization of mental processes since this improvement was associated with reduced sleepiness. A brief period of meditation training appears to be sufficient to elicit meditation benefits for attention following sleep loss. However, the duration of improvement following a bout of meditation remains unknown.
Access options
Buy single article
Instant access to the full article PDF.
USD 39.95
Price excludes VAT (USA)
Tax calculation will be finalised during checkout.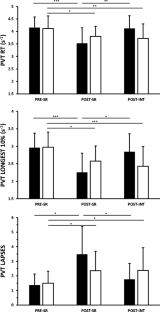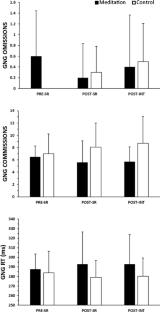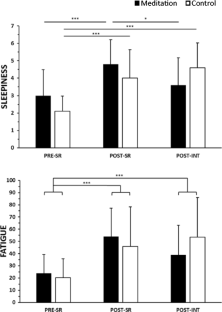 References
Aaronson, L. S., Teel, C. S., Cassmeyer, V., Neuberger, G. B., Pallikkathayil, L., Pierce, J., Press, A. N., Williams, P. D., & Wingate, A. (1999). Defining and measuring fatigue. Journal of Nursing Scholarship, 31(1), 45–50.

Aftanas, L. I., & Golocheikine, S. A. (2001). Human anterior and frontal midline theta and lower alpha reflect emotionally positive state and internalized attention: high-resolution EEG investigation of meditation. Neuroscience Letters, 310(1), 57–60.

Banks, S., & Dinges, D. F. (2007). Behavioral and physiological consequences of sleep restriction. Journal of Clinical Sleep, 3(5), 519–528.

Banquet, J. P. (1973). Spectral analysis of the EEG in meditation. Electroencephalography and Clinical Neurophysiology, 35(2), 143–151.

Brefczynski-Lewis, J. A., Lutz, A., Schaefer, H. S., Levinson, D. B., & Davidson, R. J. (2007). Neural correlates of attentional expertise in long-term meditation practitioners. Proceedings of the National Academy of Science USA, 104(27), 11483–11488.

Brown, K. W., & Ryan, R. M. (2003). The benefits of being present: mindfulness and its role in psychological well-being. Journal of Personality and Social Psychology, 84(4), 822–848.

Buysse, D. J., Reynolds, C. F., Monk, T. H., Berman, S. R., & Kupfer, D. J. (1989). The Pittsburgh Sleep Quality Index (PSQI): a new instrument for psychiatric research and practice. Psychiatry Research, 28(2), 193–213.

Cahn, B. R., & Polich, J. (2006). Meditation states and traits: EEG, ERP, and neuroimaging studies. Psychological Bulletin, 132(2), 180–211.

Chan, D., & Woollacott, M. (2007). Effects of level of meditation experience on attentional focus: is the efficiency of executive or orientation networks improved? Journal of Alternative and Complementary Medicine, 13(6), 651–657.

Craven, J. L. (1989). Meditation and psychotherapy. Canadian Journal of Psychiatry, 34(7), 648–653.

CSRC. (2012). ANAM4 Core: administration manual. Norman: Cognitive Science Research Center, University of Oklahoma.

Dawson, D., & Reid, K. (1997). Fatigue, alcohol and performance impairment. Nature, 388(6639), 235–235.

Ditto, B., Eclache, M., & Goldman, N. (2006). Short-term autonomic and cardiovascular effects of mindfulness body scan meditation. Annals of Behavioral Medicine, 32(3), 227–234.

Dorrian, J., Rogers, N. L., & Dinges, D. F. (2004). Psychomotor vigilance performance: neurocognitive assay sensitive to sleep loss. In C. A. Kushida (Ed.), Sleep deprivation: clinical issues, pharmacology and sleep loss effects (pp. 39–70). Boca Raton: CRC Press.

Drummond, S. P., Paulus, M. P., & Tapert, S. F. (2006). Effects of two nights sleep deprivation and two nights recovery sleep on response inhibition. Journal of Sleep Research, 15(3), 261–265.

Duffy, E. (1957). The psychological significance of the concept of arousal or activation. Psychological Review, 64(5), 265–275.

Dunn, B. R., Hartigan, J. A., & Mikulas, W. L. (1999). Concentration and mindfulness meditations: Unique forms of consciousness? Applied Psychophysiology and Biofeedback, 24, 147–165.

Durmer, J. S., & Dinges, D. F. (2005). Neurocognitive consequences of sleep deprivation. Seminars in Neurology, 25(1), 117–129.

Eastman-Mueller, H., Wilson, T., Jung, A. K., Kimura, A., & Tarrant, J. (2013). iRest yoga-nidra on the college campus: changes in stress, depression, worry, and mindfulness. International Journal of Yoga Therapy, 23, 15–24.

Gaillard, A. W. K. (2001). Stress, workload, and fatigue as three biobehavioral states: a general overview. In P. A. Hancock & P. A. Desmond (Eds.), Stress, workload, and fatigue (pp. 623–639). Mahwah: Lawrence Erlbaum Associates Publishers.

Harrison, Y., & Horne, J. A. (2000). The impact of sleep deprivation on decision making: a review. Journal of Experimental Psychology: Applied, 6(3), 236–249.

Hoddes, E., Zarcone, V., Smythe, H., Phillips, R., & Dement, W. C. (1973). Quantification of sleepiness: a new approach. Psychophysiology, 10(4), 431–436.

Hodgins, H. S., & Adair, K. C. (2010). Attentional processes and meditation. Consciousness and Cognition, 19(4), 872–878.

Holmes, D. S. (1984). Meditation and somatic arousal reduction: a review of the experimental evidence. American Psychologist, 39(1), 1–10.

Hölzel, B. K., Lazar, S. W., Gard, T., Schuman-Olivier, Z., Vago, D. R., & Ott, U. (2011). How does mindfulness meditation work? Proposing mechanisms of action from a conceptual and neural perspective. Perspectives on Psychological Science, 6(6), 537–559.

Johns, M. W. (2002). Sleep propensity varies with behavior and the situation in which it is measured: the concept of somnificity. Journal of Sleep Research, 11(1), 61–67.

Johnson, S., Gur, R. M., David, Z., & Currier, E. (2015). One-session mindfulness meditation: a randomized controlled study of effects on cognition and mood. Mindfulness, 6(1), 88–98.

Kasamatsu, A., & Hirai, T. (1966). An electroencephalographic study on Zen meditation (Zazen). Psychiatry and Clinical Neurosciences, 20(4), 315–336.

Kaul, P., Passafiume, J., Sargent, C. R., & O'Hara, B. F. (2010). Meditation acutely improves psychomotor vigilance, and may decrease sleep need. Behavioral and Brain Functions, 6(1), 47–56.

Kjaer, T. W., Bertelsen, C., Piccini, P., Brooks, D., Alving, J., & Lou, H. C. (2002). Increased dopamine tone during meditation-induced change of consciousness. Cognitive Brain Research, 13(2), 255–259.

Kozasa, E. H., Sato, J. R., Lacerda, S. S., Barreiros, M. A., Radvany, J., Russell, T. A., Sanches, L. G., Mello, L. E., & Amaro Jr., E. (2012). Meditation training increases brain efficiency in an attention task. NeuroImage, 59(1), 745–749.

Kubota, Y., Sato, W., Toichi, M., Murai, T., Okada, T., Hayashi, A., & Sengoku, A. (2001). Frontal midline theta rhythm is correlated with cardiac autonomic activities during the performance of an attention demanding meditation procedure. Cognitive Brain Research, 11(2), 281–287.

Laukka, S. J., Järvilehto, T., Alexandrov, Y. I., & Lindqvist, J. (1995). Frontal midline theta related to learning in a simulated driving task. Biological Psychology, 40(3), 313–320.

Lazar, S. W. (2005). Mindfulness research. In C. K. Germer, R. D. Siegel, & P. R. Fulton (Eds.), Mindfulness and psychotherapy (pp. 220–238). New York: Guilford Press.

Lazar, S. W., Kerr, C. E., Wasserman, R. H., Gray, J. R., Greve, D. N., Treadway, M. T., McGarvey, M., Quinn, B. T., Dusek, J. A., Benson, H., Rauch, S. L., Moore, C. I., & Fischl, B. (2005). Meditation experience is associated with increased cortical thickness. Neuroreport, 16(17), 1893.

Lim, J., & Dinges, D. F. (2008). Sleep deprivation and vigilant attention. Annals of the New York Academy of Sciences, 1129(1), 305–322.

Lippelt, D. P., Hommel, B., & Colzato, L. S. (2014). Focused attention, open monitoring and loving kindness meditation: effects on attention, conflict monitoring, and creativity—a review. Frontiers in Psychology, 5. doi: 10.3389/fpsyg.2014.01083.

Lo, J. C., Groeger, J. A., Santhi, N., Arbon, E. L., Lazar, A. S., Hasan, S., von Schantz, M., Archer, S. N., & Dijk, D. J. (2012). Effects of partial and acute total sleep deprivation on performance across cognitive domains, individuals and circadian phase. PloS One, 7(9), e45987.

Lou, H., Kjaer, T., Friberg, L., Wildschiodtz, G., Holm, S., & Nowak, M. (1999). A 15O-H2O PET study of meditation and the resting state of normal consciousness. Human Brain Mapping, 7(2), 98–105.

Lutz, A., Slagter, H. A., Dunne, J. D., & Davidson, R. J. (2008). Attention regulation and monitoring in meditation. Trends in Cognitive Science, 12(4), 163–169. doi:10.1016/j.tics.2008.01.005.

Lutz, A., Slageter, H. A., Rawlings, N. B., Francis, A. D., Greischer, L. L., & Davidson, R. J. (2009). Mental training enhances attentional stability: neural and behavioral evidence. Journal of Neuroscience, 29(42), 13418–13427.

MacLean, K. A., Ferrer, E., Aichele, S. R., Bridwell, D. A., Zanesco, A. P., Jacobs, T. L., et al. (2010). Intensive meditation training improves perceptual discrimination and sustained attention. Psychological Science, 21(6), 829–839.

Nash, J. D., & Newberg, A. (2013). Toward a unifying taxonomy and definition for meditation. Frontiers in Psychology, 4.

Newberg, A. B., & Iversen, J. (2003). The neural basis of the complex mental task of meditation: neurotransmitter and neurochemical considerations. Medical Hypotheses, 61(2), 282–291.

Parker, S., Bharati, S. V., & Fernandez, M. (2013). Defining yoga-nidra: traditional accounts, physiological research, and future directions. International Journal of Yoga Therapy, 23(1), 11–16.

Peng, C. K., Henry, I. C., Mietus, J. E., Hausdorff, J. M., Khalsa, G., Benson, H., & Goldberger, A. L. (2004). Heart rate dynamics during three forms of meditation. International Journal of Cardiology, 95(1), 19–27.

Posner, M. I. (1978). Chronometric explorations of mind. Englewood Heights: Erlbaum.

Rechtschaffen, A., & Kales, A. (1968). A manual of standardized terminology, techniques, and scoring system for sleep stages of human subjects. US Department of Health, Education, and Welfare Public Health Service - NIH/NIND.

Robert, G., & Hockey, J. (1997). Compensatory control in the regulation of human performance under stress and high workload: a cognitive-energetical framework. Biological Psychology, 45(1), 73–93.

Saraswati, S. S. (2001). Yoga nidra (6th ed.). Munger: Yoga Publications Trust.

Slagter, H. A., Lutz, A., Greischar, L. L., Francis, A. D., Nieuwenhuis, S., Davis, J. M., & Davidson, R. J. (2007). Mental training affects distribution of limited brain resources. PLoS Biology, 5(6), e138.

Slagter, H. A., Lutz, A., Greischer, L. L., Nieuwenhuis, S., & Davidson, R. J. (2009). Theta phase synchrony and conscious target perception: impact of intensive mental training. Journal of Cognitive Neuroscience, 8, 1536–1549.

Tang, Y. Y., Ma, Y., Wang, J., Fan, Y., Feng, S., Lu, Q., Yu, Q., Sui, D., Rothbart, M. K., Fan, M., & Posner, M. I. (2007). Short-term meditation training improves attention and self-regulation. Proceedings of the National Academy of Science USA, 104(43), 17152–17156.

van den Hurk, P. A., Giommi, F., Gielen, S. C., Speckens, A. E., & Barendregt, H. P. (2010). Greater efficiency in attentional processing related to mindfulness meditation. Quarterly Journal of Experimental Psychology, 63(6), 1168–1180.

van der Molen, M. W. (1996). Energetics and the reaction process: running threads through experimental psychology. In O. Neumann & A. F. Sanders (Eds.), Handbook of perception and action, vol 3: attention (pp. 229–276). San Diego: Academic Press.

van Dongen, H. P., Maislin, G., Mullington, J. M., & Dinges, D. F. (2003). The cumulative cost of additional wakefulness: dose-response effects on neurobehavioral functions and sleep physiology from chronic sleep restriction and total sleep deprivation. Sleep, 26(2), 117–129.

Vgontzas, A. N., Zoumakis, E., Bixler, E. O., Lin, H. M., Follett, H., Kales, A., & Chrousos, G. P. (2004). Adverse effects of modest sleep restriction on sleepiness, performance, and inflammatory cytokines. The Journal of Clinical Endocrinology & Metabolism, 89(5), 2119–2126.

Walsh, R., & Shapiro, S. L. (2006). The meeting of meditative disciplines and Western psychology: a mutually enriching dialogue. American Psychologist, 61(3), 227–239.
Ethics declarations
The University of South Australia's Human Research Ethics Committee approved all experimental procedures, and participants provided written informed consent before participation.
About this article
Cite this article
Kohler, M., Rawlings, M., Kaeding, A. et al. Meditation is Effective in Reducing Sleepiness and Improving Sustained Attention Following Acute Sleep Restriction. J Cogn Enhanc 1, 210–218 (2017). https://doi.org/10.1007/s41465-017-0032-5
Received:

Accepted:

Published:

Issue Date:

DOI: https://doi.org/10.1007/s41465-017-0032-5
Keywords