Abstract
In growing recognition that the business community must play a key role in the global issues encapsulated by the United Nations Sustainable Development Goals, Babson College, which has a business-focused curriculum, has striven first to reinvent its teaching of ethics and then, particularly over the past decade, to enhance its focus on sustainability, social responsibility, and social entrepreneurship. As previous initiatives did not build sufficient linkages between the liberal arts, natural sciences, and business curriculum, the College is now engaged in a far more comprehensive effort to educate our undergraduate business students in "integrated sustainability," which it defines as "systems thinking that integrates ecological integrity, social responsibility, and value creation simultaneously." By examining the meaning, skills, and pedagogical opportunities in systems thinking within the context of larger discussions on humanistic management, this article shows how systems thinking is a particularly fruitful way to ground business students in the natural sciences and the liberal arts, develop their complex problem-solving skills, and thereby reinvigorate management education in ways that prepares students to "render service to humanity." Our hope is that sharing Babson College's experience in this regard – both our successes and challenges - may provide useful insights to other faculty and academic leaders seeking to enhance humanistic management within their own higher education institutions.
Access options
Buy single article
Instant access to the full article PDF.
US$ 39.95
Tax calculation will be finalised during checkout.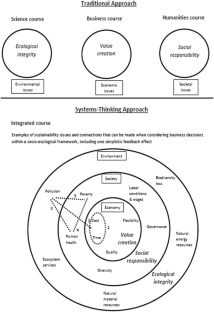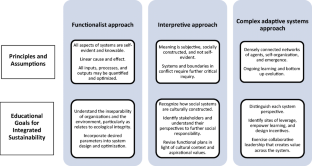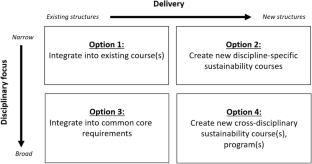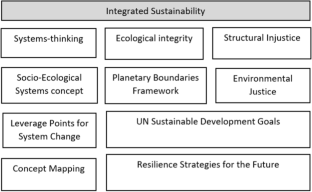 References
Abdelkafi, N., and K. Täuscher. 2016. Business models for sustainability from a system dynamics perspective. Organization & Environment 29 (1): 74–96.

Abson, D.J., J. Fischer, J. Leventon, and J. Newig. 2017. Leverage points for sustainability transformation. Ambio 46 (1): 30–39.

Babson Committee on the Future of SEERS. 2018. Building on integrated sustainability: a plan to be a recognized leader in sustainability and social innovation by 2023 [White paper].

Babson Task Force on Entrepreneurial Thought and Action/People, Planet Profits. 2009. Themes for Educating the Next Generation of Babson Students [White paper].

Beitelspacher, L., and V. Rodgers. 2018. Integrating corporate social responsibility awareness into a retail management course. Journal of Marketing Education 40 (1): 66–75.

Berkes, F., and C. Folke, eds. 1998. Linking social and ecological systems: Management practices and social mechanisms for building resilience. Cambridge: Cambridge University Press.

CDP. 2019. Global climate change analysis 2019. https://www.cdp.net/en/research/global-reports/global-climate-change-report-2018. Accessed 6 July 2019.

Clayton, A., and N. Radcliffe. 1996. Sustainability: A systems approach. Boulder: Westview.

Crittenden, V., N. Karst, R. Slegers, and K. Esper, eds. 2015. Evolving entrepreneurial education: Innovation in the Babson classroom. Bingley: Emerald Publishing.

Deets, Stephen, and Lisa DiCarlo. 2011. What is the context? Fostering entrepreneurial leaders social awareness. In The new entrepreneurial leader, ed. D. Greenberg, K. McKone-Sweet, and H.J. Wilson, 184–201. San Francisco: Berrett-Koehler Publishers.

Delevingne, L., A. Gründler, S. Kane, and T. Koller. 2020. The ESG premium: New perspectives on value and performance. Insights on Sustainability. McKinsey & Company. February. https://www.mckinsey.com/business-functions/sustainability/our-insights/the-esg-premium-new-perspectives-on-value-and-performance# . Accessed 16 February 2020.

EDF Climate Corps. 2017. Now hiring: The growth of America's clean energy and sustainability jobs. Boston, MA. http://edfclimatecorps.org/sites/edfclimatecorps.org/files/the_growth_of_americas_clean_energy_and_sustainability_jobs.pdf. Accessed 16 February 2020.

Erickson, C., and C. Skoglund. 2008. Eco-reps programs: Conducting peer outreach in residence halls. Sustainability: The Journal of Record 1 (1): 57–72.

Evans, S., D. Vladimirova, and M. Holgado. 2017. Business model innovation for sustainability: Towards a unified perspective for creation of sustainable business models. Business Strategy and the Environment 26 (5): 597–608.

Fischer, K., and F. Fleischmann. 2018. Powered by magic: The romance of Essex farms. HBS no. BAB-400. Boston: Harvard Business Publishing.

Fisk, R., A. Fuessel, C. Laszlo, P. Struebi, and A. Valera. 2019. Systemic social innovation: Co-creating a future where humans and all life thrive. Humanistic Management Journal 4: 191–214. https://doi.org/10.1007/s41463-019-00056-8.

Fullan, M. 2006. The future of educational change: System thinkers in action. Journal of Educational Change 7: 113–122.

Geissdoerfer, M., N. Bocken, and E.J. Hultink. 2016. Design thinking to enhance the sustainable business modelling process–a workshop based on a value mapping process. Journal of Cleaner Production 135: 1218–1232.

Gentile, M. C. 2002a. Social Impact Management: A Definition (Discussion Paper II): Aspen Institute Business and Society Program. http://www.aspenbsp.org. Accessed 15 June 2019.

Gentile, M. C. 2002b. What Do We Teach When We Teach Social Impact Management (Discussion Paper VI): Aspen Institute Business and Society Program. <http://www.aspenbsp.org>.

Gentile, M.C. 2010. Giving voice to values. New Haven: Yale University Press.

Gentile, M.C., and J. Samuelson. 2005. Keynote Address to the AACSB International Deans Feb. 10 2003: The state of Affairs of Management Education and Social Responsibility. The Academy of Management Learning and Education 4 (4): 496–505.

Giddings, B., B. Hopwood, and G. O'brien. 2002. Environment, economy and society: Fitting them together into sustainable development. Sustainable Development 10 (4): 187–196.

Glauner, F. 2018. The myth of responsibility: On changing the purpose paradigm. Humanistic Management Journal 4: 5–32. https://doi.org/10.1007/s41463-018-0048-8.

Greenberg, D., K. McKone-Sweet, and H.J. Wilson. 2011. The new entrepreneurial leader: Developing leaders who shape social and economic opportunity. San Francisco: Berrett-Koehler Publishers.

Greenberg, D.N., S. Deets, S. Erzurumlu, J. Hunt, M. Manwaring, V. Rodgers, and E. Swanson. 2017. Signing to living PRME: Learning from a journey towards responsible management education. The International Journal of Management Education 15 (2): 205–218.

Greenberg, D., L. Beitelspacher, and V.L. Rodgers. 2020. A systems approach to transformational responsible management learning and education. In The SAGE Handbook of Responsible Management Learning and Education, ed. D. Moosmayer, O. Laasch, C. Parkes, and K. Brown . Los Angeles: SAGE Publishing.in press

Griggs, D., M. Stafford-Smith, O. Gafney, and J. Rocktrom. 2013. Policy: Sustainable development goals for people and planet. Nature 495 (7441): 305–307.

Kim, D. 2015. Introduction to systems thinking. Pegasus Communications Inc. https://thesystemsthinker.com/wp-content/uploads/2016/03/Introduction-to-Systems-Thinking-IMS013Epk.pdf. Accessed 1 July 2019.

Laszlo, C. 2019. Strengthening humanistic management. Humanistic Management Journal 4 (1): 85–94. https://doi.org/10.1007/s41463-019-00055-9.

Lewandowski, M. 2016. Designing the business models for circular economy—Towards the conceptual framework. Sustainability 8 (1): 43. https://doi.org/10.3390/su8010043.

Liu, J., H. Mooney, V. Hull, S. Davis, J. Gaskell, T. Hertel, and J. Lubchenco. 2015. Systems integration for global sustainability. Science 347 (6225): 1258832.

Low, B., R. Costanza, E. Ostrom, J. Wilson, and C.P. Simon. 1999. Human ecosystem interactions: A dynamic integrated model. Ecological Economics 31 (2): 227–242.

McGinnis, M., and E. Ostrom. 2014. Social-ecological system framework: Initial changes and continuing challenges. Ecology and Society 19 (2). https://doi.org/10.5751/ES-06387-190230.

Meadows, D. 1999. Leverage points: Places to intervene in the system. Hartland: The Sustainability Institute.

Meadows, D. 2008. Thinking in systems: A primer. Edited by Diana Wright, Sustainability Institute. White River Junction: Chelsea Green Publishing.

Melé, D. 2016. Understanding humanistic management. Humanistic Management Journal 1 (1): 33–55.

Nidumolu, R., C.K. Prahalad, and M.R. Rangaswami. 2009. Why sustainability is now the key driver of innovation. Harvard Business Review 87 (9): 56–64.

Novak, J. 1990. Concept mapping: A useful tool for science education. Journal of Research in Science Teaching 27 (10): 937–949.

O'Neill, D.W., A.L. Fanning, and W.F. Lamb. 2018. A good life for all within planetary boundaries. Nature Sustainability 1 (2): 88–95.

Ostrom, E. 2007. A diagnostic approach for going beyond panaceas. Proceedings of the National Academy of Sciences 104 (39): 15181–15187.

Ostrom, E. 2009. A general framework for analyzing sustainability of social-ecological systems. Science 325 (5939): 419–422.

Pickett, S., and M. McDonell. 1993. Humans as components of ecosystems: The ecology of subtle effects and populated areas. New York: Springer-Verlag.

Pincetl, S., P. Bunje, and T. Holmes. 2012. An expanded urban metabolism method: Toward a systems approach for assessing urban energy processes and causes. Landscape and Urban Planning 107 (3): 193–202.

Porter, T., and J. Cordoba. 2009. Three views of systems theories and their implications for sustainability education. Journal of Management Education 33 (3): 323–347.

Redman, C. 1999. Human dimensions of ecosystem studies. Ecosystems 2: 296–298.

Rodgers, V.L., and D. Krcmar. 2017. Bridging the boundaries of science and art for business students: Integrating botany and artistic perspectives to teach environmental literacy. Journal of Sustainability Education: 16 ISSN: 2151-7452.

Rusinko, C.A. 2010. Integrating sustainability in management and business education: A matrix approach. Academy of Management Learning & Education 9 (3): 507–519.

Sasse-Werhahn, Laura. 2019. The practical wisdom behind the GRI. Humanistic Management Journal 4 (1): 71–84. https://doi.org/10.1007/s41463-019-00054-w.

Schaltegger, S., E. Hansen, and F. Lüdeke-Freund. 2016. Business models for sustainability: Origins, present research, and future avenues. Organization and Environment 29 (1): 3–10.

Senge, P. 1990. The fifth discipline: The art and practice of the learning organization. New York: Doubleday.

Spitzeck, H. 2011. An integrated model of humanistic management. Journal of Business Ethics 99 (1): 51–62.

Stewart, M. 2012. Joined up thinking? Evaluating the use of concept-mapping to develop complex system learning. Assessment & Evaluation in Higher Education 37 (3): 349–368.

Stubbs, W., and C. Cocklin. 2008a. Conceptualizing a "sustainability business model". Organization & Environment 21 (2): 103–127.

Stubbs, W., and C. Cocklin. 2008b. Teaching sustainability to business students: Shifting mindsets. International Journal of Sustainability in Higher Education 9 (3): 206–221.

Teehankee, B. 2018. Critical realist action research and humanistic management education. Humanistic Management Journal 3 (1): 71–90.

Tranquillo, J.V. 2019. An introduction to complex systems. Cham: Springer Nature Switzerland.

Westley, F., and N. Antadze. 2010. Making a difference: Strategies for scaling social innovation for greater impact. Innovation Journal 15 (2): 1–19.

Wiek, A., L. Withycombe, and C. Redman. 2011. Key competencies in sustainability: A reference framework for academic program development. Sustainability Science 6 (2): 203–218.

Winrich, C., V.L. Rodgers, M.G. MacLean, D. Blodgett, and J. Schaefer. 2015. Science education as entrepreneurial thought and action methodology. In Evolving entrepreneurial education: Innovation in the Babson classroom, ed. V. Crittenden, N. Karst, R. Slegers, and K. Esper, 159–174. Bingley: Emerald Publishing.

Young, I.M. 2005. Responsibility and global justice: A social connection model. Social Philosophy and Policy 23 (1): 102–130.

Young, O., F. Berkhour, and G.C. Gallopin. 2006. The globalization of socio-ecological systems: An agenda for scientific research. Global Environmental Change 16 (3): 304–316.
Acknowledgements
The authors gratefully acknowledge the support of the Babson Faculty Research Fund.
Ethics declarations
Conflict of Interest
On behalf of all authors, the corresponding author states that there is no conflict of interest.
Additional information
Publisher's Note
Springer Nature remains neutral with regard to jurisdictional claims in published maps and institutional affiliations.
About this article
Cite this article
Deets, S., Rodgers, V., Erzurumlu, S. et al. Systems Thinking as a Tool for Teaching Undergraduate Business Students Humanistic Management. Humanist Manag J 5, 177–197 (2020). https://doi.org/10.1007/s41463-020-00091-w
Received:

Accepted:

Published:

Issue Date:
Keywords
Undergraduate education

Systems thinking

Sustainability

Corporate social responsibility