Abstract
The present research was guided by the important need for a diversion from an economistic to a humanistic management perspective of sustainability. It concentrates on the current importance of digital strategic communication, particularly regarding the concept of corporate sustainability in the context of the conflict arena of the oil industry. The focus is on the comparison of the persuasive effectiveness of the framings of corporate versus activist NGO website communications and their impacts on the perception of the triple pillars of sustainability and, corporate greenwashing with respect to a proposed bituminous oil pipeline in Canada. The results of these pro and con messages were analyzed within the Elaboration Likelihood Model demonstrating a "non expert" peripheral route to a positive persuasion from exposure to the corporate communication versus an "expert" central route to a negative persuasion from the activist NGO communication. Subsequent exposure to the opposite website communication further emphasized the predominance of a negative persuasion based on both groups now being motivated as "expert" viewers of these strategic communications, leading to an important perception of greenwashing by participants resulting from vague claims, visual and linguistic contents of the corporate communication versus the mainly verifiable factual ones in that of the activist NGO.
This is a preview of subscription content,
to check access.
Access this article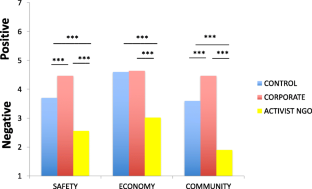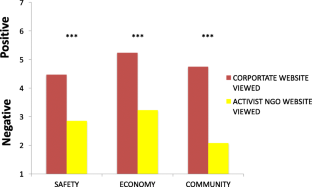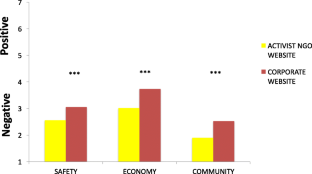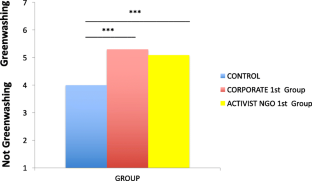 Similar content being viewed by others
References
Alves, I. 2009. Green spin everywhere: How greenwashing reveals the limits of the CSR paradigm. Journal of Global Change and Governance II: 1–26.

Arnett, J.J. 2010. Adolescence and emerging adulthood: A cultural approach. 4th ed. Boston: Prentice Hall.

Arora, P., G.A. Tedeschi, and J.L. Rovenpor. 2018. Broadening the frame around sustainability with holistic language: Mandela and Invictus. Humanistic Management Journal 3: 233–251.

Bowen, F., and J.A. Aragon-Correa. 2014. Greenwashing in corporate environmentalism research and practice: The importance of what we say and do. Organization & Environment 27: 107–112.

Bromley, P., and W.W. Powell. 2012. From smoke and mirrors to walking the talk: Decoupling in the contemporary world. The Academy of Management Annals 6: 483–530.

Brown, A. 2004. Authoritative sensemaking in a public inquiry report. Organization Studies 25: 95–112.

Canadian Press. 2016. Retrieved from: https://globalnews.ca/news/3149918/oil-pipelines-kinder-morgan-transmountain-business-story-of-the-year-2016/

Clegg, S. 1989. Frameworks of power. London: Sage.

Cone Inc. 2006. The millennial generation: Pro-social and empowered to change the world. Retrieved from http://blogthinkbig.com/wp-content/uploads/Cone-Millennial-Cause-Study-La-hora-de-cambiar-el-mundo.pdf.

Crilly, D., M. Hansen, and M. Zollo. 2015. The grammar of decoupling: A cognitive-linguistic perspective on firms' sustainability claims and stakeholders' interpretation. Academy of Management Journal 59: 705–729.

Cyr, D., M. Head, E. Lim, and A. Stibe. 2018. Using the elaboration likelihood model to examine online persuasion through website design. Information & Management. https://doi.org/10.1016/j.im.2018.03.009.

Dach, L., and K. Allmendinger. 2014. Sustainability in corporate communications and its influence on consumer awareness and perceptions: A study of H&M and Primark. Procedia - Social and Behavioral Sciences 130: 409–418.

Delmas, M., and V. Burbano. 2011. The drivers of greenwashing. California Management Review 54: 64–87.

Delmas, M., and J.A. Aragon-Correa. 2016. Field experiments in corporate sustainability research: Testing strategies for behavior change in markets and organizations. Organization & Environment 29: 391–400.

Dion, M. 2017. Corporate citizenship, social responsibility, and sustainability reports as "would-be" narratives. Humanistic Management Journal 2: 83–102.

Dyllick, T., and K. Muff. 2016. Clarifying the meaning of sustainable business: Introducing a typology from business-as-usual to true business sustainability. Organization & Environment 29: 156–174.

Eagle, L., D. Low, P. Case, and L. Vadommele. 2015. Attitudes of undergraduate business students toward sustainability issues. International Journal of Sustainability in Higher Education 16: 650–668.

Elkington, J. 1994. Towards the sustainable corporation: Win-win-win business strategies for sustainable development. California Management Review 36: 90–100.

Figge, F., T. Hahn, S. Schaltegger, and M. Wagner. 2002. The sustainability balanced scorecard – Linking sustainability management to business strategy. Business Strategy and the Environment 11: 269–284.

Gauthier, J., and J.A. Kappen. 2016. Corporate rhetorical strategies in the legitimation of genetically modified foods. Journal of Communication Management 21: 218–235.

Gibson, R.B. 2006. Beyond the pillars: Sustainability assessment as a framework for effective integration ofsocial economic and ecological considerations in significant decision-making. Journal of Environmental Assessment Policy Management 8: 259–280.

Hahn, T., F. Figge, J.A. Aragón-Correa, and S. Sharma. 2017. Advancing research on corporate sustainability: Off to pastures new or back to the roots? Business & Society 56: 155–185.

Hallahan, K., D. Holtzhausen, B. Van Ruler, and D. Vercic. 2007. Defining strategic communication. International Journal of Strategic Communication 1: 3–35.

Huzzard, T., M. Benner, and D. Kärreman. 2017. Exploring and experiencing the corporate business school. In, The Corporatization of the Business School: Minerva Meets the Market. New York, Routledge.

Ipsos Public Affairs Poll. 2017. Global Energy Pulse. Retrieved from: https://static1.squarespace.com/static/593067fc1b10e341853970e8/t/59374a3d893fc06c80821b9c/1496795796612/Global_Energy_Pulse.PDF

Kagawa, F. 2007. Dissonance in students' perceptions of sustainable development and sustainability. International Journal of Sustainability in Higher Education 8: 317–338.

Kassinis, G., and A. Panayiotou. 2017. Visuality as greenwashing: The case of BP and Deepwater horizon. Organization & Environment 27: 107–112.

Lovejoy, K., and G.D. Saxton. 2012. Information, community, and action: How nonprofit organizations use social media. Journal of Computer-Mediated Communication 17: 337–353.

Lyon, T.P., and A.W. Montgomery. 2013. Tweetjacked: The impact of social media on corporate greenwash. Journal of Business Ethics 118: 747–757.

Lyon, T.P., and A.W. Montgomery. 2015. The means and ends of greenwash. Organization & Environment 28: 223–249.

Markham, D., A. Khare, and T. Beckman. 2014. Greenwashing: A proposal to restrict its spread. Journal of Environmental Assessment Policy and Management 16: 1–16.

Montiel, Y., and J. Delgado-Ceballos. 2014. Defining and measuring corporate sustainability: Are we there yet? Organization & Environment 27: 113–139.

Nyilasy, G., H. Gangadharbatla, and A.P. Harsha. 2014. Perceived greenwashing: The interactive effects of green advertising and corporate environmental performance on consumer reactions. Journal of Business Ethics 125: 693–707.

Parguel, B., F. Benoît-Moreau, and C.A. Russell. 2015. Can evoking nature in advertising mislead consumers? The power of 'executional greenwashing'. International Journal of Advertising 34: 107–134.

Paulin, M., R.J. Ferguson, N. Jost, and J.-M. Fallu. 2014. Motivating millennials to engage in charitable causes through social media. Journal of Service Management 25: 334–348.

Petty, R.E., and J.T. Cacioppo. 1981. Attitudes and persuasion: Classic and contemporary approaches. Dubuque: Wm. C. Brown Company Publishers.

Pirson, M.R., and P.R. Lawrence. 2010. Humanism in business - towards a paradigm shift. Journal of Business Ethics 93: 553–565.

Qualtrics Software 2019 https://www.qualtrics.com/uk/experiencemanagement/research/surveys/survey-basics/?rid=ip&prevsite=en&newsite=uk&geo=DE&geomatch=uk

Siano, A., F. Conte, S. Amabile, A. Vollero, and P. Piciocchi. 2016. Communicating Sustainability: An Operational Model for Evaluating Corporate Websites. Sustainability, 8: https://doi.org/10.3390/su8090950.

Silverman, R.E. 2007. A new generation reinvents philanthropy: Blogs, social networking sites give 20-somethings a means to push, fund favorite cause. The Wall Street Journal, August 21. available at: http://online.wsj.com/news/articles/SB118765256378003494

Smith, H., B. Suldofsky, and L. Lindenfeld. 2016. Mass communication research in sustainability science: Moving toward an engaged approach to address society's sustainability dilemma. Mass Communication and Society 19: 548–565.

Snelson-Powell, A., J. Grosvold, and A. Millington. 2016. Business school legitimacy and the challenge of sustainability: A fuzzy set analysis of institutional decoupling. Academy of Management Learning & Education 15: 703–723.

Termeer, C.J., A. Dewulf, G. Breeman, and S.J. Stiller. 2013. Governance capabilities for dealing wisely with wicked problems. Administration & Society 47: 680–710.

TerraChoice. 2009. The Seven Sins of Greenwashing. Retrieved from http://sinsofgreenwashing.org/findings/greenwashing-report-2009/

The Millennial Impact. 2013. The Millennial Impact Research. Retrieved from http://www.themillennialimpact.com/2013Research.

Thomson, C., I. Dey, and S. Russell. 2015. Activism, arenas and accounts in conflicts over tobacco control. Accounting, Auditing & Accountability Journal 28: 809–845.

Tregidga, H., M.J. Milne, and K. Kearins. 2018. Ramping up resistance: Corporate sustainable development and academic research. Business & Society 57: 292–334.

Vaughter, P., M. McKenzie, L. Lidstone, and T. Wright. 2016. Campus sustainability governance in Canada: A content analysis of post-secondary institutions' sustainability policies. Journal of Sustainability in Higher Education 17: 16–39.

Walker, K., and F. Wan. 2012. The harm of symbolic actions and green-washing: Corporate actions and communications on environmental performance and their financial implications. Journal of Business Ethics 109: 227–242.
Acknowledgements
This research is a pertinent activity within Dr. Paulin's Royal Bank of Canada Professorship in Strategic Relationship Marketing.
Additional information
Publisher's Note
Springer Nature remains neutral with regard to jurisdictional claims in published maps and institutional affiliations.
APPENDIX (Questionnaire scale items)
APPENDIX (Questionnaire scale items)
A.

Triple Sustainability Values
"To what extent do you Agree or Disagree with the following statements about the proposed pipeline" (1 = Strongly Disagree, 2 = Somewhat Disagree, 3 = Disagree, 4 = Neither Agree nor Disagree,5 = Somewhat Agree, 6 = Agree, 7 = Strongly Agree).
Environmental Safety? (α = .84).
-- The safety of the proposed pipeline can be adequately monitored.
-- The possibility of a pipeline leak is negligible.
-- Any pipeline failure would be immediately detected and the consequences would be minimal.
-- A pipeline leak of diluted bitumen would be no different from regular crude oil.
Economic Benefits? (α = .77).
-- Many permanent jobs will be created in Eastern Canada.
-- Pipeline oil is destined mainly for Eastern Canada refineries for domestic use.
Community Relationships? (α = .86).
-- A majority of Quebec municipalities support the pipeline.
-- Relationships with aboriginals and First Nations are very cordial regarding the pipeline project.
Greenwashing
"To what extent do you Agree or Disagree with the following statements about the proposed pipeline:" (1 = Strongly Disagree, 2 = Somewhat Disagree, 3 = Disagree, 4 = Neither Agree nor Disagree,5 = Somewhat Agree, 6 = Agree, 7 = Strongly Agree) (α = .95).
-- making false or misleading claims that the pipeline is environmentally friendly.
-- deceiving society with false statements about the environmental practices and impact of the pipeline.
-- selectively disclosing positive environmental information, while withholding the negative information about the pipeline.
-- selectively disclosing positive social performance, while withholding negative social performance about.
About this article
Cite this article
Ferguson, R.J., Schattke, K. & Paulin, M. Persuasions by Corporate and Activist NGO Strategic Website Communications: Impacts on Perceptions of Sustainability Messages and Greenwashing. Humanist Manag J 6, 117–131 (2021). https://doi.org/10.1007/s41463-019-00072-8
Received:

Accepted:

Published:

Issue Date:

DOI: https://doi.org/10.1007/s41463-019-00072-8
Keywords