Abstract
Our world is faced with complex challenges that include poverty, hunger, lack of education, gender inequality, sustainability, and climate change. These issues cannot be addressed by government action alone and requires the business world play an important role. Despite the many effort of companies to address social responsibility in the last decade however, capitalism continues to suffer a crisis of trust. Many organizations lack the awareness, mindset, frameworks, and knowledge to efficiently and effectively make progress in providing solutions to these systemic challenges, while also ensuring business performance. The authors argue that business schools are uniquely positioned and have a responsibility to contribute to this cause as educators of the business leaders of tomorrow. A landscape survey of social entrepreneurship / social innovation (SE/SI) education with 66 institutions of higher education and in-depth interviews with 8 social intrapreneurs from diverse career tracks reveals significant challenges as well as opportunities for creating this paradigm shift in business schools. This research uses insights from these two studies to provide an overview of the current state of SE/SI in business education and provides recommendations for institutions of higher education to pave a pathway forward for future leaders who will use business to create positive social change.
Access options
Buy single article
Instant access to the full article PDF.
US$ 39.95
Tax calculation will be finalised during checkout.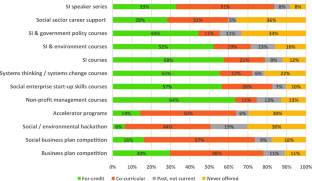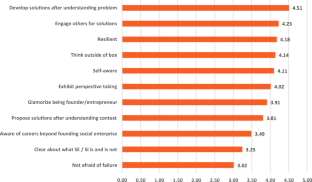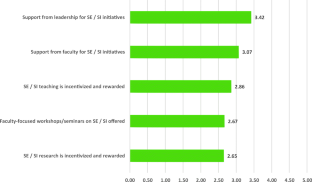 References
Aksoy, Lerzan, Linda Alkire (née Nasr), Sunmee Choi, Peter Beomcheol Kim, Lu Zhang, (2019) "Social innovation in service: A conceptual framework and research agenda", Journal of Service Management, 30 (3), pp. 429–448. https://doi.org/10.1108/JOSM-11-2018-0376.

American Innovation Index (2019), available at https://americaninnovationindex.com/benchmarks/(accessed July 5, 2019).

Bhat, Nilima, and Raj Sisodia. 2016. Shakti leadership embracing feminine and masculine power in business. Berrett-Koehler: Publishers.

Bulloch, Gib. 2018. The Intrapreneur: Confessions of a corporate insurgent. Taya V: Skleike Publishing.

Burnett, Jane (2017) "Majority of Workers are Unhappy at Work Study Finds," accessible at: https://www.theladders.com/career-advice/majority-unhappy-at-work (last accessed August 4, 2019).

Catholic Church, and Sean McDonagh (2016), On care for our common home: the encyclical of Pope Francis on the environment, Laudato Si'.

Cembrero, David, Lidia Gryszkiewicz, and Dariusz Sikora (2019), "Impact Assessment: The Innovation Paradigm Shift that is Coming," accessible at: https://innovationmanagement.se/2018/02/06/impact-assessment-the-innovation-paradigm-shift-that-is-coming/.

Charlton, Emma (2019), "These are the 10 most in-demand skills of 2019, according to LinkedIn," accessible at: https://www.weforum.org/agenda/2019/01/the-hard-and-soft-skills-to-futureproof-your-career-according-to-linkedin/ (last accessed August 4, 2019).

Conscious Capitalism (2019) Available at: https://www.consciouscapitalism.org/(last accessed July 5, 2019).

Davis, Gerald and Chris White (2015a), "The New Face of Corporate Activism," Stanford Social Innovation Review, Fall.

Davis, Gerald and Chris White (2015b), Changing Your Company from the Inside Out: A Guide for Social Intrapreneurs, Harvard Business Review Press.

Dill, David D. (2012), "The Management of Academic Culture Revisited: Integrating Universities in an Entrepreneurial Age," in Managing Reform in Universities: The Dynamics of Culture, Identity and Organizational Change, eds. B. Stensaker, J. Valimaa, and C. Sarrico, pp. 222–237, Basingstoke, UK: Palgrave Macmillan.

Dutton, Jane, Susan J. Ashford, Regina M. O'Neill, and Katherine A. Lawrence. 2001. Moves that matter: Issue selling and organizational change. Academy of Management Journal 44 (4): 716–736.

Global Goals (2018), https://www.globalgoals.org/, Accessed on June 10, 2019.

Gordon, Michael and Daniela Papi-Thorton (2016), "Rethinking Business Plan Competition," Stanford Social Innovation Review, https://ssir.org/articles/entry/rethinking_business_plan_competitions.

Janus, Kathleen Kelly (2015) "Brining Social Entrepreneurship into the Classroom," https://ssir.org/articles/entry/bringing_social_entrepreneurship_into_the_classroom.

Kraemer, Romy (2016) Critical Competencies for Social Impact Leaders, https://ssir.org/articles/entry/critical_competences_for_social_impact_leaders.

Laszlo, Chris, Sorum Brown, Judy, Ehrenfeld, John R., Gorham, Mary, Pose, Ilma Barros, Robson, Linda, Saillant, Roger, Sherman, Dave and Paul Werder (2014), Flourishing Enterprise: The New Spirit of Business, Stanford University Press.

Laszlo, Chris (2008), Sustainable Value: How the World's Leading Companies Are Doing Well by Doing Good. Stanford University Press.

Laszlo, C. 2019. Strengthening humanistic management. Humanistic Management Journal. https://doi.org/10.1007/s41463-019-00055-9.

Mercer (2019), Global Talent Trends, https://www.mercer.com/our-thinking/career/global-talent-hr-trends.html (last accessed July 5, 2019).

Nicholls, Alex, Julie Simon, and Madeleine Gabriel. 2016. New Frontiers in social innovation research. Palgrave: MacMillan.

Papi-Thorton, Daniela (2016), Tackling Heropreneurship, http://tacklingheropreneurship.com. Page 2, 8.

Pirson, Michael. 2017. Humanistic management: Protecting dignity- promoting well being. Cambridge: Cambridge University Press.

Porter, Michael E. and Mark Kramer (2011), "Creating Shared Value," Harvard Business Review, Vol. 89, No. 1–2 (January–February), pp 62–77.

Sachs, Jeffrey. 2017. Globalization : In the name of which freedom ? Humanistic Management Journal 1 (237). https://doi.org/10.1007/s41463-017-0019-5.

Schawb, Hilde and Francois Bonnici (2019), "Announcing a New Network of Leaders Changing the System Together," accessible at: https://www.weforum.org/agenda/2019/09/schwab-foundation-social-entrepreneurship-awards-2019-sustainable-development-goals/ (last accessed October 14, 2019).

Seelos, Christian, and Johanna Mair. 2016. Innovation for scaling and impact: How effective social Entreprises do it, 204. Stanford: California: Stanford University Press.

Sisodia, Raj, Jadish N. Sheth and David Wolfe (2014), Firms of Endearment : How World Class Companies Profit from Passion and Purpose, Pearson FT Press.

Sisodia, Raj and Michael Gelb (2019), The Healing Organization: Awakening the Conscience of Business to Help Save the World, Harper Collins Leadership.

Ripple Works (2016). The Human Capital Crisis: How Social Enterprises Can Find the Talent to Scale. http://www.rippleworks.org/human-capital-crisis/

Tsao, F. and C. Laszlo (2019). Quantum Leadership: New Consciousness in Business. Stanford University Press, forthcoming.

UN Global Compact (2018), "Share how your company is advancing the SDGs"https://www.unglobalcompact.org/take-action/action/sdg-industry-matrix.

Wilson, Alastair (2016), Why Universities Shouldn't Teach Social Entrepreneurship, https://ssir.org/articles/entry/why_universities_shouldnt_teach_social_entrepreneurship.
Additional information
Publisher's Note
Springer Nature remains neutral with regard to jurisdictional claims in published maps and institutional affiliations.
About this article
Cite this article
Aksoy, L., Jazaieri, H., Loureiro, Y.K. et al. Transforming Business Education through Social Innovation: from Exalting Heroes to Engaging our Humanity. Humanist Manag J 4, 239–259 (2019). https://doi.org/10.1007/s41463-019-00068-4
Received:

Accepted:

Published:

Issue Date:
Keywords
Business education

social innovation

social entrepreneurship

changemaking

curriculum