Abstract
This investigation examines several key factors believed to promote human flourishing, specifically: Factor 1: Age, Education, & Healthcare, Factor 2: Labor Force Participation, Factor 3: Crime, Factor 4: Income, Factor 5: Youth Unemployment and Factor 6: Voting Behavior. Data was examined at the county level, and collected from a variety of US government and non-governmental organizations. Our investigation into the conditions necessary to promote human flourishing uses internal migration within the United States (measured by moving to another county) as the indicator of "unhappy" communities. The findings reveal that all factors are important in emigration (i.e. leaving) somewhere, but the factors vary for different counties. As a result, attempts to address the ills of society require an appreciation of geography and context.
Access options
Buy single article
Instant access to the full article PDF.
US$ 39.95
Tax calculation will be finalised during checkout.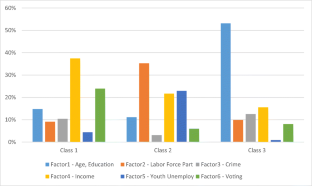 Notes
1.

The question is always a normative one, as values and value judgements greatly shape all social institutions. There is no such thing as a "positive" value free social analysis.

2.

Often there can be a mis-match between individual needs and community assets, such as there not being the schools that fit what some students are looking for or businesses that do not require specific skill sets.

3.

Survey of Income and Program Participation.

4.

See also Wilkinson's earlier book Unhealthy Societies: the Afflictions of Inequality (1996) which goes into the details on how inequality affects people's health.
References
Birchall, J. 2016. Gender, Age and Migration: An extended briefing, BRIDGE, UK: Institute of Development Studies. Available at: https://opendocs.ids.ac.uk/opendocs/handle/123456789/10410

Boskoff, Alvin. 1982. Social failure in modern society: A reformulation and a tentative theoretical framework. Sociological Inquiry 52 (2, (March)): 89–105.

Carlyle, Thomas. 1841. On heroes, hero-worship, and the heroic in history. London: James Fraser.

Elder, G.H., Jr. 1994. Time, human agency, and social change: Perspectives on the life course. Social Psychology Quarterly 57 (1): 4–15.

Gebremariam, G.H., T.G. Gebremedhin, and P.V. Schaeffer. 2011. Employment, income, and migration in Appalachia: A spatial simultaneous equations approach. Journal of Regional Science 51 (1): 102–120.

Gilroy, R. 2008. Places that support human flourishing: Lessons from later life. Planning Theory & Practice 9 (2): 145–163.

Halbreich, U. 2018. Micro-migration: Global domestic intergenerational cultural conflict. International Journal of Social Psychiatry 64 (6): 519–520.

Hirschman, Albert O. 1970. Exit, voice, and loyalty. Cambridge: Harvard University Press.

Hotchkiss, Julie L., and Rupasingha, Anil. 2018. Individual social capital and migration. Federal Reserve Bank of Atlanta Working Paper 2018–3. Available at: https://www.frbatlanta.org/-/media/documents/research/publications/wp/2018/03-individual-social-capital-and-migration-2018-03-16.pdf

Irwin, Michael, Troy Blanchard, Charles Tolbert, Alfred Nucci, and Thomas Lyson. 2004/5. "Why people stay: The impact of community context on nonmigration in the USA" population. Vol. 59, 567–592.

Kamakura, W.A., M. Wedel, and J. Agrawal. 1994. Concomitant variable latent class models for the external analysis of choice data. International Journal of Market Research 11: 541–464.

Mateyka, Peter J. 2015. "Desire to move and residential mobility: 2010–2011," current population reports, P70–140, U.S. Census Bureau, Washington, DC.

Medema, Steve G. 2007. "The hesitant hand: Mill, Sidgwick, and the evolution of the theory of market failure" History of Political Economy, Vo. 39, 3, pp. 331–358.

Molloy, Raven Saks, Christopher L. Smith, and Abigail Wozniak. 2011. Internal migration in the United States. Journal of Economic Perspectives 25 (3): 173–196.

Rosenbloom, Joshua L., and William A. Sundstrom. 2004. The decline and rise of interstate migration in the United States: Evidence from the IPUMS, 1850-1990. Research in Economic History 22: 289–325.

Tolstoy, Leo. 2017. Anna Karenina, translated by Rosamund Bartlett. Oxford: Oxford University Press.

Van Mol, C. 2016. Migration aspirations of European youth in times of crisis. Journal of Youth Studies 19 (10): 1303–1320.

Vermunt, J.K. 1997. Log-linear Models for Event Histories, Series QASS. Vol. 8. Thousand Oakes: Sage Publications.

Vermunt, J.K., and J. Magidson. 2005. Latent GOLD 4.0 User's Guide. Belmont, Massachusetts: Statistical Innovations Inc.

Vermunt, J.K., and J. Magidson. 2016. Technical guide for latent GOLD 5.1: Basic, advanced, and syntax. Belmont: Statistical Innovations Inc.

Wilkinson, Richard. 1996. Unhealthy societies: The afflictions of inequality. London: Routledge.

Wilkinson, Richard, and Kate Pickett. 2011. The Spirit level: Why greater equality makes societies stronger. London: Bloomsbury Press.
Additional information
Publisher's Note
Springer Nature remains neutral with regard to jurisdictional claims in published maps and institutional affiliations.
About this article
Cite this article
Clark, C.M.A., Buoye, A., Keiningham, T. et al. Some Foundational Factors for Promoting Human Flourishing. Humanist Manag J 4, 219–233 (2019). https://doi.org/10.1007/s41463-019-00064-8
Received:

Accepted:

Published:

Issue Date:
Keywords
Migration

Civic participation

Social participation

Loyalty

Human flourishing