Zusammenfassung
Ein Anwendungsgebiet von Virtueller Realität (VR) in der Arbeitswelt stellen Lernszenarien zur Kompetenzentwicklung dar. Der Beitrag geht der Frage nach, wie bestehende Erfahrungen und Wissensbestände aus der Praxis aufgegriffen werden können, um die Praxistauglichkeit von VR-Lernumgebungen zu erhöhen. Dazu wird das von den Autor*innen entwickelte Verfahren der erfahrungsgeleiteten Gestaltung von VR-Umgebungen zur arbeitsintegrierten Kompetenzentwicklung vorgestellt und am Beispiel der Entwicklung einer VR-Simulation von Montage- und Instandhaltungsprozessen bei Krananlagen veranschaulicht. Indem die herausfordernde Arbeitspraxis von Servicetechniker*innen für die Konstrukteur*innen dieser Anlagen sicht- und erfahrbar gemacht wird, wird die Konstruktionsseite in die Lage versetzt, Montage- und Wartungskontexte besser zu antizipieren, Kransysteme vorausschauend zu gestalten und die Arbeit des Services zu erleichtern und zu verbessern.
Praktische Relevanz: Da die Kosten für VR-Systeme im Laufe der letzten 30 Jahre gesunken sind und die Technologie sich weiterentwickelt hat, eröffnen sich auch für kleinere und mittlere Unternehmen (KMU) neue Anwendungsmöglichkeiten. Der Beitrag diskutiert niedrigschwellige und übertragbare Einsatzmöglichkeiten von VR zur Kompetenzentwicklung. Am Beispiel von Montage- und Wartungstätigkeiten wird ein methodischer Weg aufgezeigt, wie Lernen am Gegenstand bzw. im Prozess der Arbeit mit der Entwicklung von VR-Lernumgebungen umgesetzt werden kann. Eine systematische Orientierung an der Praxis und den Erfahrungen der beteiligten Akteure spielt dafür eine entscheidende Rolle.
Abstract
One area of application of virtual reality (VR) in the working world is learning scenarios for competence development. This article addresses the question of how existing experiences and knowledge from practice can be taken up to increase the practical suitability of VR learning environments. For this purpose, the authors present the method of experience-guided design of VR environments for work-integrated competence development and illustrate it with the example of the development of a VR simulation of assembly and maintenance processes for crane systems. By making the challenging work practice of service technicians visible and tangible for the designers of these systems, the design side is enabled to better anticipate assembly and maintenance contexts, to prospectively design crane systems and to facilitate and improve the work of service.
Practical Relevance: As the cost of VR systems has decreased over the last 30 years and the technology has evolved, new applications are opening up for small and medium-sized enterprises (SMEs). This paper discusses low-threshold and transferable applications of VR for competence development. Using the example of assembly and maintenance activities, a methodical way is shown how learning on the object or in the process of work can be implemented with the development of VR learning environments. A systematic orientation towards practice and the experiences of the actors involved plays a decisive role in this.
Access options
Buy single article
Instant access to the full article PDF.
USD 39.95
Price includes VAT (USA)
Tax calculation will be finalised during checkout.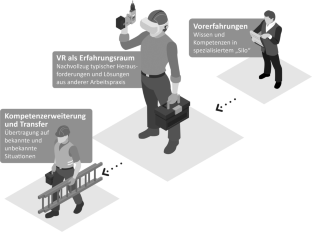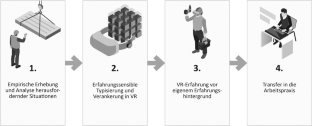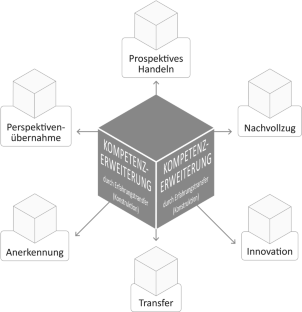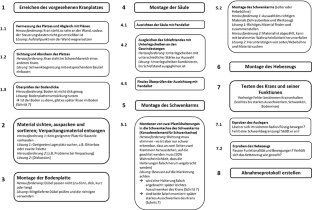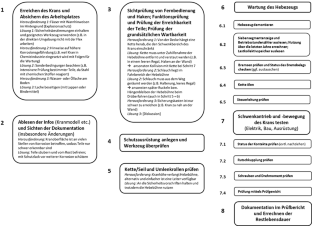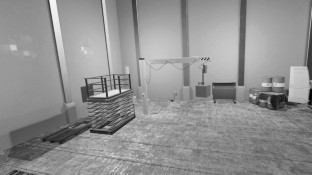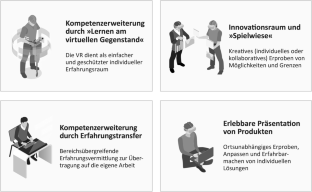 Notes
1.

Die hier dargelegten Überlegungen stammen aus dem BMBF-geförderten Verbundprojekt "aSTAR – Kompetenzvermittlung in einer VR/AR-basierten Umgebung zur Arbeitsgestaltung" (Förderkennzeichen: 02L18B012). An dem interdisziplinären Projekt beteiligt sind die VETTER Krantechnik GmbH und VETTER Kranservice GmbH als Anwendungsunternehmen (KMU), die Kirchner Konstruktionen GmbH mit UReality als Softwarepartner sowie die Universität Siegen (Lehrstuhl für Wirtschaftsinformatik) und das ISF München (Arbeitsforschung) als Forschungspartner.

2.

Nicht beschrieben wird der Schritt der Programmierung der VR-Umgebung. Diese sollte durch einen geeigneten Partner erfolgen.

3.

4.

Es handelt sich hier um Schwenkkrane und Portalkransysteme, die in Hallen und im Freigelände genutzt werden, um Lasten in einem definierten Bereich zu bewegen.

5.

Da allein inhaltliche Aspekte der Interviews von Interesse waren, wurde auf komplexe Transkriptionsregeln, die den Gesprächsverlauf in all seinen Nuancen abbilden – Pausen, lautliche Äußerungen, Überschneidungen von Sprecher*innen etc. – und etwa im Rahmen konversationsanalytischer Studien erforderlich sind, verzichtet.
Literatur
Akdere M, Acheson K, Jiang Y (2021) An examination of the effectiveness of virtual reality technology for intercultural competence development. Int J Intercult Relat 82:109–120

Anderson PL, Zimand E, Hodges LF, Rothbaum BO (2005) Cognitive bahavioral therapy for public-speaking anxiety using virtual reality for exposure. Depress Anxiety 22:156–158

Bailey D, Leonardi P, Barley S (2012) The lure of the virtual. Organ Sci 23(5):1485–1504

Bauer HG, Munz C (2004) Erfahrungsgeleitetes Handeln lernen. In: Böhle F, Pfeiffer S, Sevsay-Tegethoff N (Hrsg) Die Bewältigung des Unplanbaren. VS, Wiesbaden, S 55–77

Bauer HG, Böhle F, Munz C, Pfeiffer S, Woicke P (2006) Hightech-Gespür. Erfahrungsgeleitetes Arbeiten und Lernen in hoch technisierten Arbeitsbereichen. Bertelsmann, Bielefeld

Bauer HG, Hemmer-Schanze C, Munz C, Wagner J (2012) Innovationsarbeit lernen – Lernkonzept und Rahmenbedingungen. In: Böhle F, Bürgermeister M, Porschen St (Hrsg) Innovation durch Management des Informellen. Künstlerisch, erfahrungsgeleitet, spielerisch. Springer, Berlin, S 189–207

Bergmann B (2000) Kompetenzentwicklung im Arbeitsprozess. Z Arb Wiss 54:138–144

Biocca F (1992) Communication within virtual reality: creating a space for research. J Commun 42(4):5–22

Biocca F, Levy MR (1995) Communication in the age of virtual reality. Lawrence Erlbaum, Hillsdale

Böhle F (Hrsg) (2017) Arbeit als Subjektivierendes Handeln. Handlungsfähigkeit bei Unwägbarkeiten und Ungewissheit. Springer VS, Wiesbaden

Böhle F, Bolte A, Dunkel W, Pfeiffer S, Porschen-Hueck S, Sevsay-Tegethoff N (2004b) Der gesellschaftliche Umgang mit Erfahrungswissen – Von der Ausgrenzung zu neuen Grenzziehungen. In: Beck U, Lau C (Hrsg) Entgrenzung und Entscheidung – Was ist neu an der Theorie reflexiver Modernisierung? Suhrkamp, Frankfurt a.M., S 95–122

Böhle F, Bürgermeister M, Porschen St (Hrsg) (2012) Innovation durch Management des Informellen. Künstlerisch, erfahrungsgeleitet, spielerisch. Springer, Berlin

Böhle F, Pfeiffer S, Sevsay-Tegethoff N (Hrsg) (2004a) Die Bewältigung des Unplanbaren. VS, Wiesbaden

Bolte A, Neumer J (Hrsg) (2021) Lernen in der Arbeit. Erfahrungswissen und lernförderliche Arbeitsgestaltung bei wissensintensiven Berufen. Hampp, München

Bossard C, Kermarrec G, Buche C, Tisseau J (2008) Transfer of learning in virtual environments: a new challenge? Virtual Real 12(3):151–161

Brey P (2014) The physical and social reality of virtual worlds In. In: Grimshaw M (Hrsg) The oxford handbook of virtuality. Oxford University Press, New York, S 42–54

Carruth DW (2017) Virtual reality for education and workforce training. 15th International Conference on Emerging eLearning Technologies and Applications (ICETA), IEEE:, S 1–6

Choi SS, Jung K, Noh SD (2015) Virtual reality applications in manufacturing industries: past research, present findings, and future directions. Concurr Eng Res Appl 23(1):40–63

Churchill EF, Snowdon D (1998) Collaborative virtual environments: an introductory review of issues and systems. Virtual Real 3(1):3–15

Diemer J, Alpers GW, Peperkorn HM, Shiban Y, Mühlberger A (2015) The impact of perception and presence on emotional reactions: a review of research in virtual reality. Front Psychol 6:26

Difede J, Hoffman HG (2002) Virtual reality exposure therapy for world trade center post-traumatic stress disorder: a case report. Cyberpsychol Behav 5(6):529–535

Edler D, Kühne O, Jenal C, Vetter M, Dickmann F (2018) Potenziale der Raumvisualisierung in Virtual Reality (VR) für die sozialkonstruktivistische Landschaftsforschung. Kartograf Nachr 5:245–254

Erpenbeck J, von Rosenstiel L (Hrsg) (2007) Handbuch Kompetenzmessung. Schäffer-Poeschel, Stuttgart

Esposito E (1998) Fiktion und Virtualität. In: Krämer S (Hrsg) Medien, Computer Realität. Wirklichkeitsvorstellungen und Neue Medien. Suhrkamp, Frankfurt a.M., S 269–296

Fischer R, Chang K‑C, Weller R, Zachmann G (2020) Volumetric medical data visualization for collaborative VR environments. In: Bourdot P, Interrante V, Kopper R, Olivier AH, Saito H, Zachmann G (Hrsg) Virtual reality and augmented reality. EuroVR 2020. Lecture Notes in Computer Science, Bd. 12499. Springer, Cham, S 178–191

Flick U (1995) Qualitative Forschung: Theorie, Methoden, Anwendung in Psychologie und Sozialwissenschaften. Rowohlt, Reinbek

Frieling E, Schäfer E, Fölsch T (2007) Konzepte zur Kompetenzentwicklung und zum Lernen im Prozess der Arbeit. Ergebnisse einer Fallstudie. Waxmann, Münster

Fröhlich C, Wachsmuth I, Latoschik ME (2009) Virtuelle Werkstatt – Multimodale Interaktion für intelligente virtuelle Konstruktion. In: Gausemeier J, Grafe M (Hrsg) 8. Paderborner Workshop Augmented & Virtual Reality in der Produktentstehung. HNI, Paderborn, S 241–255

van Ginkel S, Gulikers J, Biemans H, Noroozi O, Roozen M, Bos T, van Tilborg R, van Halteren M, Mulder M (2019) Fostering oral presentation competence through a virtual reality-based task for delivering feedback. Comput Educ 134:78–97

Haar R (2019) Simulation und virtuelle Welten. Theorie, Technik und mediale Darstellung von Virtualität in der Postmoderne. transcript, Bielefeld

Harth J (2020) Ludification. Virtuelle Spielgefährten und (proto-)soziale Plausibilität. In: Kasprowicz D, Rieger S (Hrsg) Handbuch Virtualität. Springer VS, Wiesbaden, S 59–75

Javaid M, Haleem A (2019) Virtual reality applications toward medical field. Clin Epidemiol Glob Health 8:600–605

Kauffeld S (2006) Kompetenzen messen, bewerten, entwickeln. Schäffer-Poeschel, Stuttgart

Kauffeld S, Paulsen H (2018) Kompetenzmanagement in Unternehmen. Kompetenzen beschreiben, messen, entwickeln und nutzen. Kohlhammer, Stuttgart

Kluge S (1999) Empirisch begründete Typenbildung: Zur Konstruktion von Typen und Typologien in der qualitativen Sozialforschung. Springer VS, Wiesbaden

Krüger O (2019) Virtualität und Unsterblichkeit. Gott, Evolution und die Singularität im Post- und Transhumanismus. Rombach, Freiburg

Kühn T, Koschel K‑V (2018) Gruppendiskussionen. Ein Praxis-Handbuch, 2. Aufl. Springer VS, Wiesbaden

Küsters I (2009) Narrative Interviews: Grundlagen und Anwendungen, 2. Aufl. Springer VS, Wiesbaden

Landmann E, Stolz-Römmermann J, Günther T (2020) Customer integration through virtual reality implementation: a SWOT analysis in the area of production systems. In Jung T, tom Dieck M, Rauschnabel P (Hrsg) Augmented reality and virtual reality. Progress in IS. Springer, Cham. https://doi.org/10.1007/978-3-030-37869-1_21

Lehner VD, DeFanti TA (1997) Distributed virtual reality: supporting remote collaboration in vehicle design. IEEE Comput Grap Appl 17(2):13–17

Marini D, Folgieri R, Gadia D, Rizzi A (2012) Virtual reality as a communication process. Virtual Real 16(3):233–241

Martirosov S, Kopeček P (2017) Cyber sickness in virtual reality—literature review. Proceedings of the 28th DAAAM International Symposium, S 718–726

Marzano A, Friel I, Erkoyuncu JA, Court S (2015) Design of a virtual reality framework for maintainability and assemblability test of complex systems. Proc CIRP 37:242–247

McGrath JL, Taekman JM, Dev P, Danforth DR, Mohan D, Kman N, Crichlow A, Bond W (2017) Using virtual reality simulation environments to assess competence for emergency medicine learners. Acad Emerg Med 25(2):186–195

Mujber TS, Szecsi T, Hashmi MSJ (2004) Virtual reality applications in manufacturing process simulation. J Mater Process Technol 155–156:1834–1838

Neuweg GH (2005) Implizites Wissen als Forschungsgegenstand. In: Rauner F (Hrsg) Handbuch der Berufsbildungsforschung. Bertelsmann, Bielefeld, S 581–588

Nohl A‑M (2006) Interview und dokumentarische Methode. Anleitungen für die Forschungspraxis. VS, Wiesbaden

Opris D, Pintea S, Garcia-Palacios A, Botella C, Szamosközi S, David D (2012) Virtual reality exposure therapy in anxiety disorders: a quantitative meta-analysis. Depress Anxiety 29:85–93

Pietraß M (2005) "Leeres Wissen" durch E‑Learning? Didaktische Aspekte der virtuellen Lernwelten in anthropologisch-medienanalytischer Perspektive. Z Padagog 51(1):61–74

Polanyi M (1985) Implizites Wissen. Suhrkamp, Frankfurt

Psotka J (1995) Immersive training systems: virtual reality and education and training. Instr Sci 23:405–431

Rothbaum BO, Hodges L, Smith S, Lee JH, Price L (2000) A controlled study of virtual reality exposure therapy for the fear of flying. J Consult Clin Psychol 68(6):1020–1026

Sauer J, Trier M (2012) Ungewissheit und Lernen. In: Böhle F, Busch S (Hrsg) Management von Ungewissheit. Neue Ansätze jenseits von Kontrolle und Ohnmacht. transcript, Bielefeld, S 257–278

Sevsay-Tegethoff N (2004) Ein anderer Blick auf Kompetenzen. In: Böhle F, Pfeiffer S, Sevsay-Tegethoff N (Hrsg) Die Bewältigung des Unplanbaren – Fachübergreifendes erfahrungsgeleitetes Arbeiten und Lernen. VS, Wiesbaden, S 267–286

Seymour NE, Gallagher AG, Roman SA, O'Brien MK, Bansal VK, Andersen DK, Satava RM (2002) Virtual reality training improves operating room performance—results of a randomized, double-blinded study. Ann Surg 236(4):458–464

Slater M, Spanlang B, Sanchez-Vives MV, Blanke O (2010) First person experience of body transfer in virtual reality. Plos One 5(5):e10564

Steffen JH, Gaskin JE, Meservy TO, Jenkins JL, Wolman I (2019) Framework of affordances for virtual reality and augmented reality. J Manag Inf Sys 36(3):683–729

Strauss AL, Corbin JM (1996) Grounded theory: Grundlagen qualitativer Sozialforschung. Beltz, Weinheim

Strübing J (2014) Grounded Theory: Zur sozialtheoretischen und epistemologischen Fundierung eines pragmatistischen Forschungsstils, 3. Aufl. Springer VS, Wiesbaden

De Troyer O, Kleinermann F, Pellens B, Bille W (2007) Conceptual modeling for virtual reality. 26. International Conference on Conceptual Modeling—ER 2007. Bd. 48, S 3–18 (Tutorials, Posters, Panels & Industrial Contributions)

Weiss PL, Jessel AS (1998) Virtual reality applications to work. Work 11(3):277–293

Wernet A (2000) Einführung in die Interpretationstechnik der Objektiven Hermeneutik. Leske + Budrich, Opladen

Witzel A, Reiter H (2012) The problem-centred interview: principles and practice. SAGE, Los Angeles, London, New Delhi, Singapore, Washington DC

Wolfartsberger J, Zenisek J, Wild N (2020) Supporting teamwork in industrial virtual reality applications. Procedia Manuf 42:2–7

Wu H‑K, Lee SWY, Chang H‑Y, Liang JC (2013) Current status, opportunities and challenges of augmented reality in education. Comput Educ 62:41–49

Xie B, Liu H, Alghofaili R, Zhang Y, Jiang Y, Lobo FD, Li C, Li W, Huang H, Akdere M, Mousas C, Yu L‑F (2021) A review on virtual reality skill training applications. Front Virtual Real. https://doi.org/10.3389/frvir.2021.645153

Zhang L, Bowman DA, Jones CN (2019) Exploring effects of interactivity on learning with interactive storytelling in immersive virtual reality 11th international conference on virtual worlds and games for serious applications (VS-games). IEEE, S 1–8

Żukowska M, Buń P, Górski F, Starzyńska B (2019) Cyber sickness in industrial virtual reality training. In: Trojanowska J, Ciszak O, Machado J, Pavlenko I (Hrsg) Advances in manufacturing II. MANUFACTURING 2019. Lecture Notes in Mechanical Engineering. Springer, Cham https://doi.org/10.1007/978-3-030-18715-6_12
About this article
Cite this article
Heinlein, M., Huchler, N., Wittal, R. et al. Erfahrungsgeleitete Gestaltung von VR-Umgebungen zur arbeitsintegrierten Kompetenzentwicklung: Ein Umsetzungsbeispiel bei Montage- und Wartungstätigkeiten. Z. Arb. Wiss. (2021). https://doi.org/10.1007/s41449-021-00283-6
Schlüsselwörter
Virtual Reality

Erfahrungsgeleitete Gestaltung

Kompetenzentwicklung

Erfahrungswissen

Technikgestaltung
Keywords
Virtual reality

Experience-guided design

Competence development

Experiential knowledge

Technology design