Zusammenfassung
Positives Fahrerleben ist ein zentraler Faktor, der die Wahl unserer Verkehrsmittel beeinflusst. Vor dem Hintergrund neuer, innovativer Möglichkeiten der Fortbewegung, wie dem automatisierten Fahren, stellt sich die Frage, was positives Fahrerleben ausmacht. Das Ziel dieses Beitrags ist zu bestimmen, warum der Mensch den Pkw als Verkehrsmittel bevorzugt und welche Faktoren bei der Nutzung verschiedener Verkehrsmittel zum Fahrspaß beitragen. Zur Klärung dieser Fragen wurden literaturbasiert Faktoren abgeleitet, die den Fahrspaß unterschiedlicher Verkehrsmittelnutzer prägen. Diese wurden anhand einer Befragungsstudie (nges = 334) empirisch untersucht. Unterschiede hinsichtlich des Fahrspaßes von Verkehrsmittelnutzern wurden analysiert. Zusammenhangsanalysen legten Faktoren offen, die zum Fahrspaß von Verkehrsmittelnutzern beitragen. Die Analyse hinsichtlich des Fahrspaßes zeigt, dass sich die Einflussfaktoren in die Dimensionen Fahrer, Fahrzeug und Umwelt gliedern lassen. Einflüsse von soziodemografischen Merkmalen, sowie Merkmalen der Fahrt und den Eigenschaften des Pkws auf den Fahrspaß konnten identifiziert werden.
Praktische Relevanz Die Beantwortung der Frage, was den Spaß beim Autorfahren im Vergleich zu der Nutzung anderer Verkehrsmittel ausmacht und die hier dargestellten Erkenntnisse können dazu beitragen, die Nutzung alternativer Verkehrsmittel attraktiver zu gestalten und so insbesondere in Gebieten mit starker Verkehrsdichte eine Entlastung der Straßen zu erreichen.
Abstract
Positive driving experience is a central factor regarding the choice of transport mode. Autonomous driving and other innovative means of transport place emphasis on the question which factors contribute to a positive driving experience. The aim of this research is to determine why people prefer the car as a mode of transport and to investigate which factors contribute to the driving enjoyment of users of different means of transport. Therefore, factors which influence the driving enjoyment of different means of transport were derived from literature and a survey was carried out (n = 334). Differences regarding the driving enjoyment of users of different means of transport were analyzed. Correlation analysis verified factors which influence the driving enjoyment of users of different means of transport. The analysis reveals that the factors of driving enjoyment can be grouped in the dimension driver, vehicle and environment. Influences of sociodemographic attributes as well as characteristics of the drive and properties of the car regarding the driving enjoyment could be identified.
Practical Relevance The answer to the question of what makes driving a car fun compared to using other means of transport and the findings presented here can help to make the use of alternative means of transport more attractive and thus relieve the burden on roads, especially in areas with heavy traffic.
This is a preview of subscription content, log in to check access.
Access options
Buy single article
Instant access to the full article PDF.
US$ 39.95
Price includes VAT for USA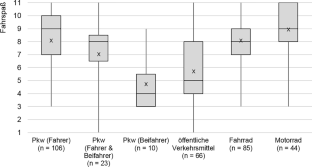 Literatur
Anable J, Gatersleben B (2005) All work and no play? The role of instrumental and affective factors in work and leisure journeys by different travel modes. Transport Res A Policy Pract 39:163–181

Borriello A (2016) Pleasure of driving components: a partial least square—path modeling appraoch. 16th Swiss Transportation Research Conference, Monte Verità

Carreira R, Patrício L, Natal JR, Magee C (2014) Understanding the travel experience and its impact on attitudes, emotions and loyalty towards the transportation provider—A quantitative study with mid-distance bus trips. Transp Policy 31:35–46

Cohen J (1988) Statistical power analysis for the behavioral sciences, 2. Aufl. Academic Press, New York

Eisenmann C, Chlond B, Hilgert T, von Behren S, Vortisch P (2018) Deutsches Mobilitätspanel (MOP). Wissenschaftliche Begleitung und Auswertung. Bericht 2016/2017: Alltagsmobilität und Fahrleistung (Institut für Verkehrswesen, Hrsg.). Karlsruher Institut für Technologie (KIT), Karlsruhe

Ellaway A, Macintyre S, Hiscock R, Kearns A (2003) In the driving seat. Psychosocial benefits from private motor vehicle transport compared to public transport. Transport Res F Traf 6:217–231

Engelbrecht A (2013) Fahrkomfort und Fahrspaß bei Einsatz von Fahrerassistenzsystemen. Humboldt-Universität, Berlin (Dissertation)

Fuller R (2011) Driver control theory. From task difficulty homeostasis to risk allostasis. In: Porter BE (Hrsg) Handbook of traffic psychology. Elsevier, Amsterdam, S 13–26

Gardner B, Abraham C (2007) What drives car use? A grounded theory analysis of commuters' reasons for driving. Transport Res F Traf 10:187–200

Gatersleben B (2007) Affective and symbolic aspects of car use. In: Steg L, Garling T (Hrsg) Threats from car traffic to the quality of Urban life. Problems, causes, solutions. Emerald Group Publishing Limited, Bingley, S 219–233

Gatersleben B, Uzzell D (2007) Affective appraisals of the daily commute. Comparing perceptions of drivers, cyclists, walkers, and users of public transport. Environ Behav 39:416–431

Hagman O (2010) Driving pleasure. A key concept in Swedish car culture. Mobilities 5:25–39

Kent JL (2014) Driving to save time or saving time to drive? The enduring appeal of the private car. Transport Res A Policy Pract 65:103–115

Lupton D (2002) Road rage: drivers' understandings and experiences. J Sociol 38:275–290

Mann E, Abraham C (2006) The role of affect in UK commuters' travel mode choices. An interpretative phenomenological analysis. Brit J Psychol 97:155–176

Marsh PE, Collett P (1987) Driving passion. The psychology of the car. Faber and Faber, Boston

Merki CM (2008) Verkehrsgeschichte und Mobilität. Ulmer, Stuttgart

Mokhtarian PL, Salomon I (2001) How derived is the demand for travel? Some conceptual and measurement considerations. Transport Res A Policy Pract 35:695–719

Mokhtarian PL, Papon F, Goulard M, Diana M (2015) What makes travel pleasant and/or tiring? An investigation based on the French National Travel Survey. Transportation (Amst) 42:1103–1128

Müller A, Stockinger C, Walter J, Heuser T, Abendroth B, Bruder R (2017) Einflussfaktoren auf die Akzeptanz des automatisierten Fahrens aus der Sicht von Fahrerinnen und Fahrer. 8. Darmstädter Kolloquium "mensch + fahrzeug".

Ory DT, Mokhtarian PL (2005) When is getting there half the fun? Modeling the liking for travel. Transport Res A Policy Pract 39:97–123

Pöschel K, Kienast H, Spanner-Ulmer B (2010) Entwicklung und Evaluation eines Fragebogens zur Messung von Fahrspaß. VDI-Verlag, Düsseldorf

Páez A, Whalen K (2010) Enjoyment of commute. A comparison of different transportation modes. Transport Res A Policy Pract 44:537–549

Schoeggl P, List HO, Fraidl GK, Hischmann A (1998) Echtzeitsimulation des subjektiven Fahrbarkeitsempfinden. VDI-Verlag, Düsseldorf

Simon K, Jentsch M, Bullinger AC, Schamber G, Meincke E (2015) Sicher aber langweilig? Auswirkungen vollautomatisierten Fahrens auf den erlebten Fahrspaß. Z Arb Wiss 69:81–88

Steg L (2003) Can public transport compete with the private car? IATSS Res 27:27–35

Steg L (2005) Car use: Lust and must. Instrumental, symbolic and affective motives for car use. Transport Res A Policy Pract 39:147–162

Steg L, Vlek C, Slotegraaf G (2001) Instrumental-reasoned and symbolic-affective motives for using a motor car. Transport Res F Traf 4:151–169

Tischler MA (2013) Entwicklungsziel Fahrspaß. Gestaltungsempfehlungen für die Auslegung von Kraftfahrzeugen zur Optimierung des subjektiven Erlebens der Fahrzeugführung. Humboldt-Universität, Berlin (Dissertation)

Tischler MA, Renner G (2007) Ansatz zur Messung von positivem Fahrerleben. Die Messung von Fahrspaß und Ableitungen für die Fahrzeuggestaltung. VDI-Verlag, Düsseldorf

Wedlin J, Tillback L‑R, Bane O (1992) Combining properties for driving pleasure and driving safety: a challenge for the chassis engineer. SAE Spec Publ 925:79–96
About this article
Cite this article
Bier, L., Joisten, P. & Abendroth, B. Warum nutzt der Mensch bevorzugt das Auto als Verkehrsmittel? Eine Analyse zum erlebten Fahrspaß unterschiedlicher Verkehrsmittelnutzer. Z. Arb. Wiss. 73, 58–68 (2019). https://doi.org/10.1007/s41449-018-00144-9
Schlüsselwörter
Fahrspaß

Fahrerlebnis

Verkehrsmittelwahl
Keywords
Driving enjoyment

driving experience

choice of transport mode